The New Zealand Centurions Race is held in conjunction with the annual Sri Chinmoy 24 hour running championships.  This year saw 18 men and 6 women line up for the 24 hour race plus many others in shorter 6 and 12 hour races.  Included in the 24 hour race were 6 walkers, all male, representing three different countries – two from NZ (myself and Richard Young), three from Isle of Man (Robbie Callister, Chris Burn, and Andrew Titley) plus Martin Vos from the Netherlands.  All the walkers were experienced over the 100 mile/24 hour distance and I was looking forward to a tough race on the 400 metre track at Millennium Stadium in Auckland.
To add to the toughness of my race, I only arrived in Auckland 23 hours before race start after a 32 hour flight from the UK, although it turned out that Robbie and Andrew only arrived a few hours before me after missing their connecting flight in Singapore.
I was travelling to New Zealand for an extended holiday and it just happened to be coincidental that my flight arrived in Auckland in time for the race (or at least that is what I told my wife) and therefore I wasn't sure whether I was going to walk hard and attempt to break the NZ M50 age group records (or even the national track records) for 100 miles and 24 hours, or whether I would just aim to complete another 100 mile walk inside 24 hours. My training had gone reasonably well and I felt that if I didn't suffer too much from the 32 hour flight then the M50 records (21 hours 37 minutes for 100 miles and 177.6km for 24 hours set by Gerald Manderson way back in 1998) were a possibility, and when my father volunteered to be my support crew I decided that I'd like to try and break those records.
The race:
The race started in warm sunny conditions at 9am on Saturday 12th November and immediately the three IOM walkers took the lead (amongst the walkers) and after two laps walking just behind Richard Young and just ahead of Martin Vos I made the decision that I would try to walk with the IOM walkers. They were already 12 seconds ahead of me but I moved past Richard and picked up the pace – having walked 3:17 and 3:11 for the first two laps I walked the third lap in 3:05 and after a few more laps in the 3:02 to 3:05 range I moved up another gear walking the next 59 laps at between 2:50 and 3:00 pace until I needed my first toilet stop.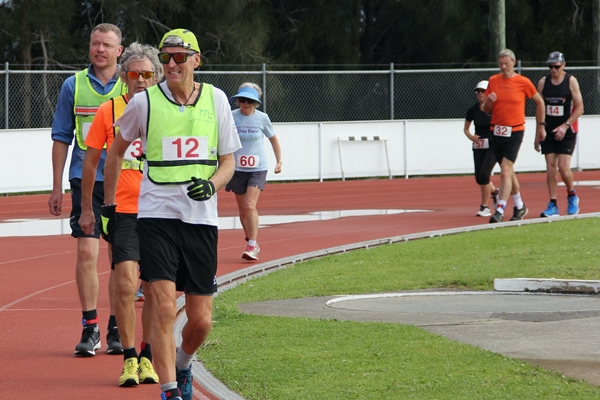 During that 3 hours I caught and passed both Chris and Andrew as they stopped for short toilet breaks themselves but Robbie stayed ahead of me and eventually lapped me.
When I entered the race I looked at the calibre of both the runners and walkers who had already entered and thought that finishing in the top three walkers and top ten runners should be achievable but I expected at least one of the IOM walkers to beat me and with the race being the NZ 24 hour running championship I expected that many runners would also be well ahead of me, and whilst things were going well I found myself in 17th place overall and second walker (exactly three minutes behind Robbie) as I completed the first 105 laps (Marathon distance) in 5 hours and 17 minutes.
I had given my father instructions to feed me a bowl of pasta every six hours and I would ask for other food as and when I needed it but would also eat regularly from the food table manned by the race volunteers. And almost exactly on time Dad appeared on the track with my first bowl of pasta at 6 hours. I don't normally eat hot food, or even meals, in 24 hour races. Instead I prefer to eat small amounts regularly and along with the pasta I was mainly eating fruit and crisps (or chippies as they are called in New Zealand).
The afternoon had definitely warmed up by now and I knew that people were going to start suffering soon. I wondered if I had started too fast for the conditions but now that I had started at that fast pace I decided to keep going hard for as long as I could. I was still averaging a shade over 3 minutes per lap whilst Robbie's pace seemed to be all over the show.
Unlike the previous two Sri Chinmoy 24 hour track races I have done (NZ in 2013 and UK last year) they didn't have the big scoreboard to enable competitors to easily keep track of their place so I was focusing solely on my own lap times, checking the clock at the end of each lap to ensure that I was maintaining a steady pace.  I figured that Robbie was likely to beat me but I was walking well and didn't think any of the other walkers would catch me.  I also knew that my strength was my ability to walk strongly through the night and I had told myself that everyone else would be struggling at 3 in the morning but for me that would be 2 in the afternoon and therefore I would have the advantage.
And that is exactly what happened. I averaged 3:07 per lap for the first 92km (12 hours and 1 minute) including 4 toilet stops (three more than I would have liked but I had just come off a 32 hour flight) and then I had my second bowl of pasta and my pace dropped a little for the next two hours. I don't know why my pace dropped but I decided it was time to switch to processed sugar – coke and chocolate – and also start listening to some music, and very soon I was back walking 3 minutes per lap, and once I found my pace again I managed to walk between 2:50 and 3:00 for another almost two hours.
By twelve hours all the walkers, other than myself and Andrew, had dropped out and many of the runners were struggling or had also dropped out. With Robbie gone, I was also leading the walkers race.  The high dropout rate amongst the walkers confirmed in my mind that we had gone too hard early on for the conditions, but I was still going well and feeling good.  I started to think about the possibility of breaking Peter Ballie's 100 mile and 24 hour NZ track records set back in 2005, but I always say that you should never think about how far you have to go in a race. You should only concentrate on the here and now. And whilst I was feeling good, from 16 hours (3am) my pace started to drift a little and I never managed to get under the 3 minutes per lap again which I needed to get through to 100 miles in under 21 hours and 4 minutes (Peter's NZ track 100 mile record).
Eventually I decided to refocus on Gerald Manderson's M50 100 mile and 24 hour records. They were still both well within sight although I would still have to maintain a good pace of around 3:20 to 3:25 per lap for the remainder of the race.
Dad had a sleep in his campervan which he had moved to beside the track and he woke at 3am as instructed to give me by next bowl of pasta. I told him that I would stick to coke and chocolate until I got through to 100 miles as I was worried that if I slowed to eat a bowl of pasta – my previous two meals had both taken two full laps at a slightly slower pace to consume – I wouldn't be able to pick up the pace again.  So I sent him back to sleep for another two or three hours.
Around day break the organisers told me that I was in third place overall. I was walking with Dawn Tuffery at the time and I asked if Dawn was ahead of me.  I can't remember their exact reply but it was along the lines of 'Dawn doesn't count'.  What they meant was that with the race being the NZ 24 hour championship I was third male and in line for the bronze medal.  Unfortunately I wasn't registered with Athletics NZ so a bronze medal wouldn't be available to me but I was surprised and pleased to learn that I was in third place, and fourth overall.
At a little after 6:30am I passed the 100 mile mark in a new NZ M50 record of 21:32:44, just under five minutes inside the previous record, and my third best 100 mile time behind the two sub-21 hour times I had walked at the 2016 and 2018 Continental Centurions Race in Holland when I was in the M45 age group.
I was pleased with this and rewarded myself with a can of coke and a Moro bar (my favourite NZ chocolate bar) while Dad went off to make some more pasta.
I was now taking over 3:20 per lap but I only had 16 ½ km to go to get the 24 hour M50 record and just under 2 ½ hours to do that, and I figured that if I had an almost five minute lead over Gerald's 1998 race at 100 miles, then surely I should be able to break his 24 hour distance too.
I ate my breakfast and then focussed on trying to pick up the pace a little. I knew I would need one more toilet stop and I wanted to build a buffer to allow for that.  I knew that I had to complete a little over 444 laps (in total) and once I got to 170km (425 laps) I started counting down, and also doing the math to check that I would complete the required distance.
At 174km I couldn't put it off any longer and I had to take one last toilet stop, and then I calculated again – 33 minutes, 8 and a bit laps. That is four minutes per lap. No problem.
I passed my goal distance of 177.665km with about five minutes to spare and completed my 445th lap with 2 ½ minutes left until the race would finish. Often in races I find that once the end is in sight I can pick the pace up for a sprint finish, but today I really had nothing left.  I had achieved my goals and I continued to walk fast, completing another 315 metres, but there wasn't any sprint finish.
My 81 year old father might say otherwise though. He tried to keep up with me during the last 200 metres and I kept telling him to stop and walk, worried that I would finish to find him keeled over behind me. Fortunately he was OK and fortunately I did maintain the pace right through to the bell as Paul Hewitson had a flying finish to finish just 122 metres behind me in fourth place (male) to my third place.  Paul collected the national championship bronze medal though due to me not being registered with Athletics NZ.
Some analysis:
I love track races and short loop races as there is so much analysis that can be done afterwards (providing that lap times and splits are provided).
This graph shows my lap times (blue dots) and also my time for the last 2km.  I had two periods where I was walking really well – from lap 3 through to about lap 100, and then from lap 270 to 305.  My fastest 2km 14:21 (7:11 pace) finishing at lap 48 (19km) but I also got back down to a 14:31 (7:15 pace) 2km between 115 and 117km. If I was mentally strong enough, this tells me that a sub 20 hour 100 mile is still possible. My best is currently 20:44 from Holland in 2018.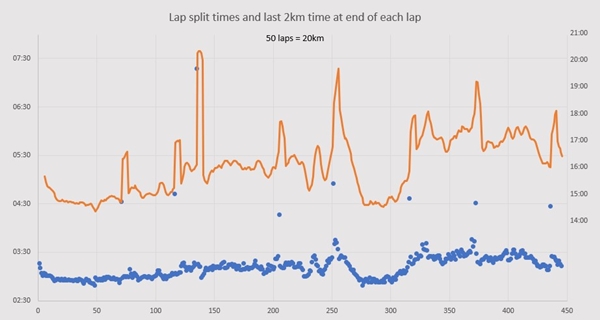 Some photos:
I always like to add photos to my race reports.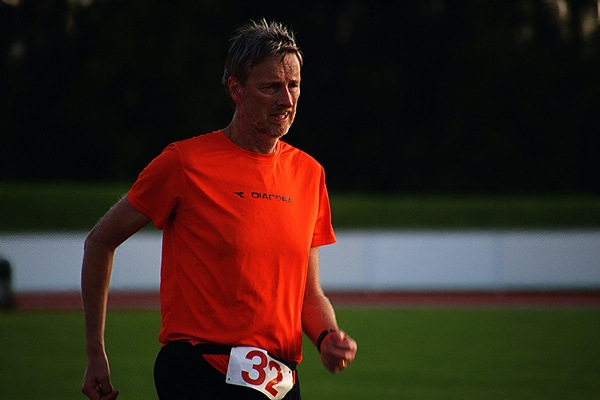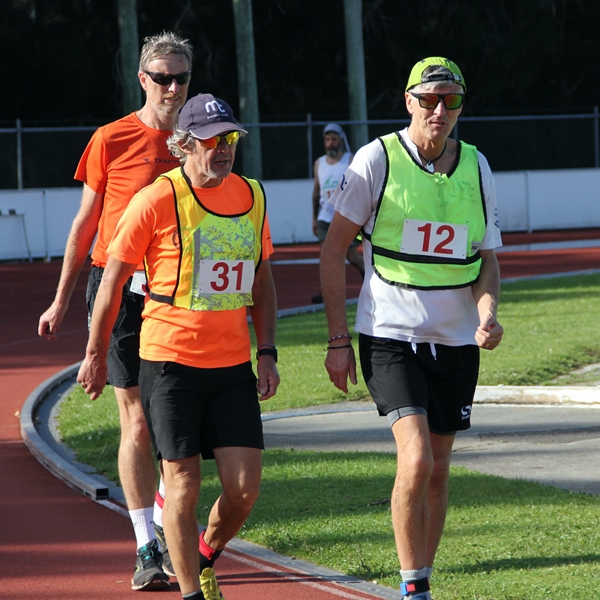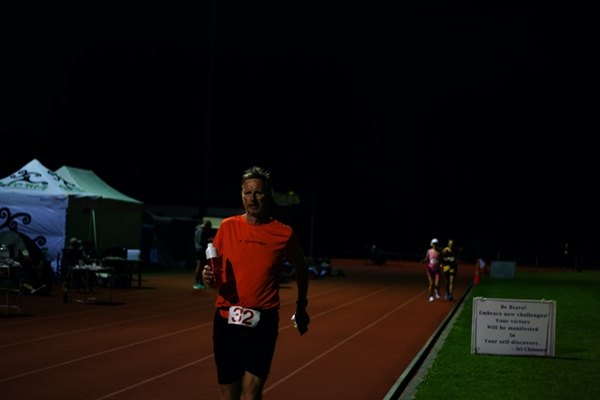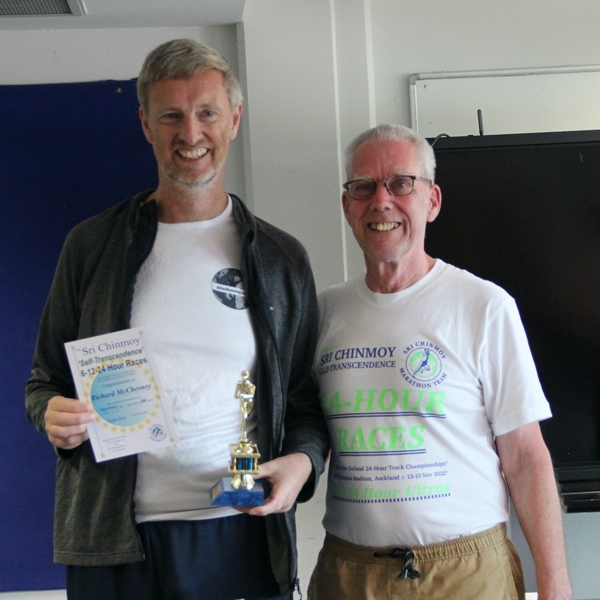 40 walks of 100 miles or more:
In 2013 I completed my first 100 mile walk at the NZ Sri Chinmoy race and at the time I said "never again".  But as we know, most athletes say "never again" during or immediately after a hard race but they never mean it, and in August 2014 I completed my second 100 mile race.
As you will most probably know if you have read any of my other race reports, one thing led to another, and the distances and frequency of my races and adventure walks increased, and this race was my 40th walk of 100 miles or farther.  Not a bad effort.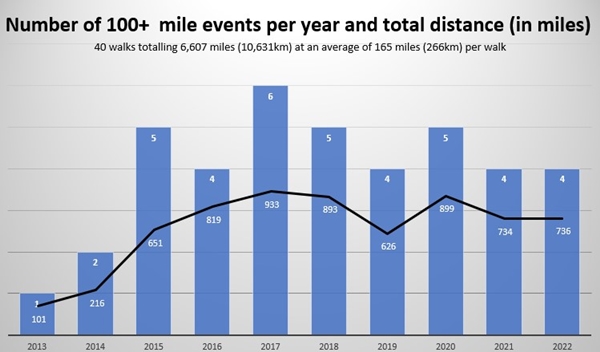 And I have plans to continue. I seem to recover well from these long walks. Physically it only takes a couple weeks. Mentally, it takes a bit longer, especially if it has been a hard race requiring lots of focus to maintain a good pace.
My focus now is on the 6 jours de France in April.  It is now four weeks since the NZ 24 hour race and I have resumed training (and walked a PB over the marathon distance this past weekend) and will build my weekly mileage up so that when I return to the UK after Christmas I can launch back into a high mileage phase of about 2 ½ months through to mid/late March, and then the goal is to walk a minimum of 700km in six days.
After that, well let's see what comes next.
Thanks Dad
Last, but definitely not least, a big thank you to my father for his support in this race.  Ever since I was a teenager running much shorter events I've never had a 'good' race when he has come to watch or support me, so I was very happy to finally have some success in front of him.