When we first moved to England in 2008 I remember being impressed by this huge motorway that circled London. Between four and six lanes going in each direction.  117 miles in length.  The first time I drove on it, I thought about the movie Cannonball Run, and wondered if there was a record time for driving around it.  And a couple minutes later we were stopped dead still in a traffic jam and I learned why the M25 motorway is referred to as the world's biggest carpark.
Nine months later I was training for my first triathlon since the mid 90's and I thought I would try and cycle a lap around the outside of the M25 motorway.  Obviously you can't cycle on the motorway itself, so I started building up my long training rides, but I never got around to doing 'the ride' and after the triathlon (the 2009 UK Ironman) I gave up cycling and forgot about the idea.
My first attempt in 2016
Roll on 2016.  I had switched from triathlons and running to race-walking and was looking for a suitable challenge to use as a fundraiser for Sport Relief – the bi-annual UK wide fundraiser where people do all sorts of sporting challenges to raise money for charity.  And in March 2016 I attempted to walk non-stop around the outside of the M25 motorway.
The short story is that I lasted 32 hours before I had to sit down for the first time, and a couple hours later I quit, only to restart and complete the journey the following day.  In total the walk took me 86 hours of which 50 hours were walking.  You can read a full summary of my 2016 M25 Circumnavigation here.
Preparation for my 2017 attempt
When I finished that walk in 2016 I knew I had some unfinished business, and started making plans for another attempt.  I contacted Limbless Association, (a London based charity who provide support to people who have lost one or more arms or legs, their care givers, and their families) to discuss the possibility of using the walk to raise money for them.  I feel fortunate that I have two good arms and two good legs and I wanted to use them to help people that, perhaps, are a little less fortunate than me.  I was also keen to support a small charity, having done fundraising walks for Make-A-Wish Foundation and Sport Relief in 2015 and 2016 respectively, and Limbless Association fitted all my criteria.
I also learnt from my 2016 experience.  There is a saying that the only failure is the failure to learn from your experience, and I identified a number of changes I could make that would enable me to successfully complete my goal of circumnavigating the M25 motorway non-stop this time:
Firstly, I started at 8am rather than 2pm which was the time I started last year. This meant that I got a full day (50 miles) before nightfall.
Doing the walk in May also meant warmer weather. Last year it got down to zero degrees at night.  This year it was around 8 degrees on the first night, although it was colder than that on the second night.
I also changed the direction of my walk, and walked around the M25 in an anti-clockwise direction. You might not think that this would make a difference, but it meant that by the time I got to Saturday afternoon I was walking through countryside that was more familiar to me. I've done a reasonable amount of walking and cycling on the southern side of the M25 and mentally, it made a big difference walking in an area I knew rather than somewhere I didn't know so well.
Lastly, when I have mapped out the route I wanted to walk I took more care this year to ensure that it was on roads that Google Maps had a street view of. Last year I mapped out the course using Google maps but a lot of the time I found myself walking on muddy trails and down narrow alleyways which were fine during the day, but not so easy to navigate at night.
I also decided to rely on an electronic map on my phone rather than the printed maps that I had last year but couldn't see clearly due to tiredness.
Day 1
Friday morning, 5th May, finally arrived.  I had a reasonable sleep the night beforehand – my Fitbit says I slept for 4 hours 52 minutes which is 3 hours more than I slept the night before the Dublin to Belfast race too weeks earlier.  Hopefully it would be enough to get me through up to 48 hours of walking.
After showering I had the first of my two breakfasts (two bowls of porridge) and then caught the bus and train from home to Upminster Station, eating a second breakfast while travelling.  I met Joel, the Fundraising and Communications Manager for Limbless Association at Upminster.  Joel was going to be my support crew for the first few hours of the walk.  We drove down to the start – the end of Oliver Close, a dead-end street in Grays, Essex, which was the closest we could get to being underneath the QE2 bridge.  This was where I had finished my walk last year. It isn't the most existing of places.  All that is there is a cement works, or something similar, and the only people we saw were two truck drivers.
Joel attached his Limbless Association flag to the fence and filmed me on Facebook Live saying a few words about what I was about to do, and then I was off – at 10 minutes past 8am on Friday morning.
My plan was to carry two cellphones, one for my map reading, and one for listening to podcasts/music, posting facebook/twitter updates, and keeping in contact with anyone I needed to.  But within a couple hundred meters something was wrong with my second phone.  I couldn't get my route map to load and when I got to the first corner, less than 400 meters into my 160 mile adventure, I had to make a decision which way to go.  I had a 50/50 chance of being right, but when I managed to get my map loaded on my main phone I realised that I had already taken my first wrong turn!  Hopefully this wasn't going to be an omen for the rest of the walk.
After that minor mistake I had an uneventful few hours.  Joel drove 2 ½ miles up the road, waited for me to come past and gave me whatever food/drink I wanted, and then drove another 2 ½ miles up the road.
It was a nice day but due to a slight breeze, it wasn't too warm and for most of the morning I wore three layers on top – a T shirt and thermal top (both of which I had intended to take off before we started or soon in to the walk) and a Limbless Association T shirt over the top.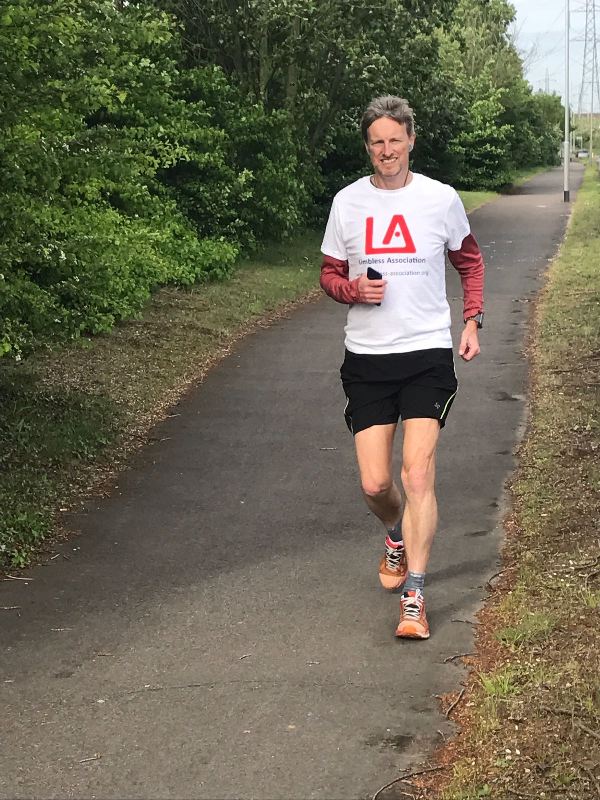 Because it wasn't too warm I didn't need too much to drink either, so when Joel had to leave early afternoon for a few hours, I decided that all I would need would be sufficient food to last me up to three hours while he was away.  It turned out that this was a wrong decision.  The sun came out and the wind dropped away and it wasn't long before I started to feel thirsty.  I didn't even have any money to buy a drink, not that there were any shops where I was at the time.
Joel re-joined me at around the 6 hour mark and I immediately downed a 500ml bottle of water, and downed another bottle each time I saw Joel until he departed a couple hours later.
Night 1
I had completed 38 miles (60km) when Joel had to leave.  I stopped at his car and put my thermal top back on again and put my Ultimate Direction running vest on laden down with additional clothing and enough food to see me through to the morning, and filled a plastic shopping bag with a selection of 'mixed calories' for dinner – fruit, crisps, biscuits, half a bag of pork scratchings, and a bottle of coke.
Over the next hour I ate my way through everything in the bag – probably something between 1,500 and 2,500 calories – while walking at a gentle pace.  This was the first of my two dinners for the evening.
I passed 40 miles (¼ of the expected distance) in 8 hours 50 minutes, and 50 miles in 11 hours 25 minutes.
Just past the 50 mile mark I saw an Oasis (McDonalds) in the distance and stopped for a second dinner – fries and coke.
To be honest, the night was a little uneventful.  At some stage I put another layer of clothing on, as well as my hat and head torch, and on occasions I thought I was going to have to put my rain jacket on as it kept threatening to rain.  Fortunately it didn't.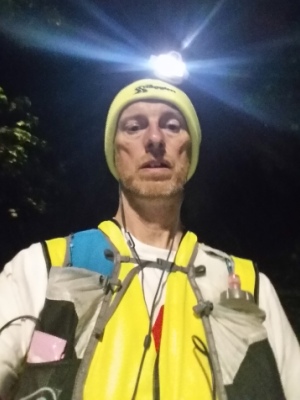 I passed the 100km mark in 14 hours 37 minutes and reached half way (80 miles/128km) in 19 hours 20 minutes – at 3:20am.  By that stage I had crossed the top of the M25 and was half way down the western side – half way between the M40 and the M4 motorways.  I stopped in a town called Iver to get the bottle of coke I was carrying in my Ultimate Direction running vest.  The vest is a small backpack designed for runners, and has enough room to carry food, etc, within it and strap additional things such as clothing to the back.  It also has pockets on the straps and the front to carry food and water.  The way I use it is to only take it off my back once every few hours, and to load the pockets on the front as well as the two pockets in my running shorts with the food I remove from the backpack.  I've found this to be more efficient than removing the vest every time I want something to eat.
I loaded my pockets, and ate a chocolate bar washed down by coke as I left Iver heading towards the M4 motorway and the sound of early morning flights arriving and leaving from Heathrow Airport.
Day 2
As I expected, circumnavigating the M25 in an anti-clockwise direction helped me mentally as whilst I was tired after walking for almost 24 hours, I was in familiar territory and around 7am I received a facebook message from Andy Nuttall, owner and editor of Ultra Magazine, asking what I wanted for breakfast.  He said he would meet me in Row Town so I checked Google Maps to find out where that was and realised that Row Town was still a few hours away, so I had some more to eat and kept on walking.
Eventually I met up with Andy just before reaching 100 miles (which took me 25 hours 10 minutes).  Andy had asked what I wanted for breakfast when he messaged me earlier.  My answer was toast with butter, and an apple or an orange, plus some water.  Andy turned up with everything I had ordered as well as a chocolate croissant.  Perfect!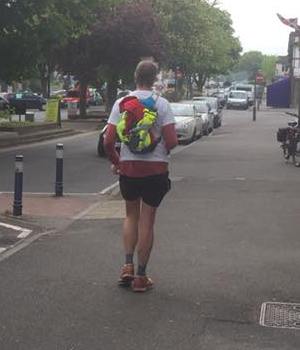 Andy asked if I wanted to sit in his car while I ate, but I reminded him that part of my challenge was to complete the walk without sitting down from the time I started until I finished.  So I refilled my water bottles, and ate breakfast while walking.
One of the things that I tried to avoid doing throughout the walk was to think about how far I still had to go.  When I reached the 100 mile mark, I was happy to acknowledge (to myself) that I had completed my 14th walk of 100 miles or further, but I still had a long way to go, and it was too early to start thinking about that.  Instead I just focused on the moment.  The day was underway in England and I was receiving regular encouragement messages via facebook and twitter, not that I hadn't been receiving them overnight.  One of the benefits of having friends on both sides of the planet is that when you need encouragement during a walk of this length, friends are awake somewhere in the world.
During long walks I listen to podcasts until I get too tired to concentrate on them, or start losing momentum, and then switch to high tempo music to get me going again.  Normally this means up to 12 hours of podcasts and then switching to music, but this was a longer walk than normal so I listened to podcasts right through until I reached 100 miles.  When I started walking the previous day I was walking at a pace of around 12 ½ minutes per mile (7:45/km), but now I was down to 16 minutes per mile (10 minutes per km).  This was a little bit slower than I wanted and I thought that some music may help.  It didn't, but over the next four hours I maintained the same pace despite some extreme hills, especially between Leatherhead and Reigate where at one stage I walked non-stop uphill for over an hour!
My feet were handling the walk well.  Whilst they felt a little sore, there was no sign of blisters (thanks, in part, to my Injinji socks) and my legs were still in good condition.  It's strange, but in writing this report, there really isn't much to report.  Everything was going well.
I remember at some stage early in the afternoon a man who introduced himself as Christopher joined me.  He had a bit of a limp and said he was from Limbless Association, but I would never have guessed that he had prosthetics instead of legs – incredible!  He walked with me for about 500 meters, thanked me for my support of Limbless Association, and wished me well for the rest of my walk.  Perhaps he knew something because I was on my way towards Leatherhead and the hills when I saw him 🙂
After getting through the hills between Leatherhead and Reigate, there was one last hill to climb before I would meet Paul and Chloe, ultramarathon runners whom I didn't actually know that had offered to come out and support me by feeding me as I descended Redhill.  And what an amazing site: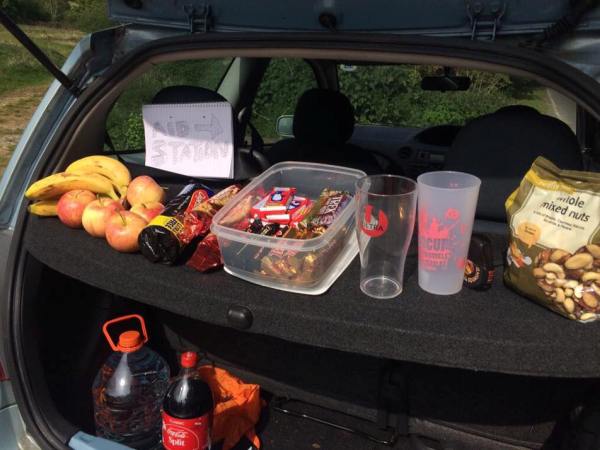 Their car was one of the best stocked aid stations I have come across in years of ultra-distance races.  Everything I could ever want!
And not only that, Paul and Chloe volunteered to meet me again in an hour or two to give me some more food.  Such generous people.
Bladder failure
It was around about this time however, that I started to experience the first effects of the walk.  I was almost at 200km (124 miles) – which I passed in 32 hours 17 minutes – when I needed a wee.  Normally if you need to go to the toilet you 'feel' the need and have plenty of time to find an appropriate place to stop – whether that is public toilets or behind a bush or hedge – but this was no longer the case.  I had less than 10 seconds notice to find an appropriate place to stop.  I was heading down hill in a semi-rural area at the time and there was a side street going off to the right so I quickly crossed the road and headed towards the side street.
At about that time I think Paul and Chloe must have driven past because another couple minutes down the road, they were waiting for me with their mobile aid station.
My short-notice toilet stops continued for the rest of the journey.  The first time I have experienced this but at least it was only a bladder problem and not diarrhea.
Paul and Chloe met me one more time at about 220km (137 miles), not long before darkness.  At that stage I was still feeling good, but things can change very quickly.
The long slog through to the finish
I said earlier that it isn't a good idea to think about how far you still have go during a long walk like this, but during the afternoon I had started to work out that I could finish as early as midnight (40 hours) if I maintained my pace, and at the latest I thought it would be about 2am.
Joel was planning on joining me for the last few hours and my wife and son, Ruth and Zac, were going to meet me at the finish.  I sent them all a message at some stage during the afternoon suggesting that a finish sometime between midnight and 1am was likely, but as darkness arrived for the second time I started to really struggle.  As well as the bladder weakness I was starting to have mild hallucinations.  The first hallucination was when I saw a toddler in the middle of the road in front of me.  When I got a little closer I realised that the toddler was actually a dog 🙂
The other problem I was having was a fear that my phone battery might not last the night.  This would be a catastrophe as my route map was on my phone, and being so tired, it was extremely unlikely that I would be able to navigate to the finish in Dartford without my map.
Fortunately, another Oasis appeared in front of me.  This time the Oasis was an all night supermarket.  I stopped and purchased a USB charger that was 'pre-charged' as well as a can of coke.  I can't imagine what the people in the supermarket thought of me.  I was wearing a hat and headtorch on my head, a 'back pack' on my back which had a had a flashing red light on the back of it, and I stunk!  38 hours of continuous walking makes you smell a little.
It was 10:30pm and when I emerged from the supermarket I realised that I was cold so I took a few minutes to put my long sleeve T shirt and jacket on, and then did the maths to work out how long it would take me to finish the walk.
I estimated that I had around 15 miles (24km) still to go.  At best I thought that would take me around 5 hours so I sent messages to both Ruth and Joel to advise that my new ETA was around 3:30am and started walking again.
Ruth replied to say that in that case she would have a short sleep and would leave home at 2am to meet me at the finish, and Joel replied to say he was currently on his way to see me and would provide support through to the finish.  Joel would be my saviour!
I met up with Joel a mile or two later and told him that I would like him to drive only one mile at a time.  By this stage, even one mile seemed like an eternity, but mentally it would be a big help if I saw him every 20 minutes or so, and he could feed and water me as required.
My hallucinations continued.  I remember seeing someone walking towards me carrying a whole lot of sticks with lights on them at one stage.  It was Joel, but he wasn't carrying anything at all.  I regularly saw people waiting on the side of the road for me, but when I got there, they were trees and bushes.  And on more than one occasion I saw whole families (two adults and two or three children of different heights) waiting to cheer me on, and again, when I got up to where they were I found plants and bushes of different sizes.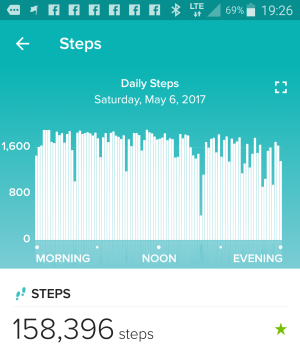 Not long before midnight I checked my Fitbit. 155,000 steps for the day.  I would win the 'Daily Showdown' Fitbit challenge that I had invited some of my Fitbit friends to 🙂
The USB charger I purchased didn't last long, and only charged my phone back to 30%, which quickly drained back below 20% again.  I couldn't risk the possibility of the battery dying even with Joel guiding me into Dartford, as if something went wrong I might need to rely on my map again.  Fortunately Joel had the ability to recharge the USB charger in his car, and charged it enough for me to charge the phone a bit more.
I was going extremely slowly now though.  And really struggling, occasionally stopping dead in the middle of the road and putting my hands on my knees to get short rests.  I started having thoughts that if I was to collapse then I would have an excuse to sit down for a while, or maybe even quit altogether.
I was in a bad place.
Ivo, a long-distance walker based in the US sent me a facebook message but I couldn't bring myself to read it.  I really just wanted to quit and I didn't want to hear any positive comments.  I had stopped reading comments on facebook too.
My pace was down to just 2 miles per hour when I received a message from Ruth saying that they were leaving now and would see me at 3:30am.  It was now 2am.  I did the maths again and worked out that I still had 7 miles to go which meant that the last 7 miles had taken me 3 ½ hours.  2am plus another 3 ½ hours equalled 5:30am.  I sent Ruth a message telling her that it was over.  That I was quitting.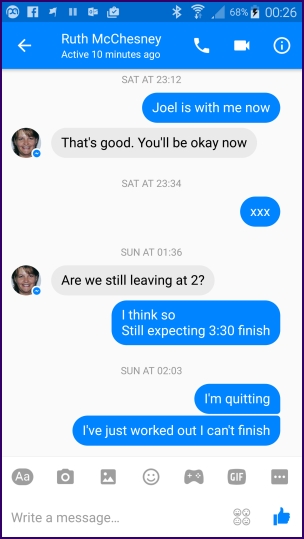 Strangely, even before she rang me to talk some sense into me, my pace immediately picked up from 30 minutes per mile to 20 minutes per mile.  Ruth and Zac rang me to tell me that there was absolutely no option but to finish.  I agreed, but whilst I was feeling better, I was really agreeing just to get them off the phone.  When I caught Joel I told him I was considering quitting but right now I was feeling better and would keep going until things got bad again.  Joel also told me that he thought we only had 5 ½ miles to go, and not 7.
I arranged with Joel that from now until the finish he would only drive as far as the next corner, and then wait for me.  I was too tired to follow the map on my phone any more, and was worried that I would miss a turnoff so needed Joel to guide me to the finish.
Each time I saw Joel he would tell me what to expect over the next little bit of the journey.  I assume he was driving ahead, checking what was coming up, and then driving back to meet me at the corner.
I wasn't feeling great, but I was going to finish!
With a mile or so to go I sent Joel off to the finish where he met Ruth and Zac.  We had descended the last hill and the rest of the walk was going to be dead flat.  As soon as Joel left my pace dropped again.  The last mile took me 24 minutes.
At 8 minutes past 4am, 43 hours and 58 minutes after starting my walk, I arrived at the end of Bridge Street, and the end of my mammoth walk.  158 miles, 254km.  303,000 steps recorded by my Fitbit.
I was the first person to circumnavigate the M25 non-stop on foot, and also the fastest.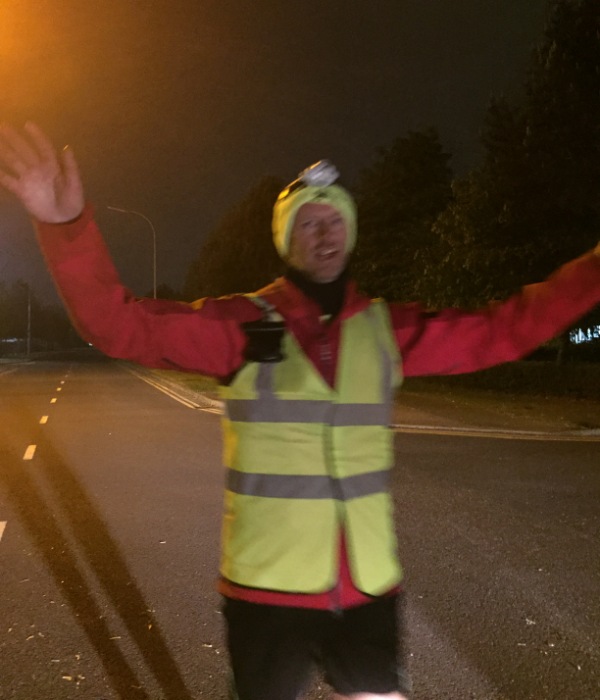 My recovery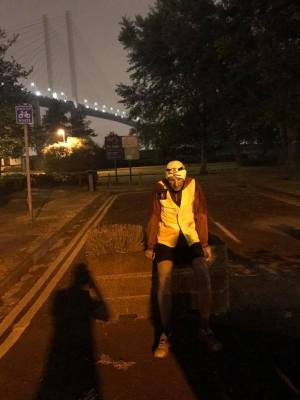 As soon as I crossed the 'finish line' I sat down on a plant holder at the end of the road.  But my brain had been focused on moving forward and being on my feet for the last 44 hours, and the moment I sat down I started to feel faint.  I lay on the ground before collapsing.  I was totally drained.
This wasn't the furthest I had walked – I walked 381 miles in a 6 day race last year – but it was the furthest I had walked non-stop, and without sleep.  I have said it after other long walks before, but I truly believe that this was the hardest walk I have ever done.  The fact that I didn't sit down for 44 hours, and hadn't slept for almost 48 hours (having woken at 4:30am on Friday), combined with the extremely hilly course, had contributed to this being much harder that I expected.
While lying on the ground I changed my top for some clean, dry clothes and Ruth wrapped me in a blanket while Zac removed my shoes for me.  My feet were actually in extremely good condition – just a small blister on the inside of each heel.
After a while to recover, we said goodbye to Joel and I was bundled into the back of the car and taken home.  By the time I had had a bath, it was 6:30am when I got into bed and I slept for six hours.  When I woke I decided that it would be best to get up immediately rather than spend too much time in bed, as if I slept too long, I might struggle to sleep tonight.
That said, I spent the whole day on the couch with my feet up.
The following day I walked into work and was asked if I had done the walk.  My work colleagues couldn't believe how well I was walking.  I've found that I can recover extremely quickly from my long walks, and other than an ulcerated tongue (caused by eating too much sugary food, and perhaps a lack of blood supply to my tongue when other parts of my body needed the blood more), I was more or less fully recovered – although still a little tired.
For my own records, I need to record hear that during the walk I had two pain killers and two caffeine tablets.  I can't remember exactly when they were but think the caffeine tablets were at roughly 4am and 10pm Saturday, and the pain killers were after breakfast on Saturday and then after one of the times that Paul and Chloe fed me on Saturday afternoon or evening.
Fundraising Total
In total, thanks to many generous donations, my walk raised £1,902 including Gift Aid.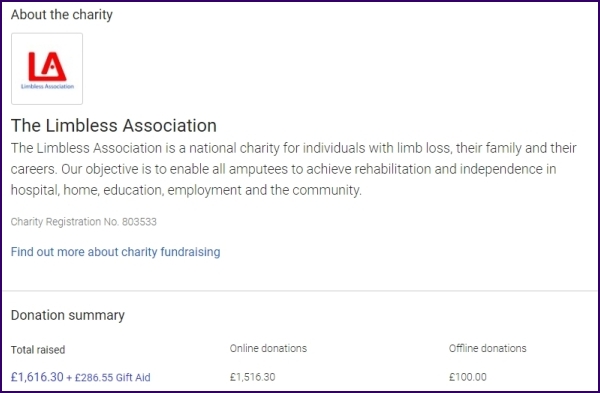 Newspaper articles
The Surrey Comet published this article on the Friday that I started the walk:
http://www.surreycomet.co.uk/news/15267772.This_man_is_walking_160_miles_non_stop_around_the_M25_for_a_touching_reason/?ref=fbshr
The article has a couple incorrect facts including that the walk was going to be on Saturday/Sunday, not Friday/Saturday.
And Go Surrey published this article after my walk:
http://www.getsurrey.co.uk/news/surrey-news/kingston-man-completes-160-mile-13014629
There are also a couple inaccuracies in this article including the last paragraph which states that I want to do another fundraising walk (true) but don't know who I want to raise money for (false).  I really enjoyed working with Limbless Association on this project, and have already met with them to start discussions about possible future projects – so stay tuned 🙂
A few more photos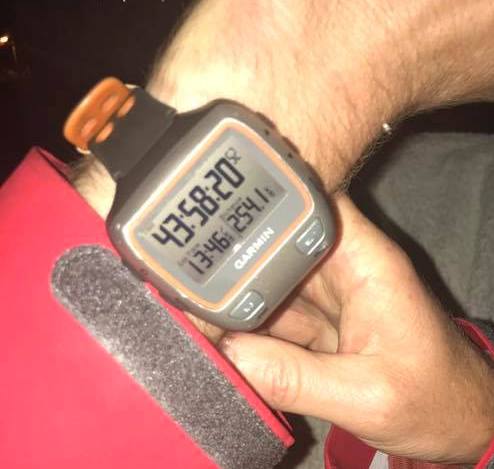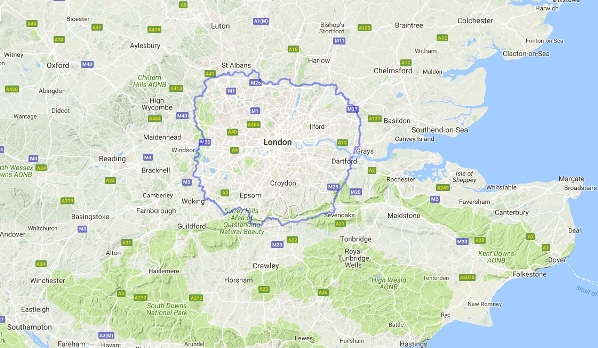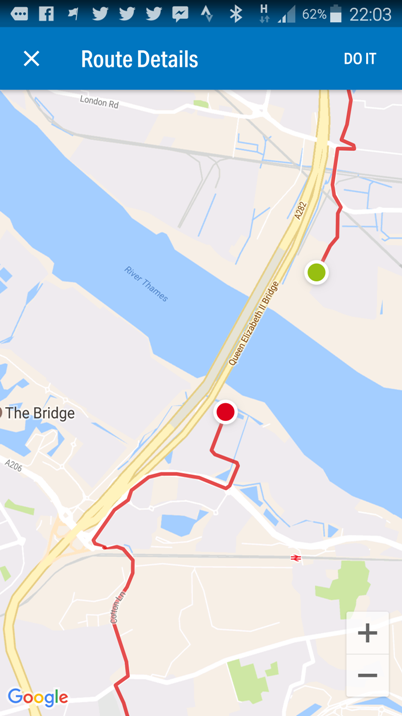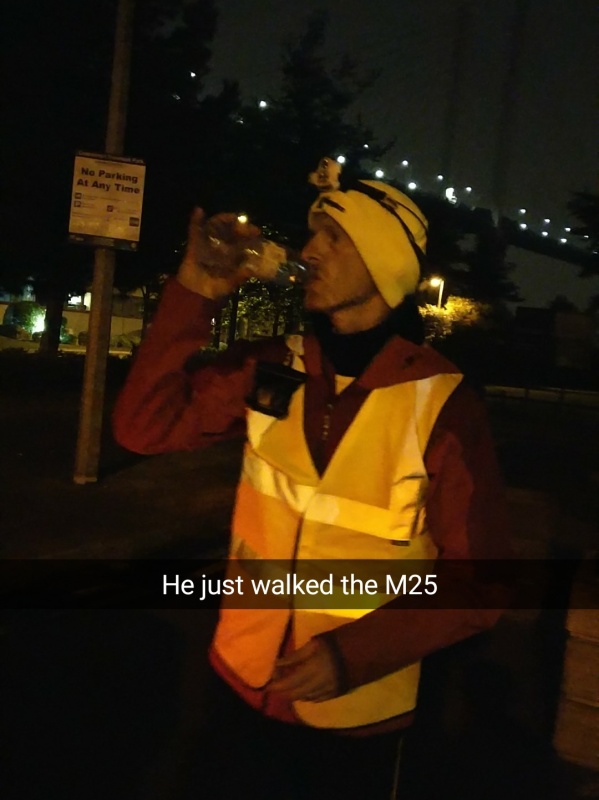 M25 circumnavigation fastest known time:
My time for the M25 circumnavigation is the fastest known time (FKT) for circumnavigating the M25 on foot.  The following is evidence to confirm that I walked the full distance:
Strava record of the walk: https://www.strava.com/activities/975025683
Fitbit Steps: The following three screenshots show my Fitbit steps for every 5 minutes from start to finish.  Whilst I didn't sit down between when I started and finished, the graphs show when I stopped for foot or toilet breaks: