If I say so myself, I write some interesting race reports. But how do you write an interesting race report about walking 414 laps around a 400 metre athletics track?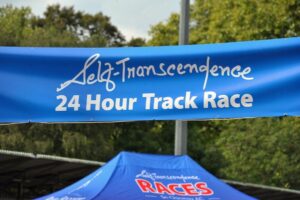 The 2021 edition of the Sri Chinmoy 24 hour track race, a race that has been held at Tooting Bec track every year for the last 30+ years, was at a new venue this year – Millennium Stadium, Battersea Park. 
My first 24 hour race in October 2013 was the Sri Chinmoy 24 hour race held at Millennium Stadium in Auckland, New Zealand.  In that race I completed just under 163km (101 miles) in 24 hours.  Little did I know at the time that that first 24 hour race would be the start of an incredible adventure that has seen me complete 33 more walks of 100 miles or further including New Zealand race-walking records, multi-day races and solo adventures. 
The London Sri Chinmoy 24 hour race is a running race but included in the 45 starters were two people who would be walking the whole way – myself and David Hoben.  Other competitors included both male and female elite GB runners, visually impaired runner Sinead Kane who would be running with guide runners, and 81 year old Patricia Seabrook who would break multiple world age-group records during the race. 
My Why:
I've come to learn that ultra-distance races are much easier mentally if you have a reason for doing the race – your 'Why'.  When the going gets hard, and even during a great race you will have times when it gets hard and you question why you are doing it, you can think about your 'why' and that 'why' will help you get through the difficult stages of the race. 
The best race I've ever had was when my 'why' was the strongest.  I had entered this race for two reasons:  
It was in London meaning that I could catch the train to the race that morning and catch the train back home after the race – no need for any accommodation or long-distance travel (the Sri Chinmoy race is the same weekend as one of my favourite French races – the Roubaix 24 hour race – but with travel to France a little risky at present, staying in London was a much better idea), and

 

I wanted another sub-24 hour 100 mile time.

 
My 'why' was therefore that I wanted to complete another (my 16th) sub-24 hour 100 miler.  I also gave myself another reason not to fail by walking parkrun in Richmond on my way to the race that morning.  I would look like an idiot if I did a 5km 'warm-up' and then failed to achieve my race goal. 
There certainty wasn't any guarantee that I could walk a sub-24 hour 100 miler in this race though.  I've been carrying a couple minor injuries all year – my left shin which I hurt in 2019 in still not completely healed and my right piriformis muscle has been plaguing me since January.  Another few weeks, one more race, and I'll be taking a two-month rest to get over the injuries. 
Mentally though, I felt very strong and I felt confident that I could walk somewhere between 100 and 105 miles. 
The first nine hours:
The race started at 12 noon in warm, sunny conditions with a gentle breeze to keep the temperature comfortable.  I settled at the back of the field for the first two laps before passing David and Patricia and for the next six hours I was in 43rd place of 45 athletes.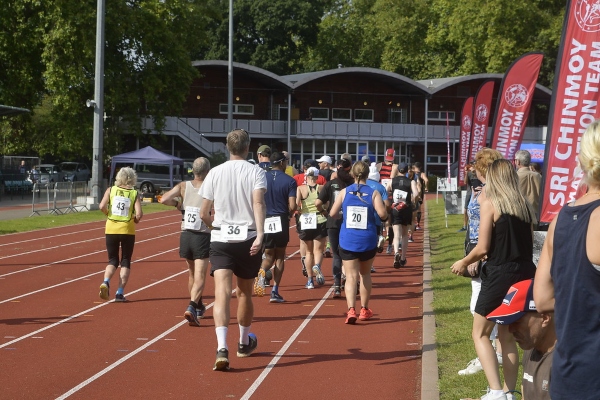 The one thing I didn't like about the race was that we were all asked to run/walk in single file (no problem with that) on the white line separating lanes 1 and 2.  This would allow faster athletes to under-take slower athletes rather than lose distance by overtaking them.  The problem with this concept was that as a walker, for the first period of the race I was travelling slower than everyone else in the field, and therefore most of my laps were between 405 and 407 metres in length (On athletics track the inside of lane 2 is 407.67 metres in length).  If I was to walk 100 miles (402 laps) I would need to walk an extra 2 kilometres if I averaged five extra metres per lap.  At an expected pace of a little over 8 minutes per kilometre, that meant I actually needed to walk 23 ¾ hours or better for 100 miles, and then the extra 2km to reach my sub-24 hour 100 mile goal. 
In my first 24 hour race back in 2013 everyone (runners and walkers) was allowed to walk on the inside of lane 1 and faster athletes had to overtake.  My second 100 mile race was also on a track (the UK Centurions qualifying race in 2014 – a walkers only event) and again we walked on the inside of lane 1.   
If I was an elite runner I be thankful for the rule imposed by the race organisers, and this was a runners race, so who am I to complain – I'm currently the 43rd fastest in a field of 45. 
Unlike many of the trail running races I have competed in over the years, I didn't know too many of the other competitors and the last thing I wanted was to get offside with any of the runners or the race organisers, but every time we reached the curve at either end of the track I would look behind me and if there was a reasonable gap between myself and the approaching runners I would cut the tangent and walk into the inside of lane 1.  Occasionally the runners catching me would be running faster than I anticipated and would call out "Track" and I would step out towards lane two to allow them to undertake me.  I found that I was constantly looking over my shoulder but I also felt that I was at least able to average a saving of a couple metres every lap, probably averaging 404 to 405 metres each lap. 
Surprisingly I started unlapping myself against many runners after just six hours.  I was expecting that it would be eight to nine hours before the runners started to slow.  As a walker I find that my overall pace is more consistent than most runners in ultra-distance races, and unlike most runners I had no intention of stopping at any stage during the race, and I didn't have a chair near my food, etc.  My personal rule is 'Don't sit down in races shorter than 36 hours'.  It's a rule that I don't always apply, but for this race I had no intention of stopping or sitting down. 
I passed 40 miles (64km) in exactly nine hours.  Looking at the race stats while writing this race report I see that of the first 161 laps, 145 of them took me between 3:10 and 3:30, three laps were faster than 3:10, seven took me between 3:31 and 3:35 and the other six laps involved either quick toilet stops or quick stops to restock my pockets with some of the food I had brought with me to the race – I had made a late decision to bring my own food rather that eat food from the aid station that we passed during each lap as a health precaution – covid and hygiene. My slowest lap in the first nine hours took 4:25. 
I was feeling good and not only was I unlapping myself against many runners (I guestimated that I was probably walking faster than about half the runners in the race), I was also starting to move up the leader board. 
It was now dark, but we were walking/running on a floodlit track, and the wind had completely died away.  It was a beautiful night.  I was still walking hard enough that I wasn't cold at all, although many runners were beginning to put warmer clothes on.  I was on pace for a good result if I could hold the pace. 

A minor slow-down:
I don't know why, but I started to slow down a little after nine hours.  Rather than comfortably walking most laps in 3:20, give or take, I was now struggling to keep my lap times under 3:30. 
From the start I had been walking two laps at a fast walking pace, a few seconds per lap slower than my powerwalking pace, and then I would powerwalk for the next 23 minutes through to the end of the half hour.  Because of my injuries I can't race-walk anymore – losing about 15-30 seconds per kilometre on my normal race pace – but this pattern of 7 minutes easy, 23 minutes harder seemed to work well. 
On the half hour I would eat and 'rest' during the two easier laps, and on the hour I would use my phone to check the live results on the internet.  The organisers were manually updating a leader board every hour but unlike the multi-lap races I compete in in Holland and France there was no electronic scoreboard, so I used my two easy laps at the top of each hour to check the online results and also eat and drink – I was drinking water from the aid station whenever I needed it. 
Checking the internet results also enabled me to skim back through my lap times to check that I was maintaining an even pace.  Most of the race I would check the seconds on the race clock at the end of each lap and then work out how long my lap had taken me.  As the race went on though, it became increasingly difficult to remember the number of seconds that were on the race clock for the three and a bit minutes each lap was taking.  
Anyway, my focus was now on walking sub-3:30 minute laps and that kept me going for a while but eventually I decided that it was time to start drinking coke and switch my food intake up a level by increasing the quantity of food I was eating that contained processed sugar.  Normally in a race of 24 hours or longer I try to get through to at least 12 hours before increasing my sugar intake, but I had my first coke at just 10 ½ hours. 
Mentally, if not physically, it did the trick and I started feeling better.  I passed 12 hours with exactly 85km (53 miles) completed, and I reached 100km in 14 hours and 10 minutes.  A reasonable pace and still on track for 105 miles. 
In the 89 laps I walked between 9 hours and 100km, 51 were under 3:30 and another 21 took between 3:31 and 3:40.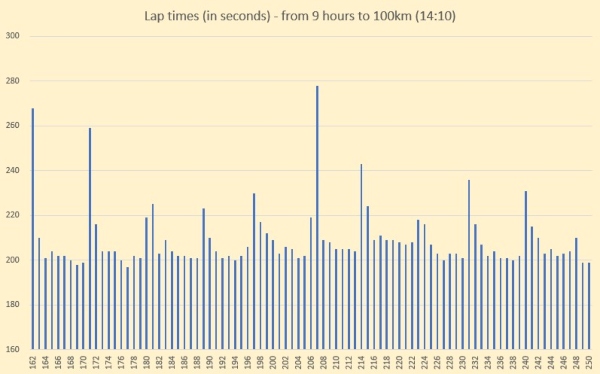 The bad patch:
And then happened.  No sooner had I passed 100km I started losing more time on every lap.  I was still trying to walk under 3:30 per lap, but it was now much harder.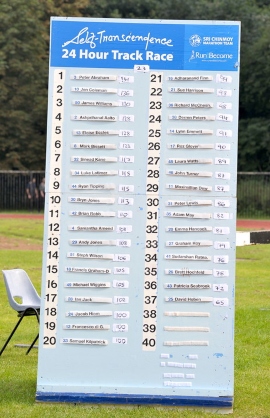 I was still working my way up the leader board, passing runners regularly and spending more time walking on the inside of lane 1 than earlier in the race, and in as far as bad patches go, this wasn't really too bad. 
I kept focusing on my lap times, walking two easier laps every 30 minutes, and eating and drinking regularly.  Compared with many races I've done, the race wasn't actually that hard and I was still maintaining a pace that would see me complete 100 miles comfortably within the 24 hour time limit. 
From 100km through to 20 hours only 14 of the 97 laps I completed were under 3:30.  The majority (60 laps) took between 3:31 and 3:45, and 16 laps took between 3:46 and 4 minutes – with the remaining 7 laps being laps containing toilet breaks or food restocking stops. 
Four minutes per lap is 10 minutes per kilometre.  Too slow!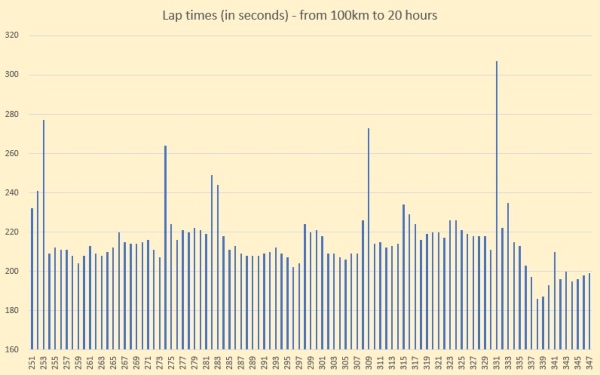 The final four hours: 
Shortly before the 20 hour mark I switched from listening to podcasts to some high-tempo music.  This worked for a while and combined with the fact that it was now daylight (8am) and the knowledge that there were only four hours left, I was able to pick my average pace up again – at least in my mind anyway.  The stats might tell me otherwise (67 laps with only 10 of the sub 3:30, although 56 of them were under 3:45). 
I passed 100 miles in 23:18 – my 8th best time for 100 miles and fastest since my PB (and NZ record) in May 2018.  At 100 miles I was in 23rd position.  Not yet in the top 20 that I had decided to aim for 20+ hours earlier, but not bad considering that I had been in 43rd position for the first six hours. 
A couple runners had stopped at 100 miles and two of the runners in front of me also eased the pace enabling me to finish the race in 19th place overall.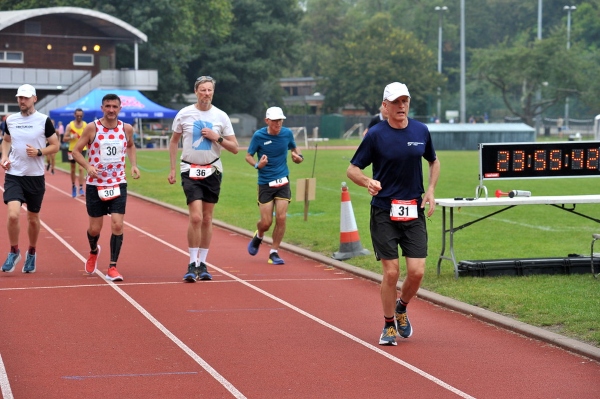 I also managed to impress myself by walking my fastest two laps in the last two laps of the race.  Lap 413 took me 3:00.7 (not that I noticed the exact time until later).  When I got to the end of lap 412 with just over 7 minutes left on the clock I decided to wind up the pace and make my last full lap my fastest of the race.  Kathy Crilley had come down to watch the end of the race and she had my marker stick (that we had to put on the track when the race finished at 24 hours to enable partial laps to be measured) and she was intending to walk the last lap with me. 
I told Kathy that I was going to walk fast for the last lap and she started running to keep up.  In the end she handed me the marker stick and I went on to finish lap 414 in an impressive 2:47.4 (6:58/km pace) – my only lap of the race under 3 minutes – and then walked another 253 meters to finish the race in 19th place with a 24 hour distance of 165.853km (103 miles). 
Other analysis:
Looking at my split times for each 10km segment you can definately see that I felt better during the first 100km, but I'm not too disapointed with the last 60km either.  I think I achieved what I wanted to from the race – a sub-24 hour 100 mile walk and a good last long walk before my next race.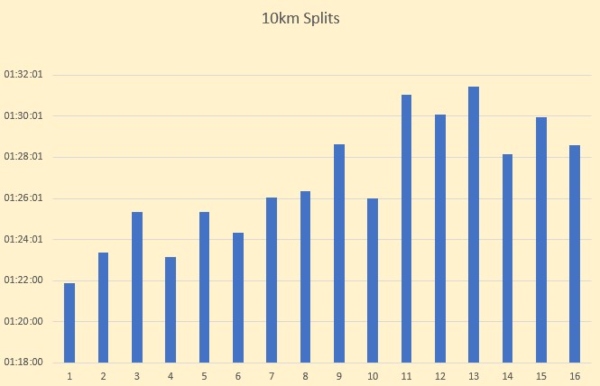 In total I walked 414 (and a half) laps.  A quarter of them took 3 minutes 16 seconds to 3 minutes 20 seconds, and 260 (63%) of them were in the 15 second range between 3:16 and 3:30 – very consistent pacing.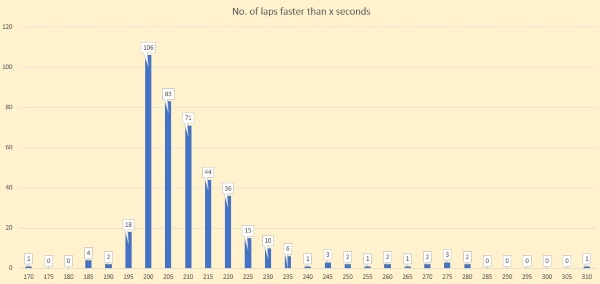 What's Next:
I have one race left this year.  In mid October I will be competing in the Lon Las Ultra – as 250 mile race from Holyhead in North West Wales to Cardiff (South East Wales).  I dropped out of this race in 2019 and am going back this year to redeem myself!