My first 'walkers only' race since June 2019 was the 'annual' (except for the last two years due to the pandemic) UK Centurions race which is held at a different venue in the UK each year.  This year it was on a 974 metre cycling track in Middlesbrough with 39 walkers entered.
About a half of those entered, myself included, had previously qualified for UK Centurion status by completing 100 miles in under 24 hours at a previous UK Centurions race and the other half of the field were either walkers looking to add a UK Centurion badge to the badge/s achieved in other countries or were looking to completed a sub 24 hour 100 mile walk for the first time.
Centurions race-walking has a long history with the first person recorded as walking 100 miles in under 24 hours being James Edwin E. Flower-Dixon in London in 1877.  Since then (and before this year's race) 1,211 walkers have achieved this feat in the UK (I was number 1,131 in 2014) and another 700+ have achieved this in one of the other six countries where Centurion walking is recognised. Many have qualified as a Centurion in multiple countries with the legendary Sandra Brown being the only person to qualify in all seven countries (but that is because Malaysia have discontinued their race) and eight walkers having qualified in six different countries including three of this year's competitors at Middlesbrough – Sharon and Justin Scholz from Australia and Kim Janssens from Belgium.
In my case, I have qualified in New Zealand (2013), UK (2014) and Netherlands (2016) and this year my aim was simply to walk under 21 ½ hours to break the NZ M50 100 mile record of 21:37.
My training hadn't been going well though as I have been struggling with foot pain/discomfort since late April but having completed the first 100 miles of the 6 jours de France in May in 24:29 and the first 100 miles of the Warwickshire Ring Canal Race in June in 24:24, I was confident that I should at least be able to walk a sub 22 ½ hour race and if things went well, then sub 21 ½ hours.
I also had two other goals for the weekend:
Join Middlesbrough to my continuous line of everywhere I have walked since 2014, and
Complete my 141st different parkrun (and 489th overall)
Eventually I'm aiming to have walked contiguous lines to all corners of Great Britain but that is a lot of miles and I take every opportunity I can to build on my ever-growing map.  In 2016 I was training for my first six-day race when the UK Centurions race was in Redcar. The cost of getting from London to Leeds was relatively cheap but for some reason it was much more expensive to travel all the way to Redcar (just 10 miles to the East of Middlesbrough) so I decided to walk the 70 miles from Leeds to Redcar the day before the race. This walk passed Middlesbrough to the South East, so on Friday afternoon after arriving in Middlesbrough I went for a two hour walk to join Middlesbrough to the line I had walked in 2016.  I haven't yet joined Leeds to the main part of my map yet, but hope to do that next year or the following year during another 'adventure walk'.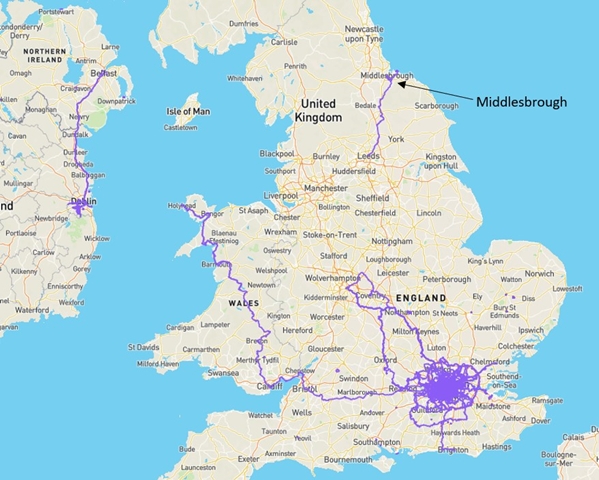 And on the Saturday morning before the race I took the opportunity to walk an easy 5km at Albert Park parkrun, walking would I hoped would be my overall race pace of around 8 minutes per kilometre.
Goals 1 and 2 achieved.
The race:
I didn't arrive at the Middlesbrough cycle circuit until about 11am, one hour before the race, due to a lack of organisation on my part and a long delay waiting for a bus from my hotel down to the race. When I arrived I met Diana Obermeyer who was supporting American walker, Ray Sharp, and had offered to support me as well. We found a space about 20 metres past the timing mat and set up our table. My intention was to eat the food I had brought with me and take drinks from the aid station which was positioned immediately after the timing mat, so I laid my food out and then made final preparations for the race start at 12 noon.
It was a windy day and looked like it would also be a hot, sunny afternoon so I placed my white towel over my food to both stop the food blowing away and also stop it from being cooked in the sun, taping my towel to the windward end of the table.
It was good to meet many old friends, some whom I hadn't seen since before the pandemic, and I probably spent a little too much time talking and not enough time preparing which resulted in me still needing to go to the toilet at the time we were being called to the start line. So I put nature's call on hold and lined up with 35 other walkers to listen to a few words from the race referee and also the local mayor, and then we were on our way.
As always, I started slow compared to many, but at a pace that I felt I would be able to hold for the first 8 to 10 hours, or at least until darkness anyway. My goal of 21 ½ hours would require lap times of about 7 minutes and 50 seconds, although a 7:52 average would actually get me to the finish about a minute ahead of the NZ M50 record of 21:37. I thought if I walked 7:40's for the first 8 to 10 hours, then with a little bit of slowing down when it got dark I would still be in the high 80km range, maybe even 90km, at 12 hours and if I could do that then 21 ½ hours would be a strong possibility.
And for the first six hours things went well. The walk was proving to be a bit harder than expected due to the wind and a short dip and incline at the top end of the circuit. In reality, what was happening is that from the top end of the circuit there was a short incline of about 150 metres and then we turned into a strong head wind for the next 300 meters. After that we had a tail wind as we walked down over the timing mat and past the feeding tables followed by a short descent into the top end of the circuit.  The combination of the incline and head wind was making us work harder that we should for the pace we were walking and after six hours averaging slightly under 7:40 per lap my pace started to drift out towards eight minutes.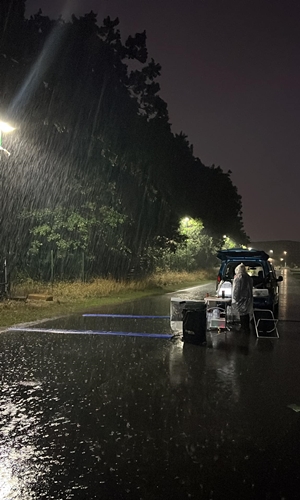 After about eight hours the wind finally died away only for the heavens to open and heavy (torrential at times) rain arrived. Whilst most walkers put on waterproof clothing the combination of rain and the lighter wind was freezing and eventually I decided that, with no end to the rain in sight and my first change of wet-weather clothing already soaked, I would take a short break and change into dry clothes plus my Disneyland plastic poncho and also waterproof socks.
In taking about 13 minutes out of the race to do this my attitude towards the race changed and I felt that I was no longer 'racing' and was now just walking to complete the 100 miles in a respectable time. I had only completed 70km (43 miles) at this stage, and losing 13 minutes wasn't the end of the world – although it wasn't good either – but my mind had found an excuse to stop pushing the pace and when I resumed walking my pace immediately dropped into the mid to high eight minute range.
Interestingly, as often happens, it stopped raining soon after I donned my poncho but I walked for a few hours wearing the poncho fearing that if I took it off again it would start raining, and perhaps sub-consciously using it as an excuse to not walk so hard.
The floodlighting on the course was good and couldn't be blamed for me slowing down. I just didn't have the right attitude.
I had decided to walk this race without listening to any podcasts or music but by dawn I was now struggling to walk under nine minutes per lap so I decided to see if some music would get me going again.  And it did, for a while.
A little after 8:40am I remember crossing the timing mat and seeing the time on the clock – 20 hours 42 minutes.  My 100 mile PB.  But on this occasion, I still had 19 laps to go – another 18.5km (11.5 miles).
For the first time (of another 18), I calculated 24 hour less 20 hours 42 minutes equals 3 hours and 18 minutes equals 198 minutes. 198 divided by 19 is about 10 ½ minutes per lap. That last minute was just over nine minutes. Even with a further slow down I should at least complete the 100 miles within the 24 hour time limit.
It was also about this time that my bladder decided it had had enough and every couple laps it decided it needed to empty itself immediately. About half of the time this meant a quick stop in the bushes at the top end of the course and on the other occasions it meant a quick visit to the toilet in the shed at the other end. To say I was struggling is an understatement, but strangely I was still enjoying the challenge.  If it was easy, everyone would do it!
During the night a large number of walkers had stopped and by now the first three walkers had also finished. The rain had long gone, the wind was back but nowhere near as strong as yesterday, and it was just a case of going through the motions to complete the race.
Knowing that I would definitely finish the race in under 24 hours was both good and bad. The good part was the knowledge that I would finish, but the bad part was that with that knowledge I knew that I could walk even slower, and my lap times drifted out to the high nine minute range. Even when faster walkers passed me at 8 ½ or 9 minute pace I had no incentive to increase my pace to walk with them and so I just continued dawdling around lap after lap.
On a regular basis I would hear the bell for a walker and a lap later see them complete their race. Eventually it was my turn but even when I got the bell for my last lap I couldn't be bothered picking up the pace and I just wandered around one more lap to the finish. My final time: 23 hours, 45 minutes and 21 seconds.  My 39th walk of 100 miles or more, and my 17th sub-24 hour 100 miler.
| | |
| --- | --- |
| | |
| Saturday afternoon – walking with attitude. Reasonable stride length, good arm swing, head up. | Sunday morning – no attitude, short stride, arms held low, looking down. |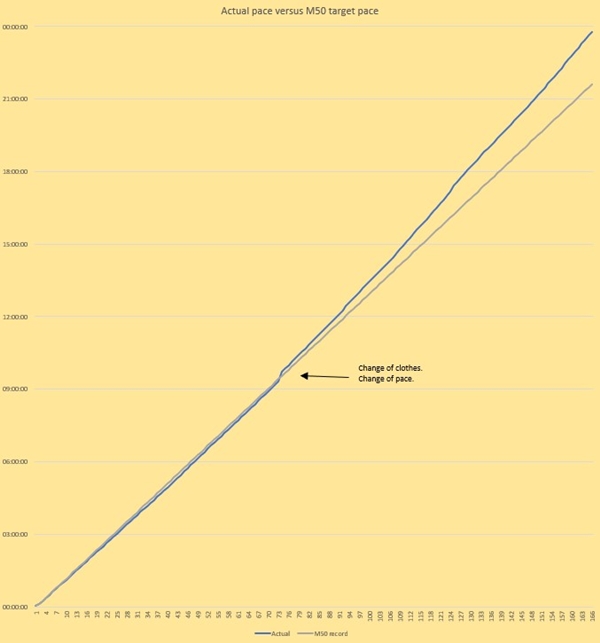 One final thought; I can't blame my foot problems for my race failure. It was definitely a mind thing. In fact my feet didn't hurt (much) during the race and didn't start hurting again until Monday morning.
What's next?
At the time of writing this I'm unsure what my next race will be. I have until July next year to break the NZ M50 100 mile (and ideally 24 hour) records but my focus for 2023 will be the 6 jours de France again where I want to attempt to break 700km.
This leaves the German Centurions race (if it goes ahead) in early October this year and the NZ 24 hour race in November – I will arrive in NZ 24 hours before that race starts. Alternatively, my only other option will be the Dutch Centurions race in June. That will require a speedy recovery from the six day race which is in mid-April.
So at the moment I'm undecided.