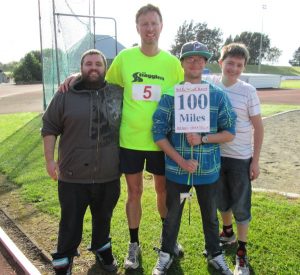 As a race-walker, walking 100 miles in under 24 hours is the ultimate achievement.  Since I started race-walking in 2012 I have maintained a list of all the events I have completed that were 100 miles or further.
To date that is 44 events in four different countries, with 21 of them taking less than 24 hours.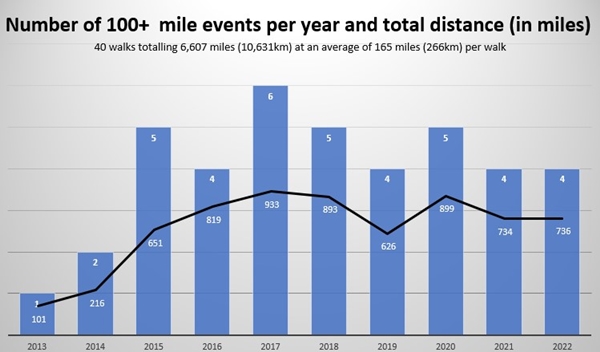 The table below lists each of these walks along with my 100 mile time and additional comments.  And where I've written about the walk, I also have a link to the report within this blog.
No.
Date
Race/Event
100 mile Time
Comments
Sub 24 hours
1
4-5/10/13
Sri Chinmoy 24 hour
Auckland, NZ
23:41:00
Total distance 162.885km (101.2 miles)
My first 100 miler!
Second of three walkers in the race and 9th overall.
NZ Centurion C19.
 1
2
2-3/8/14
Centurions 100 mile track race
Southend, UK
22:39:00
PB
UK Centurion C1131
Finished 7th overall in a new PB
 2
3
20-21/9/14
Roubaix 28 hour
Roubaix, France
22:15:00*
PB
Total distance 186.069km (115.6 miles)
My longest race to date and the strongest competition I have faced.
Walked a 100 mile PB of 22:15 and a 24 hour PB of 171.212km (106.4 miles).
Finished 18th overall.
 3
4
28-29/3/15
Les 24 heures de Chateau Thierry
France
23:42:00*
Total distance 162.514km (101.0 miles)
A very hilly 2.4km circuit.
Finished 18th in a strong field but was disappointed with the result.
 4
5
2-3/5/15
Thames Path 100
25:02:36
My first trail 100 miler. Much harder than a road or track 100.
6
23-24/5/15
Grand Union Canal Race
26:00:00*
Total distance 235km (145 miles)
Birmingham to London via the Grand Union Canal – 145 miles – my longest walk to date.
7
5-8/8/15
Privas 72 hour race
35:30:00*
Total distance 283.599km (176.25 miles)
My first multi-day race – my longest walk to date.
And in temperatures of up to 39 degrees!
NZ 48 hour record!
8
19-20/9/15
Roubaix 28 hour
Roubaix, France
21:45:00*
PB
Total distance 205.090km (127.5 miles)
Finished 7th overall.
100 mile PB of 21:45 and New Zealand 200km record of 27:27:12!
 5
9
11-12/3/16
M25 Circumnavigation
26:19:00*
Total distance 285km (177 miles)
Not a race, but a solo challenge.
10
14-15/5/16
Continental Centurions 100 mile/24 hour race
20:58:27
PB
Continental Centurion C432
Total distance 183.5km (114 miles)
Finished 7th at the end of the 100 mile race and 1st after 24 hours.
100 mile PB and NZ record.
NZ Best 24 hour distance.
 6
11
28-29/5/16
Grand Union Canal Race
23:52:00*
Total distance 235km (145 miles)
Birmingham to London via the Grand Union Canal – 145 miles – 6 hours and 20 minutes faster than last year!
 7
12
23-29/10/16
6 jours de France
(Privas 6 day race)
30:00:00*
Total distance 614.192km (381.7miles)
Finished 3rd and broke NZ records for 48 hours and 500km but narrowly missed the 6 day record (although set an NZ M45 age group record)
13
20-21/4/17
Dublin to Belfast Ultra
23:42:00*
Total distance 172km (107 miles)
Finished 4th overall (1st/only walker)
 8
14
5-7/5/17
M25 Circumnavigation
25:10:00*
Total distance 254km (158 miles)
Not a race, but a solo challenge.
Fastest Known Time for M25 circumnavigation – on foot.
15
27-28/5/17
Grand Union Canal Race
27:31:00*
My first ultra-marathon DNF.  I made it through to 100 miles for the 15th time, but I couldn't continue.
16
28-30/6/17
Thames Ring 250
28:30:00*
My second ultra-marathon DNF!
I made it to 132 miles.
17
20-26/8/17
6 jours de France
(Privas 6 day race)
27:11:00*
Total distance 500.403km (311 miles)
I was mentally weak and struggled for the majority of the race.  Character building 🙂
18
16-17/9/17
Roubaix 28 hour race
22:20:00*
Total distance 201.388km (125.2 miles)
Finally, a decent result after a few disappointments during the summer
 9
19
21-22/4/18
French 24 hour race-walking championships – Dijon
22:39:00*
Total distance 170.714km (106.1 miles)
My 10th sub 24 hour 100 miler. Placed 5th overall.
 10
20
19-20/5/18
Continental Centurions 100 mile/24 hour race
20:44:11
PB
Total distance 185.129km (115 miles)
Finished 3rd at the end of the 100 mile race and 1st after 24 hours.
100 mile PB and NZ record.
24 hour PB and NZ record.
 11
21
9-10/6/18
Last One Standing (England)
24:21:29*
Total distance 147.6 miles (237.5km)
First overall!
22
19-25/8/18
6 jours de France
(Privas 6 day race)
29:47:00*
Total distance 351 miles (564.6km)
Finished 4th and improved my NZ 48 hour record as well as setting NZ M50 records for 500km and 6 days.
23
5-6/10/18
Royan 48 hour race
23:44:00*
Total distance 278.466km (173 miles)
Won the race with my best ever 48 hour distance, although this can only be recorded as an NZ Best due to the race not having any race-walking judges.
 12
24
28-29/3/19
Belfast to Dublin Return Ultra
25:12:00*
My third ultra-marathon DNF!
I made it to 161 miles.
25
8-9/6/19
Continental Centurions Race
23:29:40
Struggled for 19 hours. Not my best race.
 13
26
26-29/6/19
Thames Ring 250
26:15:00*
DNF at 230 miles with injury. On crutches for two weeks. Couldn't have finished the race.
27
17-19/10/19
Lon Las CYRMU Ultra
29:00:00*
DNF at 135 miles due to continuous rain and cold conditions.
28
10-12/1/20
15th Greek Ultramarathon Festival
25:59:10
Total distance 211km (131 miles)
Disappointing race.
29
4-5/4/20
Quarantine Backyard Ultra
23:55:54
Total distance 122.8 miles (197.9km)
Indoor treadmill race
 14
30
11-12/7/20
Quarantine Backyard Ultra 2
23:59:06
Total distance 100 miles.
 15
31
1-4/8/20
Surrey circumnavigation
27:45:00*
Total distance 352km (219 miles)
Not a race, but a solo challenge.
Fastest Known Time for circumnavigating Surrey on foot.
32
3-9/9/20
London underground tube station walk
29:08:00*
Total distance 523km (325 miles)
Not a race, but a solo challenge.
First person to visit all 270 London tube stations on foot.
33
23-27/6/21
Thames Ring 250
26:00:00*
DNF at 235 miles after suffering sever hallucinations.
34
23-24/7/21
Kennet & Avon Canal Race
26:04:00*
143 miles from London to Bristol in 39:13
35
18-19/9/21
Sri Chinmoy 24 hour race, London
23:18:07
Total distance 165.853km (103 miles)
16
36
14-18/10/21
Lon Las Ultra
28:10:00*
Total distance 407km (253 miles)
37
7-13/5/22
6 Jours de France
24:29:45*
Total distance 667.357km (414.77 miles) NZ and Commonwealth six day record!
38
25-26/6/22
Warwickshire Ring Canal Race
24:24:00*
111 mile (178km) loop around UK canals starting and finishing in Coventry
39
20-21/8/22
UK Centurions race 2022
23:45:21
Struggled but finished inside the 24 hour time limit
17
40
12-13/11/22
NZ Centurions race 2022
21:32:44
Total distance 178.315km (110.8 miles). M50 NZ 100 mile and 24 hour records
18
41
10-11/3/23
Phoenix Running 24 hour track race
23:32:50
Total distance 164.0km (101.9 miles). Finished 3rd overall
19
42
15-16/4/23
6 Jours de France
22:59:30
Total distance 711.299km (442.07 miles) NZ and Commonwealth six day record!
20
43
9-11/6/23
Bangor to Liverpool
27:44:00*
A solo adventure walk from Bangor to Liverpool along the North Coast of Wales
44
11-12/8/23
2023 GOMU World 48 hour championship
22:34:43
DNF'd the 48 hour race at 32 hours. Very disappointed
21
No.
Date
Race
Time
Comments
Sub 24 hours
*   Estimated time during a longer event