As a kid my cousins and I used to spend hours and hours playing Monopoly on the floor at our grandparents place.  Every school holidays we would spend a sizable junk of our day buying and selling properties, building them up with houses and hotels to increase the rent that we would receive when someone landed on our properties, passing GO, going to Jail without passing GO, being wiped out when we had to pay property taxes, and occasionally landing on free parking.
We lived in New Zealand, 12,000 miles away from London (and the streets of the monopoly board), on the other side of the world.  I don't think we knew (or even cared) that the streets and railway stations, of the game we loved so much, were real.
We could recite the order that each property appeared in on the board without looking, and we knew the cost of each property, the rental that had to be paid on each property if it was an empty lot, had one, two, three or four houses, or a hotel.  We were obsessed with the game.
[amazon_link asins='B073FTR5VV,B00MCL0ZEQ,B01GEFJU0U,B007VM2H74,B00DSLFETU|B01MU9K3XU,B00NQQTZCO,B01MZ8NX7U,B000063JP7,B001AVN7ZS' template='ProductCarousel' store='walklon-21|walklon-20′ marketplace='UK|US' link_id='504f9491-0eb6-11e9-979b-ffd1289d7a8f']
Having moved to London several years ago, and walked many of the streets of London during my various walking adventures, I had visited many of the streets on the monopoly board and two of the four railway stations.  Always on the lookout for another adventure, I decided to walk from Old Kent Road to Mayfair via every property and every railway station on the board – and in the order that they appeared on the board.  I wasn't going to worry about the Chance and Community Chest cards, nor would I visit the two utilities – Electric Company and Water Works.  The Monopoly game was originally created in the US in the early 1900's and it wasn't until the 1930's that the UK edition was created, and therefore the Electric Company and Water Works didn't actually relate to any particular location – they were just places on the monopoly board.  Nor did Jail or 'Go To Jail', reflect actual physical places, but I decided that I would visit HMP Pentonville as the Jail because it was near Pentonville Road, the property immediately before the Jail on the monopoly board, and I thought I would visit New Scotland Yard when I got to the 'Go To Jail' corner of the monopoly board.  Also, I intended to find 'Free Parking' somewhere in between Vine Street and Strand – something that wouldn't normally be easy to do in London, but I was going to do the walk on a Sunday which made it a little easier to find a parking space that I didn't need to pay for 🙂
Walking the Monopoly Board:
I had estimated that the walk would take me something between 8 and 10 hours to complete and even although I was doing it on a Sunday, I wanted to start early so that I would complete most of the walk before the city became too crowded with pedestrians.
So I drove my car across South London and parked it in the car park in Burgess Park, just off Old Kent Road and then walked down to where I could find an 'Old Kent Road' street sign to take a photo of, before officially starting my walk from outside number 279 Old Kent Road at 5:45am.
Old Kent Road

My plan was to visit each property and railways station on the board, in order, and take a few photos – one of the street sign, and one or two of the street itself.  These are the photos of Old Kent Road at 5:45am immediately before starting my walk.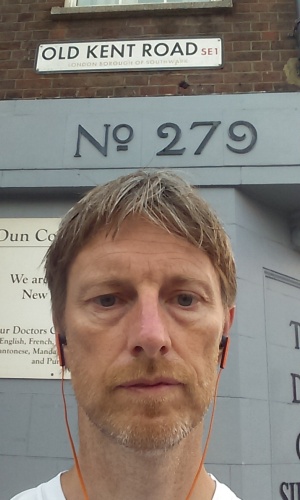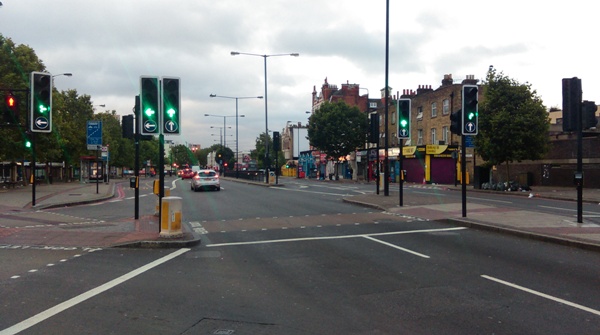 Whitechapel Road

Old Kent Road is the only property on the monopoly board that is south of the Thames, so the first leg of my walk was to head north and over the Thames via Tower Bridge, and up to Whitechapel Road.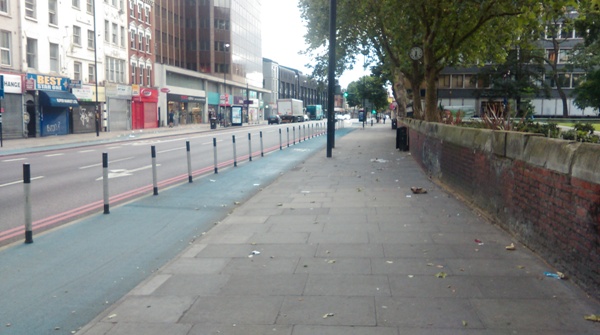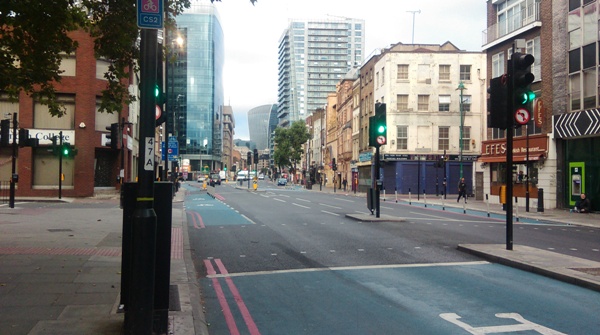 Kings Cross Station
Next was the long journey north west to Kings Cross Station.  By the time I got here I had already been walking for 1 ¼ hours and was only half way along the first side of the monopoly board.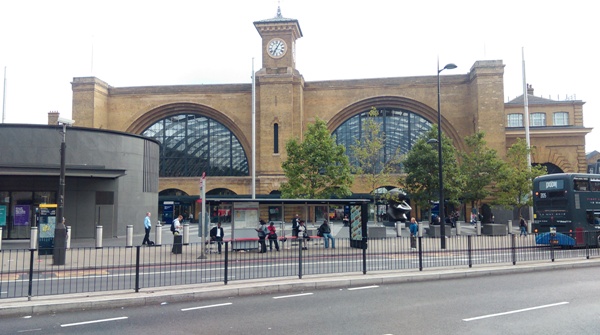 Kings Cross Station is immediately next to St Pancras Station and the two stations are commonly referred to as 'Kings Cross St Pancras'.  St Pancras Station looks much more interesting than Kings Cross so I thought I would take a photo of that station too: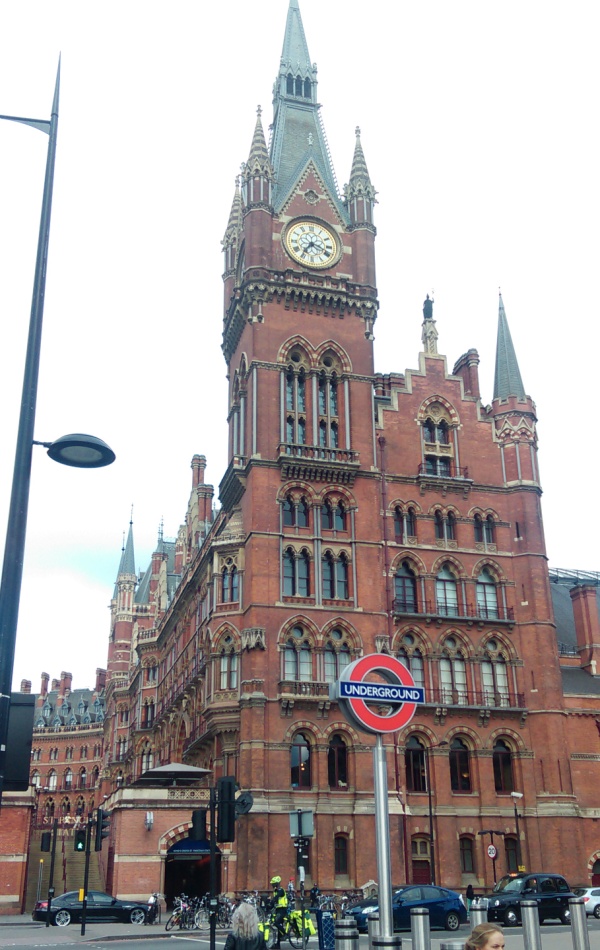 The Angel, Islington
Unlike the other properties on the monopoly board, The Angel, Islington isn't a street but is a property on the corner of Islington High Street and Pentonville Road (according to Wikipedia) but when I arrived there I decided to take a few photos of different places in the area.  These are the best of them:
| | |
| --- | --- |
| The Angel, Islington | The Angel, Islington – me and my halo |
Euston Road
Next, it was back down past Kings Cross Station to Euston Road.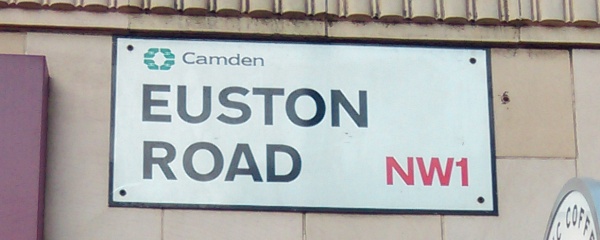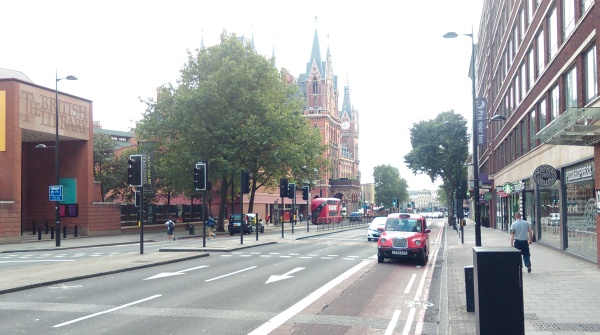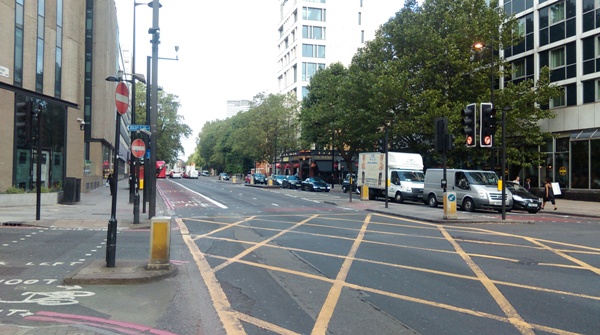 Pentonville Road
And back past Kings Cross again to Pentonville Road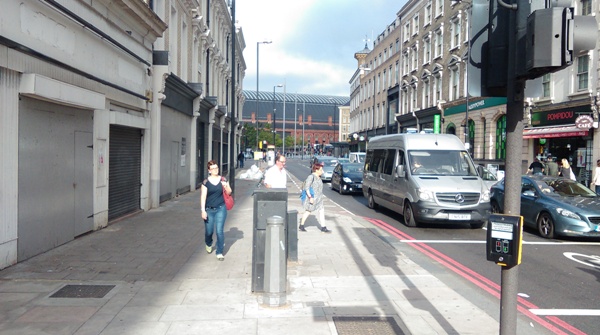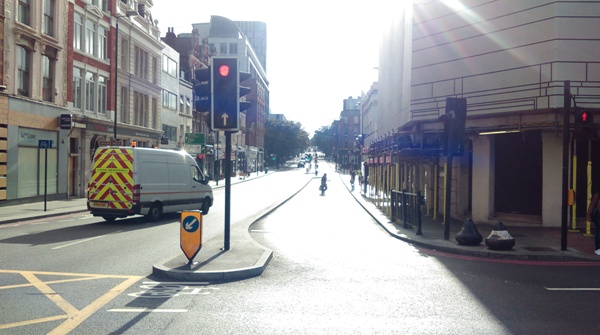 JAIL
There are nine prisons currently active in London – Belmarsh, Brixton, Feltham, Holloway, Isis, Pentonville, Thameside, Wandsworth, and Wormwood Scrubs (according to Wikipedia).  There are also another 22 inactive prisons in the London area, some of which would have been operational back when the UK edition of Monopoly was created.  I decided to visit HMP Pentonville as that wasn't too far from Pentonville Road.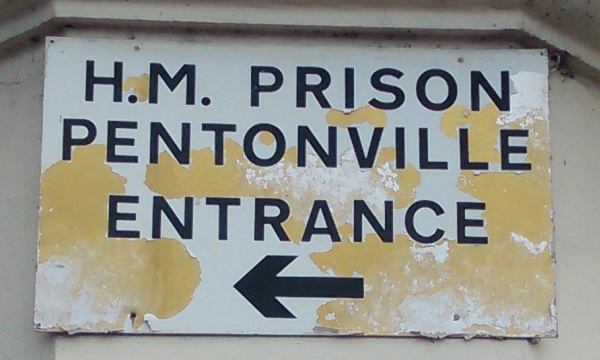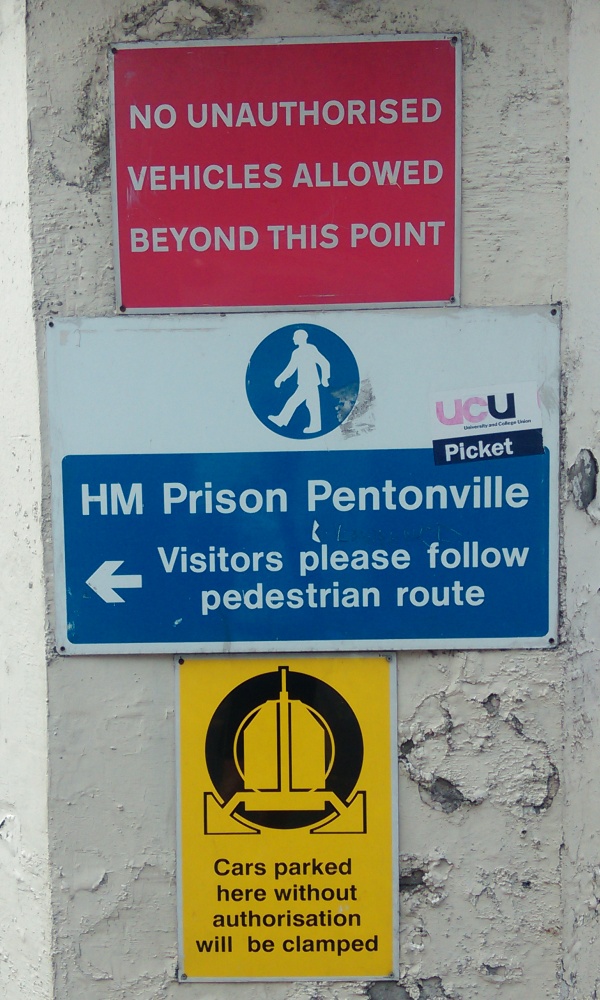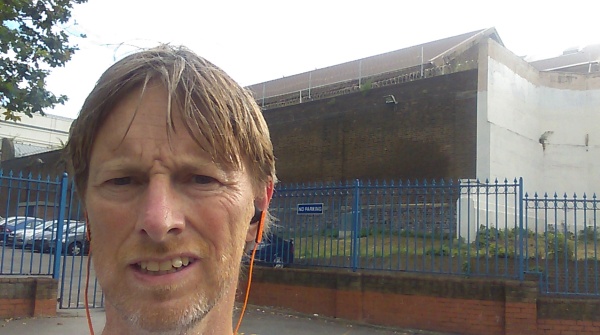 I had reached the end of the first side of the monopoly board in 2 ½ hours.
Pall Mall

Kings Cross to Pentonville Prison via all the 'light blue properties' (The Angel, Islington, Euston Road and Pentonville Road) only took me 1 ¼ hours, but it was now another long walk through to Pall Mall via Regents Park (and I got a little lost along the way) but I eventually arrived at the first of the 'pink properties' 3 ¾ hours after leaving Old Kent Road.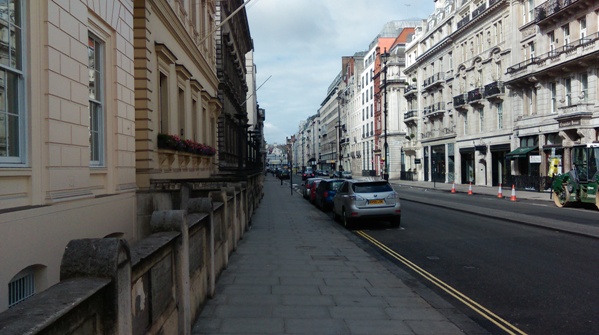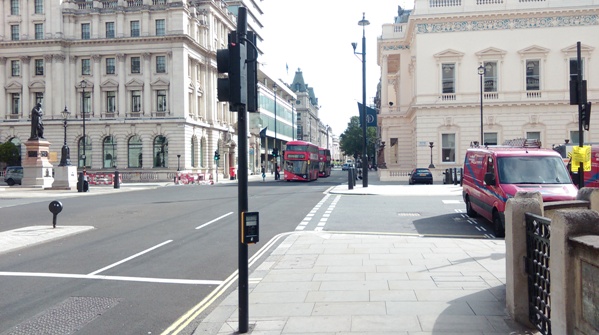 Whitehall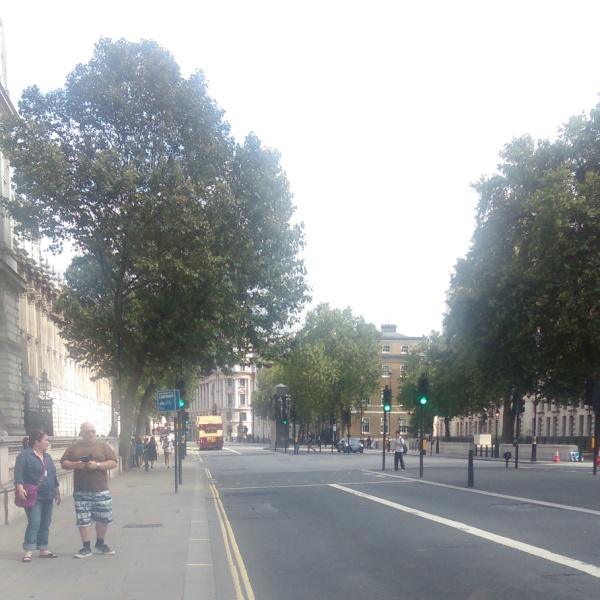 Northumberland Avenue
When you play monopoly you could be forgiven for thinking that each property is close to the next one and that the railway stations are in the same area as the properties that are located on the respective side of the board, but this is not the case.
It was a 30 minute walk from Northumberland Avenue north west to Marylebone Station:
Marylebone Station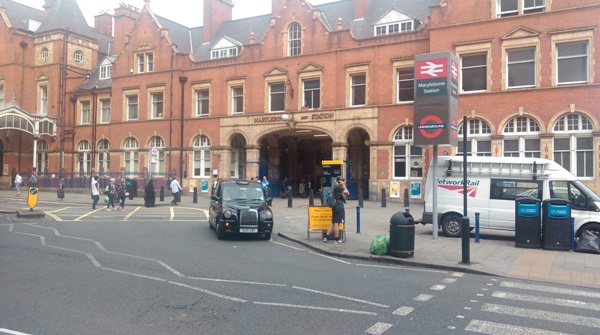 And then an hour south east to Bow Street, and the first of the 'orange properties':
Bow Street

As a kid playing monopoly I remember working out that if you could own all the pink and orange properties, and put hotels on them, you could win the game.  This was because you could own a whole side of the board for a reasonable price, and because there were six properties on that side of the board (versus five on the first side) you had a 20% better chance that your opponents would land on at least one of your properties each lap of the board.  And because the properties weren't too expensive to buy, or to put houses and hotels on, compared to the red, yellow, green and blue properties, with some luck, you could get a monopoly over that whole side of the board much faster than you could elsewhere.  It's a pity I didn't manage to carry this strategy through to real life.  If I had, I would have much more time for these walking adventures rather than having to work during the week 🙂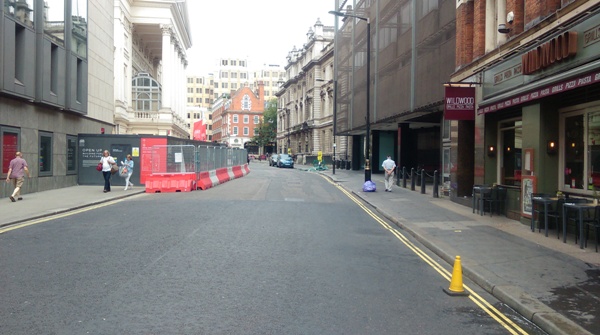 Bow Street
Marlborough Street
In the 80+ years since the UK edition of Monopoly was created London has changed a little and there is no longer a Marlborough Street.  There is a Great Marlborough Street and a Marlborough Road, and I decided that I would visit Marlborough Road as it seemed to me to be more within the 'area' of the pink and orange properties than Great Marlborough Street which is located towards the 'green streets'.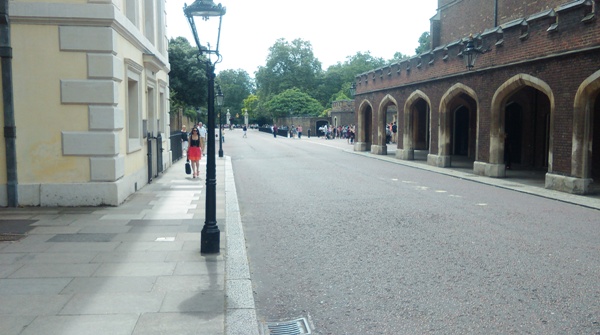 Vine Street

Vine Street was actually a bit of a let down.  It is the most expensive of the 'orange properties' on the monopoly board but in reality it is a short dead end road.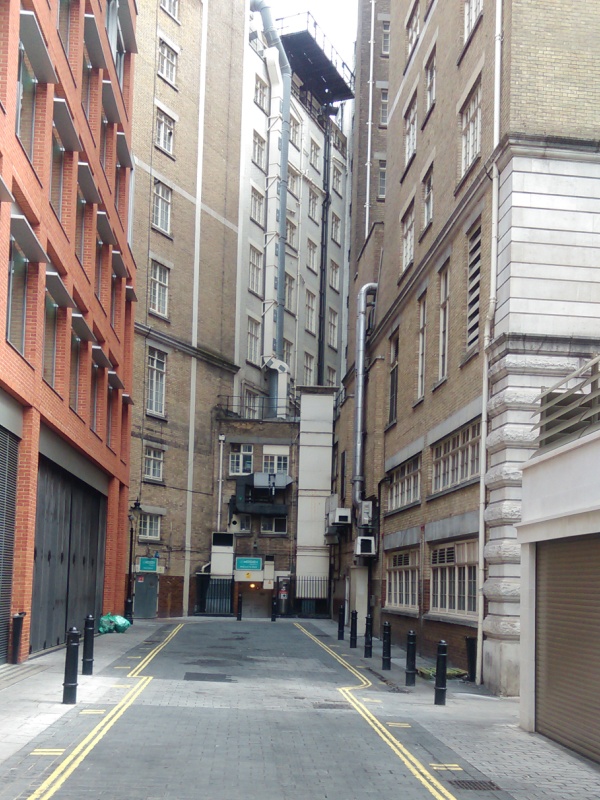 Free Parking
Next I had to find some free parking, but there wasn't anywhere to park in Vine Street at all!
It was time to head west through the theater district to Strand and somewhere along the way I came across both of these parking signs: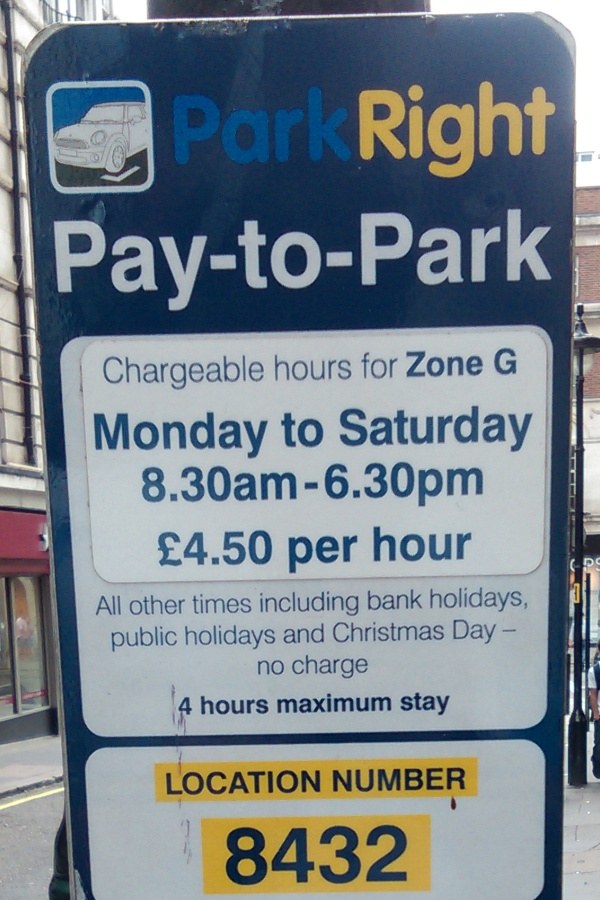 Strand

It was now 12:30pm and I had been walking for 6 ¾ hours already and was only just arriving at the first 'red property'.  My original estimate of 8 to 10 hours was looking doubtful.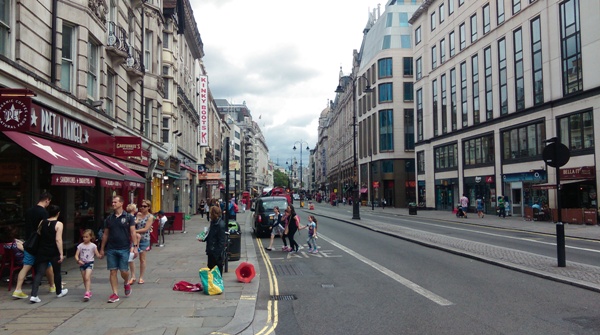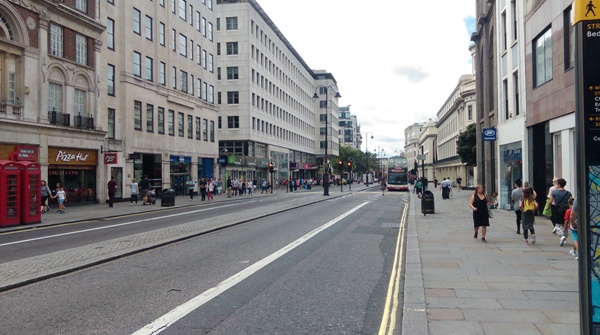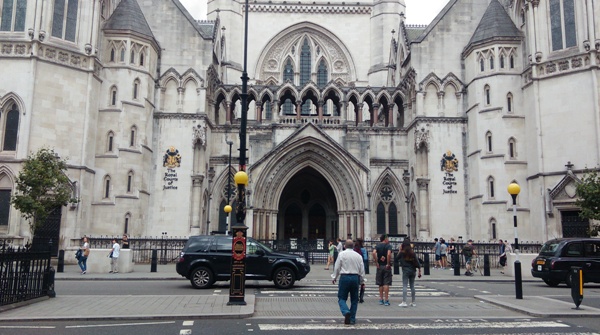 Fleet Street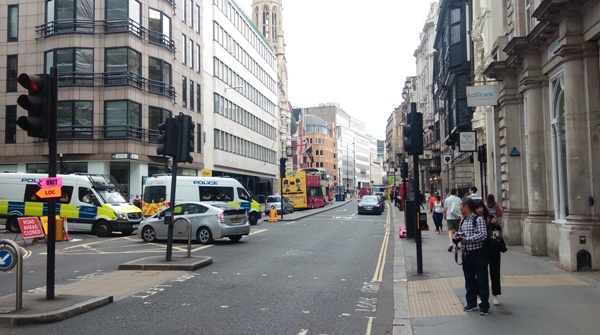 After Strand I walked further east to Fleet Street.  Continuing in this direction would take me to Fenchurch Station but before visiting the next railway I had to backtrack to visit Trafalgar Square.  I've never been keen on walking back the way I have already walked so I decided that I would walk a block or two south to the Thames and then walk along Embankment towards Northumberland Avenue and then up to Trafalgar Square.  This would have been a good idea in theory, but somehow I managed to get lost inside the private grounds of the expensive residential properties between Fleet Street and Embankment and it took a bit of wandering around to find an unlocked gate to get out of the grounds again.
Trafalgar Square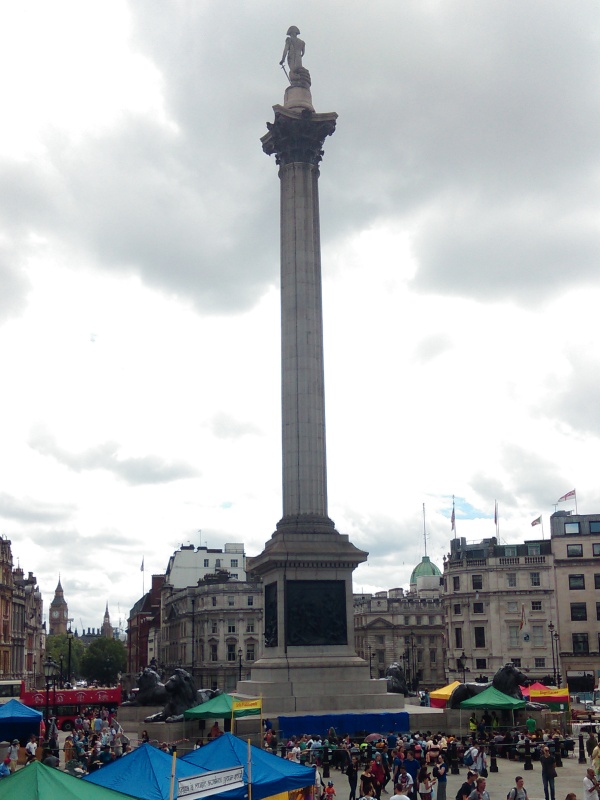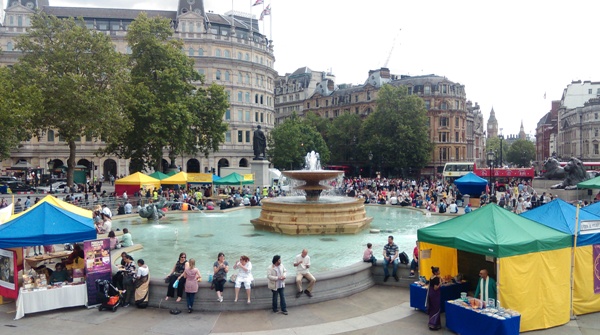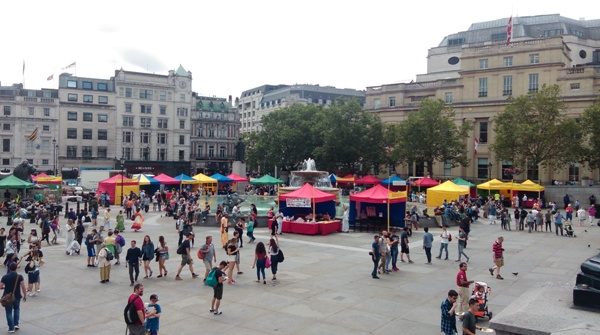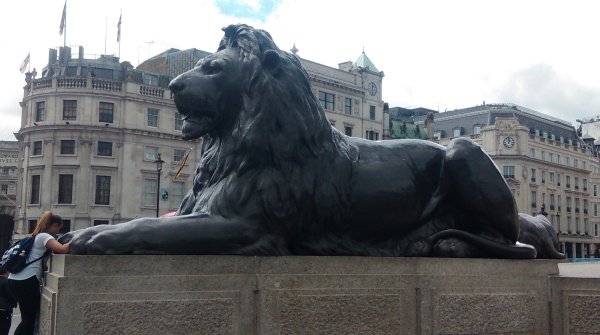 Fenchurch Station
After leaving Trafalgar Square at 1pm it took me another 45 minutes to walk back past Strand and Fleet Street and up to Fenchurch Station: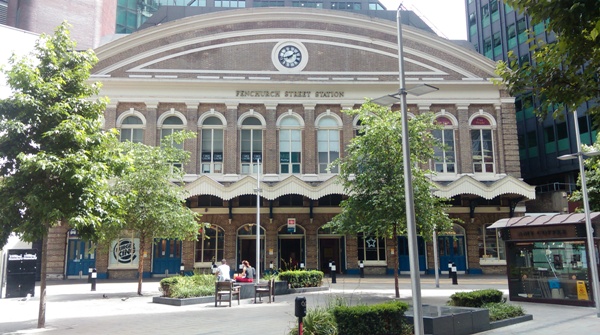 Leicester Square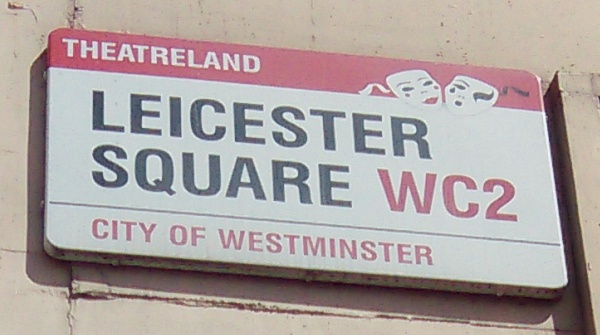 And then another 45 minutes back to Leicester Square, which is only a few hundred meters north of Trafalgar Square!
And when I reached Leicester Square, which I had already walked through earlier in the morning enroute to other properties, I found that there wasn't any room to walk due to a red carpet premier.  The whole area was packed with people waiting to see some celebrities so I took a couple photos and then walked down a side street to get around the crowds to and on to Coventry Street (which actually runs off Leicester Square).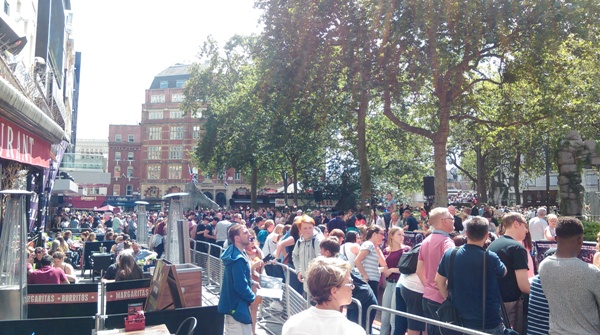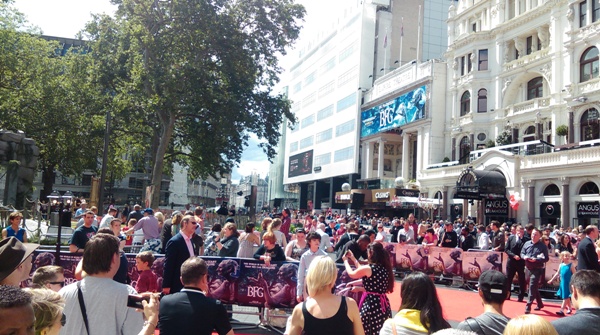 Coventry Street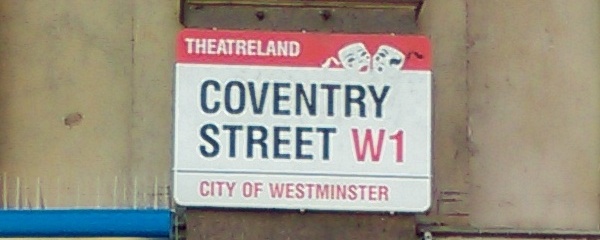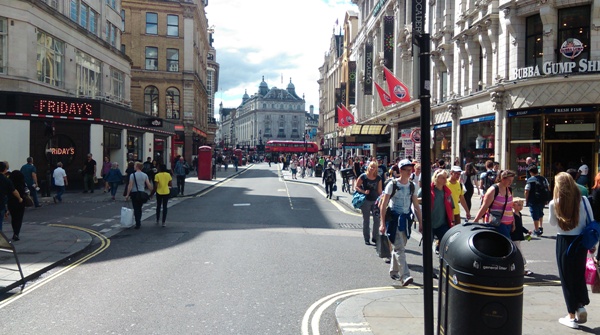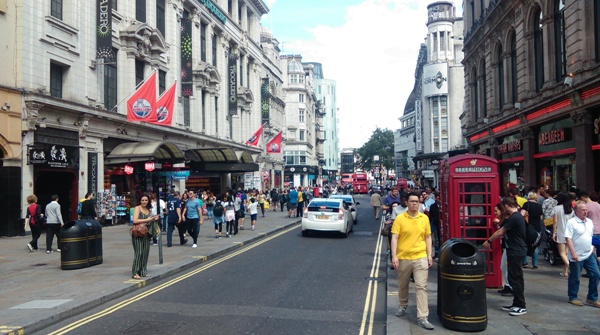 Piccadilly
Coventry Street runs in to the last of the 'yellow properties', Piccadilly.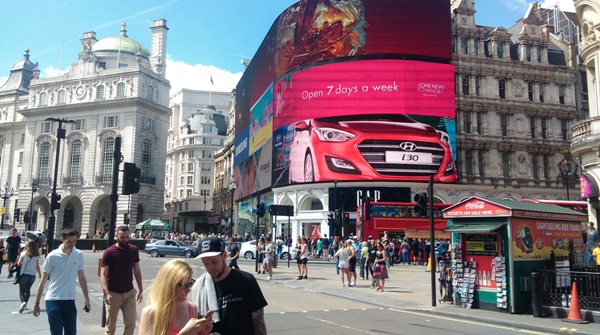 Go To Jail
It was now 2:45pm and I had been walking for 9 hours when things suddenly went wrong!  I almost ended up in Jail after running in to this policemen at New Scotland Yard: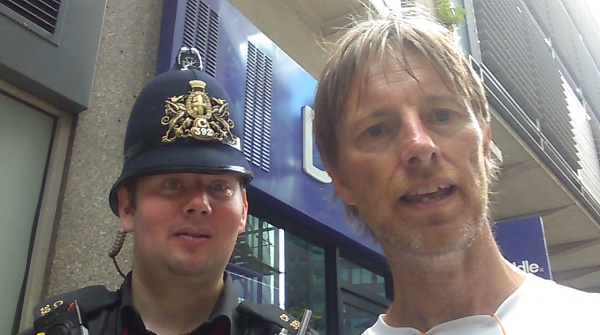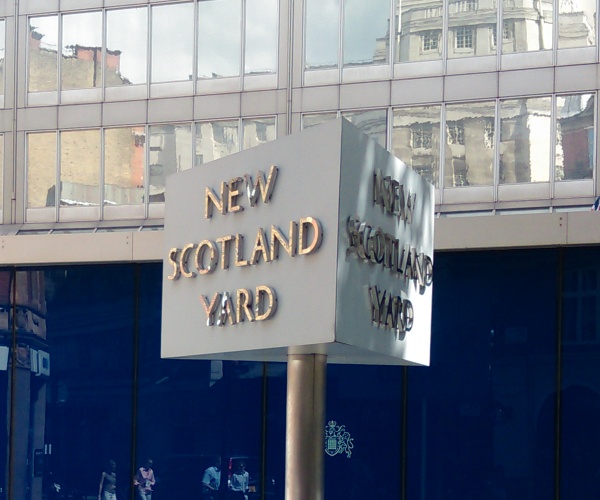 But fortunately I had one of these: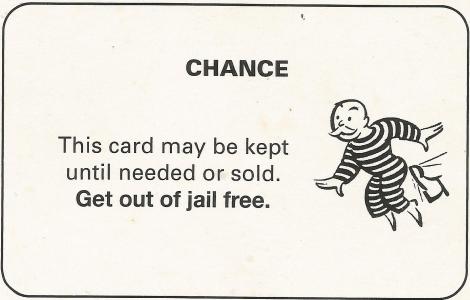 And was able to continue my walk to the first of the 'green properties'.
Regent Street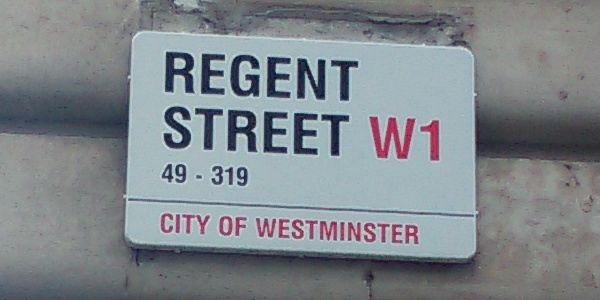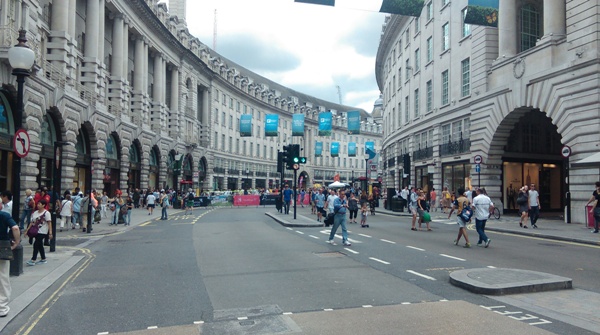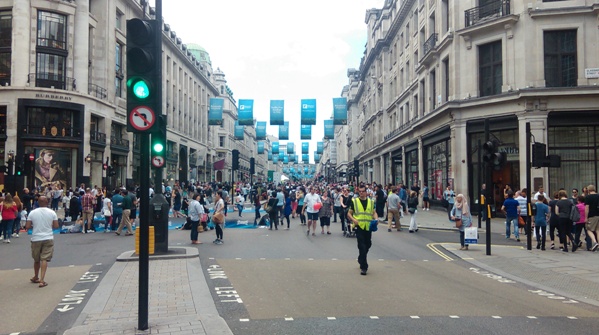 Oxford Street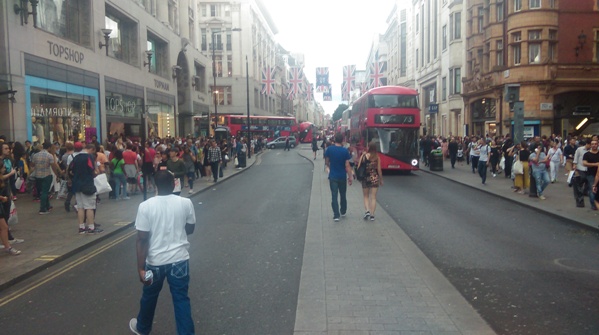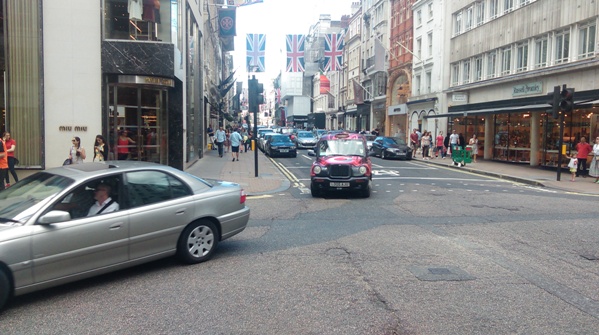 Bond Street
Another change to the London map during the last 80+ years appears to be that Bond Street no longer exists and has been replaced with 'New Bond Street', but there is a Bond Street Station so I decided to visit that: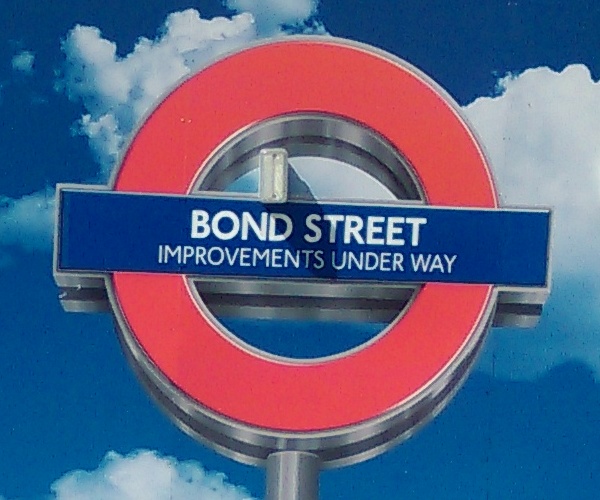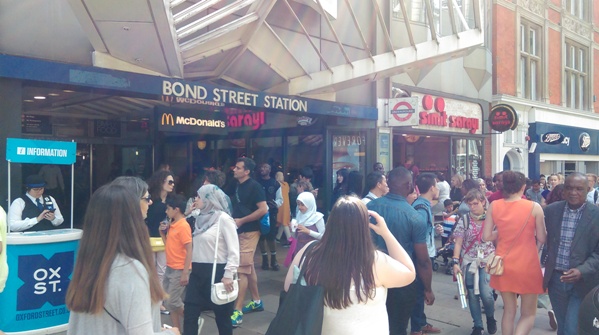 Liverpool Street Station
After leaving the last of the 'green properties' it was another long walk east to Liverpool Street Station.  It was getting hot and I wasn't walking fast, which meant it took over an hour to get there, and another 1 ¼ hours to get back to Park Lane.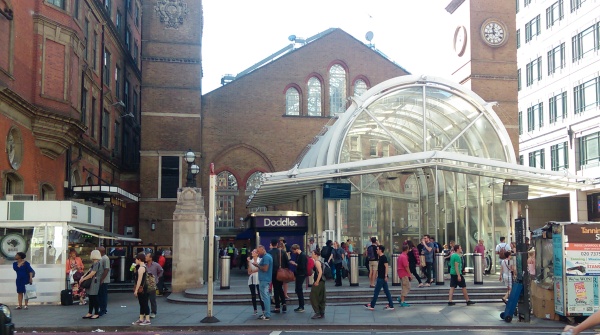 Park Lane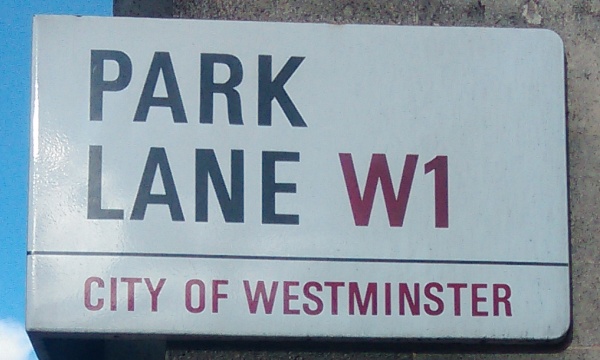 I was now in to the most expensive area of the monopoly board – where landing on Park Lane with a hotel on it would set you back £1,500, and £2,000 for Mayfair.  Land on Park Lane and then throw a double 1 and your game could be over!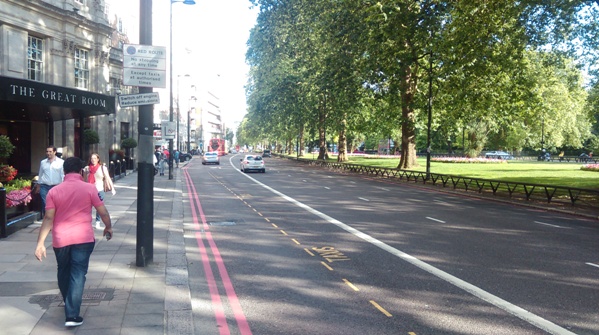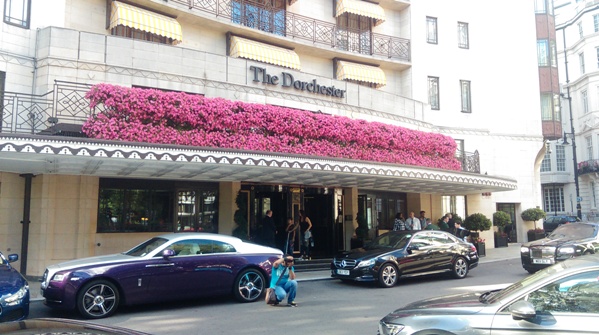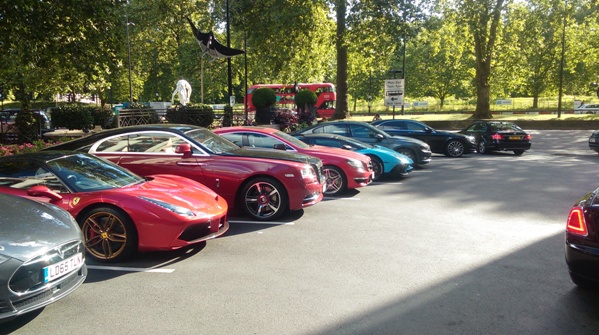 Mayfair
On the monopoly board, Mayfair is an area, not a street.  I decided I would finish my walk at Mayfair Place, but before that I wanted to visit the centre of Mayfair – the Mayfair Post Office: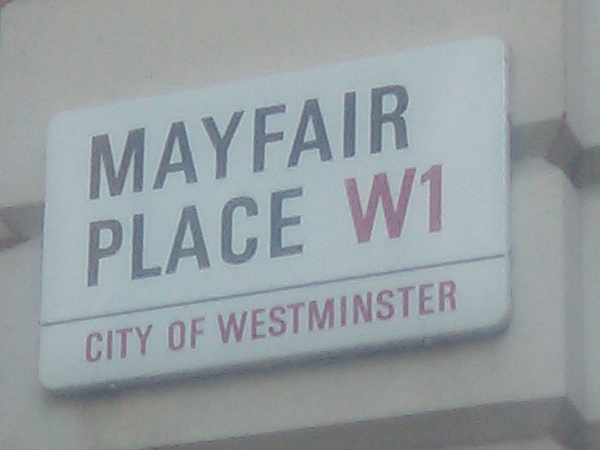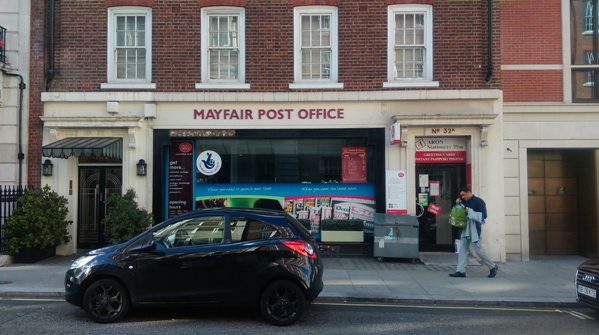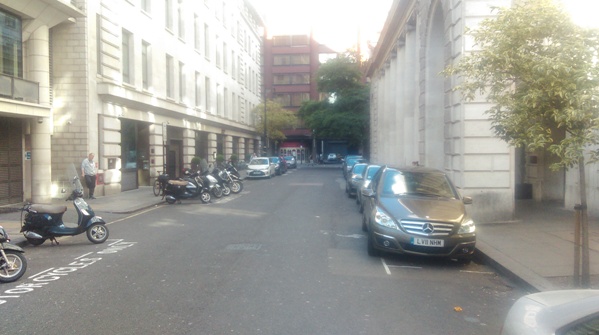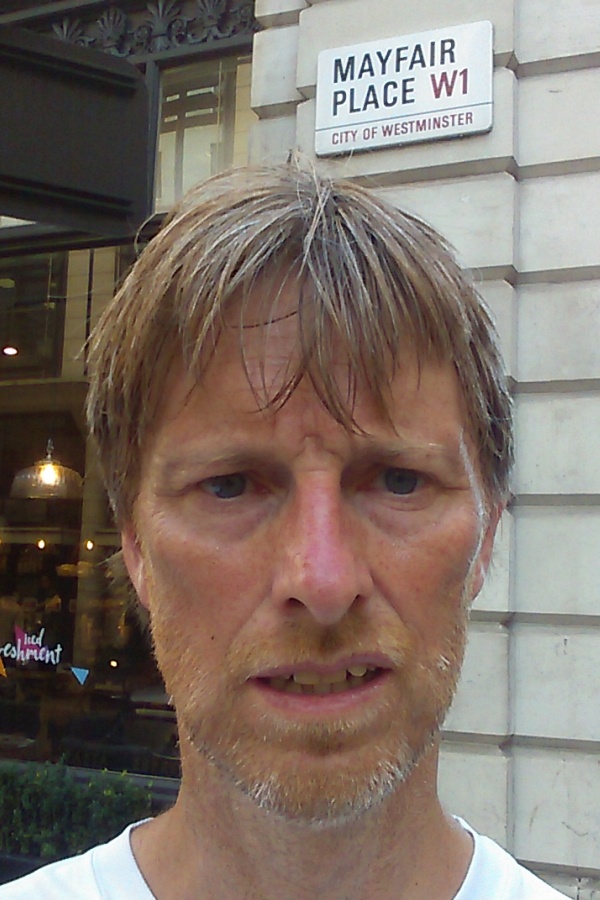 The walk ended up being a total distance of 54 miles (87km) and had taken me 12 ½ hours.  Not a fast pace, but I had stopped at 28 properties or stations along the way to take photos, as well as a couple other stops for food and water.  I actually felt surprisingly good, which was just as well, as I still had to walk another 4 miles back to Old Kent Road and Burgess Park where I had left the car !