As someone who commutes in to London on the District Line on a regular basis, travelling a large portion of the trip underground and only surfacing when I arrive at my destination, I have often wondered what the various tube stations we pass look like from the outside.
The District Line is one of 11 tube lines that make up the London Underground network and in total it comprises of 40 miles of track with five main start/end points – Richmond and Ealing Broadway to the west, Edgeware Road to the north, Upminster at the eastern end, and Wimbledon to the south – and a total of 60 stations where passengers get on and off the tube, change to other tube lines, the overland rail service, or the DLR (Docklands Light Railway).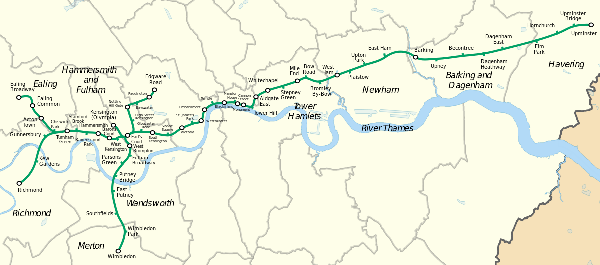 When I decided that I wanted to walk the District Line I used Google Maps to map out a route that would take me from Richmond (near where I live) through London and out to Upminster, and then from Wimbledon to Edgeware Road, and from Turnham Green to Ealing Broadway (the western part of the District Line branches off at Turnham Green and goes to both Richmond and Ealing Broadway).  I also thought I would add in a quick out and back section between Earl's Court and Kensington Olympia (1 mile each way) to cover the section of the District Line that only runs when events are on at the Olympia convention center.
In total this measured 48 miles along roads that would enable me to visit all 60 stations, and as I was going to be celebrating my 48th birthday soon I thought what better day to do this walk than on my birthday.
Leg 1 – Richmond to Upminster
At 3:30am on the morning of Thursday 14th July I was standing outside Richmond Station ready to head off on my adventure.  The station was locked as the first tube doesn't depart running until 5:30am on weekdays, and there wasn't anyone to be seen anywhere.  I took a couple photos including one showing the clock on the front of the station building and set off on my walk.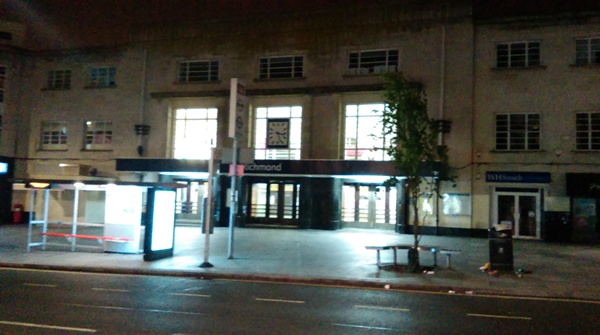 The start of the first leg took me from Richmond to Kew Gardens and was reasonably straight forward as I have walked all around the Richmond and Kew area over the last few years.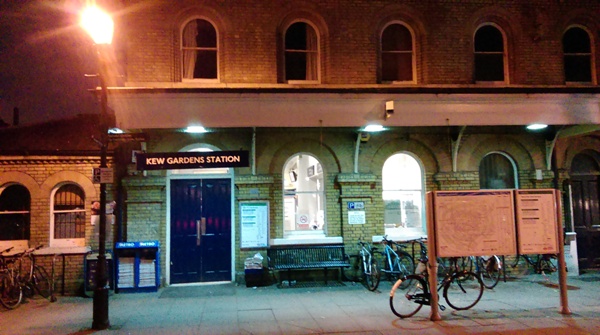 On arrival at the Kew Gardens station there wasn't anyone there either, although there were a few bikes chained up outside.  I took another couple photos and headed off towards Gunnersbury.
In preparation for the walk I had printed off my google maps (6 double sided pages in total) but when I went to check the route I realised that even with the help of the street lights, my eyesight wasn't good enough to read the small printed maps.  So out came my trustee cell phone and I typed 'Gunnersbury tube station' in to the Google Maps app.
Gunnersbury was the first of the many stations on the District Line that I had never seen from street level.  The tube from Richmond to Hammersmith is all at ground level, but I had never got on or off the tube at Gunnersbury and didn't really know exactly where it was.
It wasn't long before I arrived at Gunnersbury though – I had only been walking about 40 minutes in total.  I took a couple more photos, and kept moving.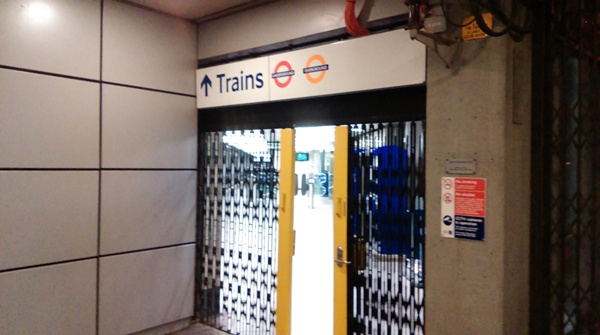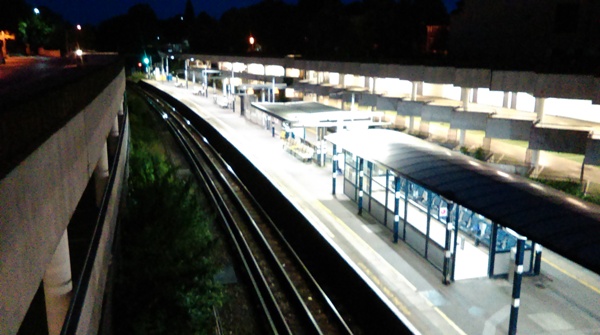 It was at this stage when I realised that this was going to be a much slower walk than I had expected.  Firstly I was walking slower than my normal training pace but this was probably just because it was dark and I often walk slower in the dark than in daylight, but I had also realised that stopping at each station to take photos was taking somewhere between 30 and 60 seconds each time.  Multiply that across 60 stations and my total walk was likely to take as much as an hour longer than budgeted.  Not a major issue though.  Today was all about having an adventure and spending time on my feet.  I wasn't too concerned about my overall pace.
After Gunnersbury I headed for Turnham Green.  The Google maps app guided me and I arrived just before 4:30am.  This is the first station where there were actually people to be seen – only one person, and he was unlocking the security gate.  I have been to Turnham Green a few times so knew what it looked like but I somehow it looked a bit different in the semi-dark.  I took my photos and moved on.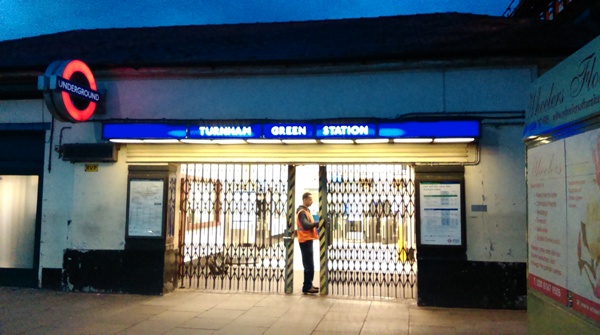 Next was Stamford Brook, about 1 kilometer away.  Another station that I had never seen from 'outside' – which is partially why I ended up going down an alleyway to back entrance before managing to find the front of the station.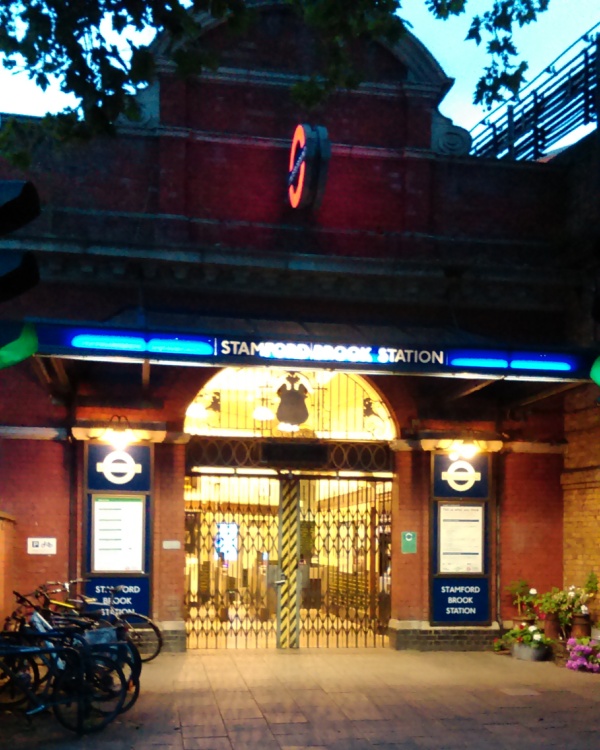 The stations were closer together now as we were getting closer to London, and it wasn't much further along the route until I arrived at Ravenscourt Park – another station that I had never seen from the outside.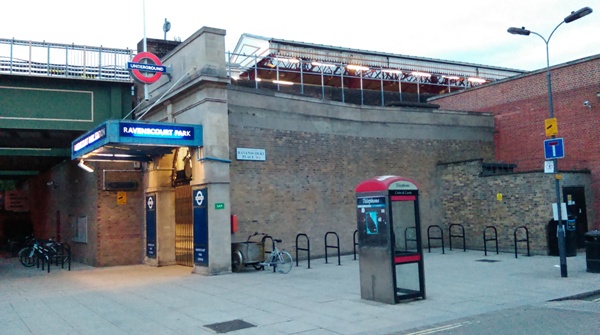 Another kilometre and I was at Hammersmith.  Although it was only 5am, it was now daylight.  Hammersmith actually comprises of two separate stations.  On one side of the road is the station that is the end of the Circle and Hammersmith & City tube lines (I'll be walking those lines at a later date so didn't take any photos of that station), and on the other side of the road is a massive round-about that is the main Hammersmith underground and bus station.  The District Line passes through this station as does the Piccadilly Line which I often change on to at Hammersmith when travelling in to central London.  On the route from Richmond, Hammersmith is the first station where passengers can change tube line and as a result it is always much busier than other stations I had passed on my journey.  I don't know if it is related, but in the 500 meters leading up to Hammersmith I also came across the first of the many homeless people I would see during the next hour or so sleeping in doorways.
The next station, Barons Court, was another kilometre down the road.  This was the eighth station (including Richmond) that I had passed so far, and the fourth that I hadn't previously seen the outside of.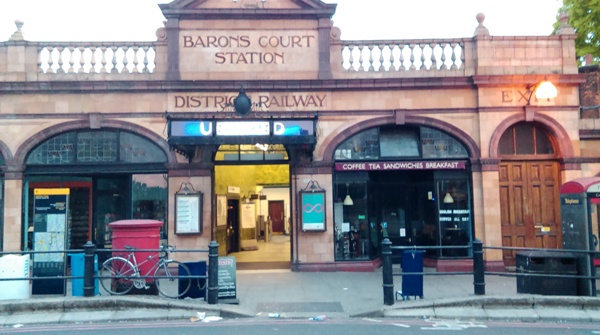 On the tube itself, by now we are underground and I hadn't previously seen the next four stations either.
First was West Kensington Station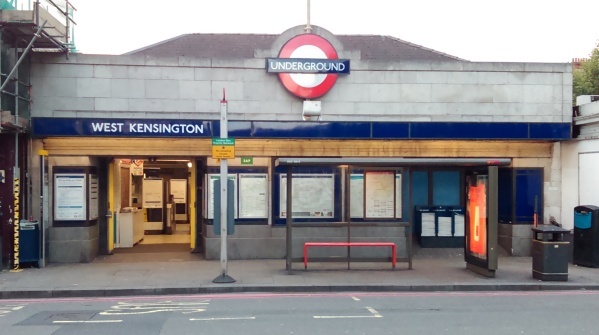 Followed by Earl's Court – the junction between the District Line running from Wimbledon to Edgeware Road and the District Line between Richmond/Ealing Broadway and Upminister.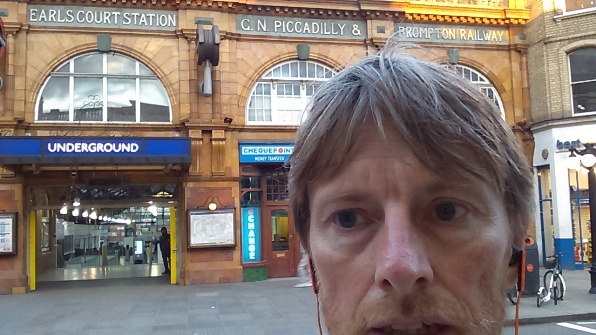 Most stations have multiple entrances and my walk was only going to take me past one side each station, but I would see the other side of Earls Court this afternoon when I walk from Wimbledon towards Edgeware Road.
After Earls Court it was a little over another kilometre until I reached the Gloucester Road station.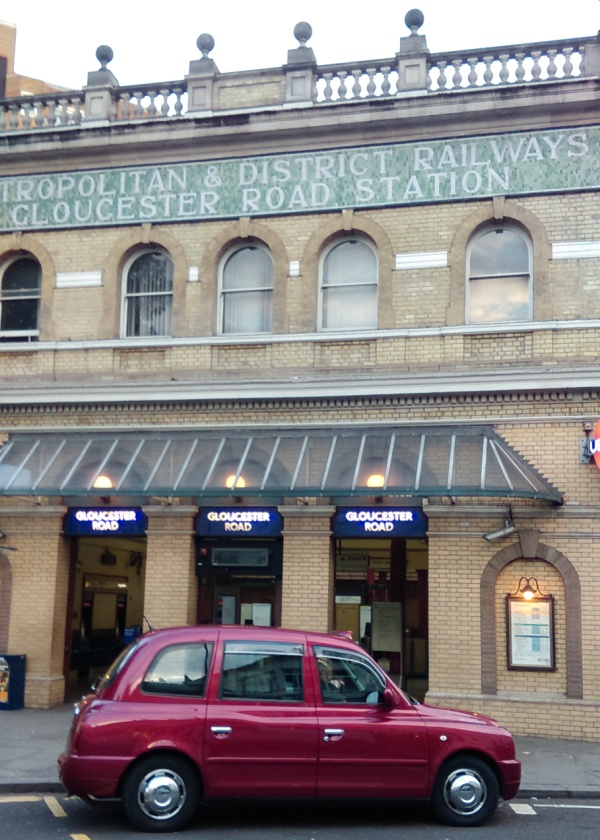 And then South Kensington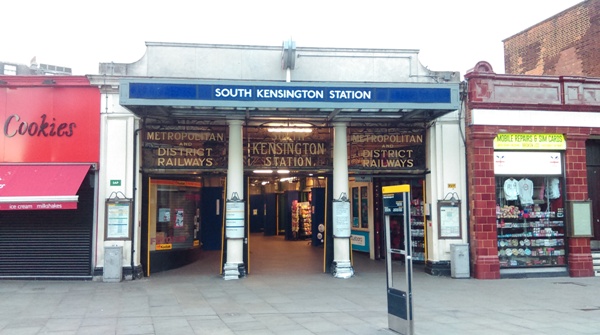 And then a relatively 'long' stretch of about 2km through to Sloane Square
Followed by the next big station, Victoria.  As well as being a junction of tube lines, Victoria is also a major railway station for both the London overland trains as well as national trains and buses.  I walked a lap of the Victoria station looking for the best photo opportunity but unfortunately the main part of the station was hidden behind scaffolding.
| | |
| --- | --- |
| Victoria Station refurbishment sign | Victoria Station |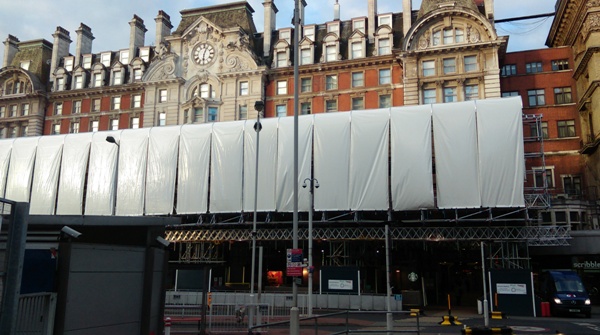 St James Park station came next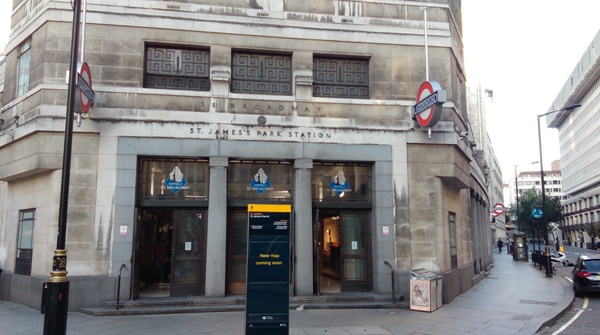 And then I arrived at Westminster underground station, and the River Thames.  I was only 13 miles (21km) in to my walk and it was already after 6:30am.  I was 30 minutes behind my planned pace.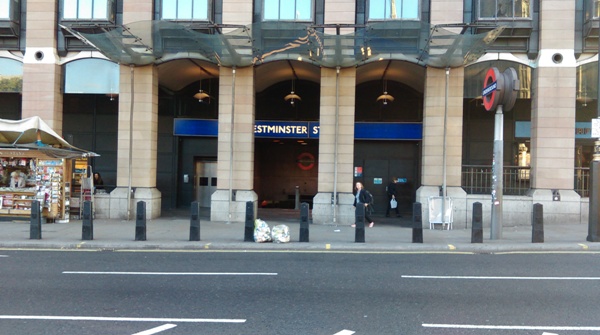 I took a 'selfie' in front of Big Ben (which is across the road from Westminsiter station) and then headed off along the Thames embankment, passing Embankment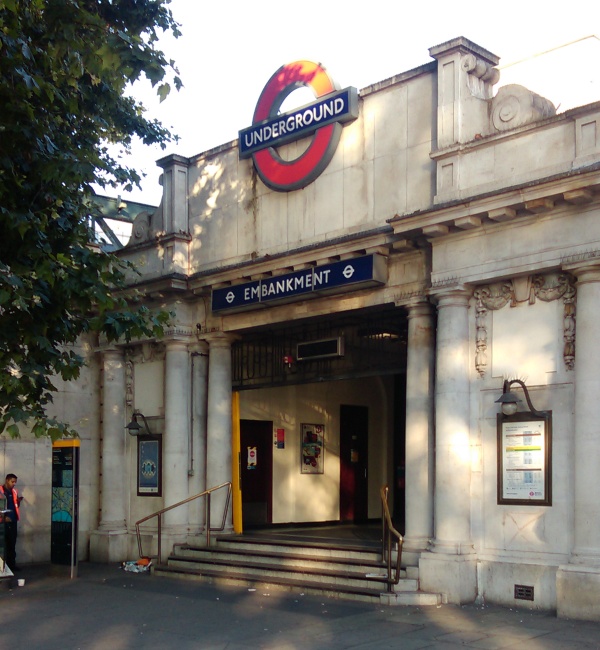 And then Temple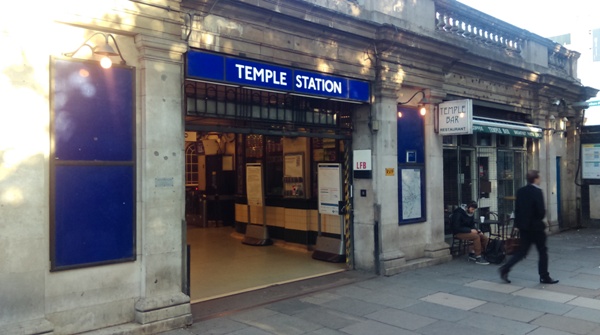 enroute to Blackfriars.  Blackfriars Station is another junction for both the underground and overland rail, and also has the unique feature of rail platforms over the River Thames.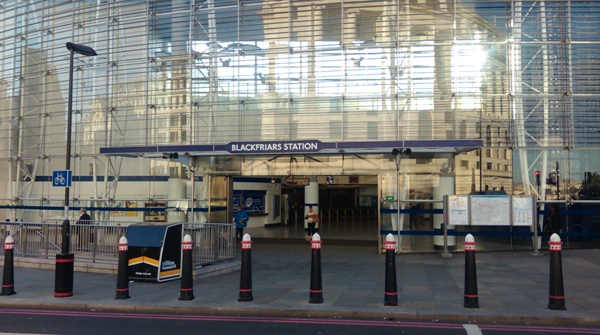 After Blackfriars came Mansion House – the 20th station of my adventure.  Based on the name, I had always assumed that the Mansion House station would be an impressive sight, but it was completely the opposite.  Whilst it does have a street entrance (apparently), I couldn't find it.  All I found was several subway entrances – stairs down to the underground.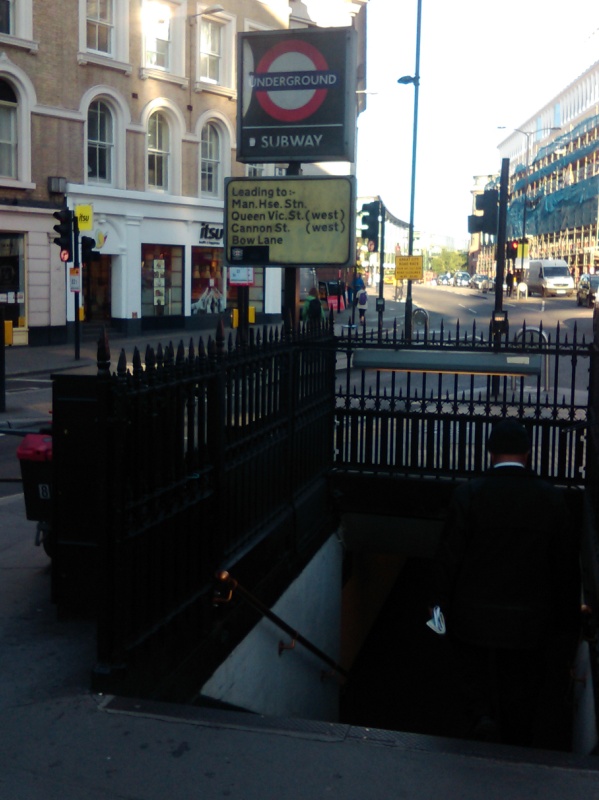 The next station however, was one of the larger tube stations in the city as it also doubles as a railway station. Cannon Street station is just a few hundred meters from Mansion House and after that it is just another few hundred meters to Monument station – which again, only appeared to consist of subway stairwells.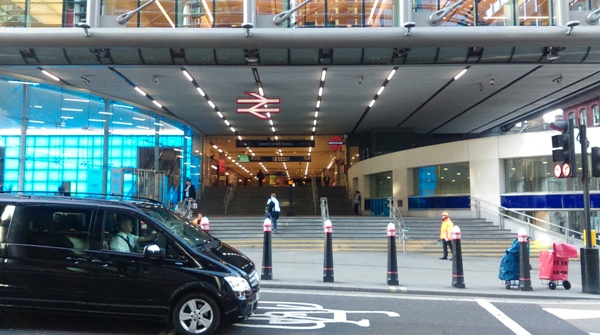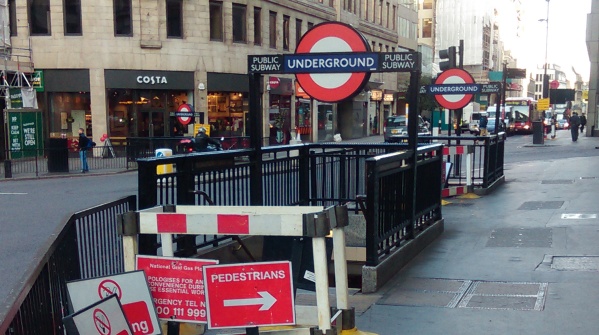 And then I reached the last station on the District Line that I am familiar with; Tower Hill.  Tower Hill station is across the road from the Tower of London and near Tower Bridge, but it isn't on a hill so I don't know where that name comes from.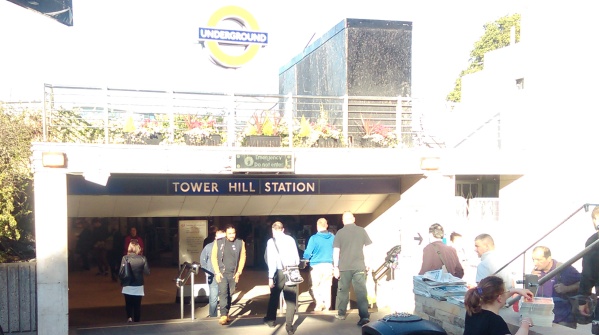 After Tower Hill I headed away from the Thames passing Aldgate East station as the commuter traffic was starting to pick up.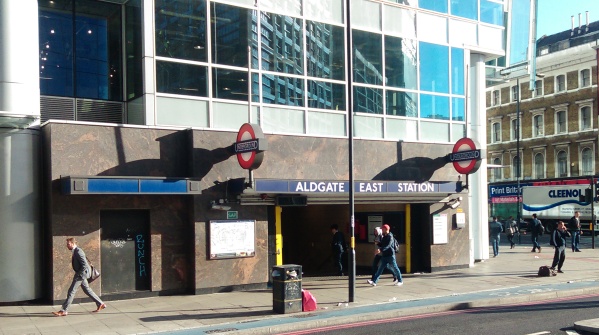 About a kilometre further on I arrived at Whitechapel as the market traders were setting up down the road.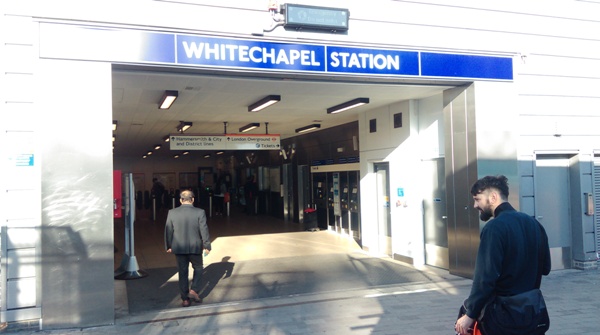 And then Stepney Green a few hundred meters further along the road.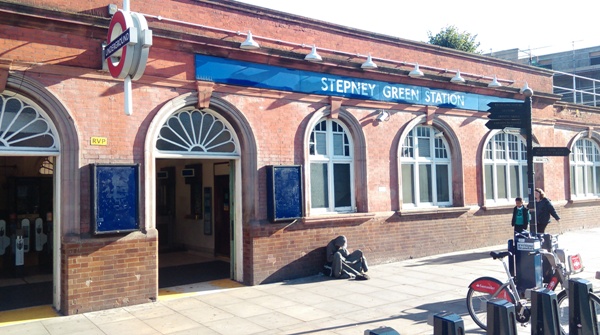 It was only another kilometre up the road to Mile End station which is the only station east of Tower Hill that I had been to previously.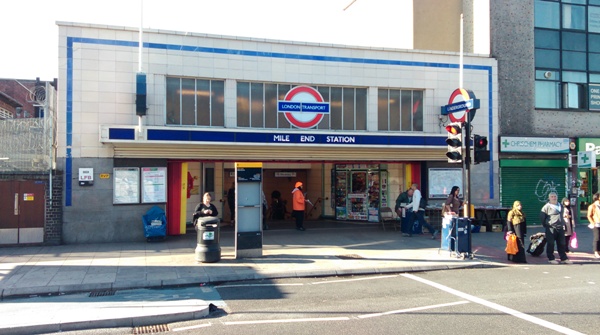 And another few hundred meters long the road I reached the Bow Road station.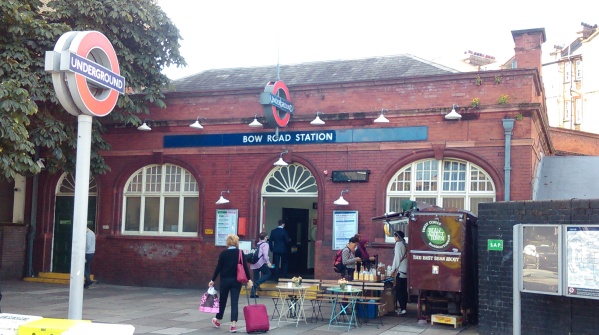 Bromley-By-Bow station was next.  As I arrived at Bromley-By-Bow my cellphone battery died meaning no photo.  But because I wanted a photo of every station, and I was working in Tower Hill the following day, I made a quick trip on the tube at lunchtime to take this photo.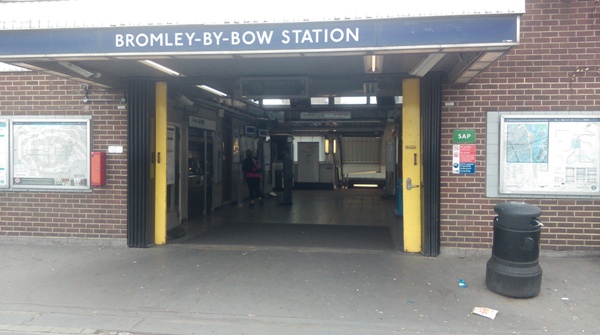 From Kew Garden station through to now I had been relying on Google Maps on my cellphone for navigation except when all the stations were on the same road such as along Embankment and the road from Aldgate East through to Bow Road stations.  I had printed some Google maps before leaving home but my map reading skills aren't the best and this proved to be the case when I got totally lost in between Bromley-By-Bow and West Ham stations.  Eventually I got back on track though and found the 30th station, West Ham.  And I also charged my phone using one of the three USB charging sticks I was carrying with me.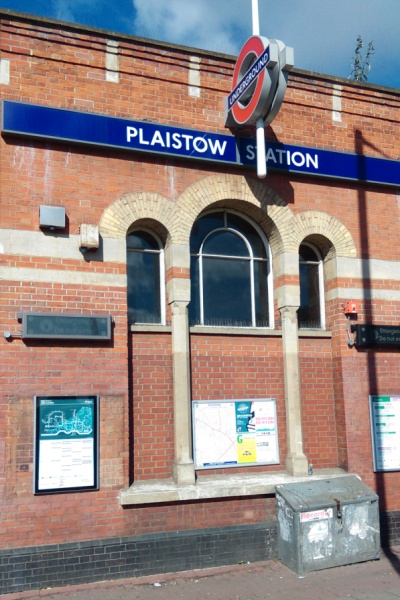 The stations were a little more spread out now but it was still less than a mile between stations, with the next station on my journey being Plaistow followed by Upton Park.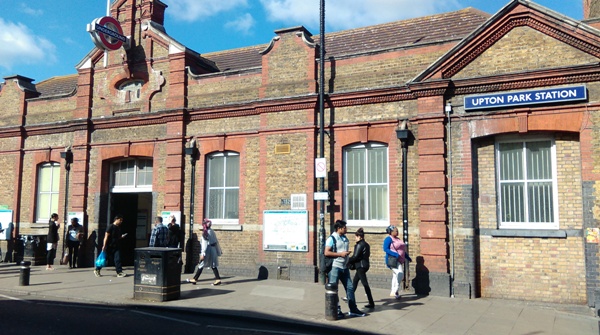 And East Ham followed by Barking.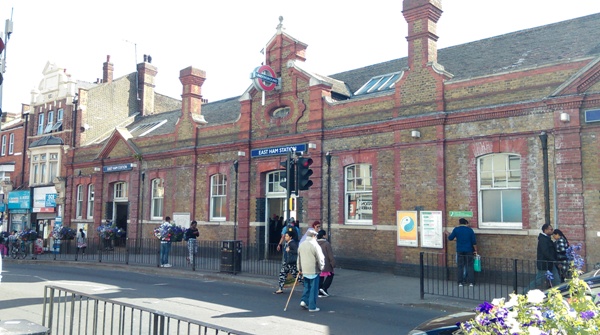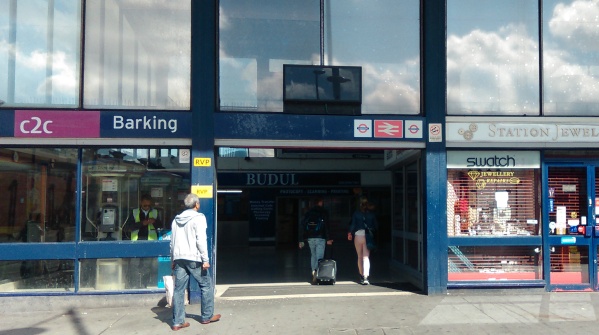 Upney (the 35th station of my walk) was next and then Beacontree.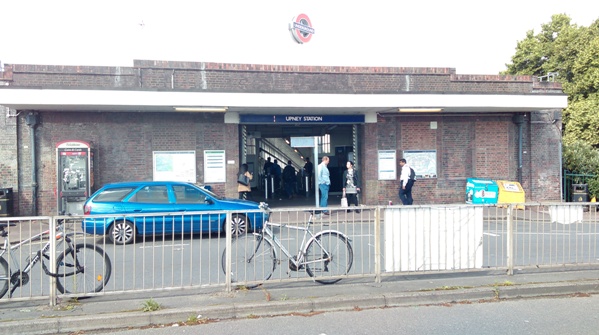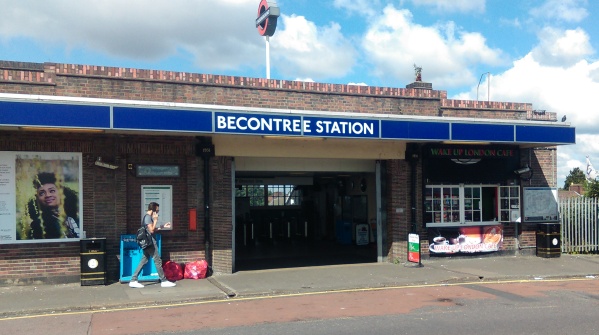 And then the two Dagenham stations; Dagenham Heathway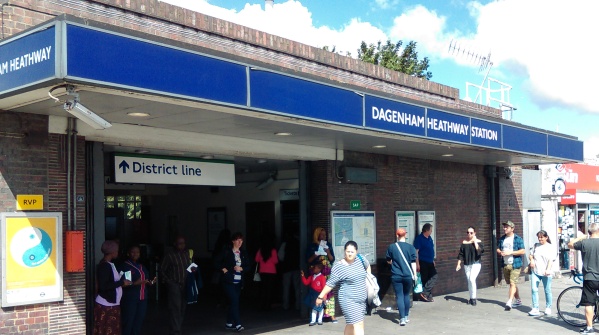 And Dagenham East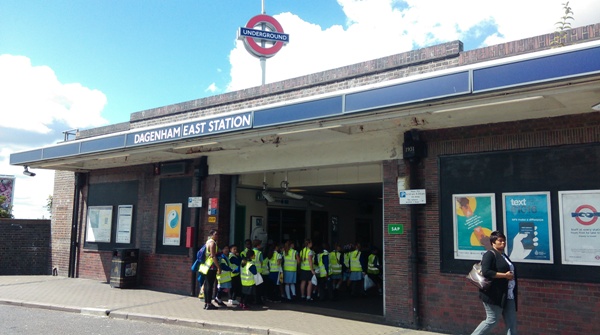 After Dagenham East it was a 4km walk through to Elm Park.  I think this was the only stretch (other than when I got lost between Bromley-By-Bow and West Ham) when I had to walk along way from the track. I had to walk a big L shaped course as there were no direct roads and to ensure I didn't get lost I started using Google Maps on my phone again.
After Elm Park came Hornchurch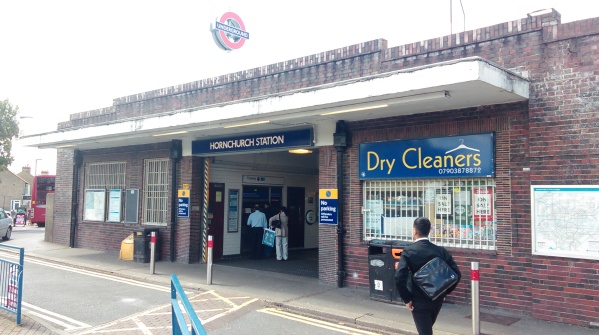 Followed by Upminster Bridge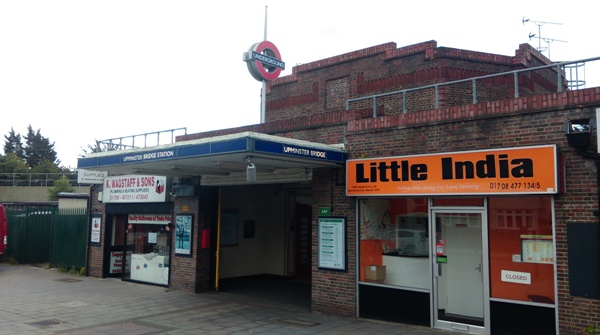 And then finally I arrived at Upminster after 38 miles (61km) of walking and 8 ½ hours after leaving Richmond Station.  The 42nd station that I had visited so far.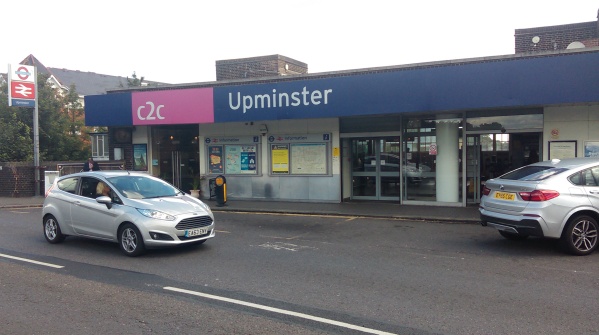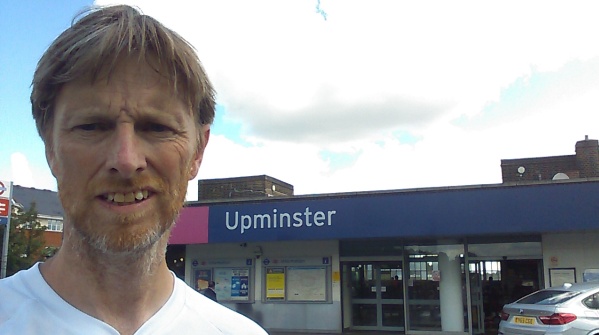 And that was only the end of the first leg of my adventure!
I was now well behind schedule.  I had estimated (measured via Google maps on my computer) that the Richmond to Upminster leg would be about 32 miles and expected it to take no more than 7 hours.  I had also hoped to leave Richmond at 3am and not 3:30am.  My plan of walking the whole district line in one day was looking doubtful as I was supposed to be going out for dinner and a movie to celebrate my birthday in a more traditional style (than walking 48 miles because I was turning 48) and needed to be home no later than about 6pm.  It was now 12 noon and I still had over 16 miles plus a few train journeys to go.
I jumped on the tube that was about to leave for what I thought would be a 1 hour trip to Wimbledon via Earls Court.  And 1 ½ hours later I arrived at Wimbledon ready to start the second leg.
Leg 2 – Wimbledon to Edgeware Road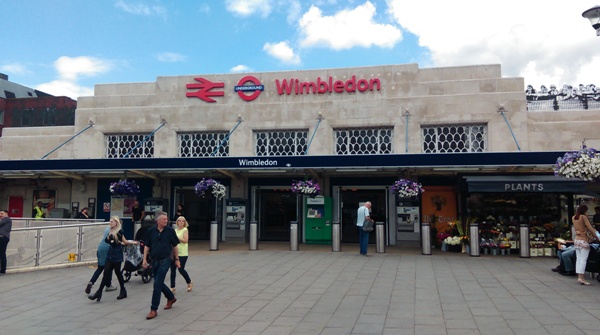 I've caught the tube in to London from Wimbledon a few times but other than a couple stations I hadn't seen the outside of most of the stations between Wimbledon and Edgeware road 10 miles away.
Having just completed an 8 ½ hour walk followed by 1 ½ hours sitting on a tube I expected my leg muscles to be a little tight as I started walking but I was surprised to find that I felt OK.  If anything, the only discomfort I was feeling was the small toes on both feet which felt a little bruised in my shoes.  I was wearing Injini toe socks and had covered my feet in 2Toms Anti-Blister Powder before I left home, so I wasn't expecting any problems, and so far, so good.
The first station on my journey north was Wimbledon Park one mile away.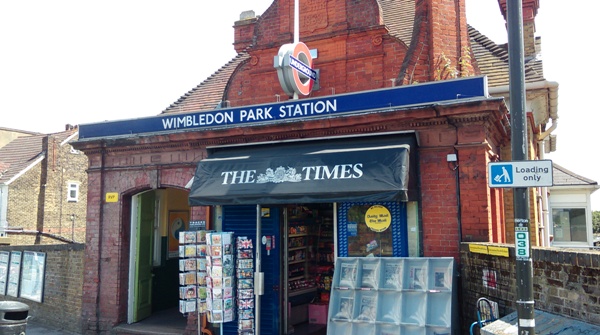 Southfields Station was next
Followed by East Putney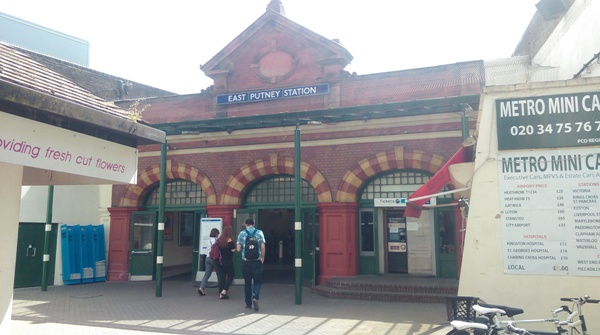 And then I crossed the Thames via the rail bridge to arrive at the Putney Bridge station.
From Putney Bridge through to the finish at Edgeware Road there was never more than a kilometre between stations.
| | |
| --- | --- |
| Putney Bridge Station | Parsons Green Station |
The next station was Parsons Green followed by Fulham Broadway.
And then I came across possibly the most interesting part of my walk when I walked through the Brompton Cemetery on my way to the West Brompton station.  I have walked through quite a few London cemeteries over the last two years but the Brompton Cemetery was something else.  As well as plenty of graves from the 18th and 19th centuries, there were lots of large family tombs.  These were often the size of small garden sheds.  Something I hadn't noticed in other cemeteries.  I could have taken plenty of photos, but I didn't take any.  Instead I walked through the cemetery and around the corner to the West Brompton station – the 50th station that I had visited today.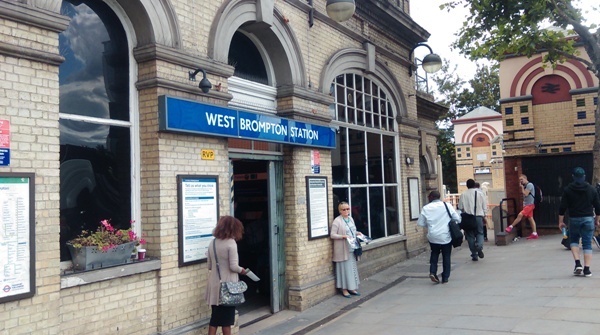 The next station on my route was Earl's Court which I had visited earlier in the morning.  This time I approached the station from the south so got to see another entrance to the station.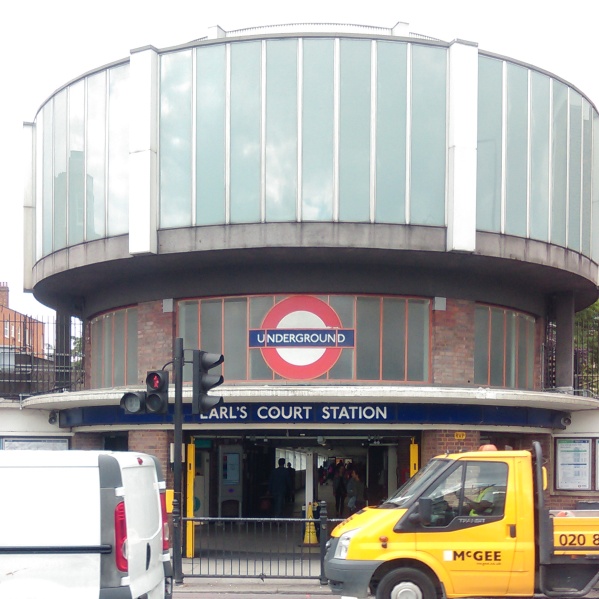 About 500 meters north from Earls Court I arrived at the next station – High Street Kensington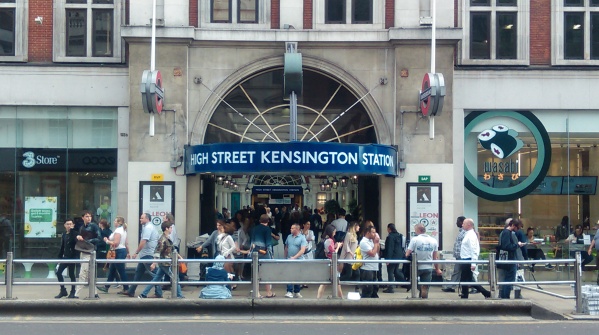 Followed by Notting Hill Gate. I'm not sure if there is a street level entrance to the Notting Hill station.  All I found was this:
Bayswater station was next but I almost missed that as my Google Maps app diverted me down a side street around the back of the station.  Once I realised my mistake I back tracked to ensure that I walked past the station entrance and got another photo.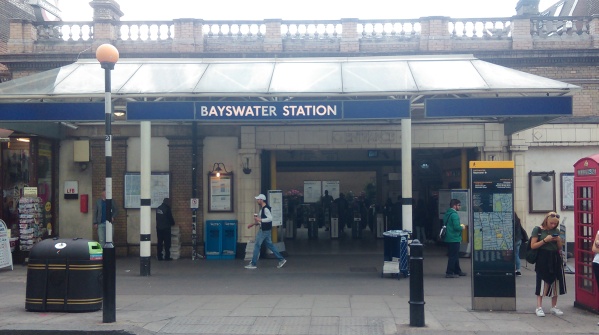 And then I headed for Paddington.  Strangely, this is one of my favourite stations but not because of the station itself.  It is just a short walk along the canal from the finish of the Grand Union Canal Race which is probably my favourite race out of all the ultra-distance races I have ever done.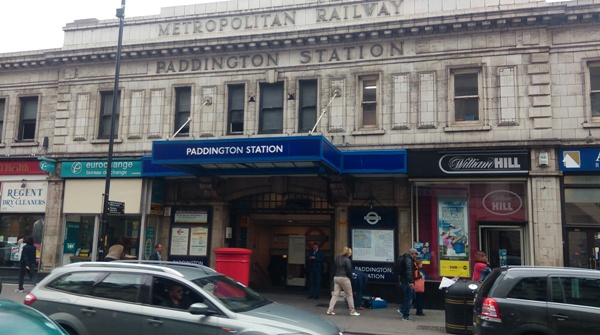 And less than a kilometre later I completed the second leg of my walk when I arrived at Edgware Road – the 56th station I had visited today.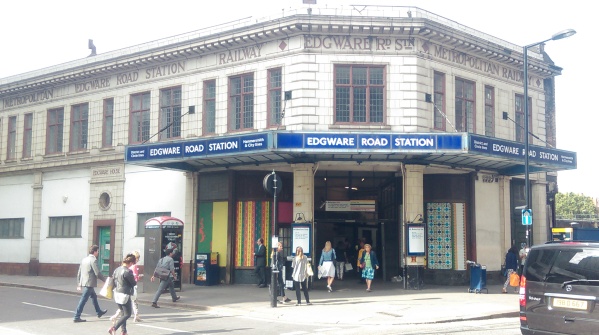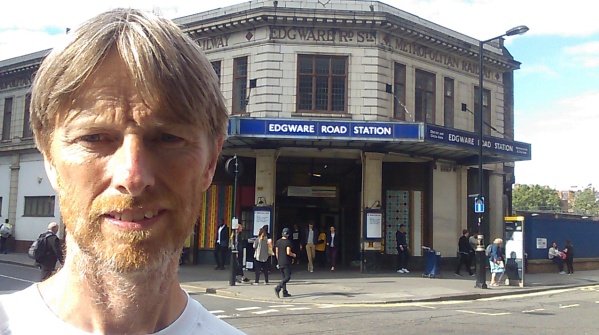 It was now 4:30 in the afternoon and there was no way I would be able to complete either of the last two legs of the District Line and get home in time to go out for dinner.  I decided to delay the final two legs, which were only going to be 1 mile and 3 miles respectively, until Saturday and caught the tube back to Richmond via Earls Court.
Leg 3 – Earls Court to Kensington Olympia
I decided to combine the final two legs in to a 20 mile walk on Saturday morning that also incorporated the Fulham Palace parkrun.  I parked the car beside the river in Putney where you can park for free all day on Saturdays and after completing the parkrun (5km) I walked up to Earls Court station to start the third leg of my journey.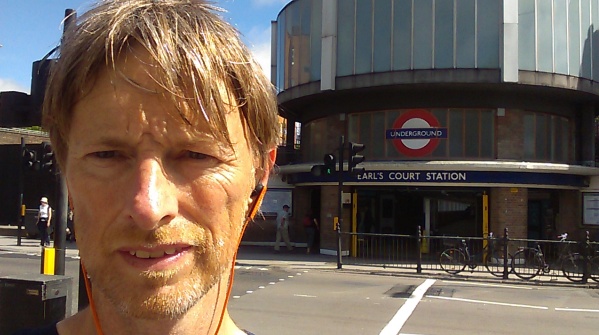 This was by far the shortest leg at less than one mile.  The District Line only runs to Kensington Olympia when there are events on and today there was a '50+ exhibition'.  Being only 48 I decided not to visit the exhibition and walked the 2 ½ miles through to Turnham Green in a direct line, rather than following the tube line, ready to begin the fourth and final leg of my adventure.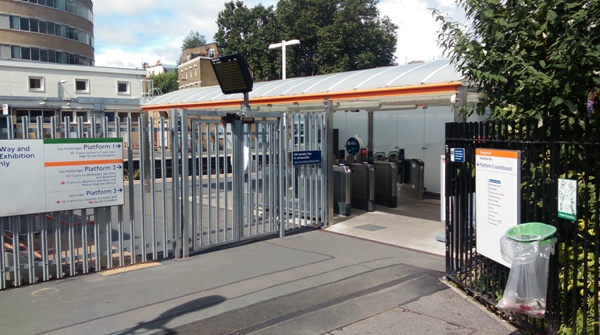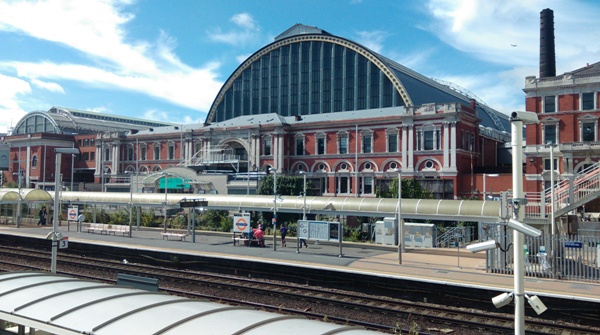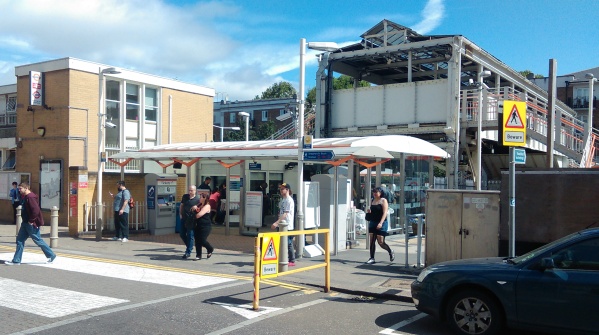 Leg 4 – Turnham Green to Ealing Broadway
The final leg took me along a part of the District Line that I had never traveled before.  The first station, Chiswick Park, was exactly 1 kilometre from Turnham Green.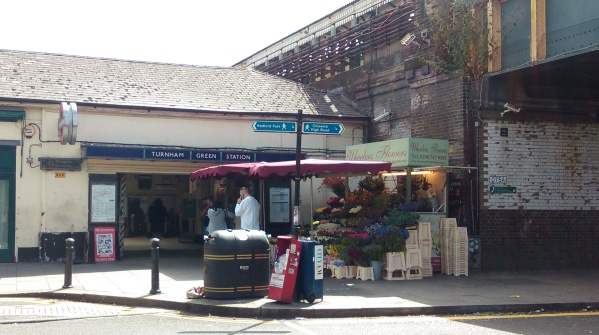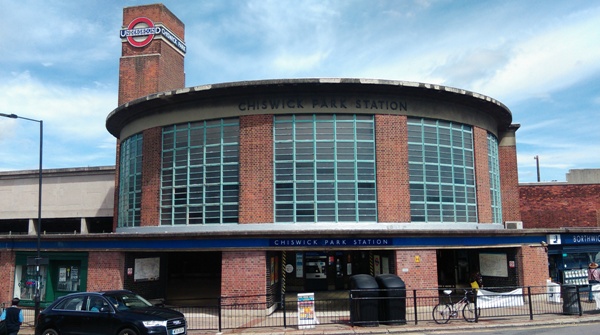 Next was Acton Town followed by Ealing Common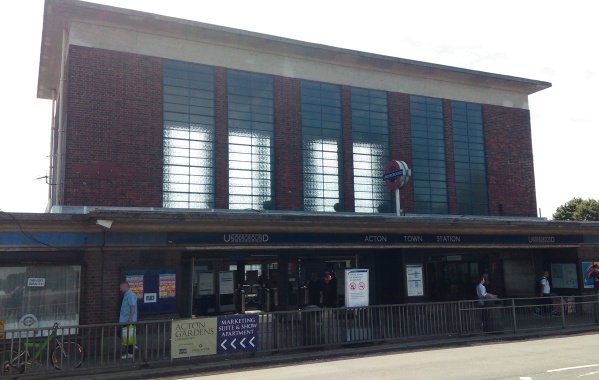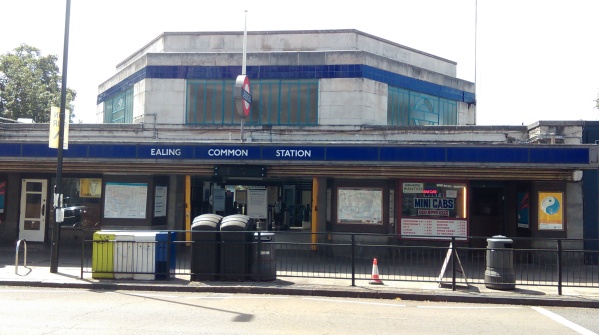 And only 3 miles after leaving Turnham Green I arrived at the final station of my adventure – Ealing Broadway.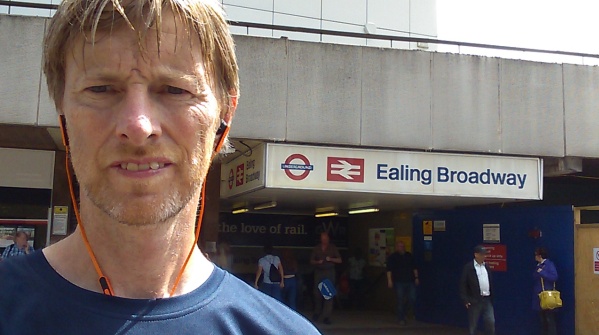 In total I had walked 53 miles (not counting the extra mileage on Saturday before Earls Court and between Kensington Olympia and Turnham Green) and visited all 60 stations on the District Line.  Possibly the first person ever to do this on foot!
It wasn't a fast walk by any means.  I had stopped at every station to take a photo or two – 150 photos in total – but the walk wasn't about speed.  I had had a great adventure and found myself already planning my next adventure* as I walked back to the car in Putney.
* my 'next adventure' would be the following day when I walked the Monopoly Board.