When I wrote my training summary for May I said that I was going to break June in two – the first half would be all about recovery after two huge races in May (the Continental Centurions 24 hour race and the Grand Union Canal Race) and that I would then build up the mileage over the second half of the month when I resumed training again.
And I kind of did what I set out to do.  I didn't do any training at all until Saturday the 11th when I started back with a ten mile walk including a 32 ½ minute parkrun in the middle.  But rather than easing back in to the training I then went to Guernsey for work on the Tuesday and went mad!
Guernsey is a small island, only a few miles wide and not much longer than it is wide.  The circumference by road is only about 25 miles although if you follow the coast it is almost 40 miles in total.  And so I decided to cover as much of the island as I could during the five days I was there.
I arrived on the Tuesday afternoon and only had an hour for a short walk before dinner that evening, but I did 2 ½ hours on each of Wednesday and Thursday nights, completing a 'double coast-to-coast' on both occasions.  On Friday night I only did a short walk but this was off road high on the cliffs near St Martins where I was staying. And then on the Saturday morning I circumnavigated the island via the road and incorporated the recently established Guernsey parkrun in to a 29 mile (47km) walk.  In total I covered exactly 100km while I was there and strangely I returned home feeling like I had been on a weeklong training camp rather than a work trip!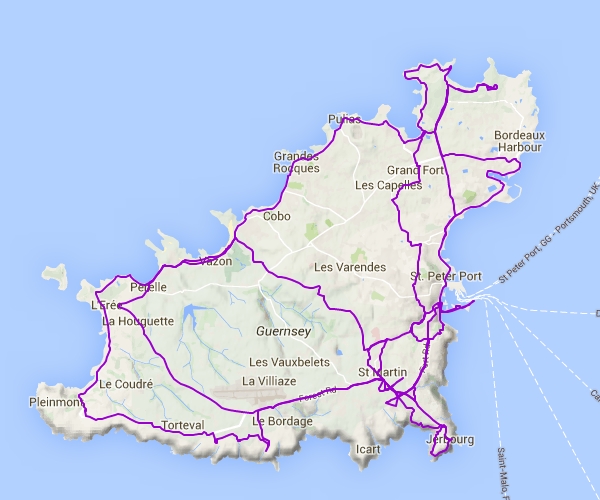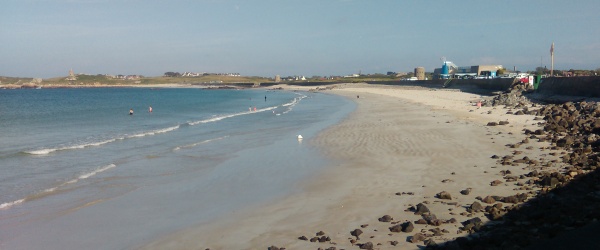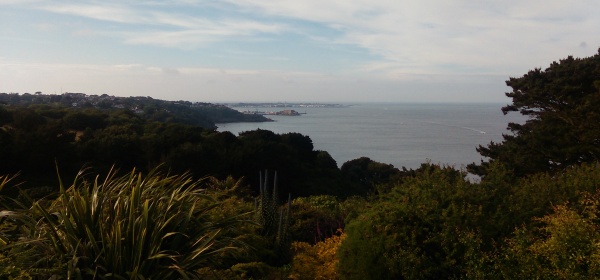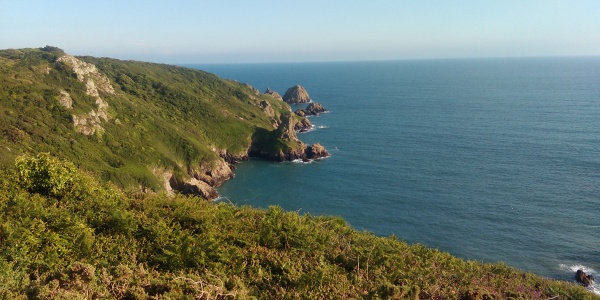 | | |
| --- | --- |
| Before Guernsey parkrun | Finishing Guernsey parkrun |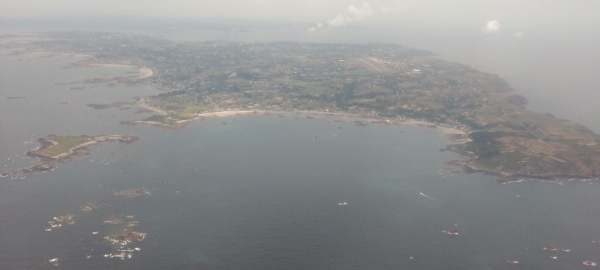 The following week I think I paid for my overtraining.  I felt lethargic all week and only attempted two 10km walks.  On the Thursday I felt so tired that I slept 11 ½ hours!  I can't remember the last time I did that.
And then the final week of June arrived and it was the start of the Fitbit parkrun challenge in the UK.  The goal – to complete at least 10,000 steps every day from Saturday 25th June to Saturday 2nd July inclusive.  And you know me; I'm just a little bit competitive.  After day one I was in 6th place on the competition table with 61,000 steps – made possible by a 32 mile (51km) walk that incorporated a 32 ½ minute parkrun along the way.
Unfortunately they didn't maintain an overall ranking for the whole competition – just daily rankings tables – but with two days to go I have walked 61,000 steps on the Saturday followed by daily totals of 20,000, 18,700, 12,300, 18,900 and 47,500 to complete the month.  This is the first time since January that I have trained six days in a row and the first time since January that I have managed to complete 10,000 or more steps every day for six days.
So it has been an interesting month.  In total I covered 175 miles (282km) for the month which is about what I had planned, and I feel that I am now ready for a high mileage month in July before my next two big events in August.
Sleep:
A few months ago I set a goal of getting 8 hours sleep at least three times a week, and trying to average 7 hours sleep per night overall.  Previously I have always tried to get away with as little sleep as possible but I now realise that quality sleep is important in aiding recovery from training.
So based on that goal I should have slept 8 hours at least 12 times during the month.  In reality I only managed to do this 9 times, but that is an improvement on the 4 times that I slept 8 hours in May.
Nutrition:
It's been six months since I started my healthier eating plan and I still haven't had a 'heat n eat' meal this year.  I used to eat at least one per week, if not two.
It's hard to eat healthily all the time though, especially when I love the taste of things like coke, chocolate and biscuits as much as I do.  But I keep reminding myself why I am doing all this, and that the training is only a part of the overall picture.  Sleep, nutrition and stretching are other important factors.
I did allow myself a little bit of leeway this month though.  Firstly, after the Grand Union Canal Race at the end of May I allowed myself to eat a bit of junk food during my recovery at the beginning of June.  And then while I was working in Guernsey I drank a coke with dinner each night.
But I'm now back in to the serious training and focused on the 6 day race in October, and as a result my healthy eating plan is back on track.
Stretching:
I wish I could say the same for my stretching plan – only six 30 minute stretching sessions during June.  This was a big improvement on May when I did next to no stretching, but was only 50% of my targeted three times per week.
Year To Date Mileage:
| | | |
| --- | --- | --- |
| January |    238 miles |     383km |
| February |    150 miles |     241km |
| March |    194 miles |     312km |
| April |    207 miles |     334km |
| May |    312 miles |     502km |
| June |    176 miles |     282km |
| Year To Date | 1,277 miles | 2,054km |
Total hours: 282
Longest walk: 145 miles (233km) – being the Grand Union Canal Race.
Races:
No races during June.  My next races are the UK Centurions Race (100 miles) and the Liverpool to Leeds Canal Race (130 miles) which are both in August (3 weeks apart) and will both be training races with high mileage days immediately beforehand to replicate multi-day races.
Plans for July:
It's time to increase the training mileage.  During July I'll cover around about 300 miles (480km) in training and then in August I am planning on covering 170 miles in the first weekend with a 70 mile walk from Leeds to Redcar on Friday 5th followed by the UK Centurions Race on the Saturday/Sunday.  And then, like I did in May, I will take it easy for a few weeks before a second massive weekend when I do the Liverpool to Leeds Canal Race.  The only difference being that as well as covering 130 miles in that race on the Saturday/Sunday, I am planning on covering 100 miles walking from Birmingham to Liverpool during the Thursday and Friday immediately beforehand.
Rail travel to Leeds and Birmingham is significantly cheaper than going all the way to Redcar and Liverpool respectively, so I thought I would walk the rest of the way 🙂
And why am I writing all this?
I have huge plans for 2016.  Everything is focused around the 6 jours de france (Privas 6 day race) in October, and I am breaking my preparation down in to individual months – June was month six of a 9 ½ month build-up and was focused on recovery after a big month in May before launching myself in to the July/August high mileage phase.
At the end of each month I write my monthly review which helps me access where I am with my training, sort of like a business reviewing its KPI's at month end, and I set/confirm my goals/plans for the next month.
Writing this blog post helps me to focus on what I need to do.
Richard