I started the Belfast to Dublin Return ultramarathon full of confidence that I would not only finish the 214 mile (346km) longest road race ever held in Ireland, but that I would win it, and finish in time to have breakfast on Saturday morning (after a midnight Wednesday start) and then go and walk another 5km at the local parkrun at 9:30am.
In 2017 I had walked the Dublin to Belfast race in a shade over 25 hours, finishing 4th overall (and only walker), and I figured that if I doubled my 2017 time and added 5 hours, then a 55 hour finishing time, maybe a little bit longer if I needed some sleep, should be possible.
My confidence that I could win the race came from the knowledge that none of the other competitors had the long distance experience that I had – 23 events of 100 miles or further, including 5 events of 48 hours or more.  In races of this distance, it is more about mental strength than physical ability, and even although I would be walking every step of the journey, I was confident that my experience and mental strength would enable me to compete against the runners in the field.  I had also managed to complete a 48 hour race last October with no sleep, and thought it might be possible to extend that to complete the 214 miles without sleep if necessary.
Race Start:
After an unplanned morning at work, I managed a three hour nap in the early afternoon before leaving home at 4pm for a 7 hour trip to the race start via bus and train to Stansted Airport, a flight to Belfast International Airport where I was collected by my friend Nick, and then a relatively short drive to the race start in Belfast City via a 24 hour supermarket to collect some last minute supplies.
Not the ideal preparation, but I felt ready for a long race when I stood on the start line with 13 other  people who also had the crazy belief that they could run and/or walk (I was the only non-runner) 214 miles from Belfast over the hills through to Newry and over the border, and then down to Dublin, AND then turn around and run/walk back to the start.
The race started at exactly midnight in calm conditions.  Cool, but not cold.  My plan was to take it easy from the start, walking at the back of the field, all the way through to the first checkpoint at Newry (40 miles) which I hoped to arrive at in about 9 hours.  I knew that the hills through to Newry would take their toll and expected that most of the runners would go too fast and blow up later on.
As it turned out, my 'easy' pace was still too hard, and whilst I arrived in Newry at almost exactly 9 hours, I was already beginning to struggle.  I had walked at the back, a couple hundred meters behind the last of the runners for the first two hours (through to an all-night McDonalds where I decided to buy some French Fries). Some of the runners were having their first break outside McDonalds and I left them with their support crew and continued south.  I continued to walk by myself and passed the occasional runner until I was in 7th place by the time we came off the hills and turned on to the 9 mile long canal path through to the checkpoint at Newry.
Newry to Dublin:
As planned I had porridge for breakfast at the Newry checkpoint and then (not planned) I stopped at Burger King for some more French Fries.  I knew that there was a big hill just south of Newry and I took it easy walking up the hill, eating my French Fries.  My intention was to pick up the pace once I reached the top of the hill, and make the most of the next 8 hours of daylight.  But the increase in pace never came and it took almost 4 hours to cover the 14 miles (22km) from Newry to Dundalk – the half way point between Belfast and Dublin.  I wasn't really struggling as such, but just had no speed and was really just going through the motions.  When I arrived in Dundalk I decided that it was time to sort things out.  I stopped at the first shop I came across and brought a bottle of coke and some chocolate, and I switched from listening to podcasts to listening to high tempo music.  Two secret weapons that I had hoped to save until night time.  It was only 1pm.
The changes worked and I started to feel better.  My pace didn't improve much, but I was feeling better and it wasn't long before I arrived at the 70 mile checkpoint in Dunleer.
At the second checkpoint I had my planned dinner of Pot Noodles but I didn't enjoy them, especially with the knowledge that McDonalds in Drogheda wasn't too far away.  My McDonalds theory was that junk food calories were better than sugar calories this early into a long race, and 20 Chicken McNuggets and a large French Fries is a lot of calories.
It may have been better to take a rest and eat my dinner at McDonalds, but instead I decided to eat whilst walking south out of Drogheda.  This involved walking up a long hill, and trying to eat a large quantity of food and walk up hill at the same time isn't easy on the stomach.  By the time I finished dinner I wasn't feeling too good.  It was getting dark so I stopped to put my warmer clothes and head torch on at the top of the hill and again I pumped up the music.  Before I knew it I was heading into Dublin – about 10 hours later.
Time is a strange thing in long distance races.  Sometimes hours can go by and it seems like just minutes, and this was one of those events where I was just drifting through the race – even if I wasn't going as fast as I had hoped.
My original plan involved arriving at the Dublin turnaround point, the Guinness Brewery in 25 hours, but at 1am I was still over 9 miles from the turnaround.  Around 2am I came across the race leader, Jill Mccann, and her support crew.  They had reached Dublin in a shade under 25 hours (in second place but the race leader, who was three minutes ahead, had decided to drop out at the half way point) and said that they were planning on grabbing some sleep soon.  I kept an eye out for any other runners heading north as I continued into Dublin but was surprised to arrive at the halfway point to learn that whilst I was 5th to arrive, only Jill had left for the return journey.  I had my halfway photo taken outside the Guinness Brewery and left Dublin as quickly (slowly) as I had arrived.
Jivee Tolentino (3rd to arrive in Dublin) was just waking up from his 1 hour sleep, and I wanted to put some distance on him before he got started again.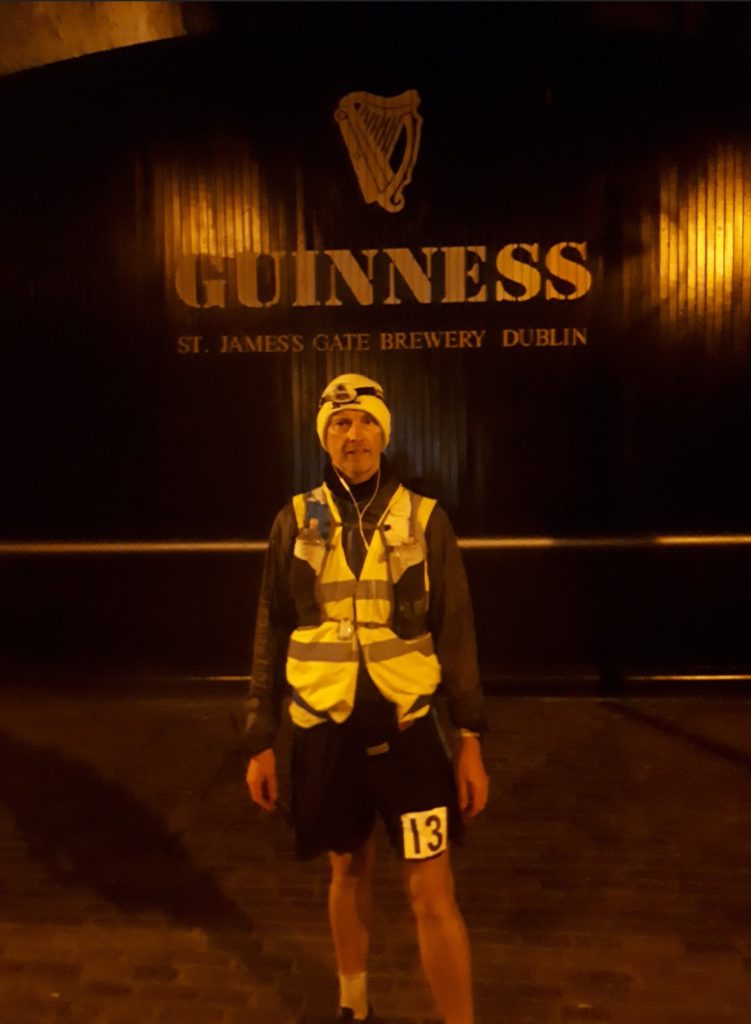 Day 2 – Dublin to Dundalk:
The results show that I was 2 hours and 22 minutes behind Jill at the half way point (Jill was second to arrive in 24:56, Jivee 3rd in 26:07, and me 5th in 27:18) but less than 2 hours after leaving Dublin I caught Jill near the airport, just as she and her support crew were about to start running again after their sleep.  So by my calculations Jill had probably had about two hours sleep, and Jivee about 1 hour.  And me, none!
I was tired, but not tired enough to sleep.  I was starting to admit to myself that I would need some sleep later on, but I wanted to get as far north as possible before then.  I didn't have a support crew or anywhere I could sleep, and it wouldn't be warm enough to sleep on the side of the road until later in the day when the sun was up.
At this stage of the race I was calculating how I could win the race.  I figured that any of the three of us could win, and there were still several others behind us that could possibly catch us.  There was still a very long way to go.
I was feeling good through until daylight and for a few hours afterwards.  I wasn't going fast, but I could see on the tracker that for every few miles I walked, I was increasing my margin over Jivee by about half of the distance that Jill was increasing her lead over me.  I reminded myself that they were both runners and therefore should be going faster than me, but neither had anywhere near the experience in racing distances like this compared with me.  I still felt confident that I could win this race.
I don't remember when that positive attitude changed, but my the time I reached Drogheda again I realised that I had too much sugar in my system and decided to stop at Dominoes to order a pizza – figuring that pizza was better than chocolate and more substantial than McDonalds.  It was a warm sunny day and I sat in the sun across the road from Dominoes eating a family sized pizza.  Jivee ran past and declined my offer of food.  He was looking good, although when racing, you always want to make your competition think you are feeling good even if the opposite is true.
As he ran past me I remembered that two years ago I had passed him in the last few miles of the Dublin to Belfast race, and I thought to myself that maybe we were going to see a repeat of that this year.
After about half an hour I decided it was time to start walking again.  By this stage I was mentally exhausted.  I kept an eye on my pace and calculated that I could still finish the race, probably by about lunchtime Saturday – 60 hours.  Maybe 62.  When I entered the race I was confident that I would finish in well under 60 hours and, being the cheap accountant that I am, I had booked a cheap flight home for 6pm – and from Dublin International Airport which is about 40 minutes drive from the finish line.  This meant I would need to finish the race in 64 hours or less in order to get to the airport and on to my flight.  I would need to finish earlier than that if I wanted a shower to spare the other passengers from the smell that comes from walking for 60+ hours.
I started to imagine myself having to quit the race with just a few miles to go in order not to miss my flight.  Whereas hours had felt like minutes the previous night, it was now a case of minutes feeling like hours.  I was struggling both mentally and physically.
During the afternoon I had three separate attempts at sleeping.  The first was behind a hedge lying in the sun but after about 10 minutes I realised that there was no chance I would get to sleep and I resumed walking.  The second attempt was in the car of Mal, one of the race volunteers.  He said that I slept for a few minutes but I am not convinced.  And the third attempt was when I came across a soft green lawn beside the road somewhere in the middle of nowhere.  Again, I lay in the sun for about 10 minutes but wasn't able to sleep.
Around 5 pm'ish, Nick called me to find out how I was going.  He had had a client meeting in Newry that afternoon and our original plan was that after his meeting he would come and find me and bring some hot food for dinner.  I was feeling good when he called.  I had been through the 4th checkpoint a little while earlier and told him that there was no need for him to come down to where I was.  I wasn't anywhere near as close to Newry as I had expected to be, and didn't feel that I needed his support at this stage.  Nick ignored me and turned up a while later.  It was good to see him.  We chatted for a bit and I said that I would see him at the finish tomorrow, but not in time for parkrun 😊
The end:
About an hour or two later, Nick was just arriving home at 8pm when I called him to say my race was over.  I don't know what happened, but I was getting slower and slower as I approached Dundalk, and the calculations in my head were now telling me that it was highly unlikely that I would reach Belfast in time to catch my flight home.
"People don't quit when they can take no more. They quit when they no longer believe they can win. Not believing you can win can take many forms such as a belief that you can't make the distance or maintain the pace. Whatever belief creates the doubt in your mind, it is not the loss of will that you must overcome – it is the loss of hope"
Lazarus Lake
Founder of the Barclay Marathons and Bigs Backyard Ultra (the original Last One Standing event)
I had given up hope, and the moment I gave up hope, my race was over.
As I walked in to Dundalk (161 miles/259km and 44 hours after leaving Belfast), having decided to quit the race, I saw the support crew for one of the runners doing the one-way race from Dublin to Belfast.  Initially I thought they were the race organisers and I walked over to them to tell them I was dropping out.  They weren't the organisers but they called ahead and told them I was dropping and that they would look after me until Nick arrived to collect me.
I sat in the back of their van for the next couple of hours as we followed their runner through to Newry.  I could smell myself and kept apologising for the smell, but they didn't seem too concerned.  I posted on facebook that I had dropped out and almost immediately received a message from US based ultra-distance walker Ivo Majetic who tried to convince me to have a sleep and then resume the race.  If it had been a track race, or if I didn't have a flight booked, I may have considered his suggestion, but I was adamant that my race was over.
Nick met us at Newry and took me back to his place where I slept soundly for almost 11 hours!  When I woke I felt 100% better.  In fact I would almost say that I was fully recovered – other than slightly sore legs – but I never considered the possibility of resuming the race, and had no regrets about the DNF.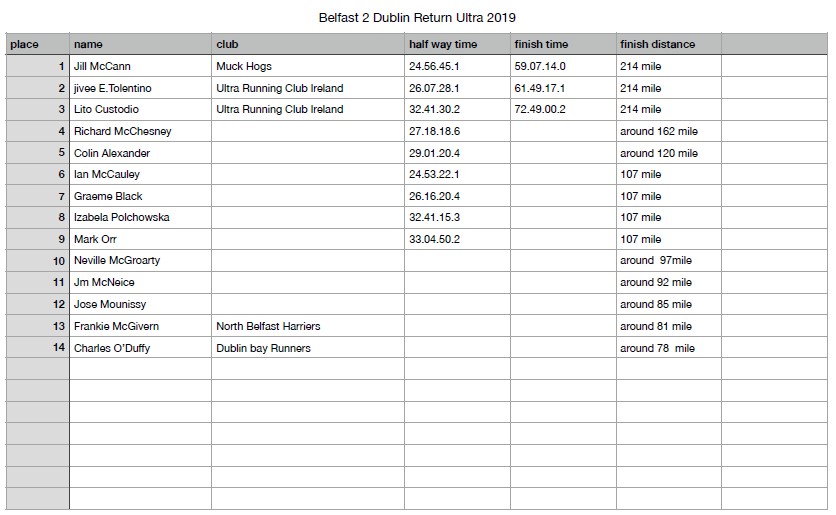 Regrets?
I am writing this report 10 days after the race.  I have thought about very little else since dropping out.  Did I do the right thing?
I think I did.  For the week after the race I had a bad chest cough which may have been brought on by the race, and would have probably been made much worse if I had pushed through to the finish.
The Sunday after the race was Mother's Day in the UK, and having had a good night's sleep at Nick's place, I flew home on Saturday night and was able to enjoy a family day on Sunday without being exhausted from the race.
I learnt a lot from my 161 mile adventure.  Lessons that will prove invaluable next year when I got back for another attempt.
So, no regrets.
Lessons learned:
"The only true failure is the failure to learn from your mistakes"
Unknown
So what did I learn?
Lesson number 1:
One of the big differences between the one way race and the double, is that the double starts at midnight whereas the one way race starts at 12 noon. By the time the race started I had already been awake for 9 hours after a 3 hour nap and a morning at work.
Next year, rather than trying to save money on the trip to Belfast, and also getting less sleep that optimal the day before the race, I will book a morning flight to Belfast, check in to a cheap hotel, and sleep from early afternoon through to about 10pm before having a big pre-race meal before race start.
Lesson number 2:
Next year I'm going to book a cheap hotel on the outskirts of Dublin, possibly out by the airport somewhere if there is a hotel handy to the route we followed. My new plan is to check in to the hotel on my way in to Dublin, have a 10 minute lie down, and then put in a fast three or four hour return trip into Dublin and back before having a decent sleep through to daylight.
Lesson number 3:
Next year I will plan to sleep. I know from my six day races that a couple hours sleep can make a world of difference both mentally and physically.  During the race I had three attempts to sleep and may have managed a total of ten minutes.  I was desperate for sleep but having not planned my sleep I found I couldn't get to sleep when I tried because my body was so hyped up on sugar.
Lesson number 4:
Don't book a flight home until after the race cut-off. Could I have finished the race if I wasn't trying to beat a 63/64 hour cut-off instead of the 72 hour cut-off imposed by the race organisers?    In the end, Jill won the race in 59 hours, Jivee finished second in just under 62 hours, and Lito completed an incredible race to finish a little over the 72 hour cut-off.
Lesson number 5:
The 'race' doesn't start until the last quarter. I shouldn't have been paying any attention to the progress of any of the other runners until at least Dundalk, and probably not until we hit the hills after Newry.  The first 160+ miles is about surviving, and if you are fortunate enough to make it to the final stages of the race, then you can consider whether or not there is an opportunity to pass anyone in front of you.
Lastly:
Congratulations to Jill, Jivee and Lito on completing your races.  And a huge congratulations to Sandra Brown who walked the Dublin to Belfast race in 27 hours 50 minutes, and in doing so became the first person in the world to complete 200 events of 100 miles or more!