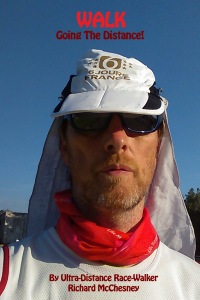 On January 1st this year I told the world (via facebook) that my goal for the year was to break four national long-distance race-walking records ranging from 100 miles to the greatest distance walked within a 48 hour period.
I didn't achieve all my goals, but I had a fantastic time chasing them, and have now written about my year in my new book  WALK – Going The Distance!
This is a story that incorporates the drama of the races I competed in – including 100 miles around a hilly street circuit, three days around a dusty track and a trail race from Birmingham to London along the Grand Union Canal plus much more.
The book is available on Amazon in both kindle and paperback with the price just £1.99/$2.99 for the ebook and not a lot more for the paperback.
You can read a preview of the book and purchase a copy here:

Thanks,
Richard