It's mid March 2020.  The world is suffering the impact of the Covid-19 virus and most sporting events around the world have been cancelled. The world is in lockdown with restrictions over where people can go, whether they can go to work, whether they can even leave their own homes.
I'm on facebook and I read about plans for a virtual Backyard Ultra race (the Quarantine Backyard Ultra) to be held during the first weekend of April.  The Backyard Ultra races, also known as Last One Standing, are elimination races in which all competitors run/walk 4.17 miles (6.7km) in an hour, every hour, until there is only one person left.  The 4.17 mile distance is 100 miles divided by 24 hours, so 100 miles a day until only one person is left.  The first Backyard Ultra was held in 2011 and there are now well over 100 races of this type worldwide with the 'world championship' being held in October every year on the original course in Big's backyard in Tennessee – Big being the name of the dog owned by race founder Lazarus Lake.
I didn't need to think about it.  I signed up for the race immediately.  The idea for the virtual race was that competitors would run (or in my case, walk) their own 4.17 mile laps starting and finishing each lap at their own homes, or compete on treadmills inside their own homes.  Everyone would be connected via the internet using Zoom, so that we could check in at the end of each lap and the race organisers could monitor progress.
My plan was to walk a loop on the roads between Kingston and Richmond in south west London but that changed on Monday 23rd March when the UK government announced new lockdown restrictions which included only being allowed out of your house for one exercise per day.  Leaving my house 24 times a day might be viewed as stretching the rules a little, but for a day or two I considered the possibility of using my car as my race checkpoint.  My car is parked on the street, so if I left the house once only, and only returned to the car rather than the house between each lap, that would be OK, wouldn't it?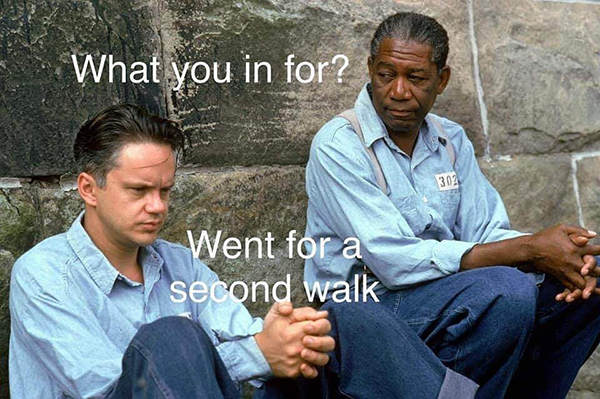 With the panic about the lockdown and rumours that neighbours had started reporting other neighbours to the police because they were exercising multiple times a day, I started to have second thoughts and started searching the internet for a second-hand treadmill.  I looked for a new one but with most shops closed I couldn't find one that could be delivered in time for the race.
I was in luck though, finding a £200 treadmill for sale just a couple miles away.  The treadmill was a bit bigger that I would have liked, for our small house, and had to be dismantled to get it up our stairs and into the living room.  It was also a bit noisier than my family would have liked and when I first tested it I discovered that the side of the living room that I positioned it in was immediately above the bedroom of the people living downstairs.  Not a good start.
Too late to give up now though.  I found a rubber pad that one of our sons had bought to go underneath his exercise bike and I moved the treadmill to the other side of the living room, so as not to be above the downstairs bedroom.  I also put a cupboard unit in between the treadmill and the rest of the living room to hopefully reduce the noise level.  Everyone seemed reasonably happy.
And I decided to use the race as an opportunity to raise some money for the Kingston Hospital Charity – the charity that supports our local hospital.
The race:
By race day, over 2,400 people from 53 countries had entered the race which was organised by Personal Peak Endurance in Alberta, Canada.  The race started at 7am their time which was 2pm Saturday afternoon in the UK.  With entrants from all over the world, the race was starting at different times for different people.  Personally, for ultramarathons I have always preferred a mid-morning start as that means I don't need to wake up too early if I've struggled to get to sleep the night before the race (a common problem) and I'm not awake for too long before the race start.  An afternoon race start can mean that by the time we get to 24 hours into the race, I've been awake 32 hours or longer.  Obviously, the longer you've been awake, the tired you get, so the earlier the start time, the better.  For this race, having woken up at 6am and being unable to get back to sleep, I had already been awake for 8 hours by the time we started.
The race would be different for everyone depending on the time of day that they were starting, their restrictions on movement outside their own house, the weather (if competing outside), etc.  So we all had to take what we were given.
'Living Room Guy', as he became known on one of the YouTube channels where the race was been streamed, was running a 30 meter lap in his living room – over 50 laps per hour!
Others were running in their own gardens. One guy was running around tables in what was apparently the restaurant in an Ikea. Many were running on treadmills, and some were on roads and trails near their own homes.  Some were running in snow, others in the heat.  Different conditions for everyone.
My target for the race was 48 hours, but in order to do that I would need to smash my 48 hour best distance by a whole marathon (current best being the 173 miles/278km I walked when winning the Royan 48 hour race in France, in October 2018 – which incidentally was the last time I had a decent race result).  My 'B' goal was to beat the 36 hours I achieved when I won Last One Standing England in 2018, and I didn't really have a 'C' goal – maybe just to go further than I had ever gone on a treadmill previously (a marathon which I ran in 2010).
My plan was to just go through the motions for the first 24 hours (100 miles) and then the real race would begin.  That's not to say that 100 miles in 24 hours is easy, but it is reasonably easy to keep moving for 24 hours before tiredness becomes a factor and I would have been extremely disappointed to be eliminated during day 1.
As it happened, the first 24 hours was relatively easy.  My fastest 'lap' was 52:57 in lap 6 when I needed a bit of time between laps for a change of shoes, and my slowest lap was 57:50 in lap 13 when having an 'easy' lap.  Total walking time for the first 100 miles was 22 hours and 8 minutes meaning that I had 1 hour and 52 minutes rest during that time.  An average lap time of 55:21.
There is one of the big differences between me walking and everyone else running.  Most of the runners were averaging 45 minutes per lap, or faster, and therefore had plenty of time for breaks.  If I needed a break, for a toilet stop or to change shoes, I needed to purposefully walk faster during my lap to give me the time I needed.  Also, if a runner started to slow down as the race wore on, they had a lot more time to play with than I did.
From the start of the race I got into a three lap pattern of an easy lap followed by a slightly harder lap and a quick journey upstairs to the toilet, and then a second faster lap to give me time to change shoes.  And then repeat.  I wanted to change shoes every three hours because the treadmill doesn't give you any variation in camber and therefore your foot strike is the same every single step.  This could cause injury and I didn't want to be eliminated from this race because of injury.  I also quickly realised that, unlike other races, I had to plan my toilet breaks for between laps rather than just when I needed to go.  In a normal race, I don't need to plan toilet breaks and just stop when I need to.  This wouldn't be possible mid-lap.
Of the 2,400 entrants, 1,400 started the race.  The race was free to enter so I'm sure that the organisers were expecting a big DNS percentage.  The quality of the field was incredible however, with 5 or more athletes who had completed more than 60 hours in Backyard ultras before, as well as a number of national/world record holders for various ultramarathon distances.  To my knowledge, there was only one other walker entered, Scott Burton from Canada.  Scott, like myself, competes in multi-day races but Scott hasn't yet completed 100 miles in under 24 hours so wasn't expecting to do more than a few hours in this race.  Yolanda Holder, the women's world record holder for the 6 day racewalking event was also entered, but she decided not to start.
The number of DNF's started to grow right from the first few hours and by 24 hours there were less than 80 of us still in the race.  Most of the top seeds were still there, but there had been some surprises with people like World Champion Maggie Guterl and US 6 day (running) record holder, Joe Fejes, both dropping out in the first 12 hours. Courtney Dauwalter, the women's world record holder for the Backyard ultra (67 hours) also dropped at 24 hours.
I started to think that there may be a chance of getting on to the elite YouTube feed which was live-streaming the top 20 competitors, but there was still a long way to go before the race would get down to that number of competitors.
At about 20 hours I sent a facebook message to John Muskett, who maintains the New Zealand ultramarathon records, to ask whether there are any NZ records recorded for ultra-distance treadmill achievements.  He replied to say that to his knowledge, no New Zealander had completed 100 miles on a treadmill.
So when I reached 100 miles after 23 hours, 55 minutes and 54 seconds of elapsed time, I set an unofficial New Zealand 100 mile (and 24 hour) treadmill record to go with my NZ ultra-distance race walking records and my M50 48 hour 'running' record.  Unfortunately, I can't claim the record as treadmill records have to be run on calibrated treadmills and for all we know, the 4.17 miles I was completing each hour could have only been 4.1 miles, or it could have been 4.2.  We will never know.
I was still feeling extremely good but while changing my shoes at the end of lap 24 we noticed a burning smell coming from the treadmill.  We didn't have time to investigate so I decided to put in a fast lap to give us (my son, Jarrad and wife, Ruth) time to investigate and do some urgent treadmill maintenance.  I walked hard, too hard perhaps, completing the lap in 54:08 – my fastest since lap 12 – and then let Jarrad and Ruth do their thing while I sat down for a much needed rest.  The belt on the treadmill had moved to the right and was rubbing against the side of the treadmill, and any lubricant that may have been under the belt was long gone.  They adjusted the belt and applied some lube but that was all they had time for.  The smell was most probably coming from the motor which was overheating.
When I started lap 26 Jarrad went online and order a 12 inch fan from Argos and then drove down to the local Sainsbury/Argos store to collect it.  I was still feeling good and walked an easy 58:08 lap – my slowest to date, but I was completely under control and still feeling good.
I walked faster on lap 28 so that I would have time for a toilet break at the end of the lap but suffered for that 'luxury' when I only barely managed to finish the next lap (lap 29) in 58:20, my slowest lap time of the race and the first one in which I had struggled.
For a while during lap 29 I didn't think I would finish within the 60 minute time limit.  Up until now, walking on a treadmill had been easy, maybe easier than a normal outdoor race.  I had a pacing chart taped to the treadmill dashboard which told me what time I would finish the lap based on my time through each kilometre, and also my minutes per kilometre based on the speed that the treadmill was currently set to.  All I needed to do was make my legs walk at whatever pace I told the treadmill to run at.  Easy.
I had also constantly changed the speed and incline of the treadmill every few minutes during the previous 29 hours to try and replicate an outdoor walk where the slight elevation change, wind direction, etc, means that you are never walking exactly the same speed and using exactly the same muscles for too long.
Bad patches come and go during ultra-distance races.  You can feel good and then suddenly you wonder how you will be able to complete the next mile.  I've done races where I've struggled through a bad patch for 3, 4, 5 or more hours, and then suddenly come right again.  The difference though, was that this race didn't allow for bad patches.  At least not for me as a walker where a bad patch could easily mean elimination by failing to finish the lap within an hour.  For the runners who were still averaging 45 minute laps, they had plenty of time up their sleeves and losing 5 or 10 minutes per lap due to a bad patch wouldn't be the end of their race.
As it happened, lap 30 was the end though.  Mentally, I was totally stuffed.  I was struggling to stay on the treadmill.  7km per hour was too fast and I was almost falling off the back.  6.9km per hour was now too slow due to me losing a bit of time by walking too slow at the start.  It was looking like I would struggle to finish the lap in under 60 minutes, although still possible if I could push through the mental pain in the last 10-15 minutes.
But then, at 3.3km into the lap, the treadmill suddenly stopped and I fell forward into the dashboard.  Fortunately, because I was struggling so much, both Jarrad and Ruth were standing beside the treadmill and Jarrad immediately unplugged the treadmill.
My race was over.  With hindsight, I could have immediately headed outside to walk another 3.4km, and complete the lap, but I wasn't thinking clearly mentally, and under the UK lockdown rules, that would have still had to be the end of my race as we are only allowed outside to exercise once a day.  I wish I had done that though, as it would have been nice to finish on round figures – 30 hours and 200km – but overall, I'm happy with my result.
Some other thoughts about the race:
On a positive side,
No need to travel to/from the race
Many of my races are in France or other European countries, especially the race-walking races, and can take 8 or more hours travel in each direction. For this race, I simply walked over to the corner of my living room and got on the treadmill.
Climate controlled
Being indoors, I didn't need to worry about the weather. No need to put warmer clothes on at night or suffer in the heat of the day.  No wind, rain, or any other uncontrollable conditions either.
Support crew
I very rarely have a support crew in my races – other than the six day races I've done – but this time I had a dedicated (some might say 'trapped') support crew only meters away for the whole race.
No need to carry food
The majority of the races I've done have required us to carry food, as well as other equipment, because it could be anything between 10 and 25 miles between checkpoints. For this race, I had food within arms reach the whole of the race, and a fridge just behind me.
Even in multi-lap races, I can usually only eat every 2-4km but not in this race.
No need for a head torch
When it got dark, we just turned on the lights. No need for a head torch or for a charger to charge the head torch in between uses.
No need for portable chargers
I had two computers within reach all the time – one for the video feed connecting me to race HQ, and one which I used for watching the YouTube feed of the race, posting updates on social media, watching the donations to my fundraising rolling in, etc.
For most races I need to take portal USB chargers to keep my GPS watch and phone charged, and for point to point races I need to carry those USB chargers with me.
Speed controlled by my mind, not my body
For most of the race, I used my mind to control my speed – in that I worked out what pace I needed to walk and set the treadmill speed to the required setting. My legs then had to walk at that required pace and I had a dashboard in front of me which was constantly telling me if I was walking to target.  For a normal outdoor race, I get feedback from my watch every kilometre, but it is very easy to drift off pace without noticing until it is too late.
They are the positives that I took from the experience.  On the downside,
Toilet brakes needed to be planned
In a normal race, you just take a toilet break when you need it, but in this race it had to be planned for between laps. If I needed to go to the toilet mid-lap, that wouldn't be an option.  In some races I have found that as my body starts t deteriorate after 40+ hours, I might need to pee every 10-20 minutes.  I didn't get that far in this race but toilet breaks at intervals less than an hour (a lap) wouldn't have been possible.
Also, our toilet is upstairs, so when I did need to go, I had to walk up and then back down the stairs.  Walking down stairs is not easy after 20+ hours on your feet.
Regular change of shoes required
Because of the lack of variation in terrain, I decided to change my shoes every 3 hours. Normally I don't change my shoes in any race shorter than 40'ish hours.
Once my feet started to blister changing shoes also became painful and in order to make time for changing shoes I had to walk a faster lap than I would have liked.
Uneven pace
In order to make time for toilet breaks and shoe changes, I had to walk fast laps two out of every three. Normally, in a race of any distance, you are best to try and maintain a steady pace.
Risk of mechanical failure
I always knew that there would be a possibility of a treadmill failure. After buying the second-hand treadmill we purchased some silicon lubricant and did some basic maintenance to ensure that the treadmill would survive the race.  The manual said that we would need to apply more lubricant every 40 hours, and we planned for that.  But I have since learned that the 40 hours is based on standard use of an hour a day, and that gyms lube their treadmills every day.  We should have been applying lube every 8 hours and should also have had a fan pointing at the motor from the start to keep it from overheating.
Having said all that, I wouldn't have missed this race for the world.  I loved it.  Out of the 1,400 starters, 33 started lap 30 and by lap 32 there were only 18 runners left – I was so close to the top 20 in a high class field.
And, my fundraising has raised £1,432 (plus gift aid) for the Kingston Hospital Charity – with at least another £70 promised in donations.
I'm writing this on the Monday evening after the race.  At the time of writing, there are still two incredible athletes battling it out.  Mike Wardian, one of the best ultra distance runners on the planet, and Radek Brunner, who has finished in the top 3 in the last 4 Spartathons have been alone in this race since the beginning of hour 47.  They are still both completing their laps in the 40-45 minute range.  This race could go for many more hours yet!
And by the way, whilst Mike is running outdoors in America, Radek is on a treadmill in the Czech Republic.  I'm rooting for 'treadmill man'!
Some photos: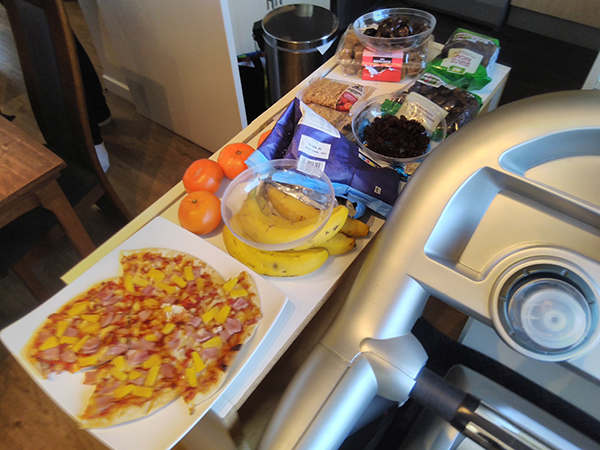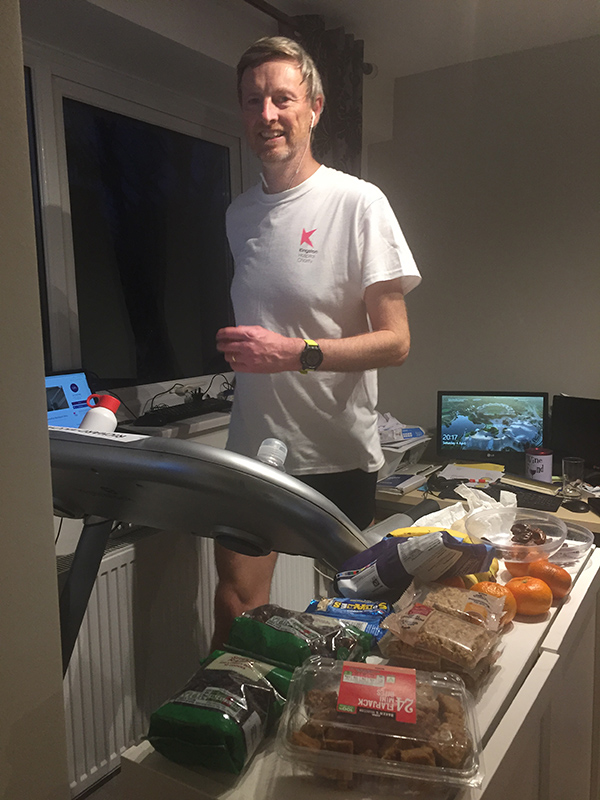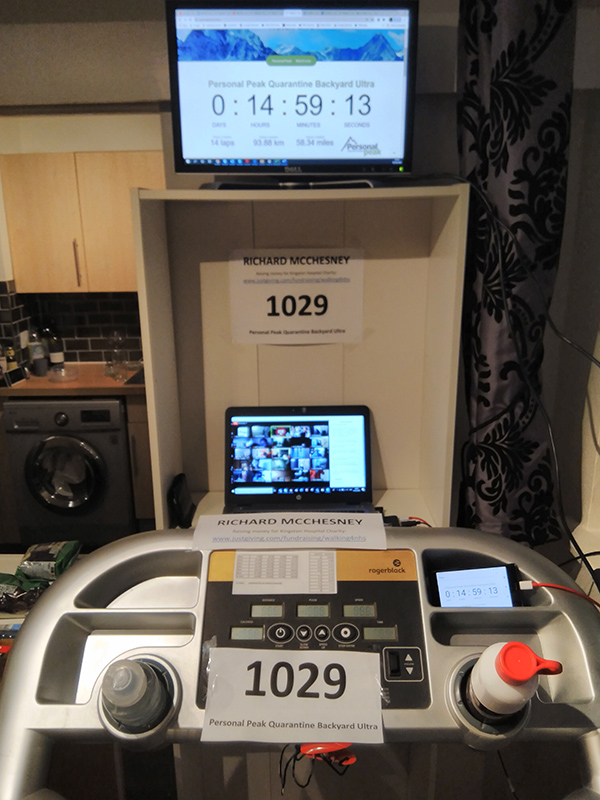 The Quarantine Backyard Ultra podcast story: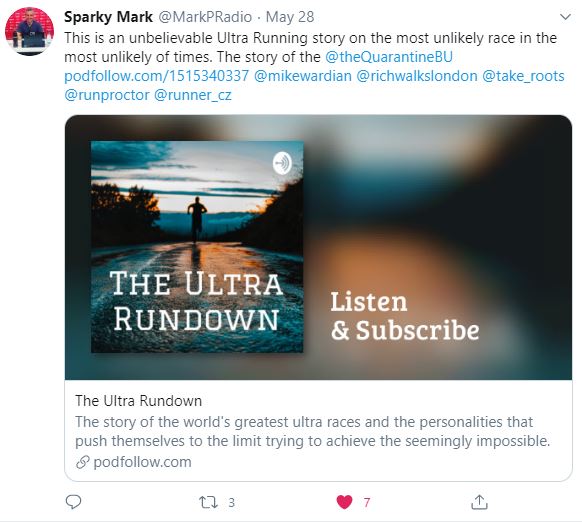 This podcast is the story of that race and features a couple snippets from interviews with me before and after the race.