With races still being cancelled throughout most parts of the world the people who organised the first Quarantine Backyard Ultra back in April organised a second on the weekend of 11th and 12th July.
A Backyard Ultra is an elimination race in which all runners (and me as a walker) start together every hour and run/walk a 4.16667 mile (6.706 kiometer) lap before reconvening at the start/finish area ready to start the next lap at the beginning of the next hour.  The winner is the person who completes the most laps.  Everyone else is a DNF (Did Not Finish).
It isn't necessarily the fastest athlete who wins.  In fact, I won my first race of this type, Last One Standing – England, in 2018 outlasting all runners in 36 hours.  As long as you complete your lap (the lap distance of 4.16667 miles being 100 miles divided by 24 hours) within 59 minutes and 59 seconds, you are allowed to start the next lap.  If you don't complete your lap within the hour, or if you complete your lap but decide not to line up for the next one, then you are a DNF.
The original Backyard Ultra was created by the legendary Lazarus Lake who created the first race in his own backyard in Tennessee in the early 2000's.  He named the race after his dog, Big, and called it Big's Backyard Ultra.  There are now hundreds of these races worldwide, or at least there were before Covid-19 came along, and Big's is considered the world champs.
In April we were in complete lockdown in England which, among other restrictions, meant we were only allowed outside for exercise once per day.  I purchased a second-hand treadmill and walked on it until it died after 29 ½ hours, finishing the first Quarantine Backyard Ultra with 29 laps.  The winner did an incredible 63!
Now, in July, we are allowed outside as much as we want (in the UK).  For me, the second Quarantine Backyard Ultra would therefore be 100% outdoors and in the weeks leading up to the race I measured out three separate courses that I would use during the weekend.
| | |
| --- | --- |
| The first was an out and back course that would be in the shade for about 50% of each lap. If it was sunny, my plan was to use that course during the day. | |
| The second was a combination of off-road and river trail which went past my house at about halfway and would enable me to collect additional food/water mid-way through each lap if required. | |
| And the third course was my night-time course, 100% on road with reasonable street lighting meaning I wouldn't need to wear a headtorch. This course was effectively an out and back with a small loop at each end and passed by house at about 2 ½ kilometers. | |
The big, and obvious, difference between a real race and a Quarantine (virtual) race is that you are alone in the Quarantine Backyard Ultra and to a certain extent the organisers rely on the honestly of the athlete to complete the required distance on foot themselves and without outside assistance.  The rules required us to be connected to a Zoom meeting so that we could be seen starting and finishing our laps, and to upload our GPS maps to Strava at the end of each lap.  We were also encouraged to take photos of the distance/time readings on our watches at the end of each lap in case of any challenges as to whether or not we were completing the distance.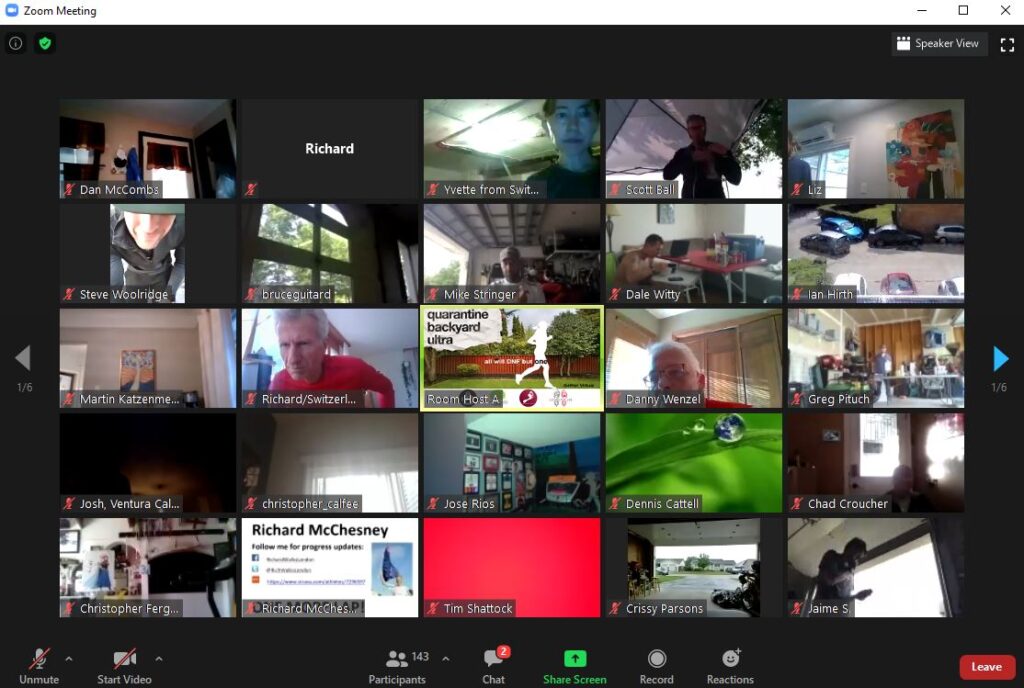 To enable this I set up my start/finish area just inside the front door of our house with my laptop connected to the Zoom meeting and showing all comings and goings from our house – both me every hour, and my family as they walked in and out the front door every now and again.
Next to the computer I had a shelving unit that I relocated from upstairs, stocked with all the food I would need for the race and my family periodically refilled my water bottles for me.
| | |
| --- | --- |
| My front door. The start/finish area for the Quarantine Backyard Ultra | |
The race:
Being a virtual worldwide race, the second Quarantine Backyard Ultra started for UK residents at 2pm on Saturday afternoon.  It was sunny and around 22 degrees Celsius, so whilst not too hot I decided that the shaded course would be my best option for the first few hours.  My intention was to walk through the first afternoon and night taking it easy.  I didn't expect the race to take too much out of me in the first 24 hours by which stage only the serious races would be left.  Since the start of May I had been doing another virtual race, the Great Virtual Race Across Tennessee, and had done more mileage in May and June than any other two month period in my life.  I knew I had good endurance and was ready for what I thought could be a 48 hour race – although to complete 48 hours I would need to walk 200 miles and my 48 hour PB is only 173 miles from Royan in 2018.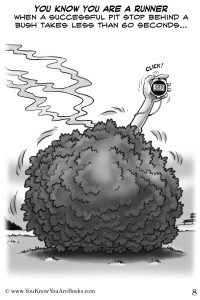 It wasn't to be that easy though.  After just a few kilometers I was suffering from gut pain and after 5km I had to dive into the bushes for some quick relief.  At the completion of that first lap I then had to run up two flights of stairs to get to the toilet, finish the business, and get back down to my front door in time to start the second lap at the top of the hour.  This was not the way I had expected to start this race!
A few laps later, and another quick run up to our third floor bathroom (we live in a terraced property on the second and third floor) in between laps.  I didn't need this additional mileage and stair climbing!
As well as the 1,200 athletes who entered the Quarantine Backyard Ultra having different start times and different weather conditions depending on where they were in the world, different athletes no doubt had different distances between their start/finish area and their bathroom.  When deciding on the courses I would use during the weekend, one of the important factors was the quantity of nearby bushes should I need them.  All three courses had plenty of privacy for a number one if needed, but I hadn't really expected to need anything more than one or two trips upstairs during the whole race, so two in the first few laps was not a good start.
Fortunately, things started to settle down and whilst I continued to have pain in my abdominal area for the first 12-15 hours of the race, I was able to manage things a bit better.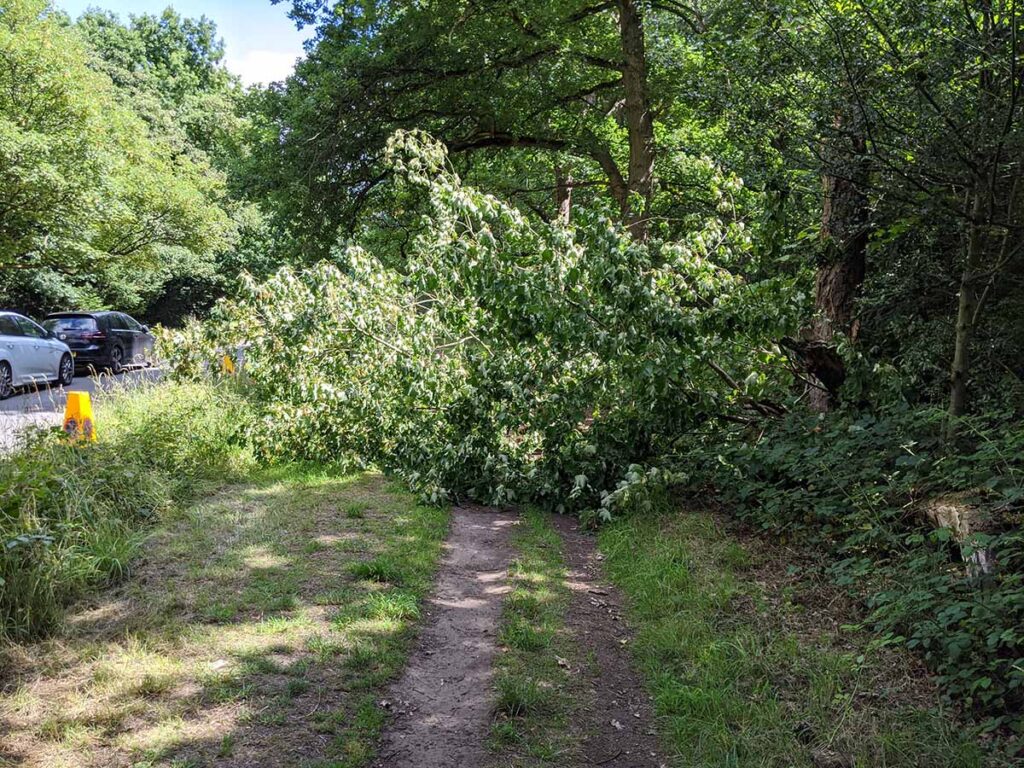 On completion of the first five laps, which had all being relatively easy at an average of just under 55 minutes per lap, my wife gave me a pizza cut into 2×2 inch squares for dinner.  The pizza was in a tinfoil container like what you might get from a Chinese takeway.  Easy to hold and the small pizza squares were easy to eat while walking.  What a fantastic support crew!
| | |
| --- | --- |
| Pizza for dinner – takeaway style | Wrapping it in tinfoil made it easy to carry and eat while walking, and kept it warm |
I switched to course two with the idea of doing three laps of my alternative day course before dark, just for some variety, and then switching to my night course.  Those three laps were all significantly slower, averaging 56 minutes, but in fairness, the course was off-road for a part and on the first of those three laps I was eating dinner, and on the last it was semi-dark.
With 8 laps completed in total, at 10pm I switched to my third course and put in a couple 54 minute laps before finding that my left quadricep muscle was starting to hurt after the short break between laps.  So I decided to slow things down a bit to reduce the rest breaks.  I really enjoyed the night. 12 hours (50 miles), 15 hours (100km) both came and went.  Daylight arrived way too early at around 15 hours and I decided to stay on my night course for a few more hours.  It had been reasonably cold overnight and a heavy dew was on the cars and grass.  I was feeling good and didn't want to go on to my off-road course, get my shoes and socks wet, and have to stop to change them between laps.
| | |
| --- | --- |
| A short rest between laps at 50 miles – feet up | I really enjoyed walking the streets during the night |
The only thing that went wrong during the night was that I didn't eat enough. In most races I like to eat every 30 minutes but I found myself forgetting to eat and am sure there were occasions when I went 90 minutes or more without eating.  I think this may have contributed to my downfall later on.
When I completed lap 18 at 8am my wife presented me with a cheese omelette for breakfast.  Again, it was cut into small pieces and in another tinfoil dish.  I switched to my alternative day course again and consumed breakfast while walking alongside the river.  The lap took me a shade over 57 minutes and was my slowest of the race other than one deliberate slow lap in the middle of the night.  I put the slow lap down to the fact that I was eating but the following lap was almost as slow.
I was starting to feel the pain that only an ultra-distance athlete know.  I wasn't tired, but I just couldn't make myself move forward any faster.  I switched to my shaded day course in the hope that the change would help me speed up, but it was just starting to get harder and harder to maintain the same speed.  I was only on lap 21.  It wasn't meant to be hard yet!
Lap 21 took 56 minutes and lap 22 was a minute slower.  I was now finishing after the three minute whistle (to warn runners that the next lap is about to start there is a whistle blown at 3, 2 and 1 minutes before the bell which is run at the start of each new lap) and was now starting to struggle mentally as well.  In fact, with the benefit of hindsight, I think I was suffering more mentally than physically now, and my mental weakness was resulting in me walking slower and slower.
I had switched to sugar immediately after breakfast, drinking coke at the end of every lap, and eating chocolate, jelly beans, jelly, etc, but it wasn't working.  Lap 23 took 57 ½ minutes and I told myself that whatever happened, I needed to complete lap 24 in under the hour in order to complete a sub 24 hour 100 miler – the minimum I would consider acceptable for my weekend's efforts.
In the end lap 24 was to be my last.  I just wasn't mentally strong enough for the race this time around. I finished the lap in 59:06 to complete 100 miles in under 24 hours – the 15th time I have walked 100 miles in under 24 hours, and the 30th time I have walked 100 miles or further in the seven years since my first 24 hour race in October 2013.
Of 1,200 entrants, about 47 of us finished lap 24 but only 36 started lap 25, and two laps later there were only around 25 runners left in the race.  I wonder whether I could have kept going for a few more laps if mentally stronger.  Perhaps if I had switched to my night course which I think was the fastest of the three courses, I may have made a few more laps.  But in reality, I just wasn't up to it.
I might have built good endurance during lockdown, but I have almost zero speed.  Most of my training over the last few months has been done at 8 minutes per kilometer or slower. Faster than the required pace for the race, but with no speedwork in training I was unable to kick in a bit of speed when I needed it to get me going in this race.  In most races, when I start to struggle I will listen to some high temp music and use that to speed up my cadence, but my legs are no longer used to a fast turnover and the music didn't help this time.
After the race my legs were in serious pain, worse than I remember them after any of my previous races.  I'm not really sure why they were so sore, but after a good night's sleep on Sunday they were recovered by the following morning, although it did take me most of the week to fully recover from the race and want to go for another walk.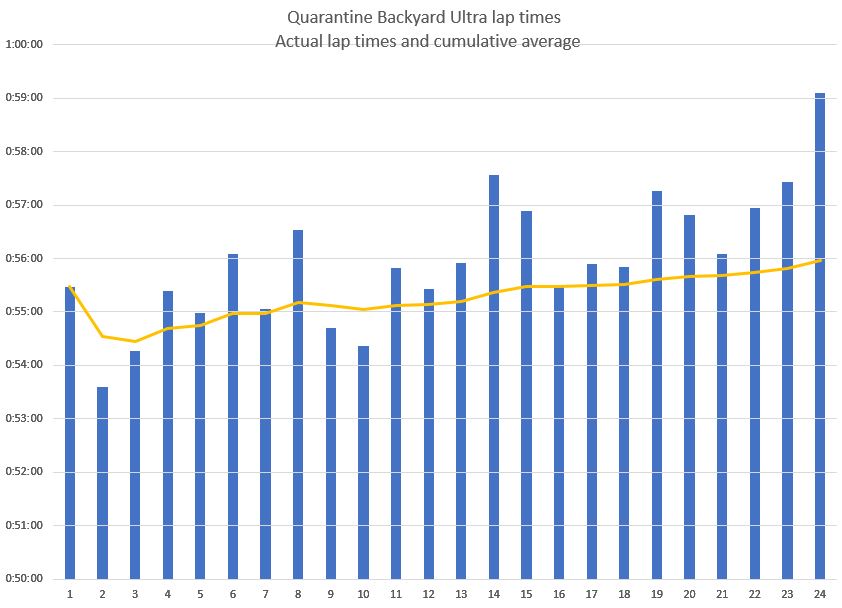 What's Next?
With plenty of uncertainty about upcoming races I am thinking that rather than planning for an upcoming race, maybe I need an adventure.  I don't know yet, but I'm currently looking at doing something long in August.