Last month I visited Athens, Greece for the first time.  I saw all the main sightseeing attractions – The Acropolis, the Parthenon temple, The Acropolis Museum, along with the National Archaeological Museum and the Panathenaic Stadium where the first modern Olympics were held in 1896.
I wasn't there for sightseeing. I was in Athens to compete in the 48 hour race which was just one of the many ultra-distance races that were a part of the 15th Greek Ultramarathon Festival.  Other events that made up the ultramarathon festival included a 24 hour race, 72 hours race and 6 day race which were all happening at the same time as my race, and then the following week the really long races started with a 1,000 mile race, a 2,000 kilometre race and also a 5,000 kilometre race which has a two month time limit!
And all these races are held on a 1 kilometre circuit – 500 meters out, and 500 meters back – at the old Athens airport which was abandoned in 2001 when the new airport was opened ahead of the 2004 Olympics.  Headquarters for the race were in the semi-abandoned Basketball stadium beside the old airport which was used for the 2004  Athens Olympics.  Given that some of the doors inside the stadium still had signs stuck to them that referred to the 2019 edition of the ultramarathon festival, I suspect that the stadium is now only used once a year – for the ultramarathon festival.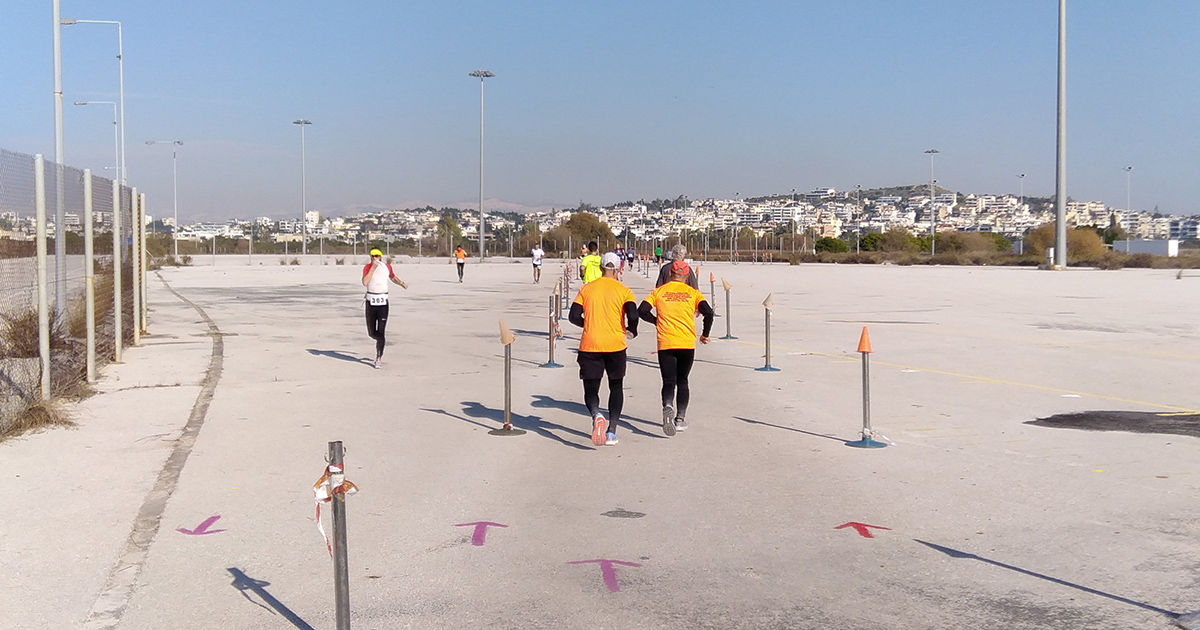 My race:
This was going to be my first serious race since my shin injury and subsequent health problems at the Thames Ring 250 in June 2019.  I had attempted to complete the Lon Las Ultra in Wales in October, but I always treated that as an adventure rather than a race.  But with my shin injury almost completely heeled I thought I could walk at least 300km in the space of 48 hours, so that was my goal.
My only other 48 hour race was the Royan 48 hour race in October 2018.  In that race we had 24 hours of summer followed by 24 hours of winter, complete with horizontal rain and I had covered 278km (161km on day one and 117km on day two) and that was on a course with a total of 500 U turns in the space of 48 hours, so I was confident that on a better course, and in better conditions, 300km was definitely within my capability, even if I probably wasn't as fit as I was in 2018.
The race started at 6pm on Friday 10th January.  When I booked my flights I decided that the best option was to fly over on the Thursday afternoon/evening – departing Stansted at 6:45pm – and I booked a cheap AirBnB for both the Thursday night and Friday night figuring that that would enable me to sleep as long as I wanted without having to be out of my accommodation by the usual checkout time of 11am on the Friday morning.
The idea kind of worked.  The flight landed in Athens a little before midnight but it was almost 2am by the time I reached my accommodation – which was about 1km away from the race venue.  I got a solid 10 hours sleep which was good – much better than my normal pre-race sleep.  Arriving at the accommodation late meant I was tired and I was able to fall asleep pretty much immediately, whereas often I have problems getting to sleep the night before a race, tossing and turning, thinking about the race.  And I don't think I have ever had 10 hours sleep the night before a race, so I was happy with that.
On waking I walked down to the race venue to register and set myself up, and then walked 3km to McDonalds for my traditional last pre-race meal, got some supplies (fruit, coke, etc)  from the supermarket across the road, and walked back to the race venue.
This was my only sightseeing – the front of the abandoned airport: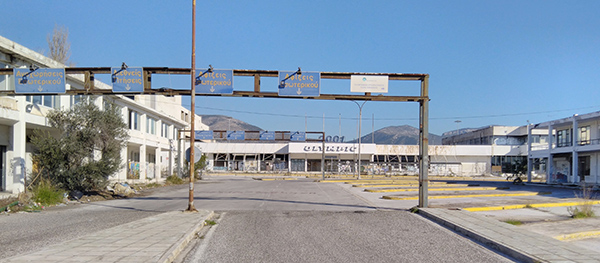 As usual for a running race, I was the only walker in the race.  There were 23 of us competing in the 48 hour race, 6 in the six day race which started at the same time as us, and 6 in the 72 hour race which started a couple hours before our race.  The 24 hour race started the following afternoon and had 94 entries.  In total there were competitors from 34 countries – a truly international event.
The race course itself started inside the basketball stadium where each lap started and finished.  We walked half a lap around the inside of the stadium on a concrete floor – the original basketball court having been removed some time after the Olympics – before heading out into the evening air.
I actually felt reasonably good for the first 14 hours, and it wasn't until mid-morning on Friday that I realised that the 'out' section of the out-and-back course was actually slightly uphill.  The turnaround point at the far end was about five meters higher than the basketball stadium and whilst this didn't make any difference in the early stages, once I began to tired I started to struggle mentally with this 'hilly' 😊 course.
I struggled all day Friday but at around 3pm (21 hours) I thought I was coming right, only to have a huge mental crash.  At 21 hours I had covered 142 kilometres but it took me another five hours to cover the next 19 kilometres through to the 100 mile (161km) mark.
I started the race intending to walk the full 48 hours without a sleep, and only a few short  sit-down breaks, but the short breaks were not working and upon reaching 100 miles (my 28th time walking 100 miles or further) I decided to have a sleep.  I was really struggling and just needed to get away from the course and hopefully I would wake up feeling refreshed and ready to go again.
I thought I had read on the race website that camp stretchers were supplied for athletes, but I hadn't paid too much attention as I didn't intend to sleep.  When I checked out the sleeping areas before race start, it turned out that we were supposed to have brought our own camp stretcher or mattress and we were sleeping in one of the warm-up basketball courts within the complex.  Note to worry, I thought, I won't be sleeping.
So now that I needed some sleep I found something that was slightly padded and turned that in to my bed, and then proceeded to have an uncomfortable 5 1/2 hours sleep before eventually getting up to continue the race.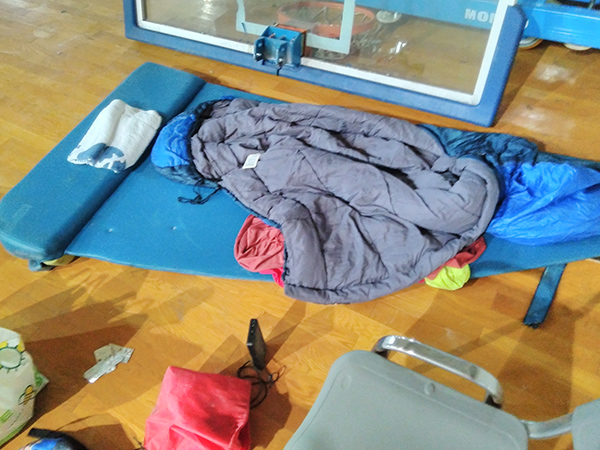 On resuming the race at around 1:30am on Saturday morning I proceeded to just go through the motions for the next 8 1/2 hours until I decided to have another short sleep.  I was not enjoying myself but I figured that there was no point in dropping out of the race.  I had three options: 1) drop out and watch the rest of the race, 2) drop out and go sightseeing – I didn't feel like doing that, or 3) continue walking laps of the course.  Regardless of what I did, my flight home would be leaving at the same time on Monday, and time wasn't going to pass any faster if I dropped out, so I decided to continue.
To cut a long story short, I didn't enjoy it, but I continued with a few sit-down rests along the way, and I eventually finished with a disappointing 211km in 48 hours.  Given that I have previously completed 205km in 28 hours (Roubaix in 2015), to only manage 6km further in 48 hours was a huge disappointment, but at the same time, at least I didn't drop out.
The Greek Ultramarathon Festival:
One of the reasons I went to Athens was to check out the course, the race organisation, accommodation, food, etc, in case I decided to take the opportunity to do one of the longer races in the future.  But I have to say, if I am ever going to do a really long race, it is unlikely to be at the Greek Ultramarathon Festival.
It is possible that my thoughts on this are tainted by the fact that I had a disappointing race, but I think I would go mad (some might say I'm already mad) going up and down the 500 meters out, 500 meters back course for any more than 48 hours.  There is nothing to see other than the other competitors and concrete, and being a self-confessed picky eater, I don't think I could survive on the food provided by the race organisers for 6 days or longer.
On night one we were given pasta which was good and the only other meal I remember being offered was something Greek (I can't remember what).  At the end of each lap we passed a table that had some food on it, but this was mainly cut up apples and biscuits.  There may have been a few other items but not really a huge amount of variety.  I think at one stage we may also have had yogurt or custard too.  I mainly fueled off my own food, but that wouldn't be possible in a multi-day race without a support crew.  The race organisers were great though, and I would consider going back for another attempt at the 48 hour race at some stage.
And the photos below will give you an idea of what the course looked like.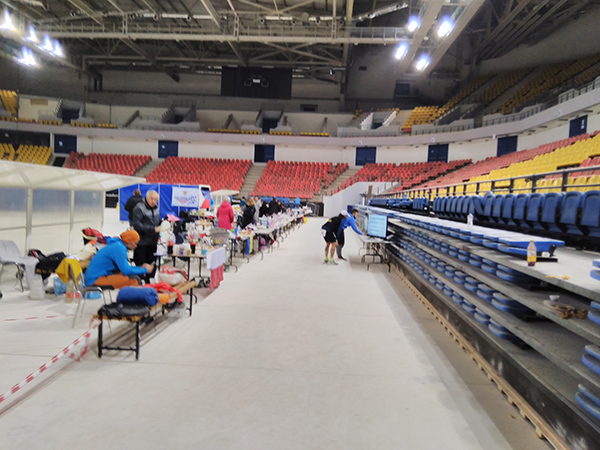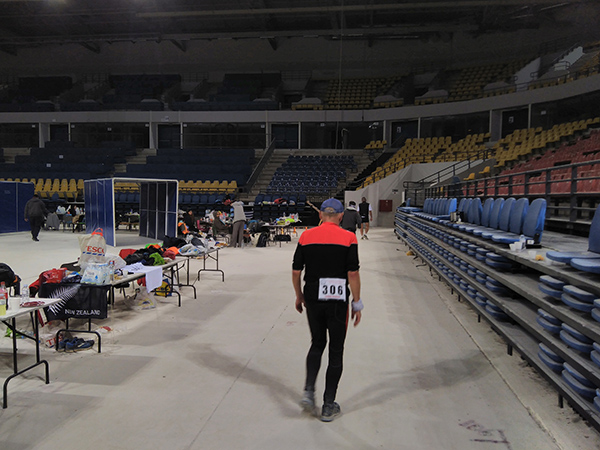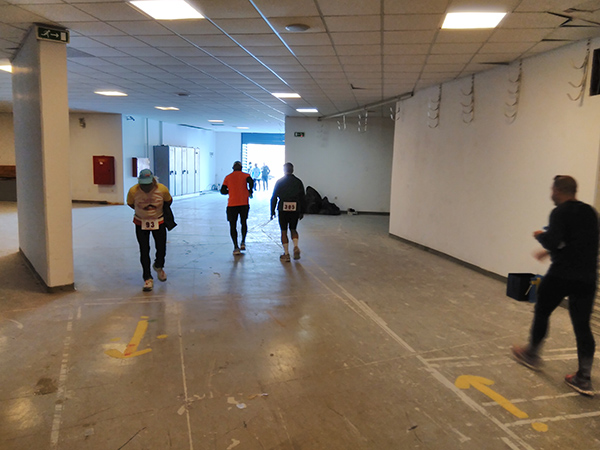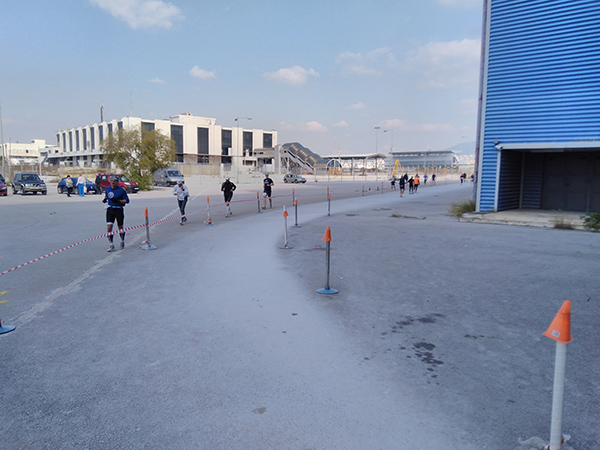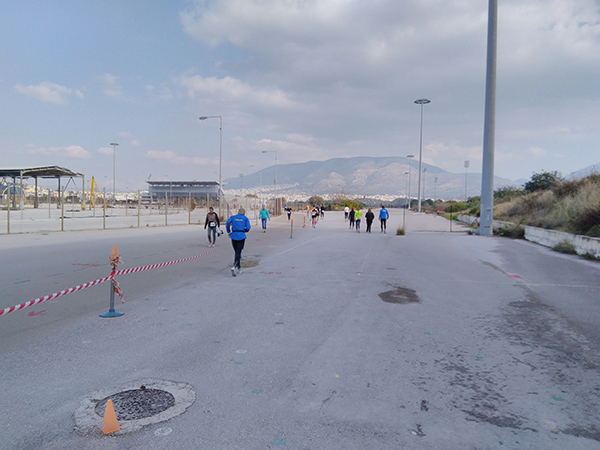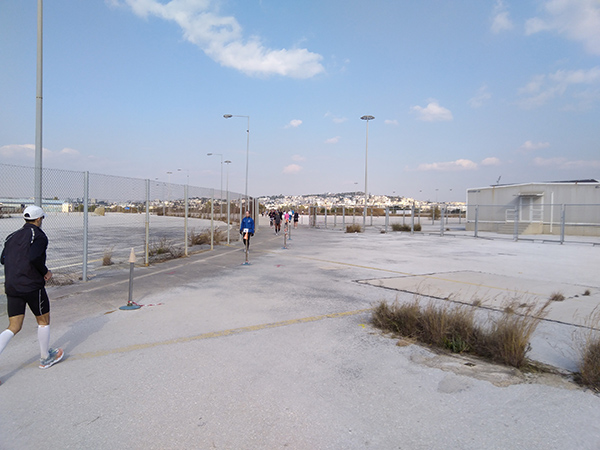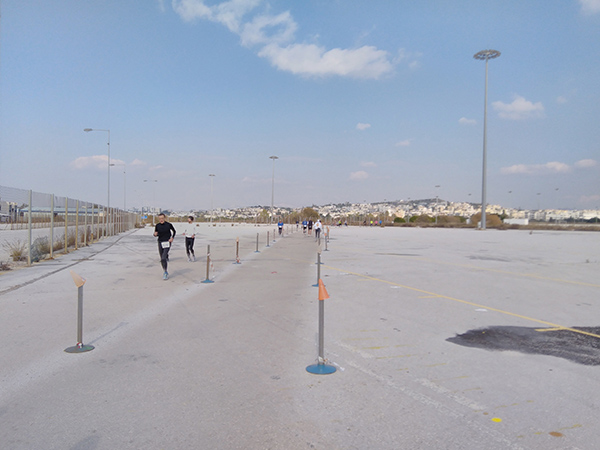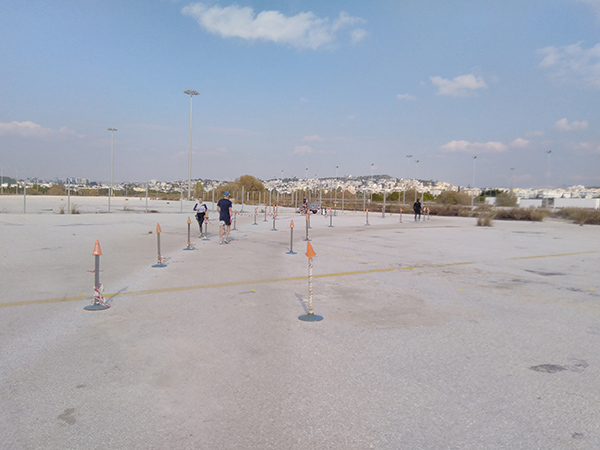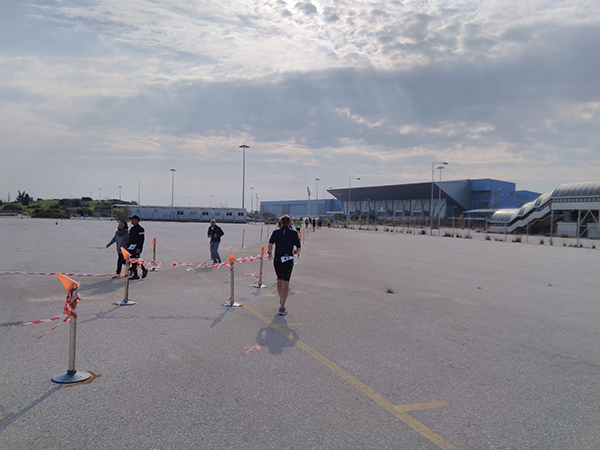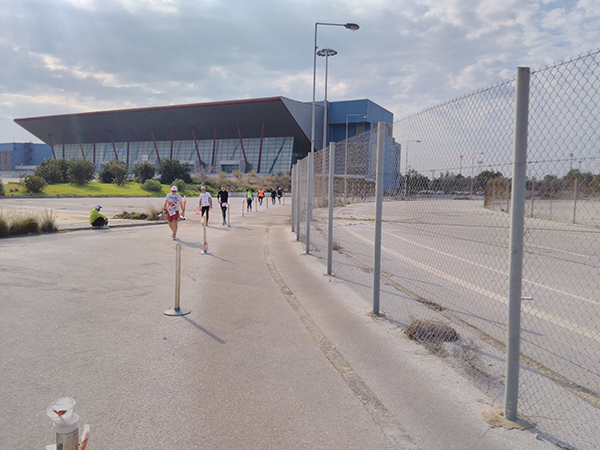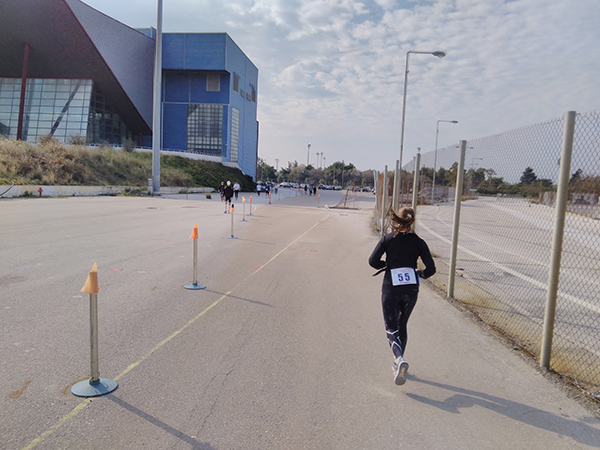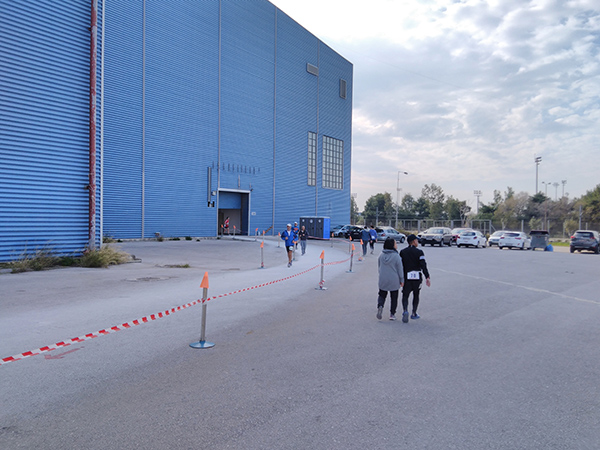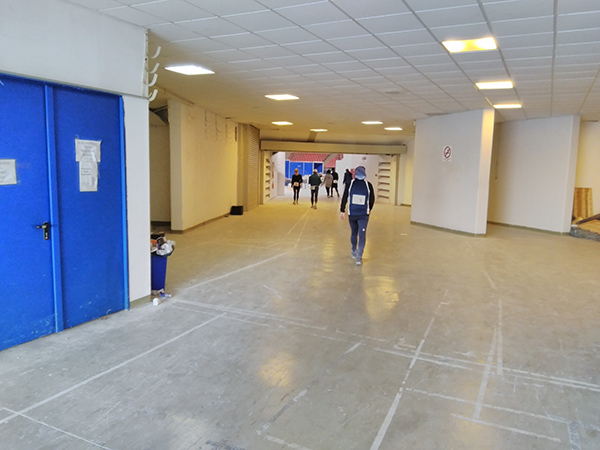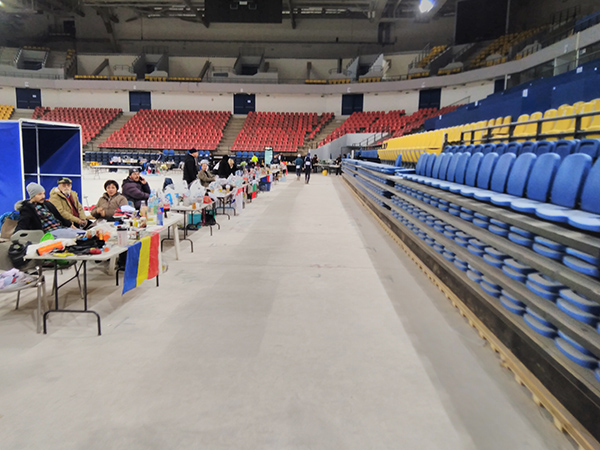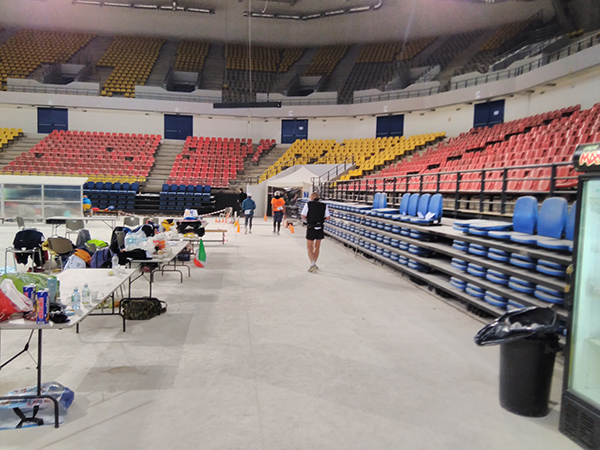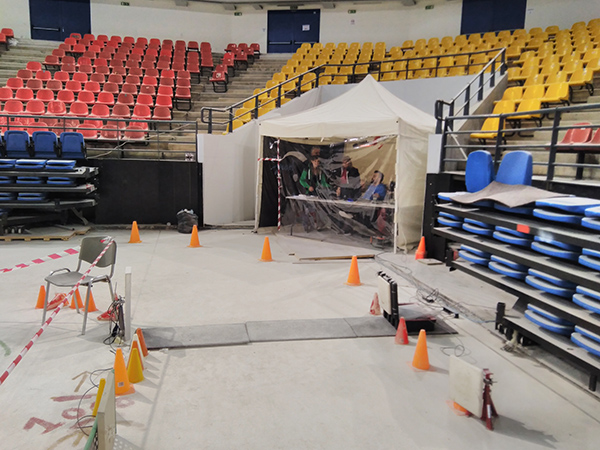 So what's next?
It has now been six weeks since the race and to be honest, I'm really struggling for motivation.  It turns out that my shin injury from the Thames Ring 250 is still not 100 percent heeled.  It didn't cause any problems during the race but has been a little uncomfortable since, and I don't think I will ever be able to race-walk properly again (pulling my toes up as my foot hits the ground in order to lengthen my stride).  The specialist has said he could potentially operate to repair the damaged tendon but because of the blood clots I suffered as a result of the original injury, there is added risk in doing that.
This means that walking sub 24 hour 100 mile races will be difficult but potentially still achievable.  Given time, the tendon may heel itself but in the meantime I think perhaps some non-competitive adventures, or longer races where speed isn't so essential, may be my best option.  Many of the running ultramarathons |I have done in the past have cut-off times for every ten to 20 miles which require a reasonably quick walking pace in the early stages of the race and I don't know that they will be possible this year either.
So right at the moment, I don't really know what's next – but watch this space because I'm sure that there will be something.