Today is the 1st of April and after struggling with injury for the last six months, I'm back training again and looking forward to a huge summer.  After missing the Belfast to Dublin Ultra this weekend, I've spent this afternoon making new plans for 2018.
My main focus of 2018 is still the Privas 6 day race in August, but I've changed some of my plans for the rest of the year.  I won't be doing the EMU 6 day race in Hungary in May as I can't get fit enough over the next 4 weeks to do that race justice, and it is too expensive to use as a 'training race'.  The EMU was going to be a major part of my preparations for Privas though, so rather than doing EMU, I will bring forward my Paris to London fundraising walk for Limbless Association forward and do that in July rather than October.
I'm also going to do two 24 hour races over the next two months as well as Last One Standing UK in June.  So my plans for 2018 now look like this:
21/22 April – French national 24 hour championship race in Dijon. This will be a training race with the aim of covering 100 miles in 24 hours at a steady pace.  I just want to spend 24 hours on my feet as I haven't walked 24 hours since Roubaix in September last year.
19/20 May – Continental Centurions Race in Schiedam, Holland. This is on a fast, almost dead flat 4km circuit in the trees within Prinses Beatrixpark in Schiedam near Rotterdam.  I set my current 100 mile and 24 hour PB's at Schiedam in 2016 and this will be my first serious attempt at racing a 24 hour race since then.
9/10 June – Last One Standing UK race as planned. I'm really looking forward to this race. The idea is that competitors have to run (or in my case walk) a 4 mile loop every hour, starting on the hour.  If you don't finish within the hour, you are out.  The winner is "the last one standing".  I thought this might be a bit of fun and good training, and I think that I can perform well against the runners in this event.
16 June – 2nd annual P&H Scouts walkathon
I'm not competing but am organising a walkathon for the local scout group. Last year they raised £2,250.  This year we are hoping to exceed that.
1 to 4 July (Dates to be confirmed) – Paris to London
I'm really looking forward to this and will use this as my final preparation for Privas which is 6 weeks later.
I've mapped out a course which is roughly 400km in total (or at least it will be when I add 'getting lost' miles to the planned route) with 270km in France, a short ferry ride form Calais to Dover, and then another 126km through to London.
I have had a look at the routes that other people have run or cycled between these two cities.  They usually go from London to Paris and they either start at Marble Arch and finish at Arc de Triomphe, or they start at Tower Bridge and finish at the Eifel Tower.
I've decided that I will start at Eifel Tower and then go past the Arc de Triomphe on the way out of Paris, and will cross Tower Bridge on my way in to London before finishing at Marble Arch.  I've chosen to go from Paris to London rather than vice versa as I would prefer to be on roads that I am more familiar with during the final day (and a bit).
I'm going to take 4 days to cover the distance at 100km per day which is a little less than the distance I will aim to cover during the first four days at Privas, but will be great training for the race.
19-25 August 2018 – 6 jours de France
My third attempt to break the NZ 6 day record after going close in 2016 and failing miserably in 2017. My goal is still to exceed 700km during the six days.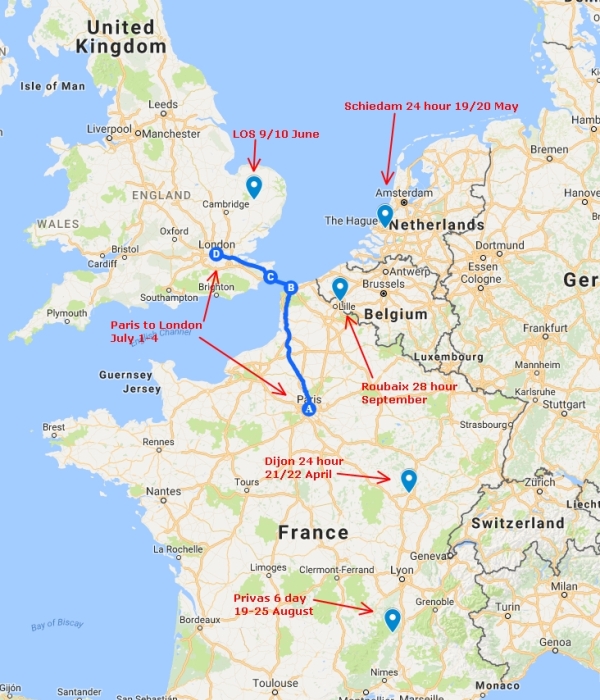 That's six walks of 100 miles or more. The same as last year.  I can't wait to get started 🙂