It was 6:30am on Saturday 19th October when I woke up shivering.  I was cold and wet and lying on some hay bales in a barn in the middle of Wales somewhere.  I wasn't too sure where I was but strangely, I felt like I had been here before.  When I walked down the driveway to the farm about 75 minutes earlier I 'recognised' the barn even although I had never been to this part of Wales before.  In fact, for most of the previous 18 hours I had had this strange feeling that I had been here before.  So much so, that at times I wondered whether I had walked in a big circle or was walking back in the direction I had come from.  But no, I had never been here before, and I was walking in the right direction.  This was just some weird experience.  An hallucination perhaps.
The Lon Las CYRMU Ultra: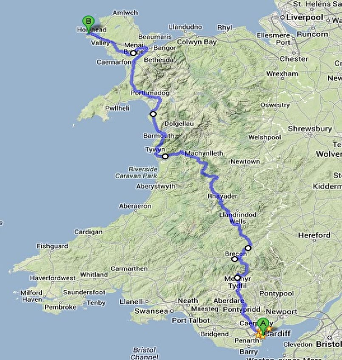 This was the second edition of the Lon Las CYRMU Ultra, a 253 mile running race from Holyhead in North West Wales diagonally across Wales to Cardiff, following the national cycle route number 8.  In the first edition in 2017 only six runners had finished within the 88 hour time limit.  They had had bad weather that year and many of the competitors had been forced out of the race due to the cold and wet conditions.
My goal for the race was simply to finish.  Since dropping out of the Thames Ring 250 in June, when a shin injury preventing me completing the last 20 miles, I had spent time in hospital with blood clots and a lung infection.  My shin injury was 90% recovered but I couldn't race-walk, only power-walk, and my lung infection was more or less 100% cleared up although I hadn't yet been signed off by the NHS, and I was still due to have a CT scan to confirm that the blood clots had gone.
But I was keen on another adventure, and thought this would be a great opportunity to see the Welsh countryside.  Rather than the uneven trails we had in the Thames Ring, this would be on smooth sealed paths and roads.  Much easier to walk on.  I knew that the course would be hilly, with about 17,000 feet (5,200 meters) of elevation change in total, but given that it was along a cycle route I figured that it wouldn't be too difficult.
The difference, for me, between race-walking and power-walking is that with my normal walking style I pull my toes upwards as my foot is about to hit the ground and I get into a rhythm whereby I rotate my hips a little – kind of like you see the elite race-walkers doing at the Olympics.  As a result, I have a longer stride and my leg turnover is faster.  My average training speed is about 5 miles (8km) per hour but since getting injured in June I hadn't been able to pull my toes upwards and without doing that I found that I wasn't able to properly rotate my hips and my training speed had dropped to closer to 4 miles per hour.  Given the 'undulating' nature of the race, I figured that I would be fine with the slower pace, and in training I had being practising walking a little harder on the uphills to compensate for my slower overall speed.  My expectations were that I would be well off the back of the field for the first 24 to 36 hours before slowly catching runners during the very hilly section between 100 and 150 miles into the race.  But I wasn't going to be racing.  I was just in this for an adventure, and to finish.
The race was almost 100% self sufficient in that whilst there were nine checkpoints along the route, the race organisers only provided water at those checkpoints along with limited shelter.  Checkpoints at 100, 150 and 200 miles were indoors.  All others were outdoors.
I had divided the race into five 'legs' with leg 1 being from the start through to the checkpoint at 60 miles, which was nothing more than a bus shelter by the beach in a town called Criccieth.
Facebook video showing the checkpoint and the torrential rain:
Leg 2 was the shortest at 40 miles through to the first indoor checkpoint at Dolgellau, and each of the other legs were 50 miles.
The first 60 miles – Holyhead to Criccieth:
I woke up at 5:30am on Thursday 17th October to the noise of heavy rain outside.  Looking out the window confirmed that there would be no need for us to carry our rain jackets.  We would be wearing them from the start!
The hotel was a short walk, perhaps 500 meters, from the race start by the railway station and with the race due to start at 7am I took my time getting ready.  So much so that I missed the photo of the competitors lined up at the start before the race, but fortunately I was on the start line when the gun fired at 7am.
I started slowly as planned, but not as slowly as two of the other competitors who were also walking, and for the first 20km I was in 3rd to last place – until I missed a turnoff and walked an extra kilometre.  By this stage it had stopped raining and the sun came out and for a while I thought about taking my jacket off – and then it rained again.
| | |
| --- | --- |
| It stopped raining after a couple hours | Sunglasses with rain on them |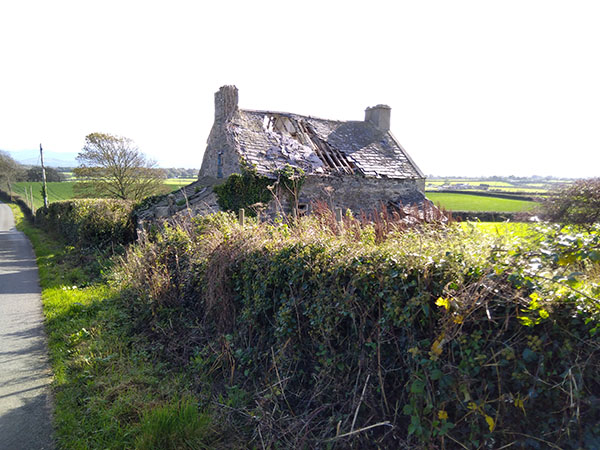 The first checkpoint was at 30 miles (48km) which I reached in 7 hours and 10 minutes.  My feet had been in wet socks for 7 hours so rather than continuing without stopping which would have been my normal plan, I sat down and changed my socks.  Somehow that managed to take me 13 minutes.  I have no idea why it took so long, and I left the checkpoint wondering how much time I would lose changing socks at every checkpoint if the rain kept up.  However, I figured it was important to change socks regularly if they were wet as otherwise I would lose a lot more time if my feet blistered badly due to the weather.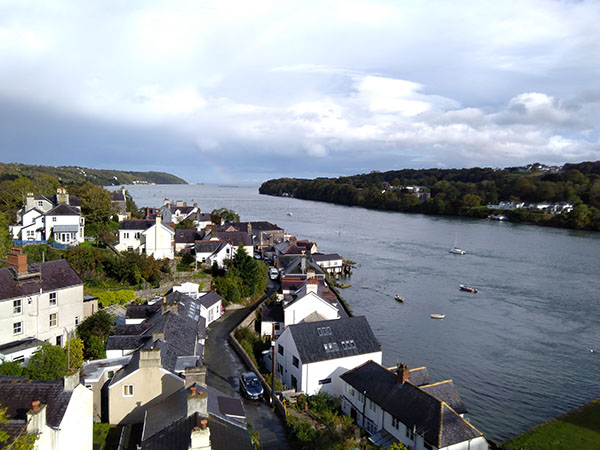 Other than wet socks, I was happy with progress so far.  I had actually missed a second turnoff at around 35km and so far I had probably walked about 2km further than I should have, but that was all a part of the adventure.
I knew that we would pass a McDonalds when we reached Caernarfon (about 60km) and made a short detour to get a late lunch/early dinner – McNuggets and fries but no drink.  I was trying to avoid processed sugar for the time being as I would be consuming plenty of that later on, so I washed my meal down with water.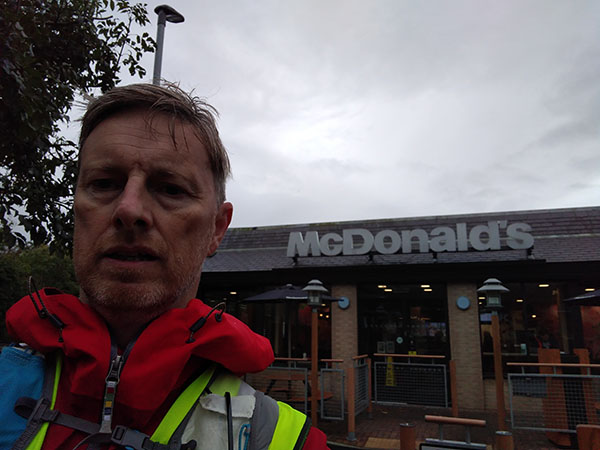 Leaving Caernarfon we followed a cycle trail for a while and I was stopped by a local asking me if it was true that we were heading for Cardiff.  I guess someone ahead of me had told him what we were doing and he didn't believe it.  I reassured him that we were sane, and that no one was forcing us to do this 😊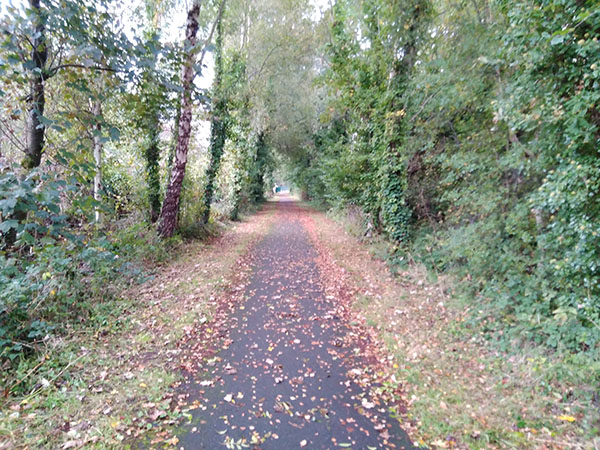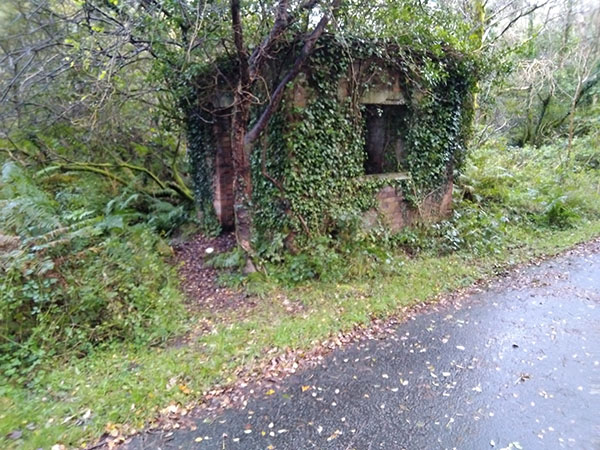 At some stage after it got dark I caught up with John Steele and we walked the rest of the way through to checkpoint 2, arriving at about 10pm (15 hours).  Again, I changed my socks, but as we got access to our bags at every second checkpoint, I also changed into a dry pair of shoes and got enough food out of my bag to get me through the next 40 miles.  It was bitterly cold and by the time I left the checkpoint with John 30 minutes later I was shaking uncontrollably.  From memory there were a couple race officials at the checkpoint and they told us that we would soon warm up as we had a long uphill section coming up in a few minutes time.  They also told us that a group of runners not far ahead of us had taken a wrong turn, so watch out and don't walk down the High Street.
60 to 100 miles – Criccieth to Dolgellau:
We left the checkpoint and I rang Ruth to update her on progress.  I was so cold I could hardly hold on to my phone, and whilst talking to her I realised that I had forgotten to get my main head torch from my bag.  I decided that I had better head back to the checkpoint as I was using my spare head torch which was unlikely to last me the night.  By the time I finally reached the hill that would warm me up again, it was after 11pm.  I walked hard up the hill and within a few minutes I was sweating under my layers of clothing.  And then I missed another turnoff!  This time I walked over a kilometre before I realised my mistake, losing over 20 minutes by the time I got back to the turnoff.
The next time I got lost wasn't too much later.  I arrived in a town called Portmadog (the Welsh do have some funny place names 😊) and then about 30 minutes later I arrived in a town called Portmadog – again!  I was relying on my phone for navigation as being colour blind I found the printed maps difficult to read, and my battery was going flat so I had turned it off.  A costly mistake.  As I had a spare phone I found some shelter from the rain and stopped to get the spare phone from the bottom of my bag, only to find that for some reason I couldn't get any data on the spare phone.  I decided that the solution to that problem would be to switch the sim cards over from one phone to the other.  Not so easy when your hands are wet and cold, and my Vodafone sim card is still on the ground somewhere in Portmadog!  To make matters worse, once I managed to get my EE sim card into my spare phone, although the phone was unlocked, I couldn't get any data on the phone so had to switch things over again.  If I had been thinking clearly, I would have plugged the first phone into a USB charger while I was doing this, but I wasn't thinking clearly and therefore my main phone was still on about 10% battery life.  And when I did charge my main phone it just wouldn't charge.  I think it had moisture in the charging port.
In the end, I got my main phone working, worked out what I had done wrong, turned the phone off and started walking again.  Another hour lost!
Next up was some of the steepest hills I have ever walked over.  This was supposed to be a cycle route but I couldn't imagine anyone cycling up these hills.  Steep up, and just as steep going down the other side to where we found checkpoint 3.

I arrived at checkpoint 3 at 5:45am, just as three other runners were leaving and I told them I would catch them up shortly as I needed to refill my water bottles – and as it turns out, I also needed to miss another turnoff and walk another bonus kilometre or so.  As a result, I never did catch the runners ahead of me, and I was caught a while later by David Wright who had been having a short sleep when I arrived at checkpoint 3.  When David caught me I was looking at my phone again and working out that we had both gone off track, although this time if we continued in the direction we were going we would come back on to the correct course shortly.
A while later I stopped again for a few minutes and David went on ahead.  It was daylight now and I think I stopped to try and charge my phone again, but really can't remember why I stopped.  It turns out that David stopped for breakfast a short while later and I didn't see him again until he arrived at the 100 mile checkpoint about 30 minutes after me.
It was now Friday morning but it was still raining.  We had a nice walk along the coast and even although I was cold and wet, I was enjoying it.  I think this stretch through to the next checkpoint was the longest I went the whole race without getting lost.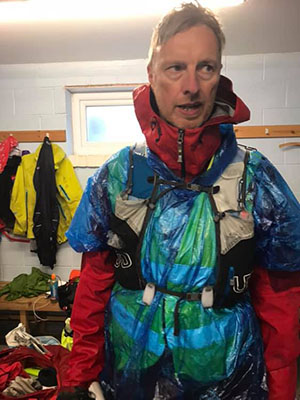 I arrived at checkpoint 4, officially 100 miles (161km) but 173km by my watch (meaning I had done 12 bonus kilometres), a few minutes before 12 noon.  It had taken me almost 14 hours from the time I arrived at checkpoint 2 to complete the 40 miles (64km) through to checkpoint 4.  We had been walking for 29 hours in total.
100 miles through to the laundrette:
Officially checkpoint 4 was due to close at 30 hours so I had an hour to warm up, change in to dry clothing, eat and restock for the next 50 miles.  There were several other runners at the checkpoint when I arrived, at least 4 others, and some of them were still there when I left.  I also learned that many runners had dropped out that there were only around 15 of us left.
I had been so cold during the last 12 hours that I put on a total of 5 layers of clothing on top (Two thermal tops, a jacket, my plastic poncho, and another jacket – the one I had been wearing since the start of the race) and a pair of thermal pants plus waterproof over trousers on bottom.  I also changed my socks for the third time and put on the shoes I had started the race in the previous day.
I left the checkpoint at about 1:30pm with Gary Chapman and we walked together for an hour or so until we got to a long steep uphill and it started hailing.  I told Gary to go on ahead as I couldn't keep up.  30 minutes later I reached the top of the hill.  The ground was white from the hail and the view was probably fantastic, but not on this day.
The laundrette: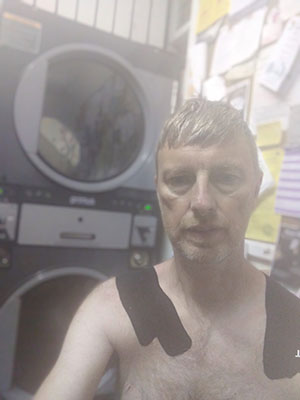 Around about 7pm I arrived in a town called Machynlleth.  For the previous hour or two I had been feeling a little confused.  I kept feeling like I had already been here.  I 'recognised' the scenery and checked my phone regularly to confirm that I was going the right way.  I was cold and wet through.  The plastic poncho had helped to keep some of the rain out but it wasn't a perfect solution.  I was walking extremely slowly and used Google to find out whether there was a laundrette in the town.  It had stopped raining and if I didn't dry my clothes and try and warm up, I knew that my adventure would be over before I made it to halfway.
In a re-enactment of the Levi's TV advert of the 80's, I stripped off (my top half and socks only) and put everything in the dryer. It only took a few minutes for my thermal tops to dry but it was 20 minutes before my socks were completely dry again.
I then went to the local (only) fish and chip shop and stood in queue for 20 minutes waiting to order my dinner.  I knew that I needed to eat something hot to warm me up before continuing, and I craved some hot chips.
Machynlleth to the middle of nowhere:
While I was in the fish and chip shop David Wright walked past.  He opened the door to say hello but obviously wasn't hungry and didn't stay.
I left Machynlleth about an hour after arriving.  It wasn't raining (for the time-being) and I was warm and eating hot chips.  It was Friday night and I was heading for the halfway mark in another couple hours, or so I thought.  It turned out that it was almost non-stop uphill from close enough to sea level to 500 meters during a distance of about 8 miles (12km).  It took me almost four hours, arriving at 125 miles just before midnight.  I would imagine that the view from the top was amazing, but at midnight you can't see much.  So much effort and no reward.
The halfway checkpoint was nothing more than a van with a bottle of water on a table beside it.  I stopped long enough to refill my water bottles and was off again.  As I was leaving, Rhys Jenkins arrived.  I don't remember passing him earlier but must have at some stage.  I do remember his wife/partner telling me at a couple hours earlier that it wasn't far to the top of the hill.  Or maybe it was only a couple minutes earlier.  It felt like hours.
Soon after leaving the checkpoint Rhys ran (shuffled) past me and I called out that he had a good shuffle.  It was raining again, and I was cold, wet and tired.  We were walking past a couple houses and I decided to see if I could find some shelter so that I could have a sleep.  I think this was around 1am and I found an empty garage and lay on the concrete floor, setting my alarm for 20 minutes.
I woke up just before the alarm went off, shaking from the cold but feeling refreshed.  That was my first sleep since waking up in the hotel in Holyhead 44 hours earlier.  I think it had stopped raining and I started walking again, checking my phone to make sure I was walking in the right direction and not going back in the direction I had come from.
Shortly after I restarted Rhys' wife/partner drove past again and told me that Rhys was going to drop out as his feet were trashed and asking if I wanted to drop out too?  I told her that I was feeling good and would keep going, but if she didn't mind, could she go and collect Rhys and then come back to check on me.  Sometime soon after they arrived back and I told them that I still felt good and would keep walking.  They drove off and within minutes it started raining again and I started wishing that I was sitting in their warm car.
The rest of the night is a blur of strange memories of thinking I have been here before and wandering along a road somewhere in the middle of Wales, not knowing where I was.  At one stage I found a car park area with some public toilets that were unlocked.  I went in and thought I could perhaps stay here sheltering from the rain and have another sleep.  But I was so cold that I irrationally thought that if I lay down to sleep now, I might never wake up, and knowing that we had no phone reception, I thought I might never be found again.  Completely irrational but cold and tiredness were causing me to lose grip on reality.  I also completely forgot that we were all carrying GPS trackers and the race officials would know exactly where I was.
I remember thinking that it was time to drop out of the race and I turned off my stopwatch.  Looking at Strava it appears that I turned my watch off at around 4:30am but I remember that it was 5:25am when I lay down on the hay bales in someone's barn for a sleep.  What I did in the missing 45-55 minutes is anyone's guess.  Maybe I continued walking.  Maybe I didn't.  I remember walking around someone's house trying to find some shelter.  Maybe it was the house on the same farm as the barn I ended up sleeping in.  Maybe it wasn't.
What I remember is looking at my watch when I lay down to sleep on the hay bales at 5:25am and then looking at it again when I woke up freezing at 6:30am.
And then I remember walking back up to the road wrapped in my silver space blanket just as a car was about to drive past.  I remember walking into the middle of the road so that the driver couldn't get past me, and then when he stopped I remember trying to tell him about my situation but I had completely lost my voice.
I eventually explained to the driver that I was in a race but I had dropped out and could he take me to the nearest town.  As it happened, that was where he was going, and I remember talking to him as we drove and explaining that we had left Holyhead on Thursday morning and were supposed to be arriving in Cardiff tomorrow.  I think he said that he had seen some runners the previous night.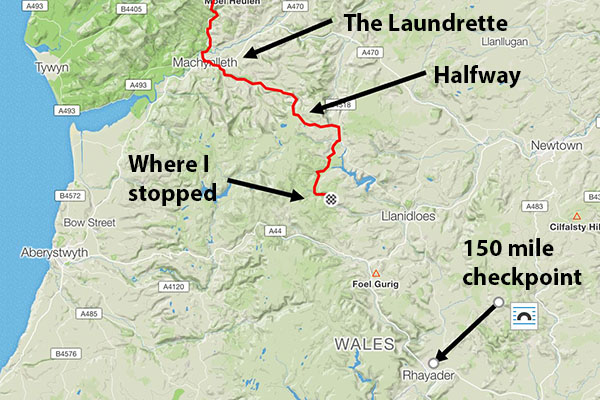 He dropped me in a town called LLanidoes.  On the back of our race numbers we had the phone numbers of the various race officials in case we needed to call them in an emergency, but I had lost my race number many hours earlier.  Fortunately, I had Lindley Chalmers phone number saved in my phone.  Lindley is the organiser of the Thames Ring 250 and I had his number saved from that race.  He is also the person that rescued me when I dropped out of the Thames Ring and in that race he had to give me a fireman's lift back to his car because I couldn't put any weight on my foot.  I rang Lindley and asked him to rescue me again.  At least this time there would be no need for him to carry me anywhere.
And that was the end of my adventure.  Lindley collected me a short while later and took me through to the 150 mile checkpoint where I learned that only nine runners were still left in the race – and shortly later there were only eight when a lady rang Lindley to say that she had rescued David.
The end:
In the end, only four runners finished the race with two others making it to the outskirts of Cardiff but without enough time to complete the race inside the 88 hour time limit.
Would I do the race again?
Maybe.  Probably. Yes.
I have now purchased some waterproof socks and waterproof gloves, and now that I know the first half of the course, I'm sure I could complete the whole distance within the 88 hour time limit, even if the weather is just as bad next time.  So I have the Lon Las Ultra on my list for 2021, the next time it will be held.
Cancer Research UK fundraising:
Every year my work, Wolters Kluwer, does fundraising for Cancer Research UK as a part of our 'values day'. This year values day was the same day that I started the Lon Las CYMRU Ultra so I dedicated my walk to Cancer Research managed to raise £300 for them.
What's next?
I don't have anything else planned for 2019.  I have written this year off.  Three DNF's (Belfast Dublin Return, Thames Ring, and Lon Las) and two sub-par performances (Last One Standing Castleward and the Continental Centurions Race).
Next year can only be better …
Video:
April 2020: I recently came across this video of the race.  Watching it made me want to have another go.  I'm sure that I will be on the start line for the next Lon Las Ultra!

I make an appearence in this video on three occasions: 30 minutes, 30 seconds for about 2-3 minutes, 48:20 for about 1 1/2 minutes, and 60:30 for a couple minutes.  But watch the full video.  It will make you want to do the race!!