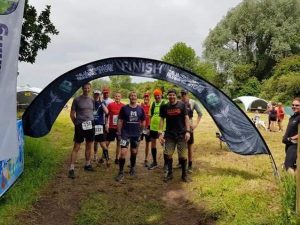 There were nine of us standing on the start line for the 25th lap of England's first Last One Standing race.  Karl asked me how many more laps I thought I could do.  We had already been going for 24 hours, and without thinking I replied "I'm going to win.  If that means I need to do one more lap than you, then that is what I will do."
I didn't know any of the other 8 athletes who were standing next to me, but I was confident in my ability to outlast them in this elimination race in which competitors had to complete a 4.1 mile (6.6km) lap of a slightly undulating trail course every hour.  If you didn't complete the lap, or were not on the start line for the next lap at the start of each hour, you were eliminated.
27 runners had already been eliminated and it was now time to implement my plan to win this race.  I continued "In fact, I can knock off another twenty 55 minute laps if you want.  I tell you what, why don't we turn this into a 48 hour race."
I hadn't actually intended to start the mind games (or Trash Talk as one of the race directors called it) so early in the race, but I was feeling great and I wanted the other competitors to know that I was here to win.
The first few laps:
I first heard about the Last One Standing races about 18 months ago, and had been looking forward to doing one ever since.  As a walker I can comfortably walk 4.1 miles in 50 minutes at a training pace, and having done 20 walks of 100 miles or further since 2013 I was confident that I could hold a 55 minute per lap pace for at least 40 hours – which I thought would be enough to win.
The race was held in the grounds of Knettishall Heath near Thetford, about 2 ½ hours drive from home.  My intention was to drive up after breakfast, arrive around 10'ish, pitch my tent and then relax until the 12 noon start.  But after waking at 4:30am and not being able to get back to sleep, I decided to head up there early, and after setting up my tent I had time to walk the local parkrun (my 115th different parkrun to date, and 365th in total), before going to McDonalds for a second breakfast/early lunch.
I got back to the race venue around 10:30'ish and set about making final preparations – laying all my food out on the camping stretcher I had set up in my tent, sorting out spare clothes, head torches, etc, and preparing my feet for the upcoming race.  I still had missing skin on the insides of both heels after blistering in both of my previous two 24 hour races (this would be my third race of 24 hours or longer in 7 weekends) so I taped over the damaged areas and coated my feet thoroughly with 2Toms Blister Shield.  As usual I then put on my Injinji toe liner socks and another thin pair of socks over the top.
I ate some more food, getting in as many calories as possible before the race started, and at 11:30 we were asked to assemble for the pre-race briefing.  The race was organised by Atlas Running (who put on the Dublin to Belfast race that I competed in last year) and Challenge Running (the people behind the Thames Ring 250 which I DNF'd last year).  Both Lindley (Challenge Running) and Sammy (Atlas Running) talked about the event and Sammy said that the magic number was 53.  He was speaking to the runners (I was the only walker competing) and was telling them to slow down, walk heaps, and aim to complete each lap in around 53 minutes.  The idea being that there was no point in using too much energy running too fast and resting for longer than 7 minutes between laps would result in muscles getting tight, especially overnight when it would be colder.
My plan was 55 minutes per lap.  Like most of the other competitors, I hadn't competed in a race of this type but in almost all my long races I had avoided sitting down at any time between the start and the finish, and I figured that resting for more than 5 minutes between laps would be too long to rest without wanting to sit down.
Just before 12 noon we assembled on the start line and shortly afterwards we were on our way.  Out the gate, around to the left and left again, and down past the back of the 'campsite'.  I settled at the back, walking just fast enough to ensure that I kept the last of the runners in front of me in sight.  I didn't want to get lost of the first lap and miss the 1 hour cut-off!
The course followed a river for about 1km before heading into the trees and a reasonably steady incline up to the first landmark.  I figured that it was important to find landmarks and use them as timing checkpoints so that as the race went on I would know if I needed to speed up, or whether I had time up my sleeve.
The first landmark was a road we crossed and a car park across the road.  On my first lap I reach the carpark in around 16 ½ minutes.
After exiting the car park we had an exposed trail section that was slightly uphill before entering the forest again.  This was the only exposed section on the course.  Almost all of the rest of the course was sheltered under trees.
About 4 1/2km into the lap we reached the next landmark.  This was the top of the course immediately after the only hill that was slightly steep (a hill that got steeper and steeper with every lap).  We went through a gate, turned left and down the road for about 50 meters before crossing in to a trail through more trees.  I reached this landmark in around 37 minutes and calculated that I had plenty of time to ease up as I walked downhill along the trails to a third landmark which was another stretch of road of about 200 meters through to a cattle grate and a left hand turn back into the trees.
Six minutes later we crossed one last road back into the area where I had parked my car, and a few minutes later we reached the end of the lap.  In my case, in last equal place, in a shade over 54 minutes.
Six minutes later it all started again.
I used the first four or five laps to experiment with different paces, starting slow, starting fast, and getting an idea of the range of acceptable times at each of the landmarks – the first car park in 17 to 19 ½ minutes, the gate at the top of the hill in 39 to 41 minutes, the cattle grate in around 47 or 48 minutes, and I also worked out that I needed about 2 ½ minutes from when I crossed the last road to get through to the finish.
Whilst I don't run at all, I decided that if I got to that last road crossing with less than 2 ½ minutes to go, I would run through to the finish if I had to, but in the early stages I had plenty of time available.
Saturday night:
I was really enjoying this race.  Most laps I would finish last but often I would talk to other runners at some stage during the lap, and then every hour we would all assemble for the start of another lap.
More importantly, unlike most races where regardless of the pace I am usually struggling a little after six to eight hours, ten hours in and I was feeling like I had just started.  These short rests were working well.  In addition, I was still mixing the pace a little.  Most laps I would walk easy for the first kilometre while having something to eat, and then once we turned away from the river I would pick up the pace and walk hard through to either the gate at around 41 minutes, or to the cattle grate.  Based on my time at these landmarks I would then walk slowly and relaxed through to the end of the lap, completing almost every lap in 55 minutes and change.
Twelve hours passed and a few runners has dropped out.  I was still feeling great but was having to walk a bit harder to maintain my 55 minute pace solely because I always walk slower at night, and the nature of the course meant we had to take a little extra case with out footing in the dark.
It started to rain lightly during the 12th or 13th lap, but nothing to worry about, and it only lasted a few laps.
When dawn arrived, I was still feeling very relaxed.  These five minute rests and the mixed pace were suiting me perfectly.  I was still listening to podcasts and still avoiding sugar.  I think I had a celebratory Coke at twelve hours, but I didn't yet feel the need to turn on the high tempo music and switch to my Coke and Chocolate diet which usually both happen around 12 hours into a race.
I had a few hours of feeling a little tired just before dawn, but nothing to be concerned about.
Sunday:
Mid-way through lap 19 I went from feeling good to struggling.  I was feeling good still, but my pace had dropped.  I reach the gate at the top of the hill in a shade under 43 minutes.  My slowest time by well over a minute.  I immediately switched from listening to podcasts to high tempo music and it was like I had flicked a switch.  The result: My first 54 minute lap in 12 hours, and I passed three runners in the last 2km.
On completing the lap I had my second can of Coke and first chocolate bar, and from there it was high tempo music for the rest of the race, although I continued to eat and drink a range of foods rather than my usual diet of sugar only from the last half of a race.  I didn't know how long this race would take, so didn't want to switch to sugar too early.
By now there were only 15 competitors left in the race.  The start of each lap was much more relaxed.  The runners were tiring and not starting as fast.  I was still finishing last or near last on most laps but during the first kilometre there were usually runners to talk to.  The drop outs appeared to be more a case of runners refusing to start the next lap rather than being timed out.  Every time we lined up for the next lap I would count how many were left.  It was funny how time meant nothing.  I was focussed solely on the lap I was on.  Focussed on one hour at a time.
And that brings me back to the start of lap 25.  This was the 100 mile lap.  I knew that a few runners would drop out after this lap.  Some had told me that they were 'only' aiming to complete 100 miles, and for others I got the impression that the race was taking more out of them than they wanted, and with Sunday morning turning into a hot, sunny afternoon, they wouldn't last much longer.
I didn't intend to mess with their minds, but I was feeling great.  I was really enjoying the race, and I desperately wanted to win.  Only 7 of us lined up for the 26th lap, and 5 for the 27th lap.
At the end of lap 28 two of the runners told me that they weren't going to continue.  I walked over to Richie Hinson to ask if he was going to continue.  I'm not sure what was on his mind, whether he was intending to continue or not, but a few minutes later Richie and I were the only two standing on the start line for lap 29.  We had been racing for 28 hours already.  It was 4pm on Sunday afternoon.
The last laps:
Richie took off at the start of the lap and I continued with my 'routine'.  Walk easy for the first kilometre, pick the pace up through to the top of the hill, ease up a little through to the cattle grate, and then walk easy to the finish.  Another 55 minute lap completed.
On the next lap, lap 30, coming down the hill I saw Richie ahead of me and decided to 'race' him.  I went past him and opened up a gap, but then he came back past me again.  He wasn't as tired as I thought he was.  I continued to walk reasonably hard but let him go, and ended up with my first and only sub 54 minute lap.  My fastest lap of the race after 30 hours.  I still had plenty of energy!
On completing the lap I walked up to Richie and told him he should give up now.  I said that for every lap he did, I would knock off another 55 minute lap, and when he was finally finished, I would do one more lap to win the race.
I apologised to Richie the following morning.  I was desperate to win, but the trash talk was probably unnecessary, and uncalled for.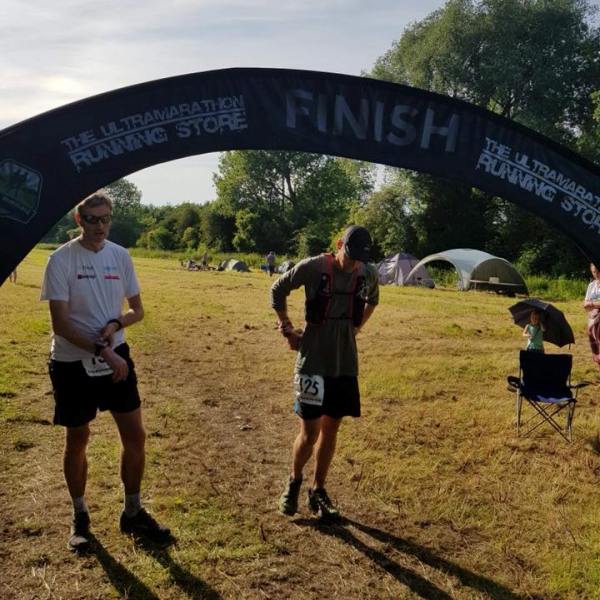 A couple more laps in which Richie finished a few minutes ahead of me, and then it was dark again.  Whilst it was daylight in the exposed areas of the course until about 10:30pm, it was dark enough when in the forest to need head torches from 9pm (lap 34).
The darkness was almost the end of me.  I completed lap 34 in 57:18, my slowest lap of the race to date.  More importantly, in my mind, it was after Sammy's 3 minute call (Sammy counted down the minutes to the start of each lap and this was the first time I wasn't there for the three minute call).  I wasn't sure if Richie was taking notice, but if he realised that I had taken over 57 minutes to complete the lap, then he would realise that I was struggling.
I wasn't actually struggling though.  I still felt good, but the darkness, and the fact that I was walking alone and didn't have others to follow in the darkness meant I had to focus more on my footing on the trails, and as a result I was losing time.
When lap 35 started I walked hard from the start.  No taking it easy for the first kilometre or the last bit.  I completed the lap in 56:10.  Not a 55 minute lap, but not a 57 minute lap either.
I walked over to my tent and collected some more food, and then back to the start line.  Richie was sitting on the seat that he had sat on at the end of many of the last few laps, but this time he had a jacket over his shoulders.  I didn't think anything of it and prepared for the start of the next lap.  I didn't expect what happened next.
With a few seconds left before the start of lap 36 Richie walked up to me and shook my hand.  "Congratulations", he said.  He said he wasn't going to continue.  I had won the race!
Well I hadn't actually won the race yet.  We had both completed 35 laps.  If I didn't complete another lap in less than one hour, we would both be awarded DNF medals.
Eight hours earlier, when I thought the end of the race was near, and it was still daylight, I decided that if I got to the stage where I was the Last One Standing, I would walk as hard as I could for the last lap, and hopefully walk a sub-50 minute lap to finish the race.  It was dark now, but I still thought a fast'ish lap would be possible.  I started hard and passed through the first car park in 17 ½ minutes.  But by the time I reached the gate at the top of the hill I had lost a lot of time and a 55 minute lap would be the best I could hope for.  I decided to ease up a little as I didn't want to risk something going wrong during the last 2km.
Instead of walking hard, I enjoyed the last 15 minutes, walking along trails I had already walked 35 times over the last 1 ½ days.  In a way, I didn't want the race to finish.
I wanted to win this race from the day I first heard about it, and I had done it.  I finished the lap in 57:10, my second slowest of the race.  But it didn't matter, I had won.  My first win on British soil, and it was a race in which a walker had beaten all the runners!
Post race:
After reaching the finish there were a few photos and a lot of 'congratulations'.  Most of the competitors had gone home long ago and those that were still there were as tired as I was.  I walked over to a chair and sat down for a few minutes.  The first time I had sat down in 36 hours.
After a few minutes everyone headed off to their tents to get some sleep and I did the same.  I was wide awake.  I hadn't felt tired since the early hours of Sunday morning.  Probably a combination of sugar and adrenaline (it is funny how when a race goes well you feel great) meant that I didn't feel tired at all.
Once I got into my tent I changed my clothes and climbed in to my sleeping bag to keep warm, and the next thing I knew it was about 3am.
Every muscle in my body was now sore and I struggled to sleep for the next few hours before getting up at about 6am and starting the job of packing everything back into the car as quietly as possible so as not to wake anyone.
Breakfast would have to be one of the highlights of the race.  Maxine, from Challenge Running, cooked enough bacon butties to feed an army.  It was the first decent meal I had had since my visit to McDonalds on Saturday morning, and was the start to my post race recovery.
I am writing this race report 12 days after the race finished.  I start my training again tomorrow having had a good break to recover.  The strange thing is, that almost every night since the race I have had strange dreams involving me walking through forests.  I've had dreams about races in the past, but not every night for 1 ½ weeks.
How I won Last One Standing:
This is a unique race.  It isn't about speed.  It is 100% about endurance.  All you need to do is complete 4.1 miles within an hour and repeat.  In my past races I gone out much faster than 4.1 miles per hour, but would have had periods much slower than 4.1 miles per hour later in the race.  This was all about consistency.
The following are the seven things that I think helped me to win the race:
First few laps as a recce
I spent the first 5 or 6 laps learning about the course. I worked out the time range I needed to be within at each of the 'landmarks', how it felt walking at different speeds on different parts of the course, and how to make the most of my time during the 5 minutes I had at the end of each lap.
Don't sit down
I strongly believe that the moment you sit down during a race, whilst it might feel good to rest, your muscles start to seize up and getting started again is much harder. Right from the start I walked a pace that kept the rest periods to around 5 minutes.  Early on I thought 6 minutes might be better, but I got into a routine that ensured that 5 minutes was all I needed, and even if I had wanted to, I didn't really have time to sit down.
Focus on one lap at a time
There was never a time that I thought about how many more laps we had to go, or how many more miles we had to go. Partially because I had no idea, but also because I focussed 100% on the current lap only.
My 'Why'
On the occasions when things were getting tough I would remind myself why I was doing this race, or why I wanted to win.
One reason I wanted to win was that I had seen a photo of the winner's trophy and I really, really wanted it.
Another reason was that I had promised my wife that I would win. She is my biggest supporter but she also knows my weaknesses and didn't think this was a race that I could win.  I wanted to prove her wrong.
And having done parkrun on Saturday morning, I kept reminding myself that if I didn't win, someone would tell me that I shouldn't have been so cocky as to do parkrun before the race.
Mental preparation
I started the race fully expecting to take at least 40 hours. I have often wondered who a tennis play can go on court not knowing whether they are going to be playing a quick 3 set match, or a long drawn out 5 set match.  Mental preparation.  Prepare for a long 5 set match and if it is a quick match, then that is a bonus.
Enjoy
I thoroughly enjoyed the race. I didn't have a negative thought or bad patch during the whole race.  I can't say this about any other long-distance race I have ever done.
Mind games
I don't know if this helped me win or not, but I was treating the later stages of the race as a game. I wanted to win the game, and playing mind games might put doubts into the minds of the other competitors.
What's next:
My next race is the Privas 6 day race in France starting on 19th August.  It will be my third 6 day race and I am seriously considering implementing what I learned during Last One Standing with respect to taking regular five minute breaks.
After taking a two week rest break I will resume training with an easy week during the last week of June and then four or five weeks of high mileage before easing up over the last few weeks before Privas.
Photos: