500 meters in to the 145 mile Grand Union Canal Race I looked behind me and found I was in last place.
36 ¾ hours, and 271,000 fitbit steps, later I finished the race in 27th place out of a field of 98 starters – 97 of whom were runners with me being the sole walker.
That is the short story, but it was by no means as easy as it sounds.
For me, the 2016 edition of the Grand Union Canal Race was the toughest mental battle I have faced in the eleven events of 100 miles or further that I have done during the last three years.
The Start:
Unlike two weeks ago (before the Continental Centurions Race) I slept well each night in the lead-up to the race with the only exception being that I was awoken about an hour after going to bed on Friday night by a flashing light in my hotel room.  For some unknown reason my head torch had decided to short-circuit the night before the race and started turning itself on and off randomly. Fortunately I always travel with spare head torches when doing races of this type so I took the batteries out and used them as spares rather than changing head torches at the 85 mile checkpoint as planned.
Depending on who you listened to during the week leading up to the race, the weather was either going to be brilliant all weekend, or was going to rain on and off all weekend, so it wasn't a surprise to wake up at 4:30 on Saturday morning to find that it was raining lightly outside.  By the time I had opened the curtains to check the weather, I had already showered and dressed for the race including putting on my trusty Brooks Adrenaline road shoes so I decided to start the race in these and packed my trail shoes in my kit bag so that I could change in to them at a checkpoint if necessary. The rain was extremely light – probably a typical Birmingham summers day 🙂 – and I prefer road shoes over trail shoes whenever possible.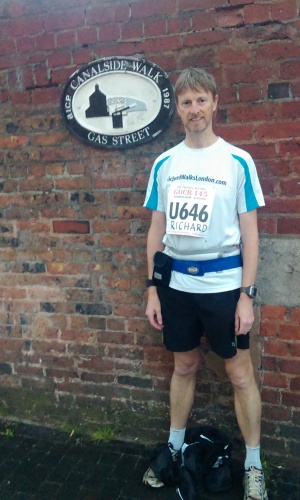 I left the hotel shortly after 5am for the short 1 kilometre walk down to the start at the Gas Street Basin carrying my two kits bags that contained everything I would need for the race.  Bag 1 contained 9 plastic shopping bags (my food bags) which each contained all the food and coke that I expected to need at each of the 9 checkpoints between Birmingham and London.  Last year I lost too much time stopping at checkpoints and my two best long-distance races to date (the Roubaix 28 hour race last year and the Continental Centurion Race two weeks ago) were both races in which I didn't stop at all during the duration of the race because I was able to collect food and drink from either my support crew or the official aid stations as I walked past.  My plan was to replicate this as much as possible by arriving at each checkpoint, grabbing the appropriate food bag (each one was numbered for the applicable checkpoint), refilling my water bottles and if necessary adding hot water to my porridge or Pot Noodles, and getting moving again as quickly as possible.  As the race progressed my intention was that my diet would change from mostly fruit and some biscuits to mostly chocolate and Coke and each food bag was therefore numbered so that I would get the food that I expected to need.
My second kit bag contained my spare trail shoes, spare clothes in case needed, my first aid kit, and a few other bits and pieces but the idea was that everything I would need for the next 40 hours was in the one bag and easily accessible.  Even my head torch was in the bag for checkpoint 4 (as it would be dark about 1 to 2 hours before arriving at checkpoint 5), spare batteries were in the bag for checkpoint 7, etc.  I don't know that I have ever been this well prepared for a race.
I wouldn't say that the start was an anti-climax but I wasn't excited like I was at the start of last year's race.  I was keen to get started though, as it was raining gently and as a walker we don't burn as much energy as runners so if I got cold it would take me longer to warm up again.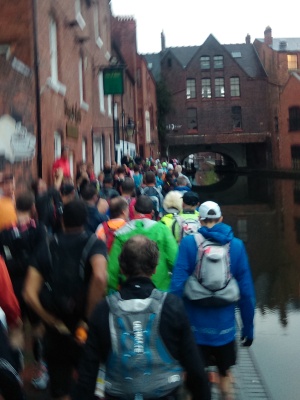 This year was the 22nd running of the Grand Union Canal Race but the first under the guidance of new race director, Keith Godden.  The previous run director, Dick Kearns said a few words, Keith said a few words, and then we were off.  I had positioned myself at the back of the field on purpose and started off with a very easy first kilometre of just under 9 minutes as the runners ahead sorted themselves out along the narrow path beside the canal and through the first tunnel about 300 meters from the start.  Once through the first tunnel I got myself into rhythm and spent the morning ticking off kilometre splits of around 7:45 to 7:55.  Slower than my normal race pace but this was going to be another adventure rather than a race as such.
My big goal for 2016 is the 6 jours de France (6 day race in Privas, France) in October and the Grand Union Canal Race was a part of my mental training towards October.  The 6 day race will require more mental strength than I have ever needed for anything I have done previously – mental strength that I don't yet have.
Because I was backing up just two weeks after my 20:58 100 mile NZ record in Holland the GUCR would be much tougher both physically and mentally than if I was fresh.  And to make the 145 miles just that little bit harder I set myself a goal of not sitting down at any of the 9 checkpoints along the way – or at any other time during the race.  My previous best effort at staying on my feet was the 32 ½ hours I managed during the first 2/3rd of my M25 circumnavigation in March and my goal was to beat that, and if I could beat 32 ½ hours, then perhaps I could go the whole journey without sitting down.
The first half:
It didn't take long before I began passing runners as we headed along the canal out of Birmingham towards the first checkpoint at 10.7 miles (17km) which I reached in a shade under 2 hours and 20 minutes – the same time as last year.  It had stopped raining so I removed my jacket, grabbed my first food bag and kept walking.
It was shortly after that that we hit the first, and fortunately only, muddy part of the course.  For a moment I regretted making the decision to wear road shoes as I tenderly walked through the mud trying to keep my feet dry.  Mud in the shoes results in wet socks which results in blisters but as with my last few long races/walks, I was wearing Injinji toe socks as well as coating my feet with 2Toms Blister Shield and thankfully I didn't suffer anywhere near as badly as I might have – only two small blisters on the inside of each heel later on in the race.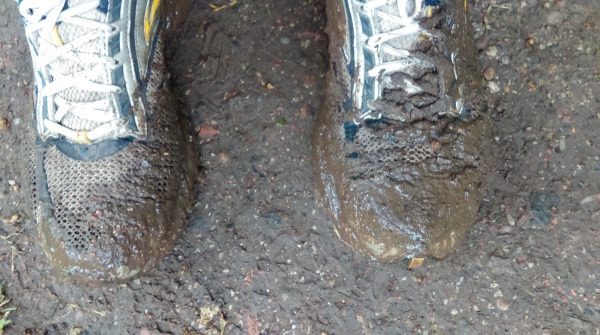 The first 36 miles (57km) through to the third checkpoint went perfectly, and almost exactly the same pace as last year.  I was averaging a little under 8 minutes per kilometre which wasn't fast, but was fast enough to pass a runner every now and again.  I stopped at each checkpoint only long enough to collect my food bag and after each checkpoint I ate some of the food I had collected so as I wouldn't need to carry it all, stuffed the rest of the food in to my pockets and waste belt, and posted a progress update on facebook and twitter.  I was enjoying the walk.  The sun had come out and it was a nice afternoon – possibly a little hot for running, but fine for race-walking.
Shortly after checkpoint 3 my average pace dropped by almost 1 minute per kilometre for no particular reason.  I wasn't tired and wasn't particularly concerned although at checkpoint 4 (53 miles/85km) I drank a Coke and had some dinner (Pot Noodles, Jelly and a Banana) to give me a pick-me-up.  Up until then I was consuming mainly fruit and biscuits.
It didn't make a difference though and I continued plodding along through until just after 100km when we hit the only road section of the course – a 1 ¼ mile (2km) stretch that I walked in the dark last year.  But this year it was still daylight, meaning that I was well ahead of my pace from last year, and I decided to push the pace and make the most of the tarmac surface.  My Garmin split times show that I averaged a shade over 8 minutes/kilometre for the next 12km (8 miles) through to the half way checkpoint (actually 70 miles so just short of half way) at Navigation Bridge.  I felt really good even although it was dark for the last hour.  I passed a couple groups of 3 and 4 runners during this section and arrived at the 70 mile (112km) checkpoint in 16 hours and 14 minutes, and in 54th place overall.
As with every checkpoint throughout the race, the volunteers were fantastic and told me to sit down while they got my kit bag.  But at every checkpoint I simply said that I was "on a roll" and didn't want to stop.  I gave them my water bottles to refill and put my reflective long sleeved top on as well as a woollen hat to keep me warm overnight.  And then I was off again.
Walking through the night:
I love walking at night.  I had a bright head torch and was walking alongside the canal in solitude.  My pace slowed again as is expected at night – you have to be a bit more careful with foot placement during the dark, especially when on an uneven surface.
I continued to pass runners from time to time but most of the time I was alone and took the opportunity to do a bit of singing.  I can't sing! I'm tone deaf. My wife won't even let me sing 'Happy Birthday'.  But no one could hear me and I was listening to some great music on my ipod while I walked so decided to sing a few duets with the likes of Bruce Springsteen, Michael Jackson, Queen, etc.
I was also eating and drinking heaps.  Perhaps too much, because by the time I arrived at the 85 mile (135km) checkpoint I felt nauseous.   I decided not to have anything more to eat, and to only drink water, until daylight.
Other than that I was still feeling good though, and it wasn't long before it was light enough to turn off the head torch at around 4/4:30am and I realised that I was probably as much as two hours ahead of where I had been at the same time last year.  I worked out that I could possibly get through to 100 miles in under 24 hours – something I hadn't previously managed to do outside of a proper walking race on a sealed surface.  Last year it took me 26:03 for the first 100 miles through to checkpoint 7.  This year, 23:52!
The mind is stronger than the body: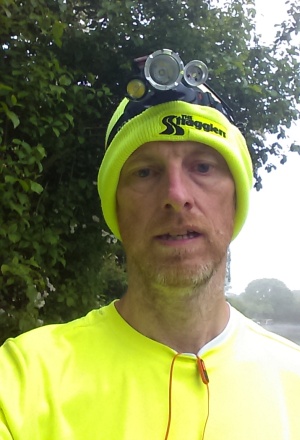 Last year, at 100 miles I spent over 15 minutes in checkpoint 7 and I believe that is what cost me my race.  I became a zombie and took almost 17 hours to cover the next 45 miles.
This year I was in and out of the checkpoint as quickly as possible, stopping just long enough to get my food bag plus a sausage roll, drop my head torch, and refill my water bottles.
I knew it was going to be a struggle to get through the next 45 miles – I was starting to feel a little tired and hadn't sat down for over 24 hours – but I wasn't going to let the same thing happen to me for a second year.
From daylight last year I was hallucinating.  Everything I saw looked like a person until I arrived at whatever object it was to realise that it was a bush or some other inanimate object.  This year I hadn't suffered any hallucinations yet.  I think the big difference was that I was eating much more food than last year.
The biggest gap between checkpoints in the Grand Union Canal Race is between checkpoint 7 and 8 – 20 miles (32km) and I was struggling a little.  I wasn't passing as many runners as I had on Saturday afternoon/evening, and my feet were starting to hurt.  I was also struggling a little with tiredness and wanted to sit down.
I had small stones and grit in the bottom of both shoes and decided to stop to empty my shoes.  This was probably around 115 miles and when I removed my feet from my shoes I found that they were both numb to touch, and whilst both heels were blistered I didn't feel any of the expected pain sliding my feet out of, or back in to my shoes.  Although my feet were numb to the touch, they felt much better once I had removed the small stones and I powered through to checkpoint 8 which I reached just before 11:30am – 5 ½ hours after leaving checkpoint 7.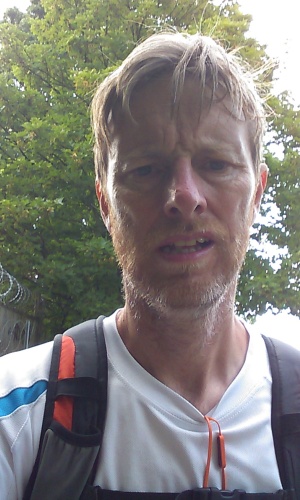 This was the last checkpoint where we would have access to our kit bags but I had plans for that.  We had 25 miles to go and I would need to carry enough food to get through that distance, although I could collect some food from the final checkpoint which was 13 miles away.  My plan though, was to fill my camalbak with food and cans of Coke so that all I would need to do at the final checkpoint would be to refill my water bottles.  I'm not particularly keen on carrying stuff on my back.  I normally carry my water bottles and food in a waste-belt – two actually, one on the front and one on the back.  But I didn't want to risk running out of sugar during the last 25 miles so I decided that the backpack option was the best way to proceed.
The finish:
It was hard.  Possibly the hardest thing I have ever done.  The last 25 miles took me 7 ¼ hours.  But that is significantly faster than the almost 10 hours it took me last year!  Last year was comparatively easy though because I had become a zombie and was just going through the motions as opposed to trying to push the pace.  This time, it was a case of focusing on turning my feet over as quickly as possible, keeping my stride as long as possible, driving with my arms, staying awake – and repeat!  The fact that I hadn't sat down since before 6am yesterday was really starting to cause problems.  I wasn't hallucinating, but I was feeling motion sickness.  Every time I went past a canal boat moored beside the towpath I had to look the other way as otherwise, half way past the boat it would appear to jump forward.  At one stage I walked under a bridge and the reflection of the bridge on the water caused me to feel dizzy.  I really needed to stop, but I kept on pushing on.
I didn't feel like eating or drinking, but I knew I had to.
The towpath seemed to drag on forever.  There weren't any other runners around, and although I knew I was on the right course I kept wondering whether perhaps I had taken a wrong turn somewhere.
But eventually the signpost that all GUCR competitors dream about came in to sight.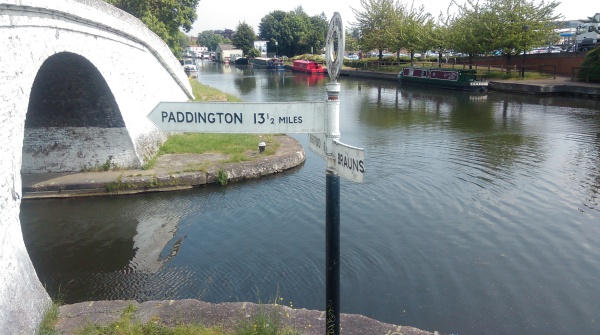 13 ½ miles to go!  Just over a half marathon.
One mile further up the path I arrived at the final checkpoint.  The only checkpoint where the volunteers told me NOT to sit down.  Only 12 miles to go.  Their view was 'feed and water the athlete and get them moving again as quickly as possible'.  And that is what I did.
Many hours ago, at around daylight, I thought I could get under 36 hours even if I slowed during the day.  Now I was thinking that I probably wouldn't manage to break 37 hours.  There was nothing I could do about it other than continue to focus.  One step after another.  Keep the stride as long and as fast as possible.  Swing the arms.  And stay awake!
Ruth and Zac were going to meet me at the finish so I messaged them to tell them I was about 80 minutes away as I crossed the A406 at Wembley – completely oblivious to the fact that there was a major football match on just down the road.
A while later I saw a runner ahead of me.  You could tell which runners were in the race and which runners were just out for a Sunday jog.  The joggers were going significantly faster!
I knew that we were close to the finish but I didn't know how close.  I also knew that if we were less than a mile away, maybe two miles, then we would get under 37 hours.  I didn't want to pass another runner in the finishing straight, but what if we weren't yet in the finishing straight and I slowed to let someone finish in front of me because I didn't want to pass him on the line, and as a result we both missed going under 37 hours?
So I picked up the pace and passed the runner telling him that if we worked together we might break 37 hours.  He replied that he was stuffed and unable to speed up.  And about 3 minutes later the finish line was in sight!
36 hours and 42 minutes.   271,000 fitbit steps.  One fantastic race!
I finished in 27th place overall.  6 hours and 20 minutes faster than last year!
Not a bad effort if I say so myself.
Other things:
After the Continental Centurions Race two weeks ago I had serious back pain. It hurt constantly from the time I finished that race until about 7 or 8 hours in to this race.  I was reasonably certain it was just a muscle strain but I saw a chiropractor twice in the hope that he could resolve the problem.  He didn't.  I only did three short walks between the two races and the back hurt each time but I figured that I could put up with the pain.  But it looks like it must have been a pinched nerve as I haven't had any back pain since around 40 miles in to the race.
My goal for the race wasn't anything to do with the race itself. It was to build mental strength for my race in October.  There were many times during the weekend that I doubted my ability.  For the last 100km or more I was averaging only 10 minutes per kilometre and in October the goal is to walk no slower than 9 minutes per kilometre for up to 20 hours per day.  But in October I will be walking around a flat 1km circuit and will have a support crew that will be feeding and watering me and looking after my every need (take note Jim and Sarah 🙂 ).  They will also be keeping my mind focused and I am sure that I can do what I need to.  This race has helped build my confidence in many ways.
I spent over 37 hours on my feet. I'm not planning on doing that again.  But I know I can do it if I have to.
The Grand Union Canal Race is 145 miles (233km) in length. My official NZ 48 hour record is 233.075km.  I think I need to find a 48 hour race next year to see what I can really do in 48 hours.  200 miles perhaps?
My other GUCR's
What to read more?
My 2015 GUCR report is here
And my 2017 race report is here