The other day I saw this McDonald's advertisement – "When there's 400 miles between you and the weekend."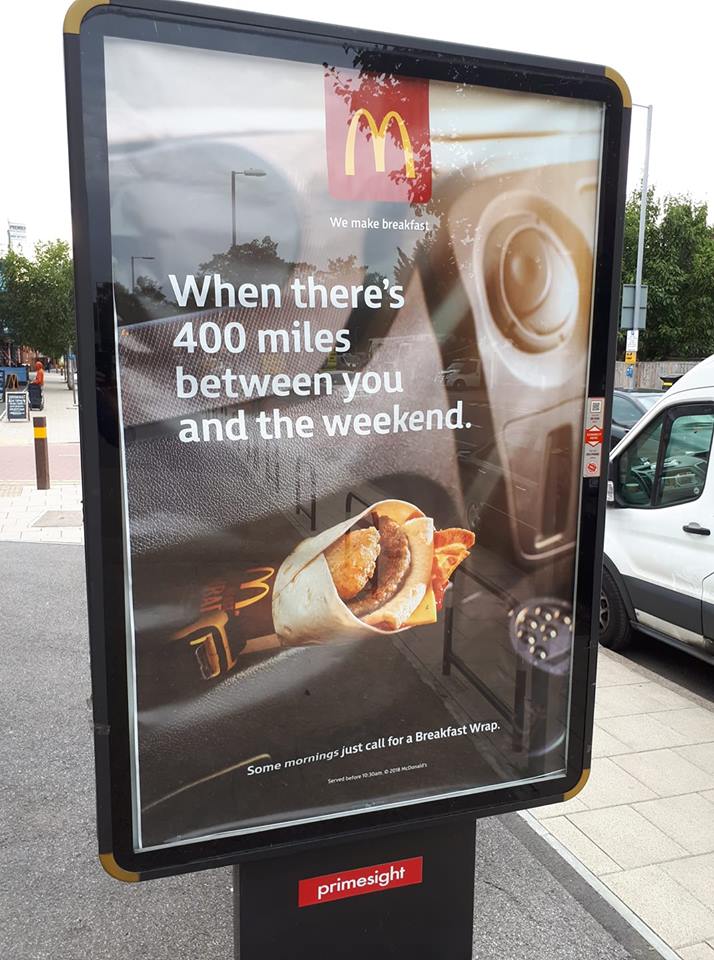 They could have been talking about my 6 day race last month – Except I only managed 351 miles (564km) in the 144 hours from Sunday afternoon, 19th August through to Saturday afternoon, 25th August.  My race started and ended with McDonalds and included 'Chicken McNuggets and Pasta" for dinner on one night somewhere in the middle.
Six days.  144 hours.  It's a long time to spend walking.  And it isn't as if we go anywhere during the six days – the race is held on a 1,020 meter circuit in a stadium in Privas, France.  Do the maths – 564km divided by 1,020 meters is a lot of laps!
This year was my third 6 jours de France and my fourth visit to Privas – in 2015 I competed in a 72 hour race as I didn't think I would be able to handle a full six days.  In 2016 I competed in the six day event, finishing 3rd walker, narrowly missing my goal of the New Zealand 6 day record (I completed 614km, 8km short of the record).  And last year I only managed 500km after suffering through a heatwave.  After the 2017 race I said I would never do the race again but within weeks I was already looking forward to the 2018 event.
I don't know what it is, but something keeps bringing us back each year.  'Us' being myself, Kathy Crilley and Suzanne Beardsmore – all race-walkers based in England.  And the majority of the other competitors in the race, both the runners and the walkers, return year after year as well.
It isn't the course that brings us back – the track comprises a mixture of loose gravel, an ash athletic track, a little bit of tarmac, and some pot holes.  Most runners and walkers will have at least one visit to the medical tent during the race to have blisters dealt with.  In my case, I have never had such severe blister problems so early in a race other than my four visits to Privas.
It isn't the weather that brings us back either.  In 2015 we had a heatwave.  In 2016 we had three days of rain and flooding that meant we couldn't walk on the athletics track for the first half of the race and in one section we had to walk along a wooden plank to avoid walking in ankle deep water.  In 2017 we again had a heat wave.  And this year it was a combination of heat and humidity that resulted in almost all competitors performing well below their PB's.
And it isn't the toilet facilities that bring us back either – there are three separate toilet facilities at the stadium, but only one of them has one proper toilet.  All the rest are squat toilets.  In fairness, the race organisers do wash the toilets out with a fire hose every 24 hours ?
So what is it that keeps us going back to a race that causes so much pain and discomfort?
It is the people.  The athletes, the organisers, the volunteers, and the support crews.  Unlike a point to point course, a track event means that you are constantly passing other runners/walkers, or being passed.  Regardless of your speed, there are always people to chat to.  Sometimes just for a few meters or minutes.  Sometimes for a couple laps. Whilst most of the competitors are French, and I don't speak any French, there are still ways to communicate.  Many of the French competitors also speak some English (which is helpful).  This year there were five native English speakers – Karen and Tony from Isle of Man, Kathy and myself, and Sarah from Australia who brings a packet of Anzac biscuits for me each year.  We also had Suzanne, Karen's husband Dave and their children, and John and Lisa from Isle of Man supporting us, so plenty of opportunities for conversations in English.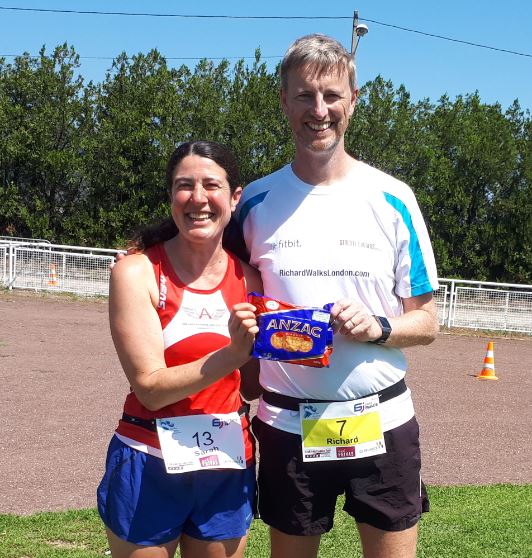 Then there were the two Japanese competitors –  78 year old Toshio Ohmori from Tokyo who was running his 8th 6 jours de France.  He told me that he wants to come back two more times so that he can compete for the tenth time when he turns 80.  And Seigi Arita, originally from Japan but now living in France.
Other athletes included Phillipe and Patrick – 1st and 2nd last year who finished first equal this year.  They spoke enough English to have one and two word conversations.  Christophe who finished 3rd last year and won in 2016 would normally answer "good" or "yes" when I asked him how he was feeling or if he was tired.  He finished third again this year.
Sylvie spent as much time taking photos as she did running, but this year she remained in running clothing until the last couple hours when she dressed as a Jester and handed out confectionery to the competitors.  In previous years she has been known to wear different costumes throughout the race.
There are too many athletes to list individually but we all seem to know that we are suffering together and we all make the most of the situation.
And then there are the guys in the medical tent.  If it wasn't for them, most of us would not be able to complete the race.  I'm not sure how much time I have spent in the medical tent during my four races in Privas – probably ten or more visits – and every year the same medical team are there to help us.
This year there was one volunteer who worked on the drinks table.  She didn't speak English but loved my accent, and even when she wasn't working and was out on the course offering support, whenever she saw me she would call out "what do you drink?" and wait for me to reply "Coca Cola".
My race:
As per last year I traveled to Privas by train on the Friday before the race.  Privas is in the South East of France and takes 12 hours or more to get there by public transport (bus from home to local station, tube to Kings Cross St Pancras station, Eurostar to Paris, Metro across Paris, High speed train to Lyon, smaller train to Valence and then bus up to Privas township).  And then there is the trek to the hotel.  The stadium where the race is held is on the outskirts of Privas, and the hotel we stay at isn't too far from the stadium, but is a 40 minute walk from the bus stop.  This year, when I got off the bus Christophe was just arriving and pulled over to offer me a lift up to the hotel.  Christophe managed to explain, in his limited English, that he was feeling fit after doing a six day race in Hungary earlier this year and that he wasn't going to stay at the hotel but instead would be sleeping in the back of his van tonight, tomorrow and during the race.
Christophe dropped me at the hotel where I met Suzanne and Kathy who had traveled to Privas the day before.  After a drink we walked down to the stadium to meet up with the Isle of Man contingent who had arrived earlier in the day.  Tony and Karen, both accomplished long-distance racewalkers, would be doing their first 6 day race and were staying in Tony's motor-home along with Karen's family.  Their friends Lisa and John were also with them and staying in Lisa's van.
As is traditional, on Saturday all the competitors arrive at the stadium in the morning to set up their tents, park their motor-homes, or move in to their dormitory accommodation (camping stretchers in a dark, hot gymnasium next to the track).  In my case I pitched my tent in the same place as last year – next to the entrance/exit to the athletics track which meant I could access it either when walking on to the track or leaving the track during each lap.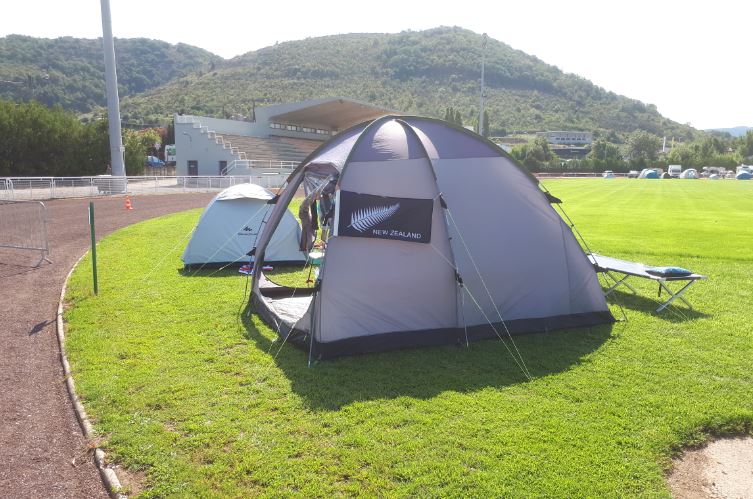 After pitching tents we went to the local supermarket to get supplies – in four years of going to Privas I have only seen the stadium, the supermarket, McDonalds, and the hotel – and then went back to the hotel to rest for the afternoon.
We had dinner at the hotel that night and after initially struggling to get to sleep I managed to sleep soundly from about midnight through until the alarm went off at 7:30.
Day 1 – 2pm Sunday to 2pm Monday:
Dave had a rental car for the week, so he came up to collect us after breakfast and we went down to the stadium to register and set about final preparations for the race.  Part of my final preparations include a visit to the local McDonalds where I consume as many calories as possible and use a hygienic toilet one last time.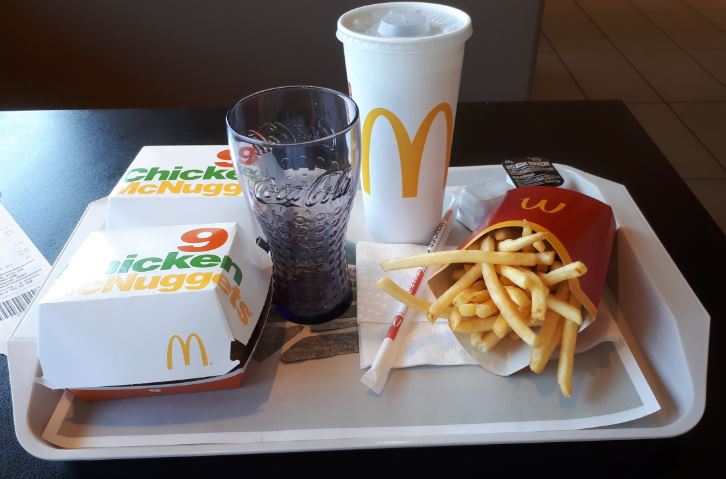 The race started at 2pm.  The temperature was already in the high 20's, and there wasn't a cloud in sight.
After suffering through the heatwave last year I had a strategy which involved keeping myself wet, and rather than wearing one of the modern day moisture wicking T shirts that I normally wear, I decided to wear an old style cotton T shirt.  I also had some white nylon sleeves that I could put on and take off as necessary, and a straw sunhat.  My plan was to drench myself with water whenever necessary and to keep as much skin out of the sun as possible.
I started the race slowly with the plan to just survive through the afternoon and then pick the pace up overnight.  I intended to walk for the first 23 hours through to 1pm, and then sleep for three or four hours during the heat of the day.  And then after that my plan was to walk to 1pm each day and sleep between 1pm and 5pm, and repeat.  1pm to 5pm being the hottest part of each day.
After the first two hours I was well back within the field of walkers– in 14th place having completed only 12.6km.  It wasn't until 11pm that I worked my way up to the front of the field, and that was only because some of the walkers were already taking breaks.
I reached 100km just after 5am (15 hours and 4 minutes) and at that stage I was well in front of the rest of the field.  I was the only walker that hadn't had a break during the night.  It would be interesting to see how my strategy worked out over the next 5 ½ days.
I walked through until 1pm as planned, covering 146km in 23 hours.  In hindsight, perhaps I should have taken a break just a little earlier as I was struggling in the heat by the time I decided to stop.  I took my air mattress up to the top of the stadium to sleep in the shade with a gentle breeze blowing over me as I did last year, but unfortunately the breeze wasn't blowing in the same direction and the heat and humidity made it very difficult to sleep.  I managed about 90 minutes of painful, restless sleep before deciding to resume the race.
I washed my feet before going to sleep and let them get some fresh air while sleeping.  Surprisingly, given the heat and the ground we were walking on, I was blister free.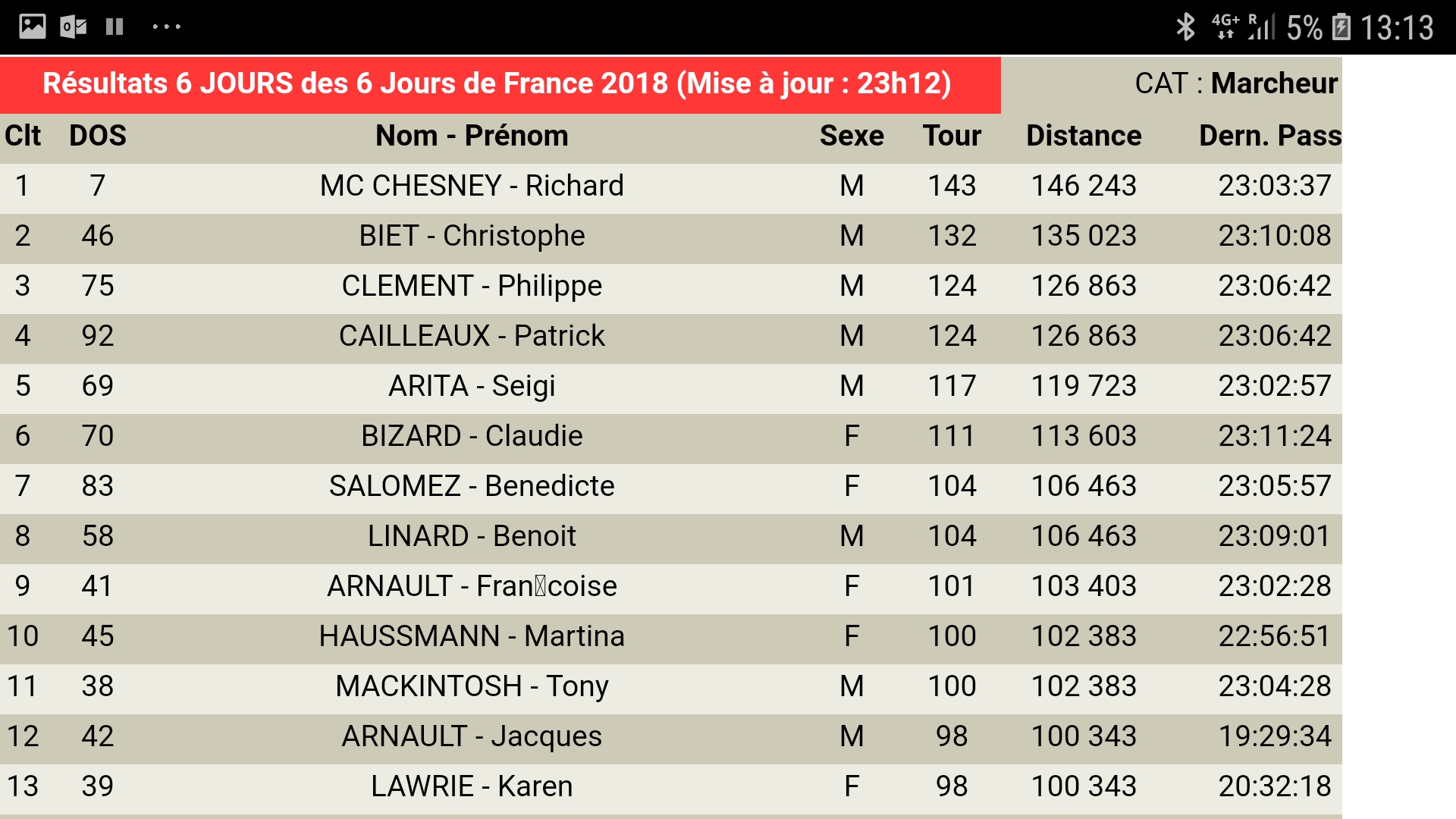 Day 2 – 2pm Monday to 2pm Tuesday:
Even though I only slept for 1 ½ hours I somehow managed to spend 4 hours off the track.  When I resumed I was 5km behind Christophe and just ahead of Philippe and Patrick who had stopped for their own rest.
I felt good.  My feet weren't sore, and I was ready to put in some decent mileage through the night.  I enjoyed the second night but didn't manage to walk as far or as fast as I had hoped.  I passed 200km in a shade over 37 hours and had a 30 minute break.  I wasn't tired sleep-wise, but I needed to rest my tired legs so I sat in the food tent with my feet up.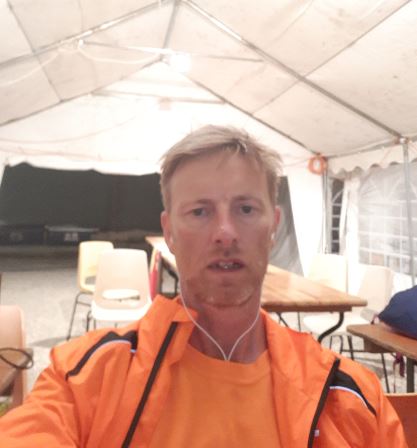 Even although it had taken over 9 ½ hours to cover the last 54km I decided that I would walk through until 2pm as I thought I would get in as much mileage as possible and maybe add some kilometers to my NZ 48 hour record from 2016.  No New Zealander walker has 'raced' a 48 hour race meaning that the NZ 48 record is relatively easy – having only been set during longer races.  I first broke the record in 2015 and then again when I set the current record of 240.459km during the 2016 6 jours de France race.  With almost 9 hours to go I figured that I could probably reach 250 to 260km depending on how hot it got during the day.  My best 48 hour distance is currently the 254km I walked when I circumnavigated the M25 motorway last year but records can only be claimed in races and race-walking records can only be claimed in races that also have race-walking judges.
Around about 10am I received a call from one of my colleagues at work.  Andrew wanted to check how I was feeling and we chatted for about 15 to 20 minutes.  It made a huge difference mentally but physically I was already beginning to feel the heat again.  I changed back into my cotton T Shirt and started the process of saturating myself with water every 20 to 30 minutes.  The process worked along the following lines.  I would pick up my water bottle at either my tent or our food table (wherever I had left it last time) and drink the remaining water in the bottle.  Then shortly after walking on to the track, about half way through each lap, there was a water tap next to the entrance to the men's toilets under the grandstand.  When I arrived at the tap I removed my straw hat and sunglasses, filled my water bottle and poured it over the back and front of my shirt and both arms.  I then soaked my head under the tap, put my sunglasses and hat back on, filled my bottle and started walking again.  The whole process taking about 30 to 60 seconds.  While walking I drank some of the water and then dropped my bottle at either my tent or the food table.
In between these laps where I was 'wetting myself' I would have something to eat.  Throughout the race I tried to eat a small amount every 30 minutes.  As well as that, Suzanne prepared three or four more substantial meals each day.  These were usually omelettes or pasta and for lunch we often had small pizzas which she purchased from the local bakery.  We also ate many croissants and for breakfast most days I had instant porridge which I had brought with me from England.  Snacks consisted of everything from crisps to biscuits, fruit (both dried and fresh – although my tongue became badly ulcerated on day two and I had to stop eating oranges because the citric acid was causing me pain), ham, cereal bars, and pork scratchings (I hate them but they are high in fat and calories and low in sugar).  The one thing I couldn't eat during the race for some reason was chocolate.  I ate some chocolate on the first night and may have had one or two chocolate bars during the first few days, but for some reason I just didn't want any chocolate this year.  To limit my sugar intake, I tried to avoid drinking too much coke during the first two days but my coke consumption increased exponentially as the race went on.
By the time 2pm rolled around I had reached 241.103km.  Not the distance I was hoping for, but a slight increase on my previous NZ record.  My distance for day 2 was only 95km.  Well below my day two target of 120km.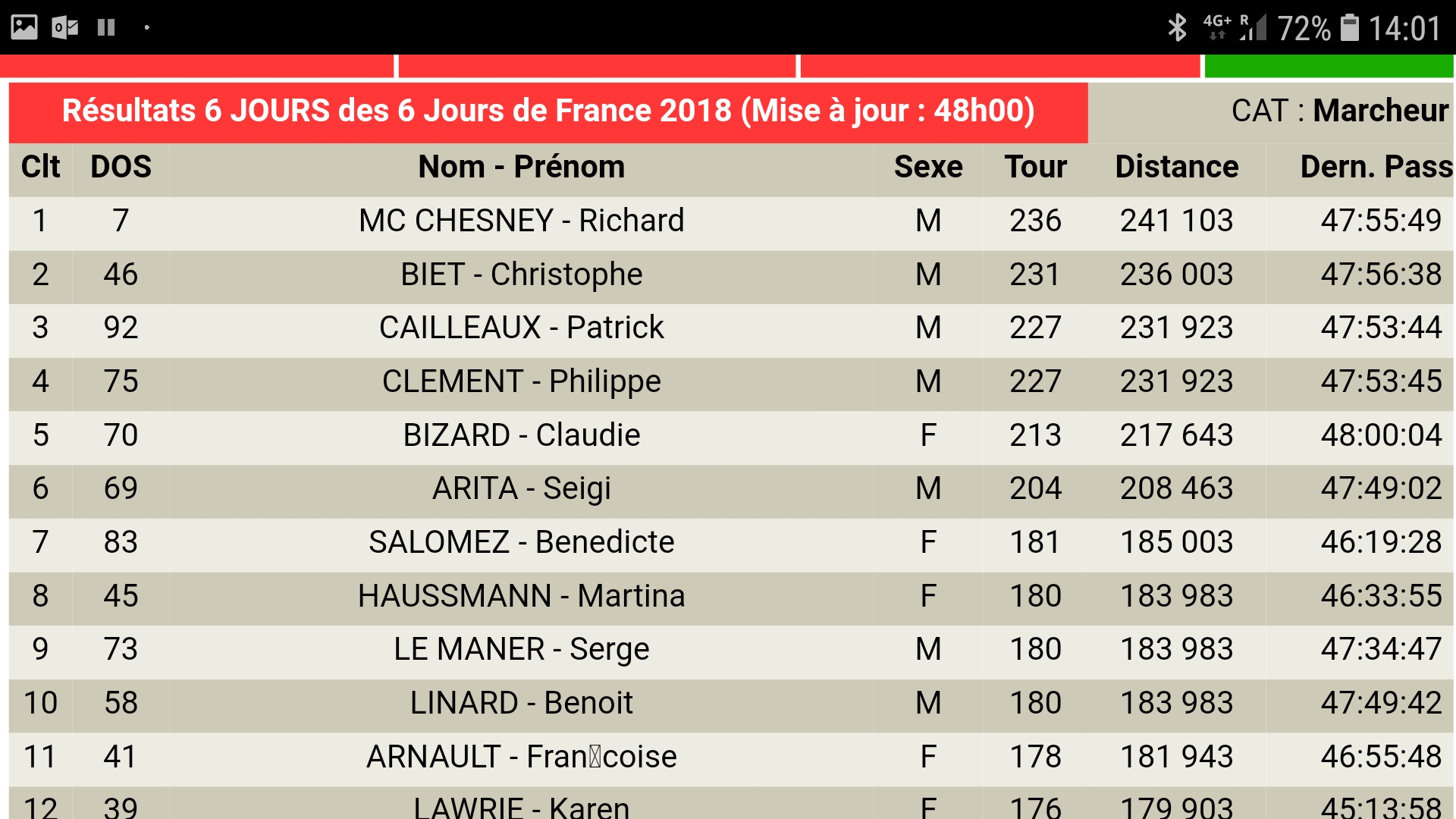 My feet were extremely sore and when I stopped at my tent to wash my feet prior to my scheduled sleep I discovered that they were a blistered mess.  Rather than going to sleep I completed another lap to get around to the medical tent.  One of the lessons I had learnt from the last few years of doing this race is that you don't waste steps.  The lap is 1,020 meters.  If you are at your tent and you need to get to the medical tent, you do not walk across the rugby field in a direct line.  Instead you walk the long way to complete a lap and ensure that every step counts towards your overall result.
So I hobbled around to the medical tent wearing a clean pair of socks and a clean pair of shoes.  When I arrived at the medical tent the guys that have treated my blisters each of the last three years were there and once again they were 'impressed' with what they saw.  Everyone came over to have a look and one of them took a few photos.  They asked how long my feet had been like that.  I replied that they had been painful for about 12 hours and one of them said I must have a very high pain threshold.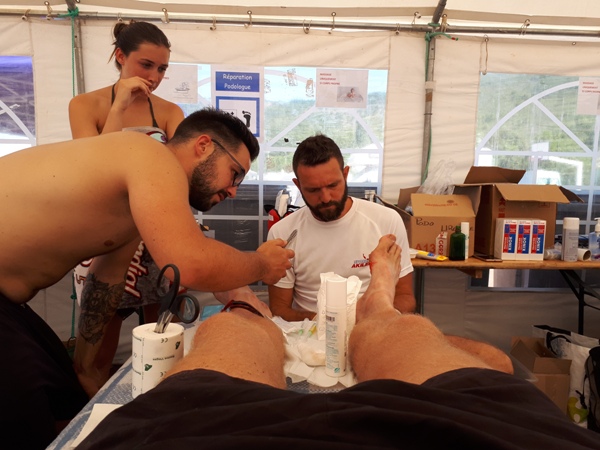 Click on the images below to view the blisters:
Day 3 – 2pm Tuesday to 2pm Wednesday:
I was off the track for about 4 ½ hours in total but probably only got about 45 minutes sleep.  My body was extremely sore and it was too hot to sleep.  When I was ready to resume walking I headed back to the medical tent, as requested, to have my feet taped.  After my first visit they asked me to let my feet air while I slept, hence the second visit.
By the time I started walking again I was in fourth place, 9km behind Christophe and 8km behind Philippe and Patrick.
My feet felt much better having being taped and I had also changed to a pair of shoes with a slightly wider forefoot area.  These were a pair of cheap shoes which I wouldn't normally walk long distances in.  They don't have the same stability in the heel but I needed the extra room in the front of the shoe.
One of the highlights of the race came at dinner time when Suzanne offered me a choice of Chicken McNuggets or Pasta.  I said I would have both!  Possibly the best meal of the race.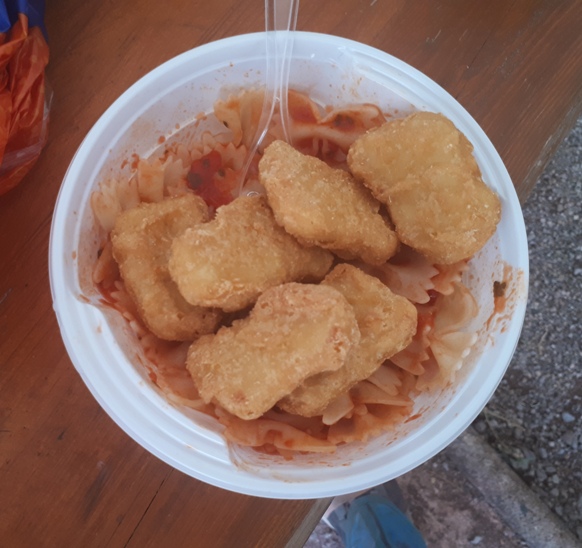 During the night I slept for two hours.  It was just what I needed.  The temperature was much cooler and I slept well although woke up well before my alarm went off.  Maybe my idea of sleeping during the heat of the day was wrong.  Perhaps it is better to sleep in the cool of the night when it is easier to sleep.
2pm on day 3 signifies 'half time' and like previous years I stopped at the timing tent to wait for the clock to click over 72 hours – just to get a half time photo 🙂

Overall, I don't remember much about day 3.  The fact that it was uneventful was probably good, but my mileage for the day was well down on my expected mileage (at only 78.5km).  Unlike previous years when I thought I was suffering alone I knew that everyone was suffering.  You could see it in the results.  At the end of day 3 I was only 4km behind the leaders.  We were all struggling to put in the miles and the lead changed every time someone took a break.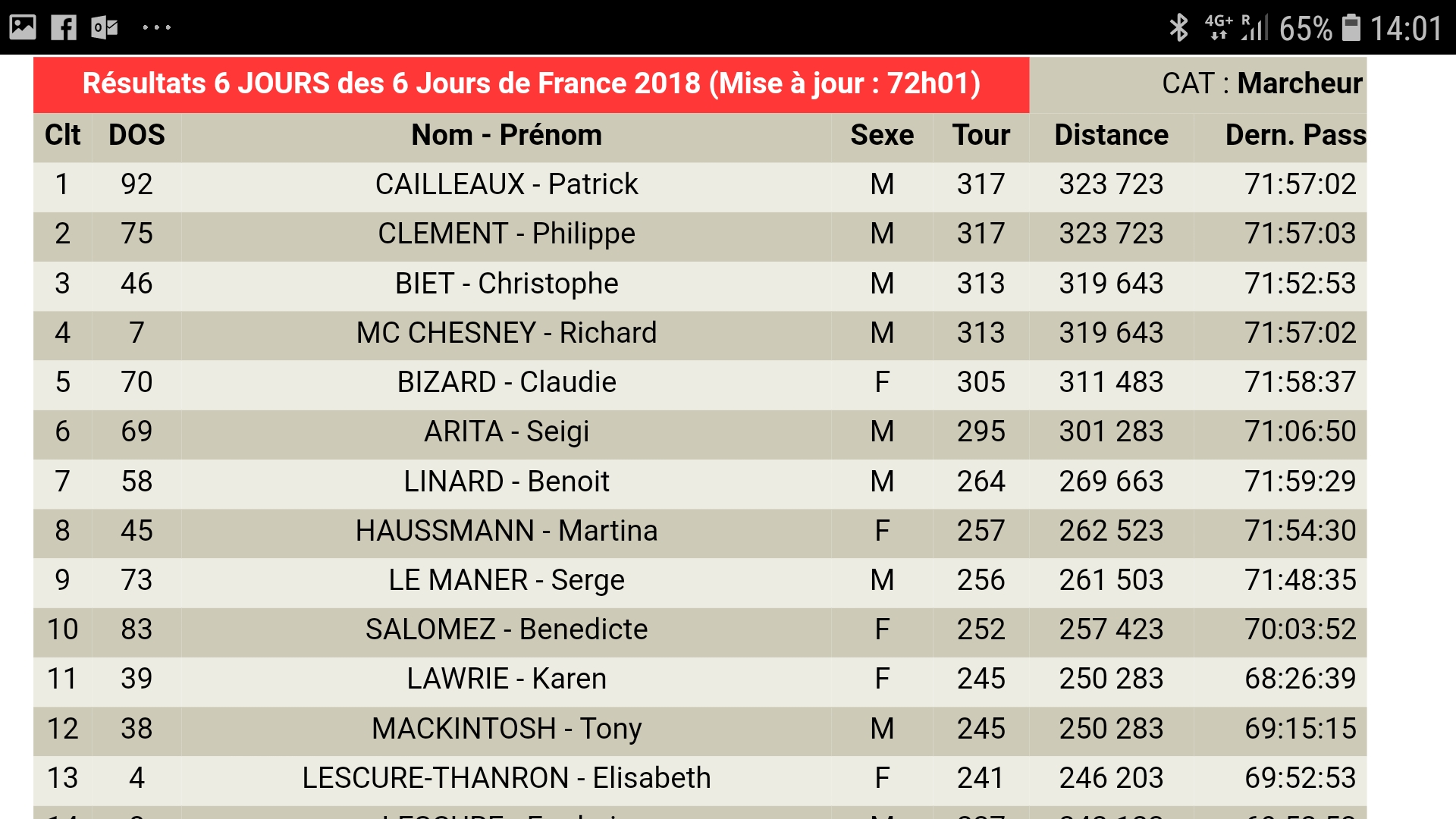 Day 4 – 2pm Wednesday to 2pm Thursday:
While I slept everyone else kept walking and by the time I got started again I was in 5th place and 20km behind the leaders.  Claudie Bizard was in 4th place, 5km in front of me.  Claudie is the 'official' women's world record holder for the 6 day event having walked 624km in the heat last year.  One female walker, Yolanda Holder from the USA, has gone further than Claudie but 'official' race-walking records can only be achieved in races that have walking judges, and Yolanda's races have all being in the USA without race-walking judges.  That isn't to say that Yolanda isn't walking, but her results, and the results of other athletes from races that don't have race-walking judges, are not recognised by the record keepers.
By 9:30pm I was dead on my feet.  I was taking close to 20 minutes per lap and decided I needed another sleep.  I was off the track for 3 hours in total, sleeping for about 2 hours and again waking up before my alarm went off.  I lost another place with Seigi passing me as well, but when I resumed walking at 1am I was still 20km behind the leaders so wasn't too concerned.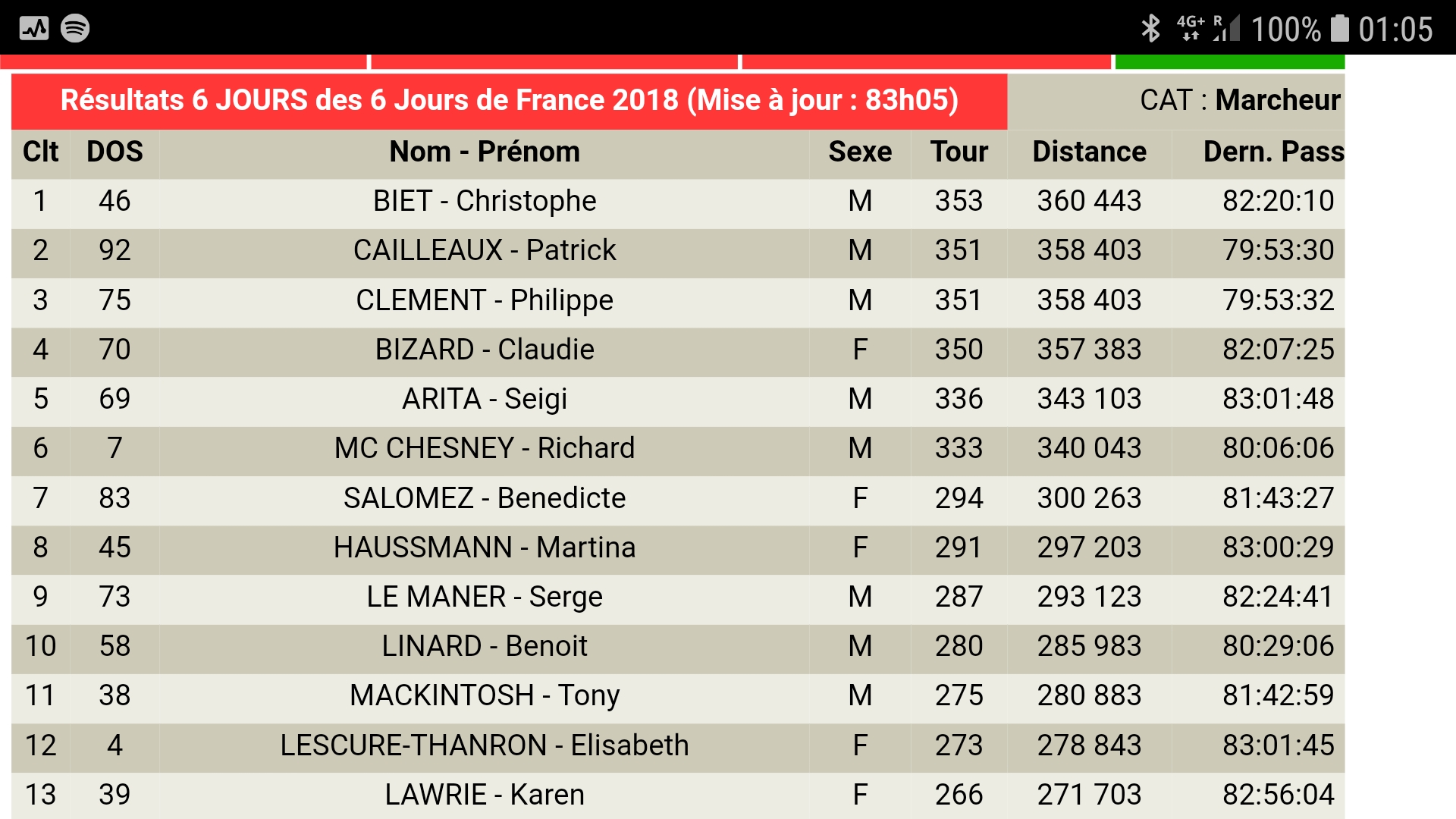 I tried my best to make progress through the night but found it easy to take short breaks on a regular basis.  One thing I did to keep myself going was put a message on facebook asking people to call me on facebook messenger.  It was the middle of the night in the UK but a few people called me from the USA and NZ, which enabled me to walk without really focusing on it.  Most nights I also spoke to my wife, Ruth, and my sister, Karen, called a few times during the race as well.  All these calls took my mind of the monotony of the race, even if just for a few minutes.
I got through to 391km by 12:30pm – although time was meaningless by this stage.  By this stage it could have been breakfast time, lunch time, or dinner time.  It really didn't make a difference.  It was either sunny and hot, or it was dark and cooler.
My hip flexors had stopped flexing and I was struggling to put one foot in front of the other.  Time for another visit to the medical tent where I spent the rest of day 4 getting a massage.
At the end of day 4 I had completed 391km, covering only 71.5km for the day.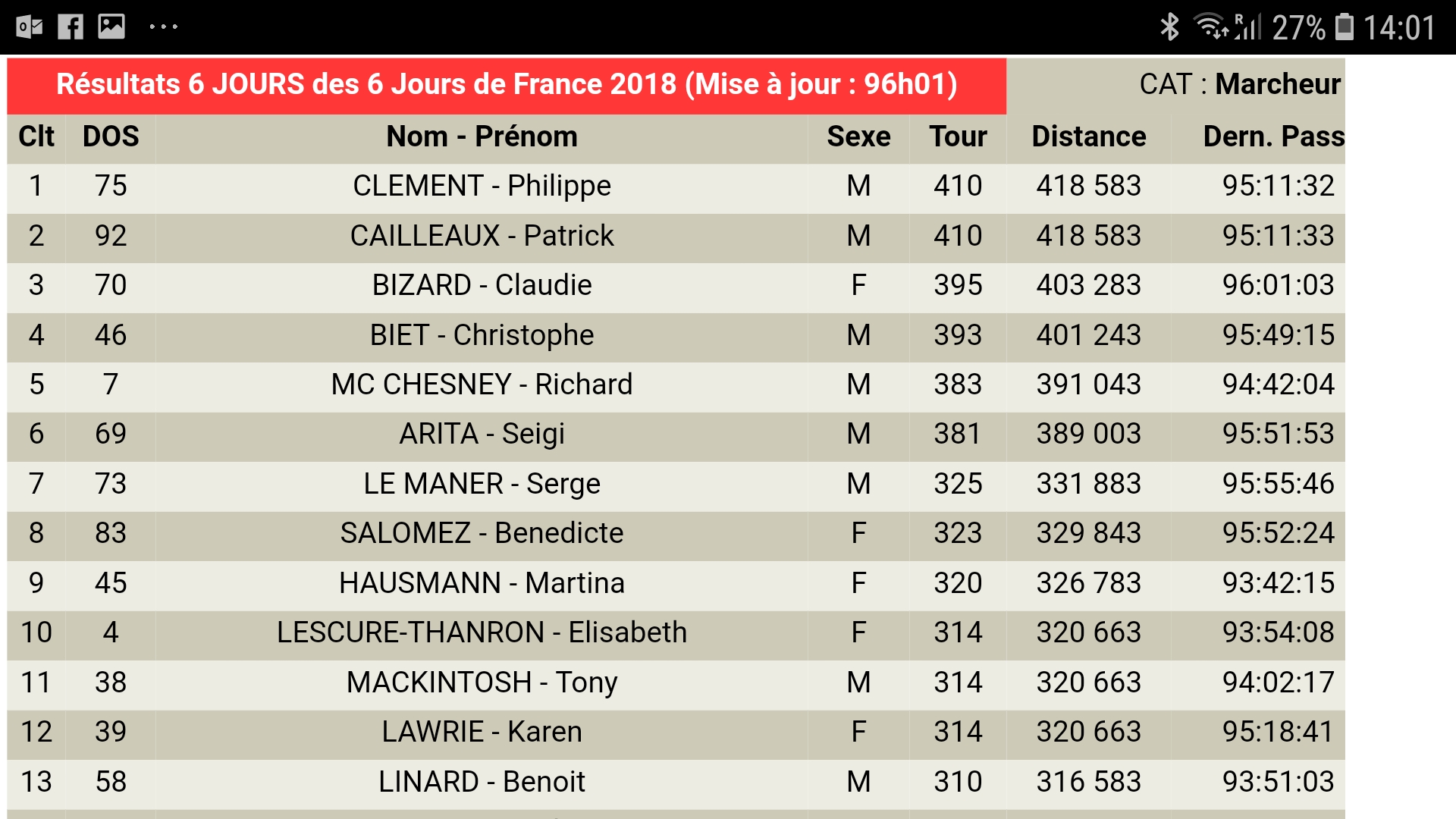 Day 5 – 2pm Thursday to 2pm Friday:
Having slept during the night I decided to change my sleep strategy and resumed walking after my massage with the intention of sleeping again at some stage later in the night.  I couldn't get going though, and a little after 5pm I decided to stop walking and try and get some rest.  I thought perhaps a shower might help and walked around to my tent to get my towel and some clean clothes.  Whilst in the tent the wind started to pick up and I decided to tighten the guy ropes on mine, Kathy's and Suzanne's tents before having a shower.  No sooner had I finished doing this and the storm hit!
Torrential rain and strong winds ripped through the stadium.  The race was abandoned as athletes and organisers tried to save equipment, tents, motor-home awnings, etc.
The storm probably only lasted 15 to 30 minutes but it flooded the athletics track and a number of the tents plus one of the race marquees were damaged.  There was also a power cut and the race organisers quickly advised the athletes that the race was now 'on hold'.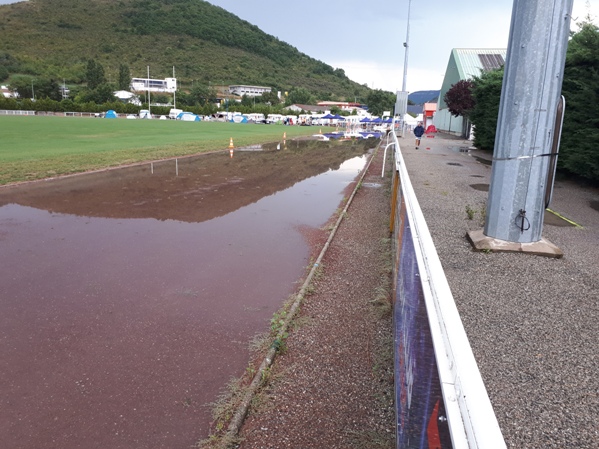 After two hours we were advised that we would resume shortly but on a shorter 620 meter circuit which would eliminate the flooded athletics track.  During the break I decided that I had had enough and took up the offer of staying at the hotel for the night to get some proper sleep, have a shower, etc.
We were told that we had to be on the start line when the race resumed so I walked one lap of the 620 meter circuit and then Dave took me up to the hotel where I spent about an hour slowly removing the tape from my battered and blistered feet, and having my first shower since Saturday morning (it was now Thursday night).
Thursday night blister night – click on the photos if you want to view the bigger image:
I slept for a solid 8 hours although my sleep was a little restless and I had serious night sweats, having to change sides of the bed at one stage.  I've experienced night sweats after some races in the past.  I think it is the body's way of detoxing.  Usually it lasts for one or two nights but this was the first time I had had night sweats during a race.  Probably because it was the first time I had slept in a proper bed during a race ?
I woke when my alarm went off at 7:30am and after another shower I limped down to the track – about 700-800 meters away.  Mileage that wouldn't be counted in my overall result ☹.
I wasn't in any rush to get started and after saying hello to Suzanne and some of the athletes I went to the medical tent to see what they could do with my feet.  They cleaned up the blisters again and re-taped my feet, and then they suggested that cutting the front mesh section off each shoe would ease the discomfort.  I was prepared to try anything to reduce the pain but wasn't really intending to 'race' as such.  My plans for the next 30 hours were just to circle the track and try and get a reasonable overall distance.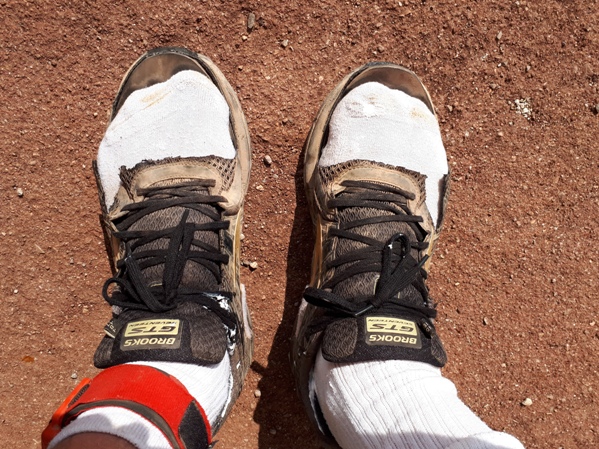 After my visit to the medical tent I had brunch in the food tent and watched the athletes going past.  Many of them waved and acknowledged me.  I guess they had noticed that I had been missing for the last 12 or more hours.
It was 11am when I finally decided to start walking again.  In total I had been off the track for almost all of the previous 18 hours.  The online results were still down but I took a photo of the leaderboard TV screen:
Philippe and Patrick were now on 480km, Claudie was in 3rd place on 467km, Christophe 458km, Seigi 445km and I was in 6th place with 404km – 76km behind the leaders!
Not far behind me was French walker, Serge Le Maner, followed by Tony and Karen.  My thinking on resuming the race was that I would try and walk fast enough to hold on to 6th place, and because I had had a good sleep I should be able to walk the remaining 30 hours without needing to stop for another sleep.
The race had been extended to finish at 4:30pm to give us back the 2 ½ hours from the storm delay, although for anyone wanting to claim any records their mileage as at 2pm on Saturday would be what counted.
Three hours later, at 2pm (the end of day 5) I got a big mental boost when I thought I had picked up 10km on the leaders already.  My maths wasn't too good.  I thought there had been an 80km difference at 11am and thought the difference was now 70km when it was actually 73 ½ km.  In reality I had only picked up less than 3km on the leaders but in my mind I had picked up 10km!
I told Kathy and Suzanne that I thought I could still win this race!
If I could walk 100 miles in the last 24 hours (I had never managed more than 100km in the last day and wanted to walk 100 miles – I was dreaming), and they only walked 90km, then I could catch them.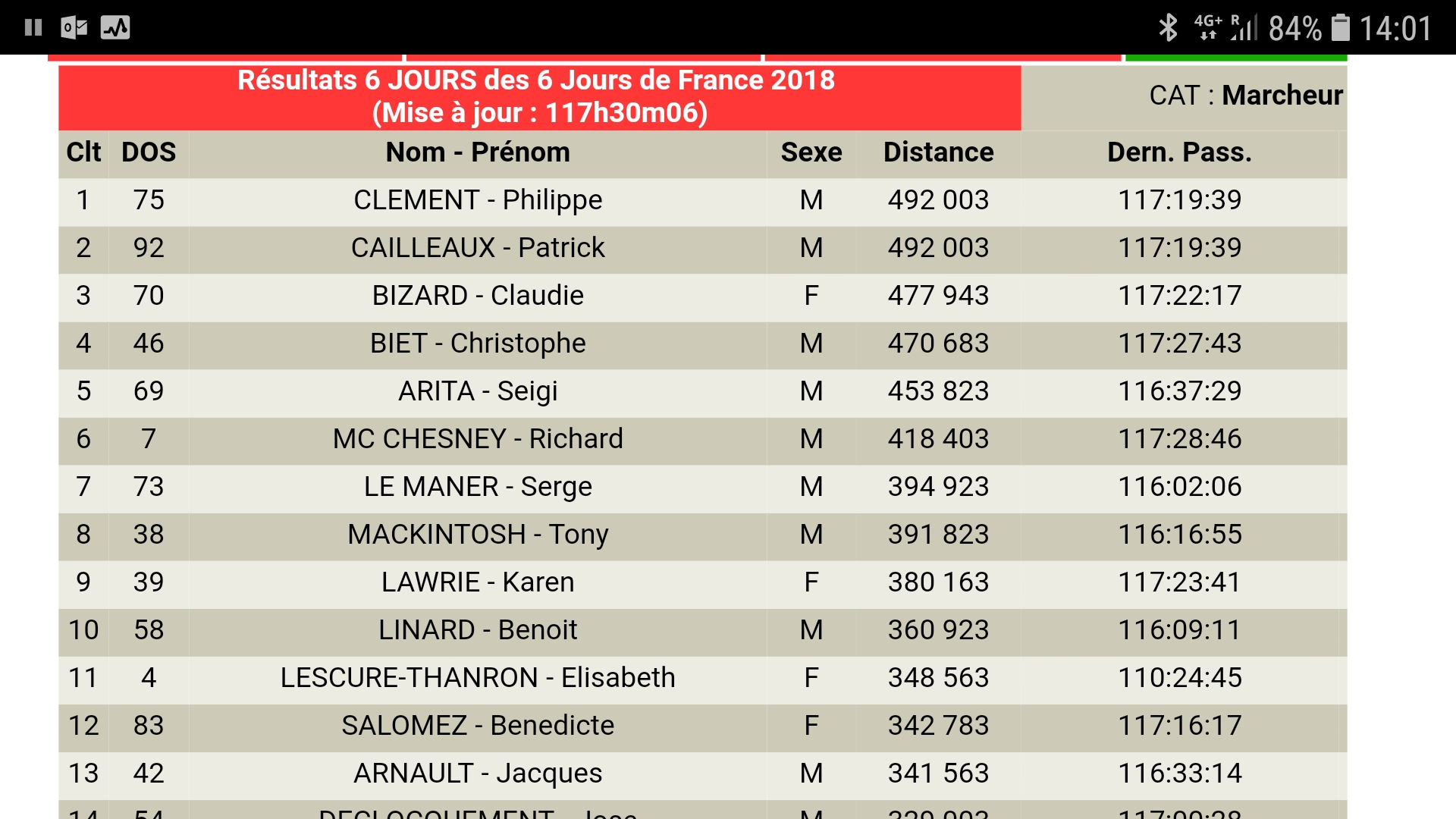 My day 5 mileage was only 27km!  But I had been off the track for 18 or more hours.
Day 6 – 2pm Friday through to the finish:
Going in to the last night I was still thinking that I could win, but it would depend on how fast I could walk and how much rest everyone ahead of me would need.  I was confident that I wouldn't need any sleep and decided that I would try and boost my pace by putting in a fast 5km at 10pm.
10pm Friday night was 8am Saturday morning in New Zealand, which is the time that parkrun starts in NZ.  So I decided to pretend that I was walking the Lower Hutt parkrun, an out and back 5km along the path beside the Hutt river.  In my case each kilometre would be one lap of the 1,020 meter Privas track, and I hoped to walk the 5km in 45 minutes.  For the last few hours I had been averaging 11 to 12 minutes per lap, so this would require me to increase my pace significantly, but I hoped that it would then result in me continuing through the night at a sub 10 minute lap pace.
My 'parkrun' started at 10:03pm when I completed my 460th kilometre.  My first lap took 9 minutes 40 seconds and took me from the Lower Hutt parkrun start line under the Ewan Bridge and up on to the stopbank and down to the 1km marker beside the retirement village.  When I checked my km split time, and realised that I was going slower than I needed to, I increased the pace and started passing some of the other 'parkrunners'.  My next kilometre took 9 minutes and 5 seconds as we went down under the railway bridge and down towards the turnaround.  I didn't get a split time at the half way turnaround but reached the 3km mark in 27:40 after an 8 minute 55 second kilometer.  The 4th kilometre at Lower Hutt parkrun is always the hardest for me.  Back under the railway line and up the little incline back on to the stopbank for the final push for the finish. But I continued to increase my pace with an 8 minute 47 fourth kilometre.  I was on fire now and kept increasing the pace before a final push to try and get under 45 minutes.  My last kilometre took 8 minutes 38 seconds.  I missed my sub 45 minute goal by 5 seconds.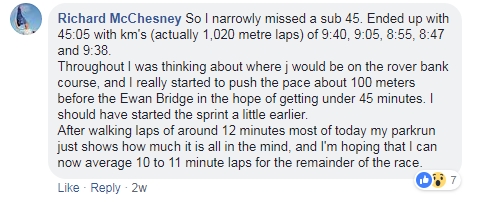 My 'parkrun' proved that this race is a case of mind over matter.  Nothing changed physically but with some focus I managed to increase my pace substantially.
During the night all five of those in front of me had sleeps of various lengths but by 6am they had all returned to the track and I began to realise that I was unlikely to win the race.  In fact I was still in 6th place and whilst I thought I had a good chance of catching Seigi (7km ahead), I was unlikely to catch Claudie (21km ahead) or Philippe, Patrick and Christophe who were all 50 to 52km in front of me.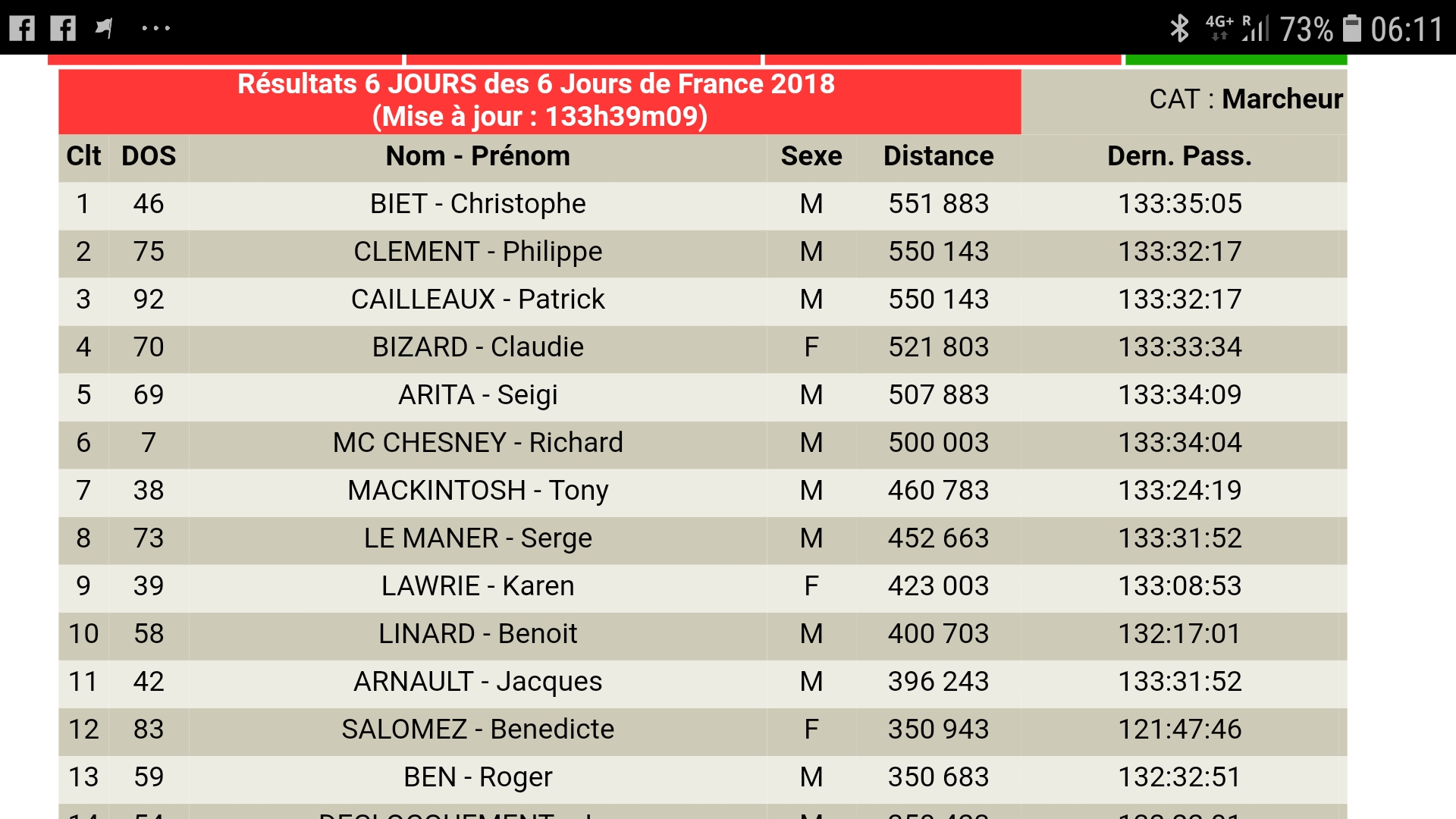 I reached 500km at 6:04am – 5 days, 16 hours and 4 minutes after we started the race.  Whilst this was 23 hours slower than my 2016 500km split time, it was a new NZ M50 age group record and I stopped for a photo.
Around 8am Marie Cain, one of the relay walkers started her next 'leg' of the relay just as I was finishing my lap and I decided to see if I could walk with her for a while.  We walked a lap in a shade under 9 minutes.
And the next lap was faster.  And the next lap was faster again.  And then I dropped Marie.  Before I knew it I was lapping at 7:15 pace!  I don't know what happened.  It was like I was possessed.  The same thing had happened to me in the last half hour of the 2016 race when I averaged a shade over 6 minutes a lap for the last 5 laps.  I didn't get to that speed but I did manage 6 minutes 59 seconds for my 503rd lap!  And, on checking the lap split times while writing this report, I see that the five laps from lap 502 to 506 took just 35 minutes and 41 seconds.  That is a 35 minute 5km after already walking 509km in the previous 5 ½ days.  It just shows what can be achieved with a focused mind.
Eventually I came back to earth and my pace slowed, but by then I had caught and passed Seigi.  Once I was back to a normal pace I stopped at the food tent and commented to Suzanne that I didn't think I could catch Claudie (still over 10km ahead) but I was satisfied with how things were going and would just hold on to 5th place though to the finish.  And then I saw Claudie sitting in the corner of the food tent looking like she desperately needed 8 hours sleep.
That was enough.  I was on my way again.  Not at the same pace, but it was enough to start closing the gap on Claudie.
As the gap closed I worked out that because of the short laps during Thursday night, if I caught Claudie I would still be 400 metres behind her.  I had to catch her and lap her, and then I would be 600 meters ahead.  So that was my goal.
When 2pm arrived I was 5 minutes behind lapping Claudie.  If my maths is right, I was effectively 200 meters ahead of Claudie at exactly 2pm.  But as the race had been extended by 2 ½ hours due to the storm delay on Thursday, the race wasn't yet over and we kept walking.
My official result at 6 days (144 hours) is 549.983km which is a new NZ M50 record.  More importantly, on the last day I had walked 131.5km!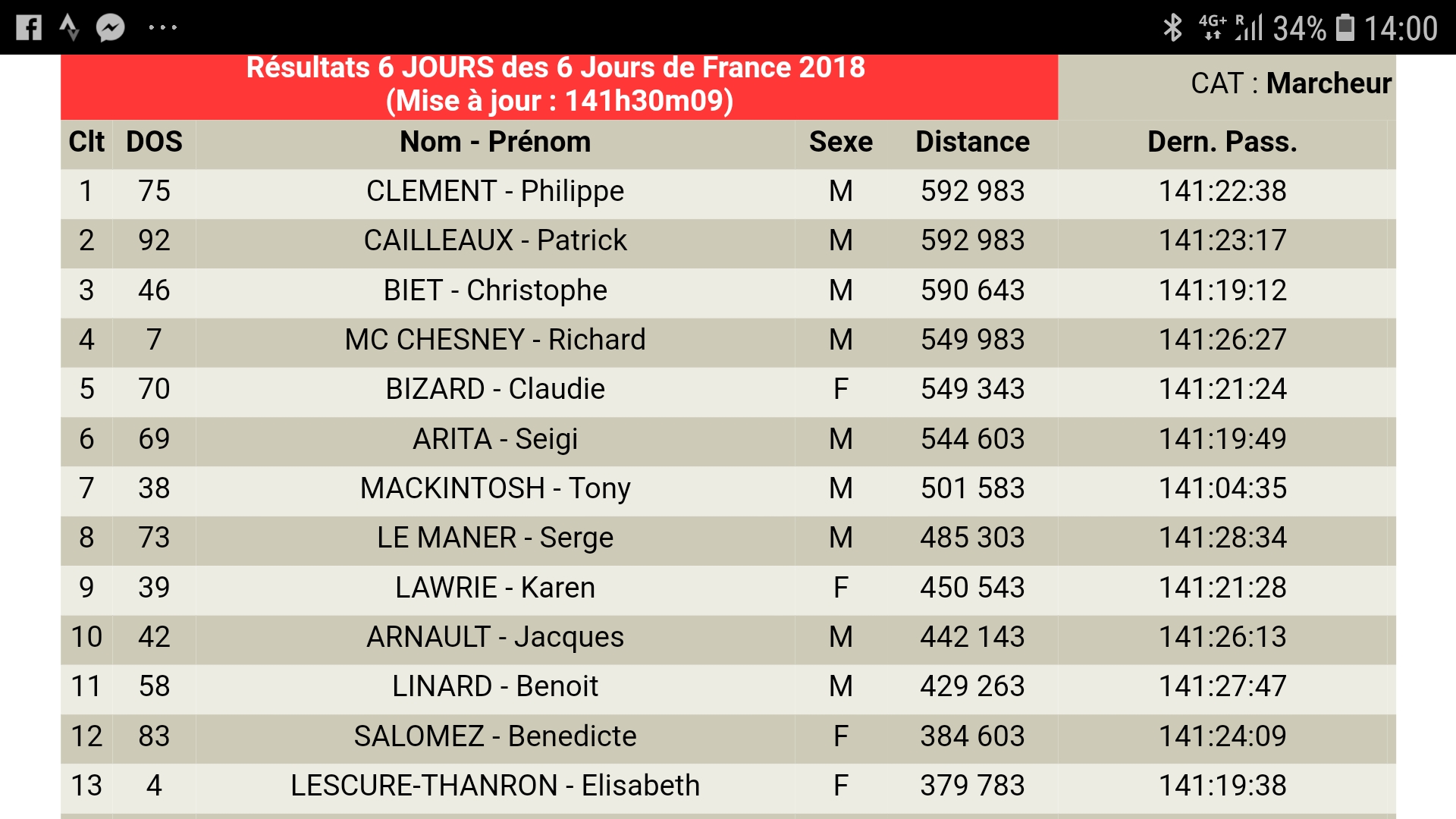 It took about 1 ½ hours before I finally caught her, but once I did, I knew I was in 4th place, 600 meters ahead of 5th, and I just kept pace with Claudie through to the finish.
My final result was 564.602km – 4th walker and 16th overall.  In the almost 30 hours since resuming the race I had closed the gap on the leaders from 76km to just 43km.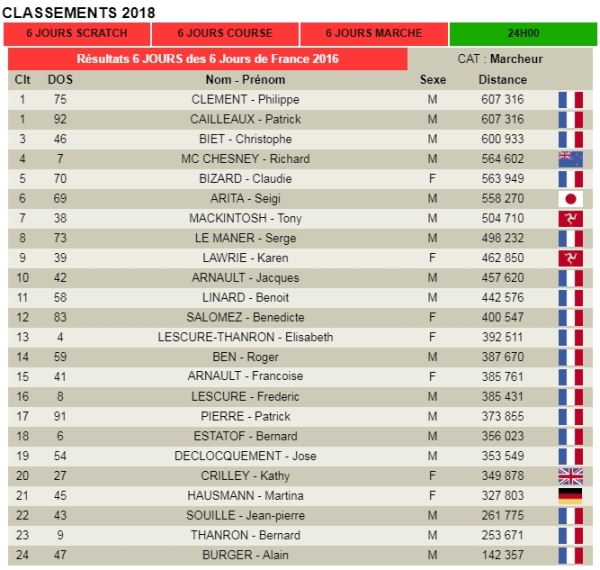 Looking ahead:
I think this was my last visit to Privas.  Or at least my last visit as a competitor.  Or at least my last visit as a competitor this decade.  I have had four weeks to think about the race, and whilst there are a few changes I would make if I could go back and do the race again, I think I need a break from the race.  The terrain ruins my feet.  But I love the event itself, and hopefully next year I can go back as support crew for someone – or possibly to do the 48 hour race that will be held during the last two days of the six day race.  The people are fantastic, and I think I would be miserable sitting at work for a week knowing that everyone else is there circling the track and suffering together.
We had some great times during the week.  One moment I remember was when I was walking with Karen who had already modified her shoes by cutting the front out of them and putting a pair of Tony's socks over the top of them to keep the stones out.  She was telling me that she was thinking of writing to the sock manufacturer to tell them that their socks didn't last very long.  We decided instead that she should put a review, along with a photo of her wearing the socks over the top of her shoes, on their facebook page.  It doesn't sound so funny now, but we were in absolute hysterics like it was the funniest thing anyone had ever said.
As I say, we had some good times.
Photos and Analysis:
Having received the lap split times, I graphed them to understand what happened. The first 100 odd laps are mostly in the low 8 minute range.  Thereafter, the lap times are all over the place but there are brief periods where my lap times improved significantly on the average and then drifted back again.  And then there is the Saturday morning section between laps 502 and 512.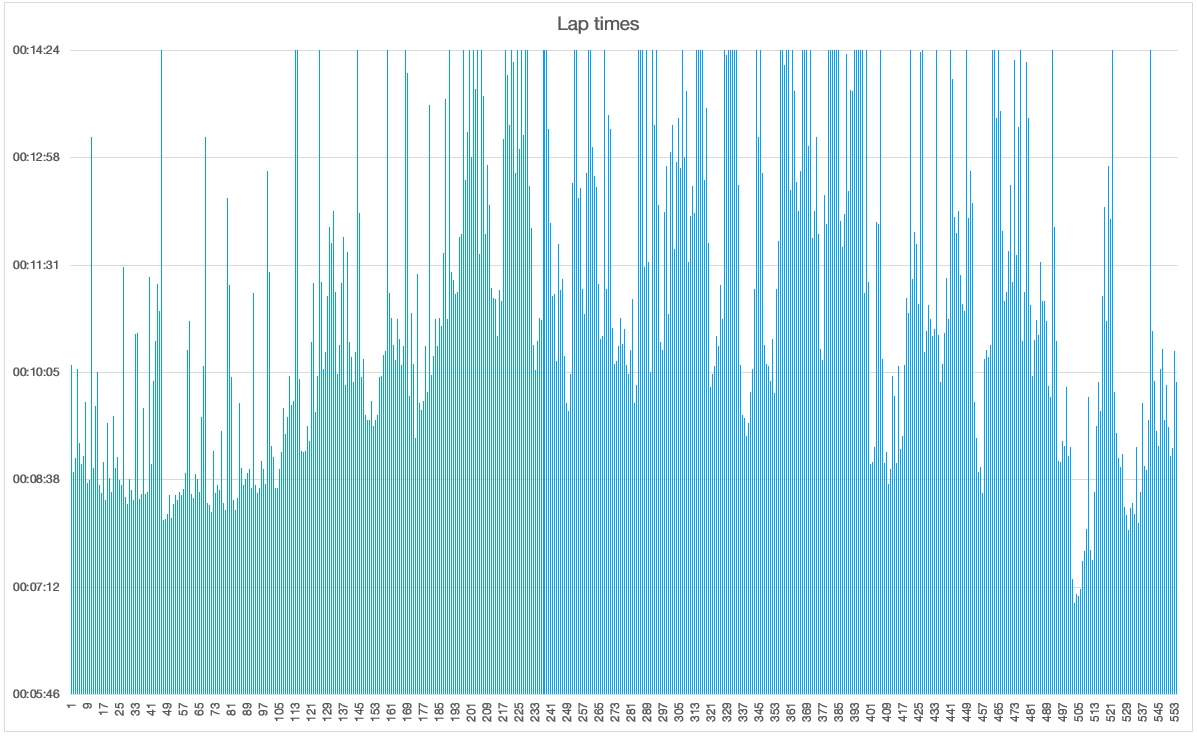 Looking at my progress hour on hour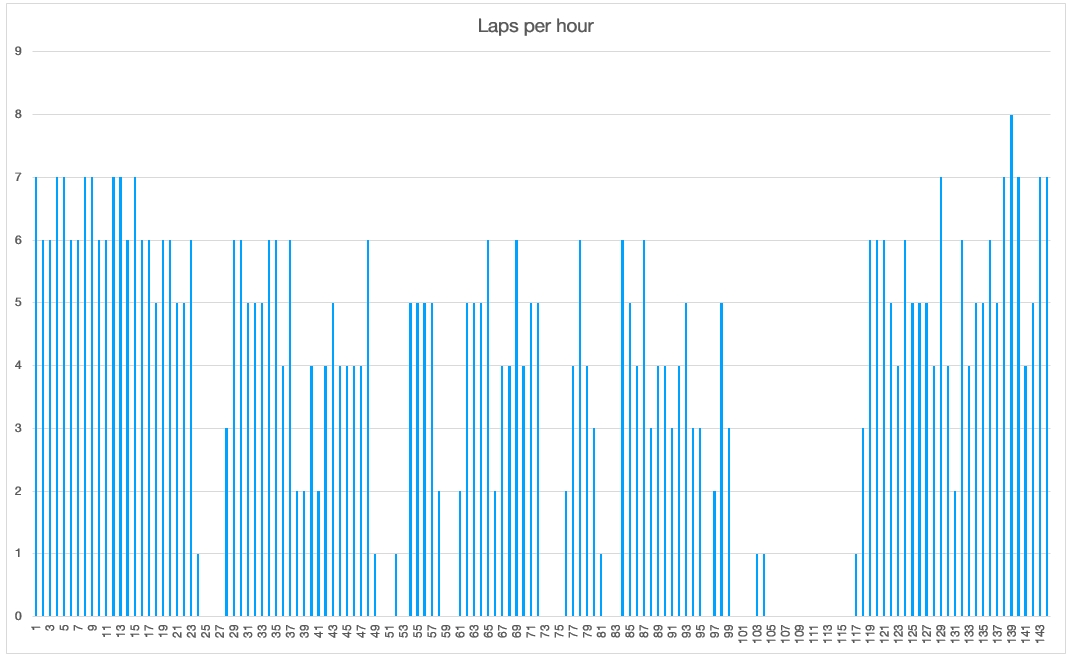 And comparing my mileage day by day with that of the other top 6 finishers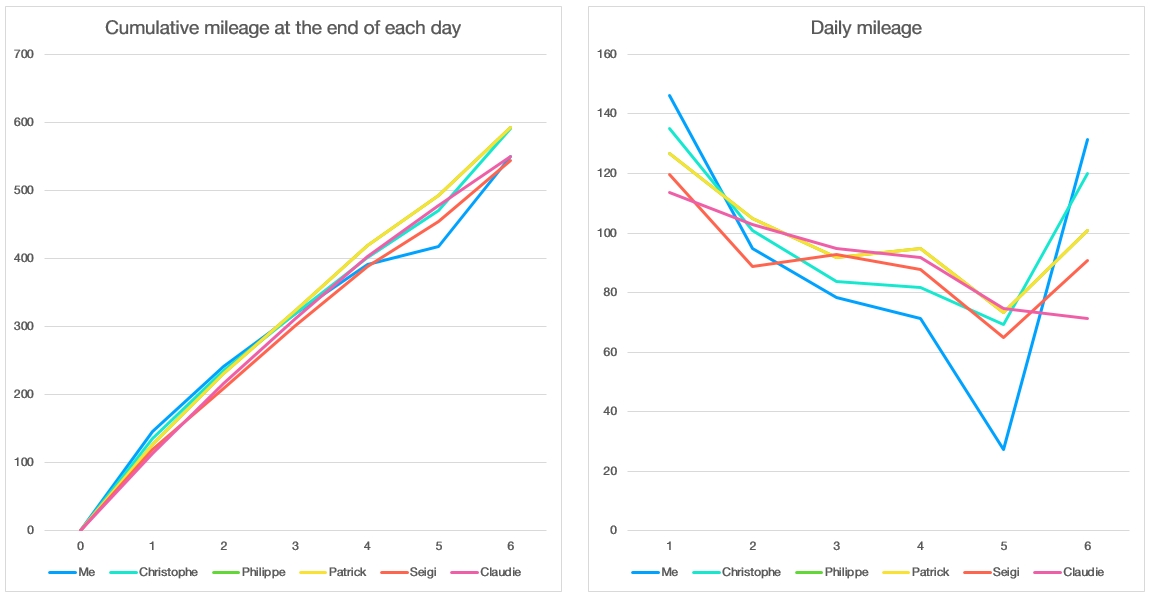 Fitbit steps by day: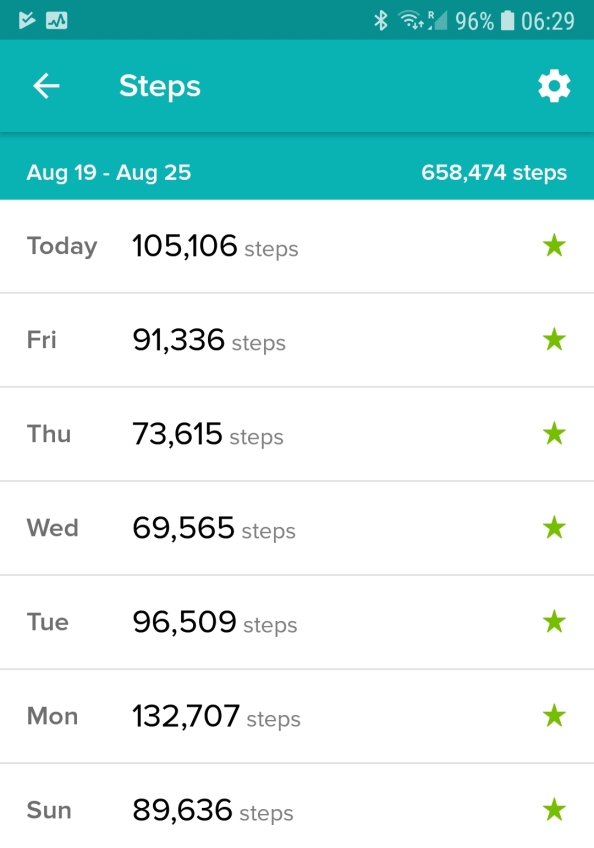 The following are some of the photos that either I took, or others took during the race (most of the photos were taken by Sylvie Couturon).
| | |
| --- | --- |
| 1st equal – Patrick Cailleaux | 1st equal – Philippe Clement |
| 3rd place – Christophe Biet | 4th place – Richard McChesney (Me) |
| 5th place – Claudie Bizard | 6th place – Seigi Arita |
| 7th place – Tony Macintosh | 9th place – Karen Lawrie |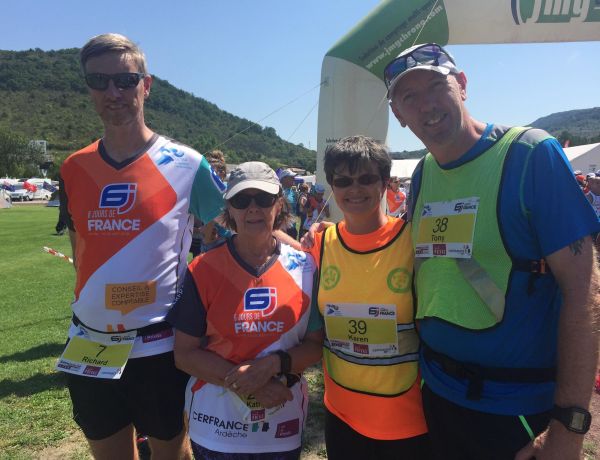 | | |
| --- | --- |
| My first attempt to keep stones out of my modified shoes | It wasn't long before my socks started to get holes in them |
| Next attempt – lots of tape to hold the socks in place made it impossible to take my shoes again until the race finished | The tape worked a lot better – shoes are still holding together but looking a little worse than earlier |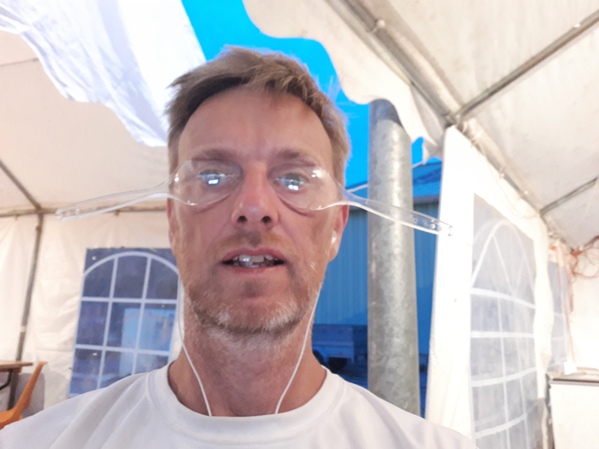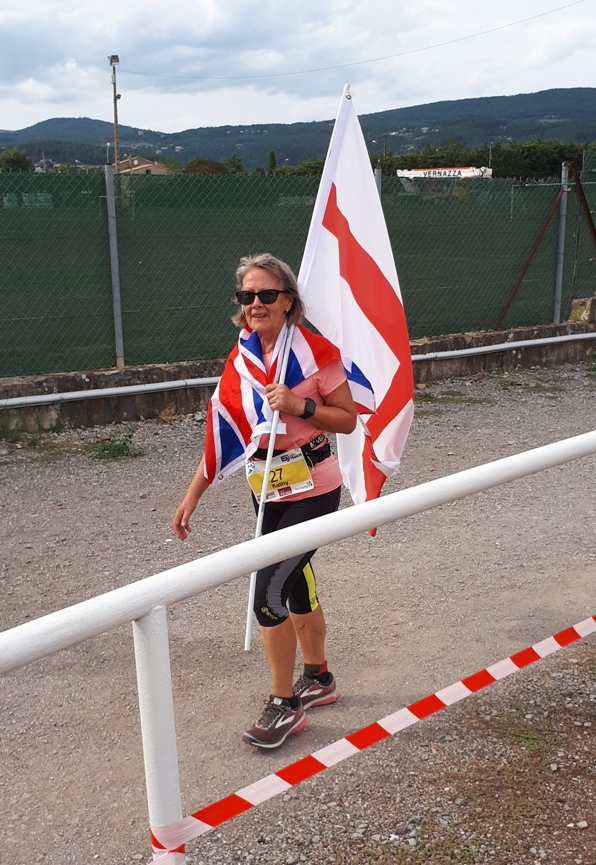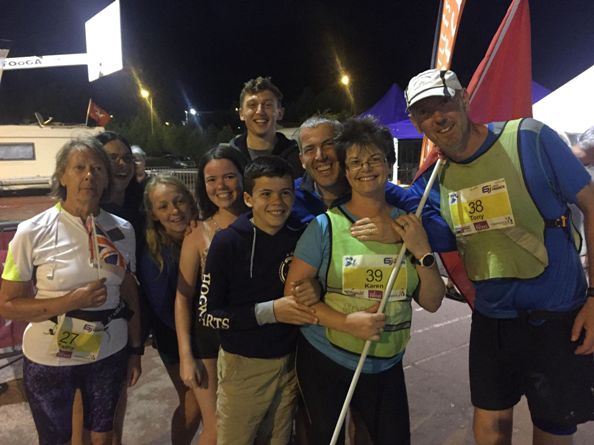 Suzanne:
I am hugely grateful to my good friend, Suzanne Beardsmore, who supported us throughout the race.  She got plenty of exercise during the week making trips to the supermarket, bakery, and the local sports shop (to buy socks to go over my shoes).  She kept us fed and gave us encouragement when we needed it.  Thanks for everything Suzanne.