On the Saturday before last, I was scrolling through facebook while eating lunch after completing day 1 of my planned back-to-back training weekend (7 hours on Saturday followed by another 7 on Sunday) when I discovered that Phoenix Running would be holding a 24 hour track race at Walton-On-Thames the following weekend.
How could I resist a 24 hour race just 10km from home? And a few minutes later I had entered the race and decided that I would sleep in on Sunday morning rather than getting up at 4am again for another long training walk.  My 100 mile training weeks were really taking a toll on my sleeping and I would do anything to avoid another early morning start – even if that meant entering a 24 hour race that was only one week away!
Shortly after entering the race I realised that the race was on Friday the 10th and not Saturday the 10th as I thought I had read.  Not a problem. I would just book a day of work.  And then I realised that we had a major update to the software I'm responsible for at work going live at 9pm on the Thursday night!  That shouldn't be a problem, I told myself. A late night on Thursday before a 24 hour race would be good sleep deprivation training with just five weeks left to the start of the 6 jours de France six-day race in April.
Next, I thought I'd check the weather forecast.  A cold snap during the week with possible snow but warming up again by Friday.  Should be OK.
So Friday morning arrives. A late night Thursday night with a 15 minute European sign-off meeting at 9pm which ended up taking an hour, then post deployment activities meant it was almost midnight by the time I got to bed.  Waking at 5am, a quick look out the window and rechecking the weather forecast on my phone confirmed that the expected warmer weather was delayed and we would have rain and snow for the first few hours of the race before the temperature rose to 6 degrees on Friday afternoon and dropped to minus 1 overnight.
Anticipating the cold and wet I had packed four changes of clothes, multiple pairs of gloves, neck warmers, socks and hats.  There is nothing worse than being cold and wet, and with this being a track race I could access warm and dry changes of clothes as often as I needed. Even although the weather forecast said snow and rain until 1pm only, I wasn't going to take any risks.
I was planning on cycling to the race so I loaded up the back of my bike, put on my wet weather over-trousers and one of the two jackets I was going to take to the race, and left home at 6:45am for the 8am start to the race.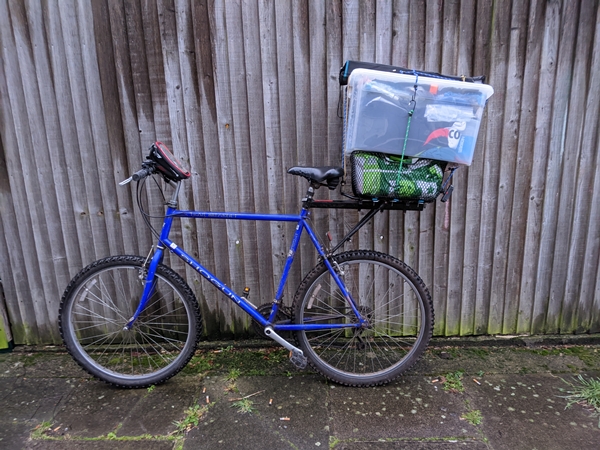 The race:
There were 28 runners, plus me as the only walker, in the 24 hour race but there was also a 12 hour, 6 hour and marathon all starting at the same time, and about 50 of us lined up on the start line just before 8am.  It wasn't really raining but there was moisture in the air, and it was cold.  I decided to start without my over-trousers but I wore a thermal top, t-shirt, long sleeved top, my Gore-Tex rain jacket – the more waterproof of my two jackets – and three pairs of gloves (my thin Karrimor gloves, my thicker warmer gloves, and a pair of disposable water-resistant latex gloves that I've been wearing on wet training days for the last few years).  I also wore a pair of waterproof socks that I had bought a couple weeks ago in case we have rain at the six-day race. My other two pairs of waterproof socks are now more what I would call water-resistant than waterproof, and I was saving these brand-new socks for the six day, but I also didn't want wet, cold feet so decided to wear them for the first few hours until the weather (hopefully) improved.
The early hours of the race were uneventful. I hadn't realised that Timing Monkey, the event timers, would have online results tracking on their website – no idea why I didn't think to check or ask – so I decided I would only check the results on the TV monitor every three hours as it would mean a slight detour to the aid station tent on the outside of the track to check.  I also decided that rather than wasting time, every three hours (which was when we changed direction) I would just take a photo of the TV monitor and then review the results on my phone while walking.  That would probably save me ten seconds every three hours 😊
Anyway, at 3 hours I had walked exactly 22km and was in 18th place.  22km was about the pace I was aiming for. My goal for the race was to walk for 24 hours and to cover at least 100 miles (161km) but this was a training race as a part of my build-up and I didn't want to over-do things.  I figured that 22km per three hours for the first 9 hours and then a slow drop off from there through the night would see me walk about 165km by the time the race finished, and that was all I was really interested in.  My goal in this year's six-day race is 165km on day one, so this 24 hour race would replicate those plans.
The good news was that the forecast rain and snow hadn't arrived and it looked like the weather was slowly improving.  Wanting to preserve the life of my new waterproof socks, about 3 ½ hours into the race I decided that it was unlikely to rain again and I stopped briefly to change socks.
Other than that, the race was uneventful and I passed 6 hours with 44km on the board and was now in 14th place – not that I was racing anyone 😊
Another three hours gone and it was now 5pm, nine hours into the race.  My manager had sent me a txt advising that all was OK after last night's software update. I had been wondering how things were going, so I was glad to hear that all was OK. The only problem really, was that I had somehow managed to slow down without realising it – only completing 21.2km in the preceding three hours. I was still on track for 100 miles in 24 hours so I wasn't concerned – yet.  I had also now moved up to 11th place and was looking forward to the night which is when I get mental energy from passing runners who always slow down more than me when it is dark.
I stopped again at 10 hours to check the leaderboard – 72km on the clock.  Only 6.8km in the last hour but still on track and now in 10th place.
Twelve hours and I was now in 9th place with 86km. 7km per hour for the last two hours was acceptable and 86km in the first 12 meant I only needed 75km in the next 12 hours.  The only problem was that the temperature was dropping rapidly and the moisture on the track (and on everything else including my food table) was freezing, making the track a little slippery. I was wearing my Brooks Adrenaline GTS which don't have much tread.  With the forecast bad weather I had made a last minute decision to bring a spare pair of shoes, and even more fortunate was the decision to bring a pair of Hoka Cliftons rather than a second paid of Brooks.  The Hoka's had some tread on the bottom so I stopped to change shoes and also put on a second jacket.  I was now wearing five layers on top!
On checking the TV monitor at 15 hours I found I was only on 105.2km, having walked just 19.2km in the previous three hours.  Interestingly, the gap between me and the two women who had led the race since the start (and made running for 15 hours, to date, look easy) had had actually decreased, so I wasn't the only athlete who was slowing down. But 19.2km in three hours was less than 6 ½ kilometres per hours and with just nine hours left things could become tight if I continued to slow.
So I switched my phone from playing podcasts to some high-tempo music and switched my diet to highly processed sugar – mainly chocolate, sweets and biscuits – and spent the next three hours walking hard.  There weren't many people left on the track with all the shorter events now finished, and at times I think I was the fastest person on the track – which gave me the mental energy to push harder.
I deliberately didn't check the scoreboard again until the three hours was up and was surprised to see that I was now in 5th place and had closed the gap on everyone in front of me. Total distance in 18 hours – 126.8km.  21.6km in the last three.  Almost the same pace I had been walking during the first six hours of the race.
I now only needed 34.1km (actually 34.4km because the race organiser had told us before the start that they would not be measuring part laps, meaning that my minimum target needed to be 161.2km and not 160.9), and I had six hours left.  I could do that easily, and with the fear that walking too hard in this race could potentially slow my recovery and reduce my training over the next few weeks as I complete my six-day race build-up, I decided to walk easy for the next three hours.
The only problem with that was that it was getting colder by the hour and when I stopped for a quick check on the scoreboard at 20 hours I found that it was now minus 2!  By now I was also wearing a buff over my face to keep the cold away from my skin and for the first time ever I was using hand-warmers inside my gloves.  I had bought these from Poundland many years ago but had never needed them until now.  They were amazing and I just wish I knew about these, the waterproof socks, and the latex gloves back in 2019 when I was forced out of Lon Las due to being wet and frozen.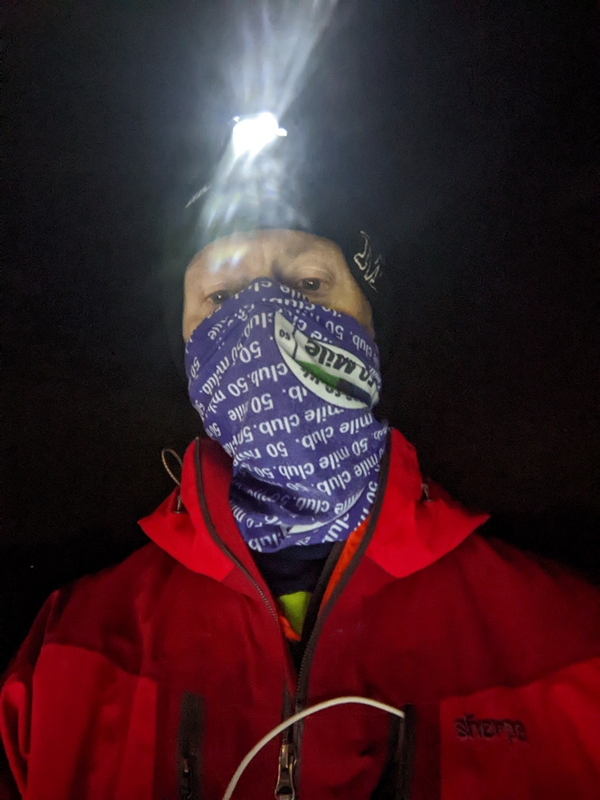 Checking the scoreboard at 21 hours, after taking the last three hours relatively easy, I was on 144.8km.  18km in the last three hours but only 16.1km (actually 16.4km) to get to my 100 mile target.  I was still in 5th place with 4th and 3rd being 11 and 15km ahead of me, and the two leading ladies 16km ahead. And there was over 20km back to 6th place, so I decided to continue walking easy, knowing that with daylight only another hour away my pace would slowly pick up again anyway.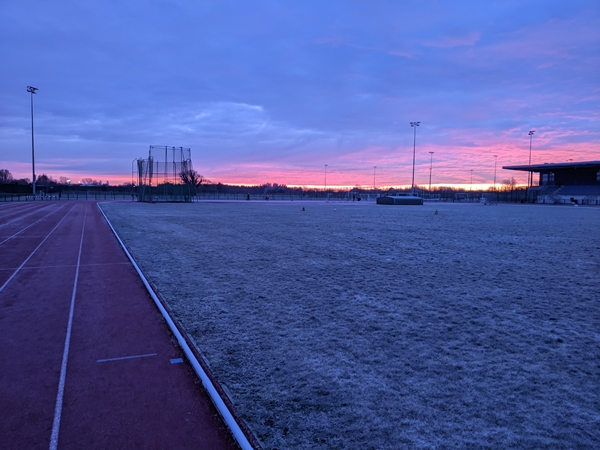 As it turned out, the two guys immediately in front of me both dropped out after completing 100 miles. One of them appeared to be injured and had been limping badly for a while, and the other must have only wanted to complete 100 miles.
So I ended up finishing in 3rd place with 164km.  19.2km in the final three hours.  And just to prove to myself that I still had plenty left, I 'sprinted' the last lap in 2 minutes 34 seconds – my fastest lap of the race by 21 seconds!
And then after that, on the way home I went to the nearest parkrun and walked a slightly painful 42 minutes.  Again, just showing to myself that this sport is more mental than physical – in that I could walk the last 400 metres of a 24 hour race at 6 ½ minute kilometre pace but after an hours rest I struggled to walk 8 ½ minutes per kilometre for 5km.
Overall, this race was a great training event.  I got an opportunity to walk when sleep deprived, which is hard to get in normal training and, for only the second time ever, I completed a 100 mile race without drinking any Coke – I'm currently on a Coke free diet from the beginning of January until the six day race in order to lose some weight.  Last year I lost 7kg by stopping my Coke consumption for four months. This year I've lost 4kg in the last nine weeks with the goal of losing another 2kg before race day.  Normally in a 24 hour race I will drink Coke during the last 10 to 12 hours but in this race I only drank water.
41 100's:
This was my 41st walk of 100 miles or further, my 19th sub-24 hour 100 miler, and my 5th 100 on a 400 metre track.
And to think this all started around this time ten years ago when I decided I wanted to walk 100 miles and spent six months training for it!  For this race there was only six days between finding out about the race and standing on the start line.
Stats:
As always, here's a little bit of analysis of my race.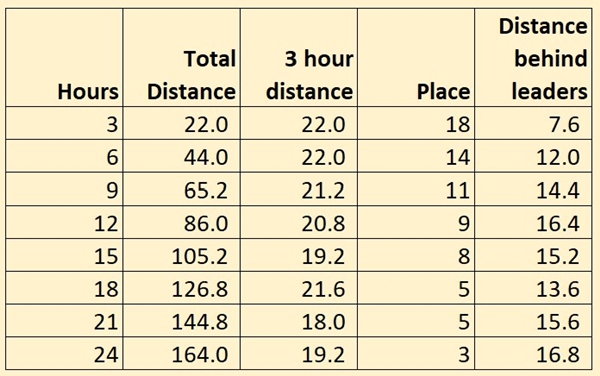 If you've read this race report and are interested in competing in the next Phoenix Running 24 hour track race at Walton-on-Thames, their next event will be on Friday 1st September.
I'm not yet committing to this race because after the six-day next month I have a goal of walking 200 miles in 48 hours at the Gloucester 48 hour race in mid August, so I will wait to see how I recover from that before entering.  But I suspect I will be there 🙂