These are some of the newspaper and internet articles, and podcasts that have been published about me:
2021
parkrun advertures podcast:
In October 2021 I was interviewed by the parkrun adventures podcast in which I talked about my recent Lon Las Ultra race, my 2020 walk to all of London's tube stations, and about my experiences with parkrun including founding the first parkrun in New Zealand back in 2012.
2020
London underground tube stations walk:
In September 2020 I became the first person to visit all of London's 270 underground tube stations on foot.
I was interviewed by Ian Corless from the Talk Ultra podcast about my walk.  The Talk Ultra podcast is ultra-long. This episode is 4 hours in length.  My interview starts at 1 hour 20 in, and runs for about 30 minutes.
My manager at work also wrote an article for MyCustomer.com about how my walk could be compared to some of the tasks we undertake at work.
Also, a childhood friend of mine wrote a piece for the local newspaper in the town I grew up in.
The Quarantine Backyard Ultra: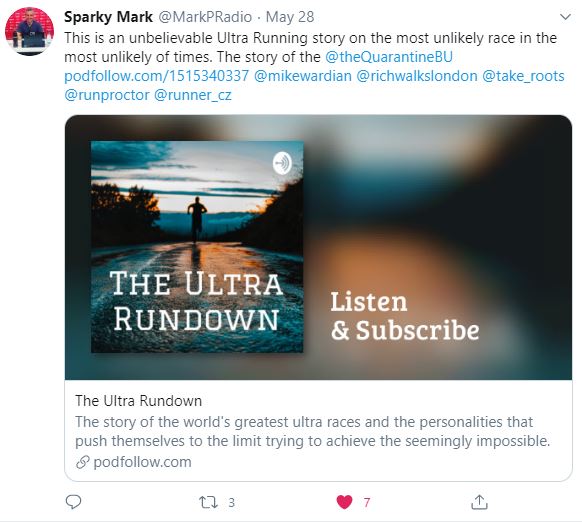 In April 2020 the world was changing due to restrictions being imposed because of Covid-19. Races all around the world were being cancelled and 'virtual races' were starting to spring up.  One of the first virtual ultramarathons was the Quarantine Backyard Ultra organised by Personal Peak.
This podcast is the story of that race and features a couple snippets from interviews with me before and after the race.
2019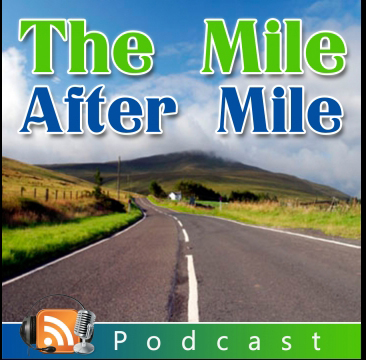 Interview with Amy from The Mile After Mile podcast:
In the interview I talked about some of my ultra-distance race-walking races and adventures including the Lon Las CYMRU ultra and my circumnavigation of the M25 motorway in 2017.
2017
My M25 motoway circumnavigation:
The Surrey Comet published this article on the Friday that I started the walk:
http://www.surreycomet.co.uk/news/15267772.This_man_is_walking_160_miles_non_stop_around_the_M25_for_a_touching_reason/?ref=fbshr
The article has a couple incorrect facts including that the walk was going to be on Saturday/Sunday, not Friday/Saturday.
And Go Surrey published this article after my walk:
http://www.getsurrey.co.uk/news/surrey-news/kingston-man-completes-160-mile-13014629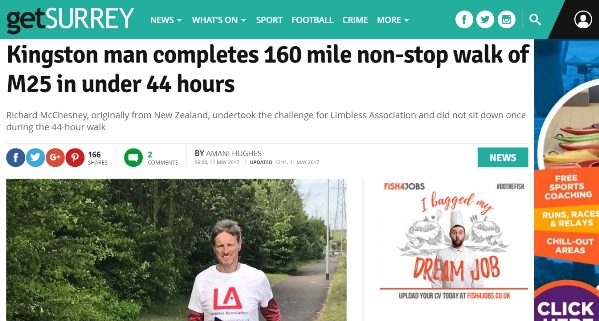 There are also a couple inaccuracies in this article including the last paragraph which states that I want to do another fundraising walk (true) but don't know who I want to raise money for (false).  I really enjoyed working with Limbless Association on this project, and have already met with them to start discussions about possible future projects – so stay tuned 🙂
The Get Surrey article was repeated by several other news websites including this one in New Zealand: http://www.nzedge.com/news/richard-mcchesney-walks-44-hours-nonstop/
2016
SWLondoner article about my 6 day race:
http://www.swlondoner.co.uk/richmond-racewalker-covers-380-miles-epic-six-day-challenge-just-14-hours-sleep/
Podcast interview about my 6 day race:
In the lead-up to the 6 jours de France, during the race, and afterwards, Chris Desmond from the Uncomfortable Is OK Podcast interviewed me and then compiled this podcast.
Podcast interview about M25 circumnavigation and upcoming 6 day race:
In August I appeared in my first ever podcast interview.  Chris Desmond from the Uncomfortable Is OK Podcast interviewed me about the M25 Circumnavigation walk that I did back in March, and we also discussed my upcoming 6 day race.
NZ 100 mile record and 24 hour best distance:
After breaking the New Zealand 100 mile record I was interviewed by Dave Crampton, a Wellington (NZ) journalist.
He wrote this article for the Kapiti Observer (the local newspaper in the town where I grew up):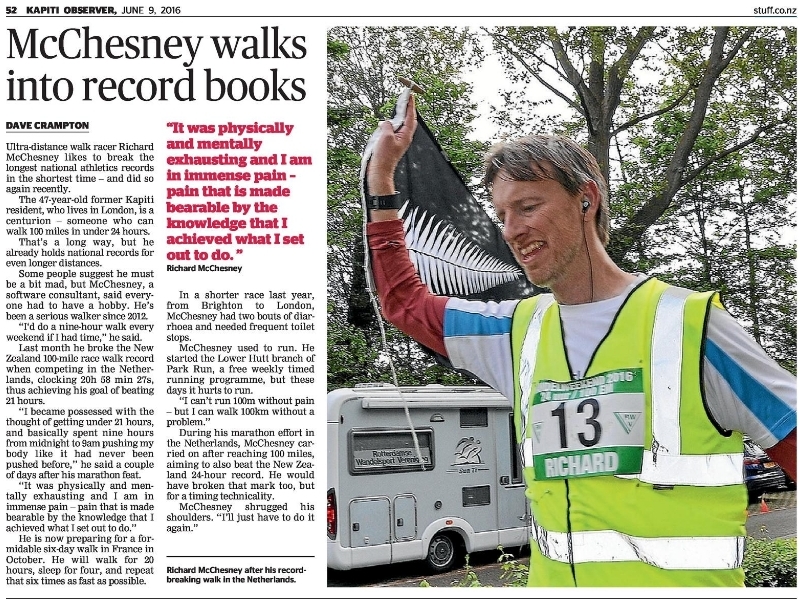 He also wrote this article for Athletics Wellington (in NZ)
http://www.athleticswellington.org.nz/News/richard-mcchesney-distance-walker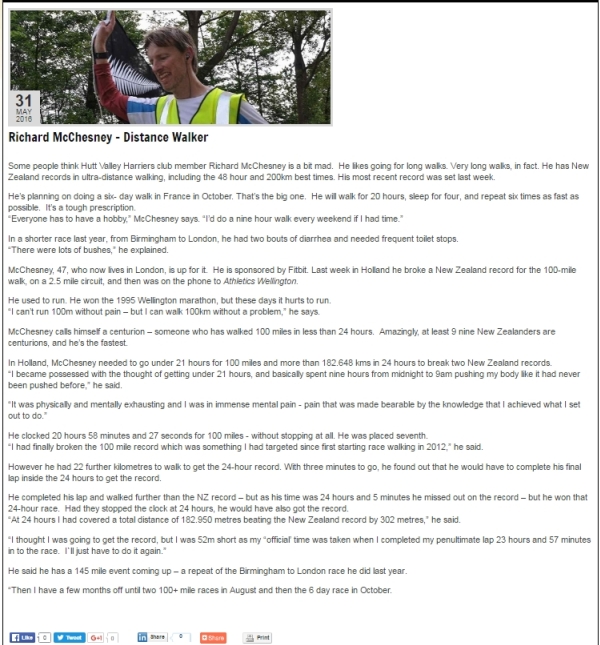 My M25 Walk:
This article was in the Surrey Comet after I completed my walk around the M25
This article was published on Fitbit's blog after I completed the walk:
http://fitbiteurope.tumblr.com/post/142291947815/if-you-think-the-m25-is-tough-when-stuck-in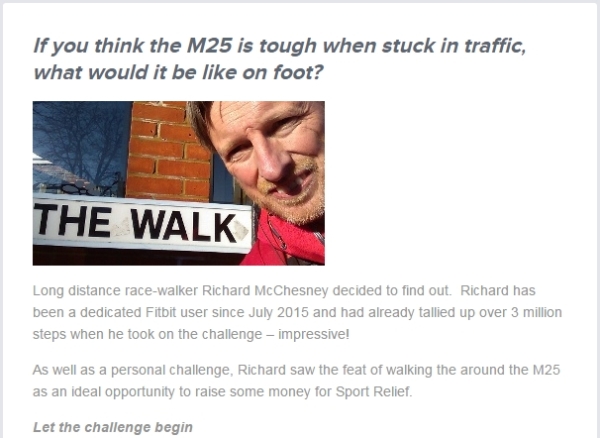 The Richmond and Twickenham Times published this article: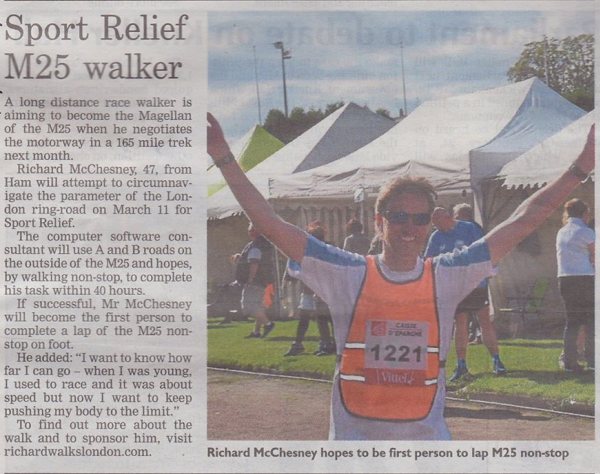 A similar article was also in the Surrey Comet:

Fitbit published this article on their blog:
http://fitbiteurope.tumblr.com/post/138421390990/richards-fitbit-powered-motorway-walk-for-sport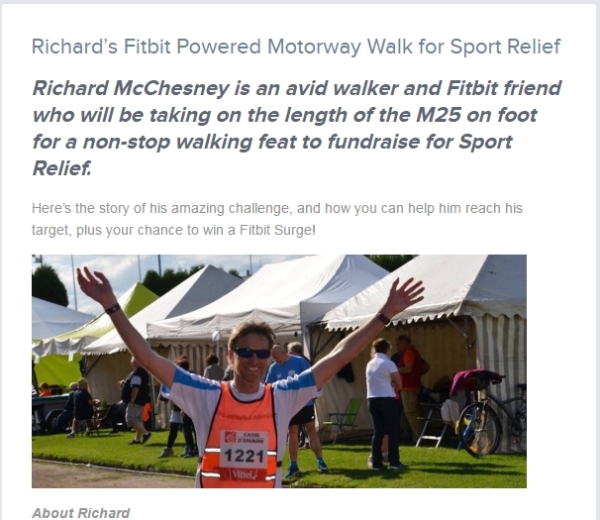 2015
 NZ 48 hour race-walking record:
The Kapiti Observer published this article after I broke the NZ 48 hour record during the Privas 72 hour race