These are some of the newspaper and internet articles, and podcasts that have been published about me:
2019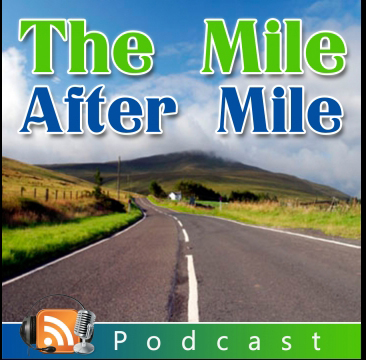 Interview with Amy from The Mile After Mile podcast:
In the interview I talked about some of my ultra-distance race-walking races and adventures including the Lon Las CYMRU ultra and my circumnavigation of the M25 motorway in 2017.
2017
My M25 motoway circumnavigation:
The Surrey Comet published this article on the Friday that I started the walk:
http://www.surreycomet.co.uk/news/15267772.This_man_is_walking_160_miles_non_stop_around_the_M25_for_a_touching_reason/?ref=fbshr
The article has a couple incorrect facts including that the walk was going to be on Saturday/Sunday, not Friday/Saturday.
And Go Surrey published this article after my walk:
http://www.getsurrey.co.uk/news/surrey-news/kingston-man-completes-160-mile-13014629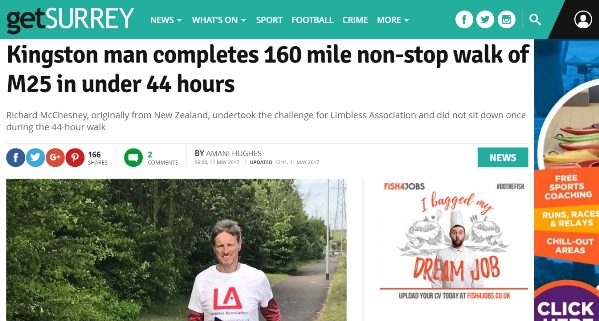 There are also a couple inaccuracies in this article including the last paragraph which states that I want to do another fundraising walk (true) but don't know who I want to raise money for (false).  I really enjoyed working with Limbless Association on this project, and have already met with them to start discussions about possible future projects – so stay tuned 🙂
The Get Surrey article was repeated by several other news websites including this one in New Zealand: http://www.nzedge.com/news/richard-mcchesney-walks-44-hours-nonstop/
2016
SWLondoner article about my 6 day race:
Richmond racewalker covers 380 miles in epic six-day challenge with just 14 hours sleep
Podcast interview about my 6 day race:
In the lead-up to the 6 jours de France, during the race, and afterwards, Chris Desmond from the Uncomfortable Is OK Podcast interviewed me and then compiled this podcast.
Podcast interview about M25 circumnavigation and upcoming 6 day race:
In August I appeared in my first ever podcast interview.  Chris Desmond from the Uncomfortable Is OK Podcast interviewed me about the M25 Circumnavigation walk that I did back in March, and we also discussed my upcoming 6 day race.
NZ 100 mile record and 24 hour best distance:
After breaking the New Zealand 100 mile record I was interviewed by Dave Crampton, a Wellington (NZ) journalist.
He wrote this article for the Kapiti Observer (the local newspaper in the town where I grew up):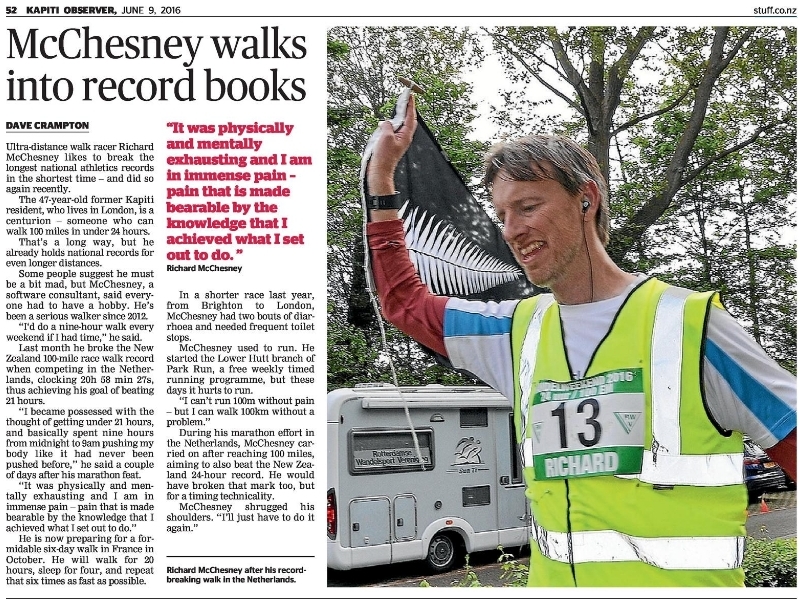 He also wrote this article for Athletics Wellington (in NZ)
http://www.athleticswellington.org.nz/News/richard-mcchesney-distance-walker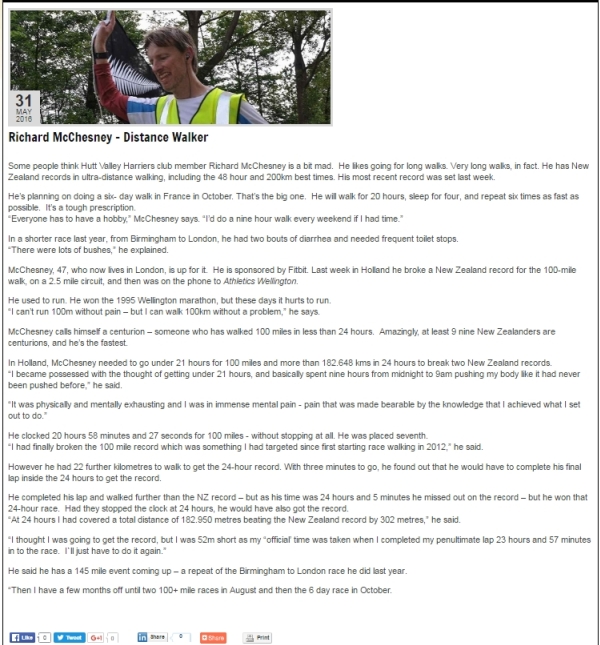 My M25 Walk:
This article was in the Surrey Comet after I completed my walk around the M25
This article was published on Fitbit's blog after I completed the walk:
http://fitbiteurope.tumblr.com/post/142291947815/if-you-think-the-m25-is-tough-when-stuck-in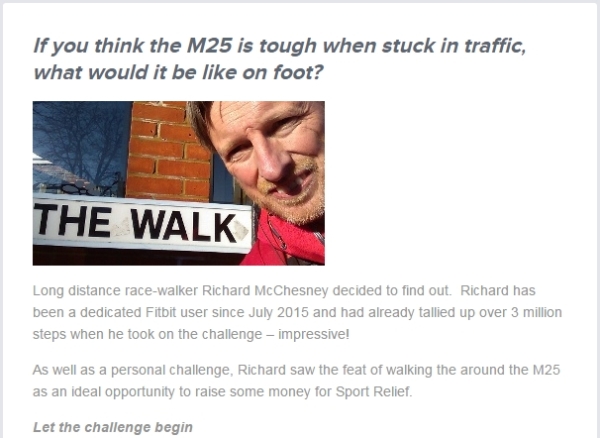 The Richmond and Twickenham Times published this article: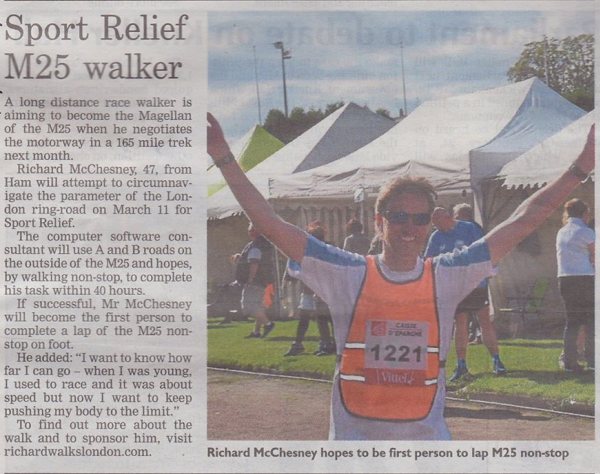 A similar article was also in the Surrey Comet:

Fitbit published this article on their blog:
http://fitbiteurope.tumblr.com/post/138421390990/richards-fitbit-powered-motorway-walk-for-sport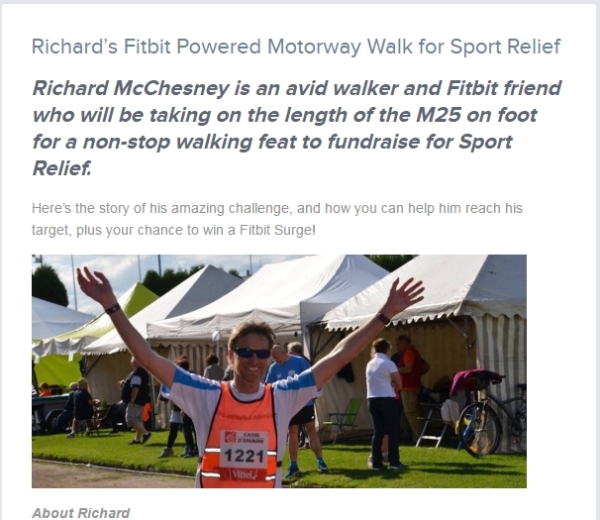 2015
 NZ 48 hour race-walking record:
The Kapiti Observer published this article after I broke the NZ 48 hour record during the Privas 72 hour race