To date I have done three 100 mile or longer walks and every time I have struggled through the night and especially in the early hours of the morning.  This has been partially due to physical tiredness but also partly due to the fact that my body expects to go to bed at the end of the day rather than walking through the night.  At the Roubaix 28 hour race last September I had to sleep for about an hour 25 hours into the race, but in the other two races I had managed to keep going but had struggled with severe tiredness during the last 4 or 5 hours.
So as a part of my preparation for the Bourges 24 hour race at the end of February the plan for this weekend was to have a normal Saturday (parkrun in the morning and a normal day of activities) and then to start walking at 7pm and cover 50 miles through the night.  Bushy Park is closed to traffic from 7pm during the winter and with a one mile flat stretch of road between the Teddington Gate and the Hampton Court Road Gate it makes a perfect place to do a walk of this type.
So just before 7pm I met fellow Centurion, Suzanne Beardsmore (C1094) at Teddington Gate and after hiding our food and clothing near the start area we headed off on the first of 25 out and back laps down Chestnut Avenue, around the Diane Fountain to the Hampton Road Gate and back.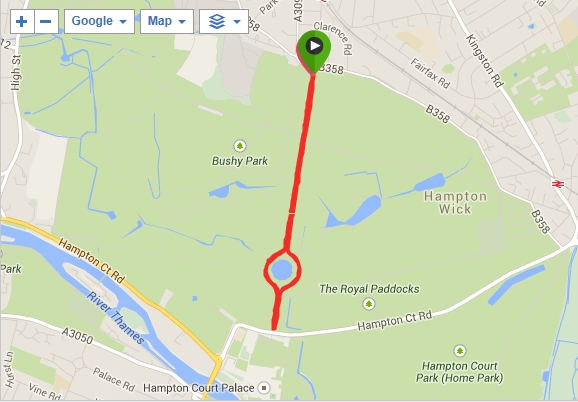 Suzanne and I walked together for the first six miles, covering the two mile laps in approximately 24 ½ minutes, before parting company as Suzanne wanted to maintain a slightly slower pace than myself.
Another Centurion, Sue Clements (C950), joined us at about 9pm and walked with me for the next ten miles – she did 20 miles in total – helping me to maintain my 12:15 to 12:30 mile pace, but when she stopped for a break I began a five mile bad patch which saw me lose a few minutes, passing half way (25 miles) in 5:11:45.  My target time for the night was between 10:15 and 10:30 so I was still on pace but not feeling great.
During long distance events you will have highs and lows and shortly after I went past half way I started to feel good again and picked up the pace and for the next 80 to 90 minutes, walking some of my fastest laps of the night.
It was an interesting night.  At 7pm the temperature was still reasonable at about 4 degrees but by the time we finished at 5:30am the temperature had dropped to zero and the grass on both sides of the road and slowly gone from green to white.  Fortunately the roads and remained ice free though.
My nutrition strategy for the night was to drink a sachet of Generation UCan at the start and then every two hours throughout the night, with fruit (raisins, mandarins and bananas) every hour in between.  In total I consumed five sachets of UCan, two (frozen) bananas, two mandarins and three small packets of raisins.  Not much at all, and significantly less than I used to consume before discovering Generation UCan.
But the problem with it getting so cold is that I was effectively eating partly frozen bananas and the water was freezing in my water bottle!   Not a problem I have experienced previously.
The other problem I had was with my new head torch which I had only recently purchased and was using for just the second time.  Whilst it is a hundred times brighter than my old head torch, it turns out that the battery doesn't last very long and after two hours the brightness started to diminish rapidly and by four hours the light wasn't much use at all.
I don't need the head torch for my coming 24 hour races but will need a powerful light for the Thames Tow Path and Grand Union Canal races in May, which both go through the night on terrain that will require good lighting to ensure no accidents.
This was another reason for the overnight walk – to test equipment.
Having passed the half way point in 5:11:45, I managed to walk the second half in 5:13:25 for an overall time of 10 hours 25 minutes and 10 seconds.  A good time in the dark, but my goal for the first 100 miles in Borges is sub 21 hours (NZ record is 21:04) so I still have a lot of work to do over the next five weeks.