Before lockdown I never thought I'd do a virtual race.  I mean why pay for the privilege of recording your mileage/time on a random website in return for a finishers medal that I would just put in the drawer with all the other finisher's medals I have received over the years. Virtual races seem to have become popular in recent years and for many people they are actually a great pathway to 'real' races. But not for me.  For a start, as an accountant, why would I want to pay for something that I can do for free?  I pay to do real races, but that is different. Or at least that is what I thought.
That was until Covid-19 came along and all races worldwide were cancelled.
I found myself competing in my first virtual race, the Quarantine Backyard Ultra, in early April and not long after that I heard about a virtual race across Tennessee which would be starting on 1st May.  Runners and walkers would have four months (May through August) to complete 1,022km (635 miles) from the bottom left corner of Tennessee and finishing to the top right corner.  For those who wanted a bigger challenge, there was the option of the double crossing of Tennessee within the same time period.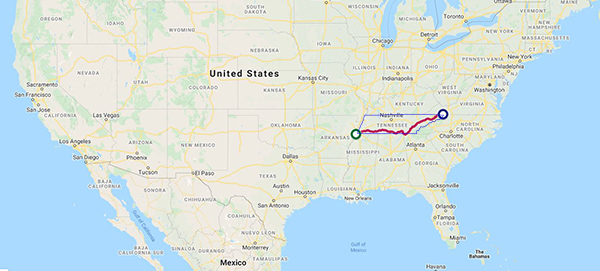 The race was being organised by the famous Lazarus Lake, founder of events including the Barkley Marathons and Big's Backyard Ultra.  He initially thought that a couple hundred runners might be interested in virtually crossing Tennessee.  Little did he know that over 19,000 runners and walkers (including me) would toe the virtual start line and the event would raise hundreds of thousands of dollars to help feed the homeless people of Tennessee.
With no actual races on the horizon I decided to enter the double GVRAT – there and back – rationalising that walking approximately 500km per month for four months would be great training for when races do finally resume after lockdown (I'm still hopeful that we will have the opportunity to do a real race before the end of 2020).  2,000km would give me about 50% of my normal annual mileage in the space of four months, and recording my daily mileage and watching my runner icon slowly move across a map of Tennessee would give me the motivation to keep going.  I'm the sort of person that needs a race goal to motivate myself to train, and with no upcoming races I wasn't sure how motivated I'd be during the summer.
Of course, staying healthy and social distancing during the Covid-19 crisis was always going to be number one priority.
The race:
The race started at midnight on the 30th April local time.  This meant it started in New Zealand first and for us in England it started about 11 hours later, and for those in the US, even later.  But when the race finishes on 31st August, it also finishes at midnight, so everyone has the same amount of time to complete the distance unless they happen to change time zones.
Because of this it meant that race times would only be recorded in full days but that didn't stop a few people starting their race immediately after midnight in their local time, and the first people to finish treated the race as if it was a real race, running as much mileage as they possibly could each day.  The first person to finish the race took just 12 days!
For me, my initial aim was to take eight weeks for the first 1,000km (actually 1,022km) across Tennessee and then eight weeks for the return journey, and treat the event as high mileage training.  I also had a full time job to fit the race around.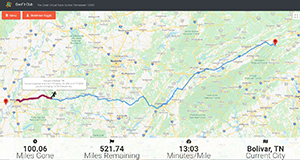 The race started on Friday 1st May and I started at 5am with a 37km walk before work.  By the end of week one though, I had completed 162km (101 miles).  A 100 mile training week. The last time I had walked 100 miles in a week that didn't include a race of 100 miles or longer was in 2014!  I have never been a high mileage athlete when it comes to training, but this race was enticing me to walk farther than I normally would, and also farther than the 125km weekly average I had planned for the race.
But surely this was a one-off.  My weekly distances would now settle back to my required average of through the summer. Just enough weekly mileage to get me through 2,000km in four months.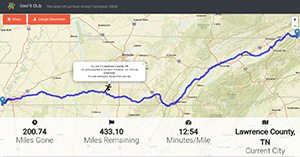 Week 2 – another 100 mile week. Another great week of training.  After just two weeks I'd completed just under one third of the one-way journey across Tennessee and I was in 304th position out of 19,000 athletes.  I'd started checking the online results on a daily basis to check my placing and had even started graphing my daily mileage and analysing how my average daily mileage since 1st May correlated to my current position in the race.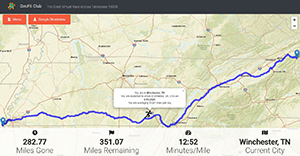 In week 3 I purposefully reduced my mileage as I had never walked back to back 100 mile weeks and I was concerned that a third 100 mile week could bring on an injury.  I was purposefully keeping my average speed to a above 8 minutes per kilometer (12:50 per mile) due to my shin injury from the Thames Ring 250 last year but in the first two weeks of May I had already walked further than my average monthly mileage for the first four months of the year.  Even so, at 133km week 3 was still longer than any other training week (non-race week) in over a year!
By the end of week 3 I had dropped to 448th place and with a rest day for day 22 I dropped another 100 places.  I started to think about 'racing' through to the finish. Lockdown restrictions in England were being reduced slightly and I was able to walk farther and farther away from home.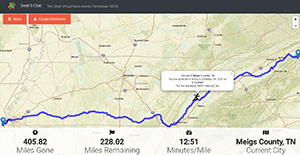 The 23rd, 24th and 25th May was a long weekend in the UK so I walked 165km in three days, starting between 4 and 5 each morning. Week 4 mileage was 198km (123 miles) which coincidentally was the same distance I had completed in the Quarantine Backyard Ultra.  I was now just short of two thirds through the one-way trip across Tennessee and started thinking seriously about two more 100 mile weeks to finish in 6 weeks total – or at least make it to the half-way turnaround for the double crossing.
One of the things I really enjoy about 'real' ultramarathon races is walking through the night.  There is something special about walking huge distances while everyone around you is asleep, and I was missing this.  So the following weekend I decided to do an overnight walk through London.  It turned out to be a 104km walk starting at 10pm on the Saturday night, walking from home up through London and through towards Stratford (where the 2012 Olympics were) and then across the top of London before heading back home.
I started using a website called CityStrides a while ago which shows streets you've walked previously on a live map so that you can identify which streets you haven't been on previously.  I've spent the last six years exploring areas all around greater London and the website makes it easy to see whether you have 'been here before' – although quiet often I will recognise a street that I might have walked down months or even years ago.
The website shows how many completed streets you have walked/run along and has a leaderboard for different cities around the world as well as showing the percentage of each city/borough you have completed.  So in a way, it is a little like a virtual race in its own right. After each walk the website would show how many new streets I had walked.  During the whole GVRAT event I completed 902 new streets including 161 new streets during the 104km overnight walk.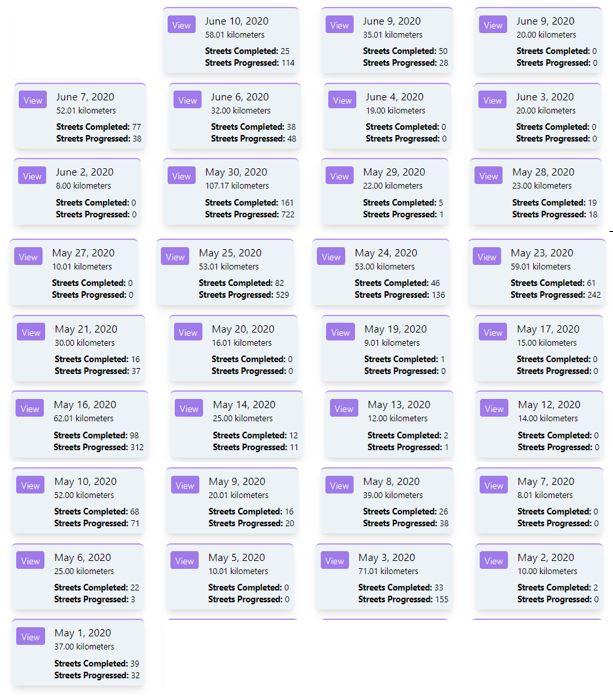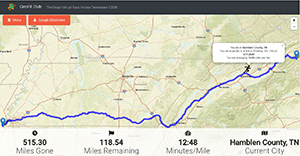 Week 5 mileage ended up at 173km and I was now in 368th place with just under 200km to go.  One more big week to get to the finish.
The race had started on a Friday meaning that each of the above weeks are Friday through to Thursday.  Week 6 started with a rest day, my ninth rest day since 1st May.  Over the weekend I walked 32km and 52km on the Saturday and Sunday respectively leaving just 112km to finish the race and five days to do so if I wanted to complete the race in six weeks.
Throughout the race I had been working fulltime from home which meant fitting the race around work hours.  All of my rest days had been on workdays during which I would work longer hours so that I could work shorter hours on the days I wanted to walk long.  I decided to have a tenth rest day on the Monday leaving me three days to walk 20km, 30km and then 62km to finish on the Thursday.  The plan was that the Tuesday and Wednesday walks would be before work and I would finish work early (3pm'ish) in order to get the final 62km completed before midnight on Thursday, day 42.
After the Monday rest day the results showed me as being in 398th place.  20km on Tuesday and I slipped to 401st place. I now had 92km to finish the race and decided that I would do all of that on Wednesday, day 41 of the race.
The only problem was that Wednesday was a workday and I had several meetings to attend (virtually) with the first starting at 9:30am and the last finishing at 3pm.  So it would be a short workday sandwiched in between a 35km morning walk starting just after 4:30am and a final 57km after work.
The 35km went fine.  I had to message my manager just before 9:30am to tell her I would be a couple minutes late for our meeting, but that was fine.  I had woken at 4am and had breakfast before my walk and I had an early lunch straight after my 9:30 meeting. A second lunch a couple hours later before an early dinner straight after my workday finished at 3pm, and then I was off out the door again.
For the whole of the last 41 days I had managed to avoid rain when training.  It had tried to rain on the 1st May during my first walk of the race, and I had carried my jacket on one other day, but other than that, the weather had been perfect.  Now, at 3:45pm as I was preparing to head out for my final walk of the race, the heavens opened, and it started raining.  But this wasn't going to stop me.  I had set my mind to completing this race today and I needed 57km before midnight.  My average pace for the whole 41 days had been a shade over 8 minutes per kilometer so if I left home before 4pm and maintained that same pace then I would finish the race before midnight, before the end of day 41.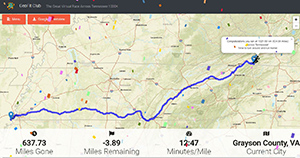 And that's what happened – I completed the 57th kilometer at about 11:45pm and then walked one last kilometer, crossing over the Teddington footbridge across the River Thames, the same bridge I had walked over at the start of the race on the morning of the 1st May, and back to my home where I recorded my daily mileage for the last time.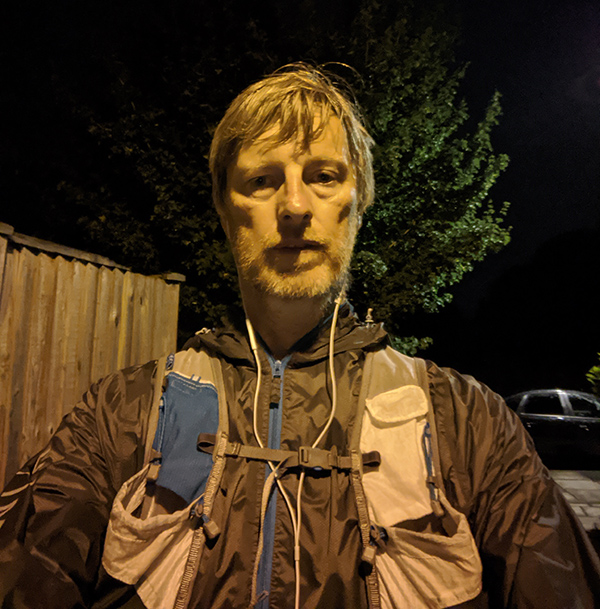 Or at least the last time for the one-way race across Tennessee.  There is still the return journey to do.
I finished 305th and took 137 hours to complete the 1,022km.  I did 32 walks at an average of 32km (20 miles) each, in 31 days with 10 rest days.  Great high mileage training.  The virtual race is giving me what I wanted from it.
Photos:
During the last 41 days I've taken a few photos as I walked the streets of South West London, London and North London.  These are some of my favourites: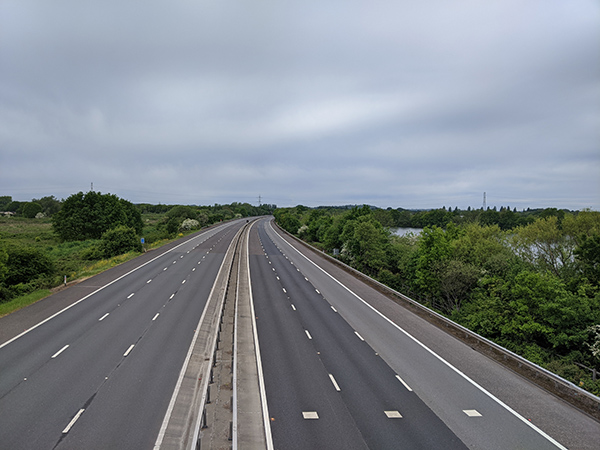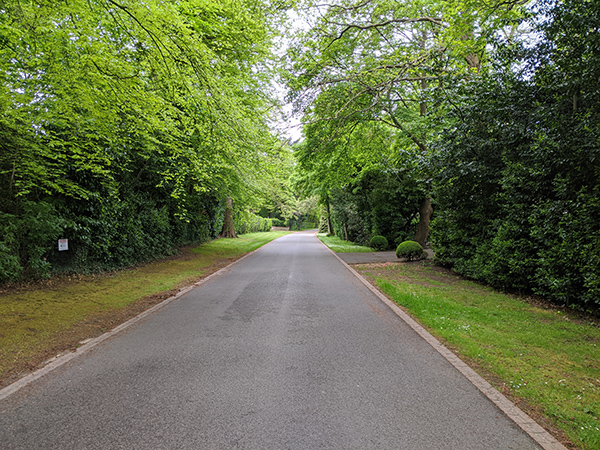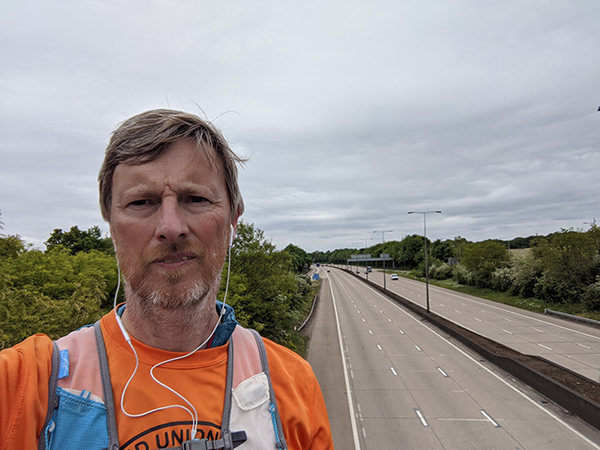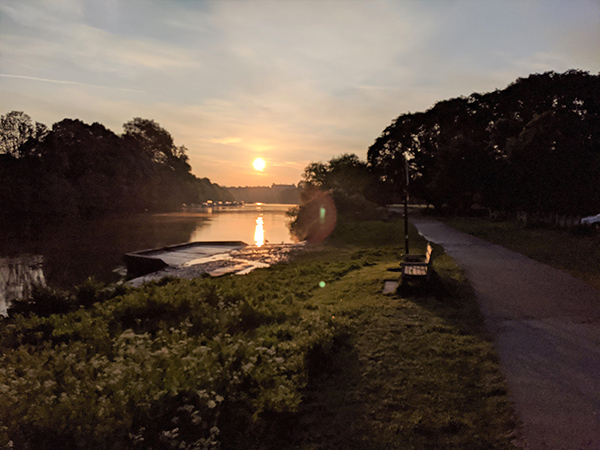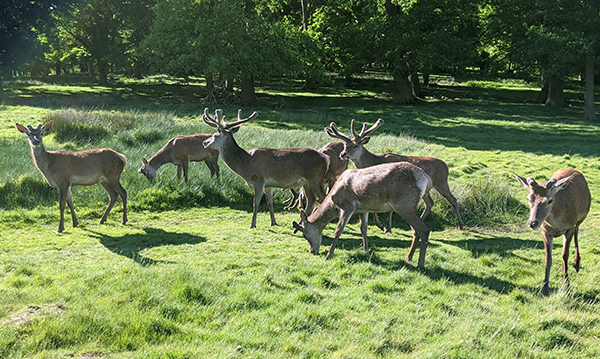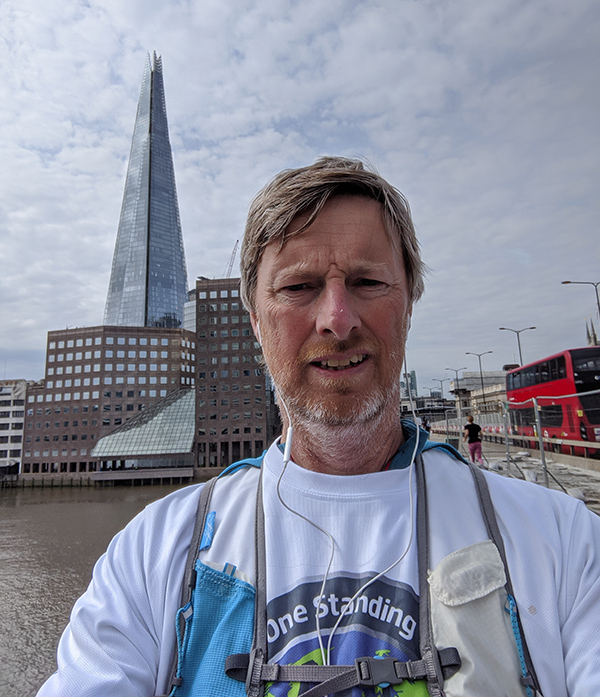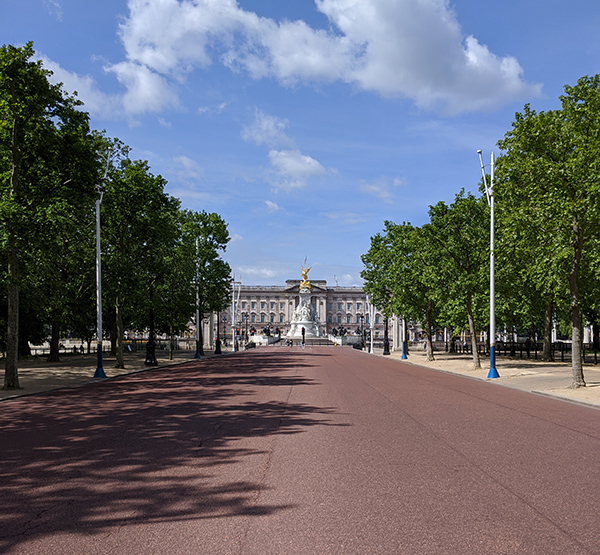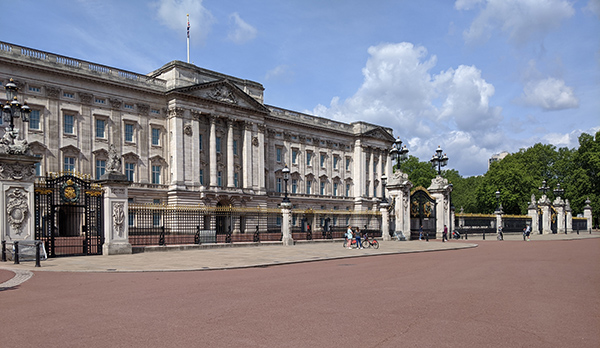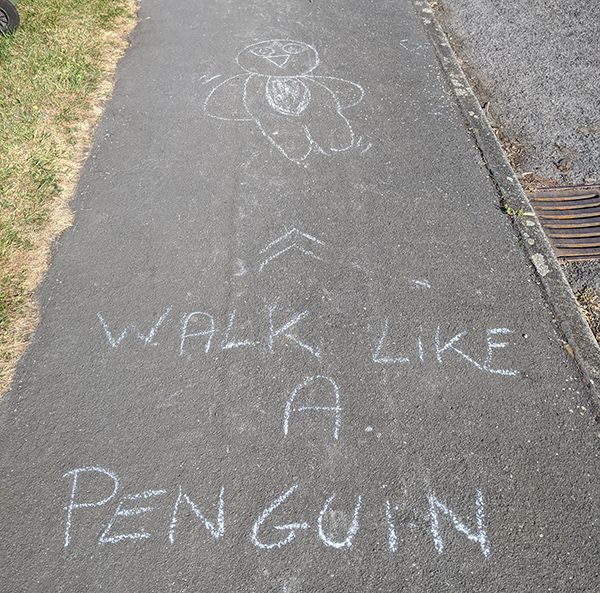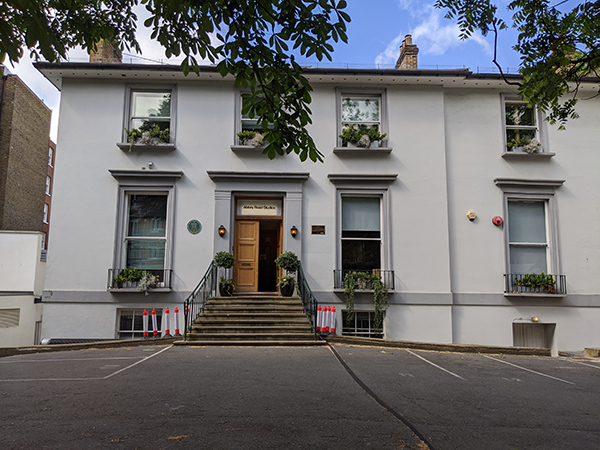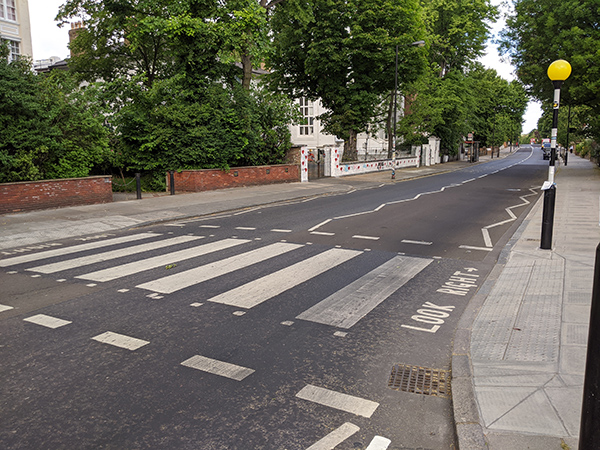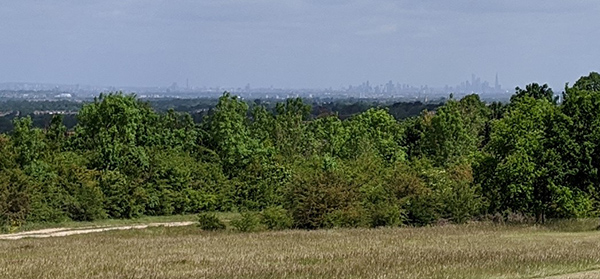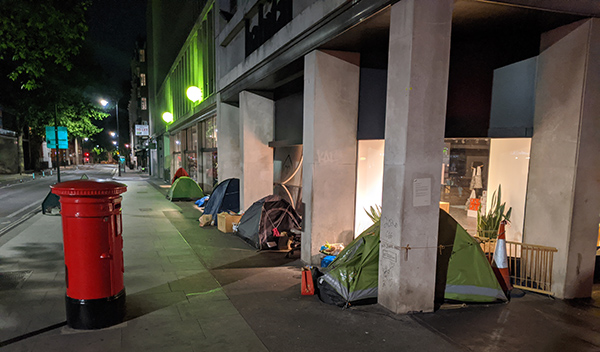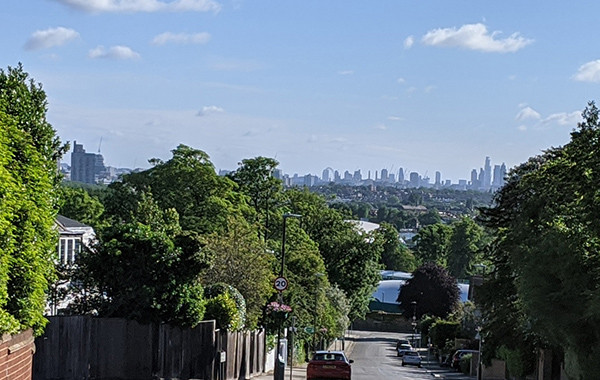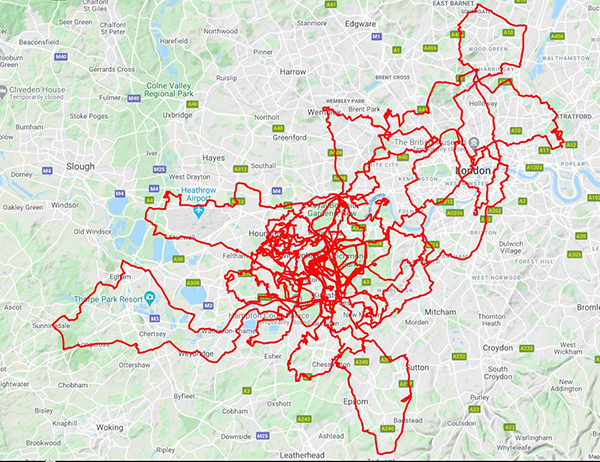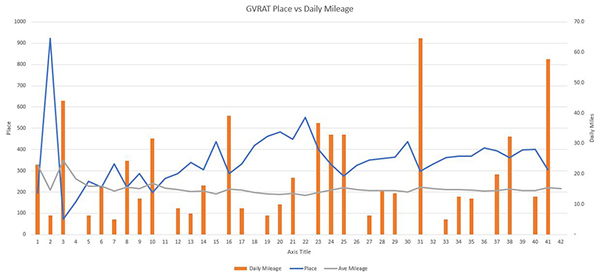 And one last screenshot.  I posted on facebook in the GVRAT facebook group after I finished the race.  This was by far my favourite comment, and also one of the reasons I write these race reports.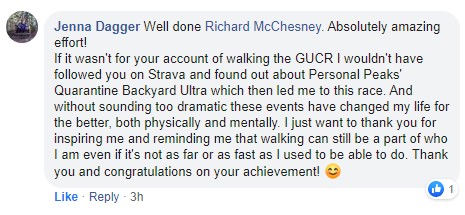 It's now time to head back to the start in order to complete the double crossing!
Edit:
I completed the return crossing of Tennessee on 4th August when I completed a 219 mile circumnavigation of Surrey, UK.