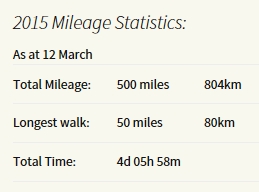 Just a short walk tonight – 10km out past Teddington and back.  But when I got home I realised that that was enough to take me up to 500 miles for the year.  Not bad considering I had two weeks off sick a month ago.
The Proclaimers – 500 miles
One of my favourite songs
 72 hour race
Last night I entered a race in August that will really test my physical and mental strength – a 72 hour walking race in Privas, France.   The race consists of both a 3 day and 6 day walking race and a 3 and 6 day running race.  I would love to do the 6 day event, but decided that 3 days would probably be enough for me at this stage.
I have been thinking of doing this race since I first heard about it in September last year, but when it came to the moment when I had to click the 'submit' button on the online entry form I had to think about it for a few moments.  It is going to be a huge challenge.  44 hours longer than my longest race to date (the Roubaix 28 hour race last September) although by the time August arrives I will have also completed the Grand Union Canal Race which covers 145 miles from Birmingham to London at the end of May, and I expect to take around 40 to 42 hours for that.  So it will only be 30 odd hours further than I have ever gone before.
I've a big few months ahead.  In two weeks time I have my first race of the year – a 24 hour race in Château-Thierry, France.  Three weeks later I have a 6 hour track race in Crawley, and two weeks after that I am doing the Thames Tow Path 100 mile race from Richmond to Oxford, and then three weeks later, the Grand Union Canal Race.  Add the Privas race to that, and in the space of a little over 4 months I have 5 races planned which will hopefully cover quite a bit more than the 500 miles I have done over the last ten weeks.  And that is only five races!
A full list of my upcoming events is here.