This blog is called RichardWalksLondon, yet most of my walks are outside of London City itself.  So today I decided to go for a walk around the streets of London.
Starting on the A4 next to Green Park, and finishing near the Southwark Bridge I used my Garmin to write the name of this blog across the streets of London.  This is referred to as "Garmin Art".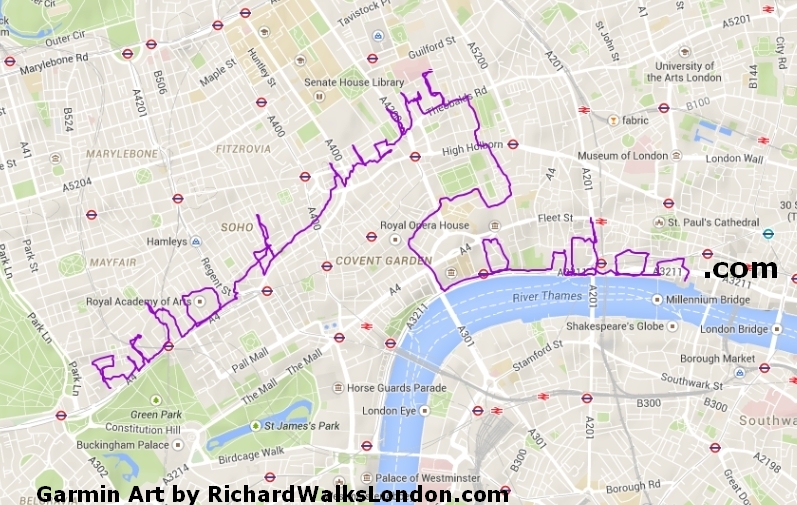 Garmin Art is not as easy as I thought it would be
I was limited by the layout of the streets which made it difficult to form the letters exactly as they should appear.  Letters containing diagonal lines such as the capital 'R' at the start and the 'w' and 'k' in 'walks' were especially difficult, and in order to do the 'London' I decided to drop down to the river after completing the 'walks' as I was unable to fit 'London' into the layout of the streets to the right of 'walks'.
'London' was further complicated when I found that the street that was going to be the left side of the letter 'n' was closed to all traffic including pedestrians, and as a result the 'n' had to be moved to the right and became a lot smaller than planned.
I used MapMyRun to plan the route. It took several attempts to work out how to fit the letters and words into the street layout, and the planning time took longer than actually walking it.  In the end the walk was only 10 miles although I have also planned a much larger route (100 miles in total) which I might do during the summer.
The maps for todays walk can also be viewed on: