Is my mind so strong that injuries don't hurt during races? Or is my mind so weak that the slightest injury prevents me from training/living without discomfort? That is the question.  
A week before the 6 jours de France in early May the top of both of my feet started hurting, and I put it down to being caused by having my shoelaces tied too tightly during a recent walk. The feet were sore but not painful and as soon as the race started, I forgot about the issue and didn't feel any pain again until I achieved my goal of breaking the Commonwealth six-day racewalking record, which I did with 8 ½ hours left in the race. 
And within an hour of breaking that record my left foot was in so much pain that for a while I didn't think I would be able to complete the last eight hours of the race. A couple paracetamol tablets and the addition of a sponge in between the top of my foot and the top of my shoe and I finished the race. 
Since then, I have been restricted to just two or three relatively short (under 10km) walks per week and have been having physio treatment (thanks AXA Health Insurance) twice a week. The discomfort is still there though and going into the Warwickshire Ring Canal Race I was concerned as to whether 111 miles (178km) might be pushing things just a little too far. 
And then last Tuesday night, four days before race day, I hurt my lower back. I wasn't doing anything at the time. The back just started to hurt and by the following morning the pain was so bad that I considered taking the day off work. On the Thursday morning I went for a short walk to 'test' my sore back – just to see if the pain meant I should cancel my weekend plans. It did hurt.  
I really struggled through the 5km walk and later that day I checked whether I could get a refund on my accommodation and bus travel if I decided not to travel up to Coventry for the race – but they were both non-refundable, as was the race entry fee.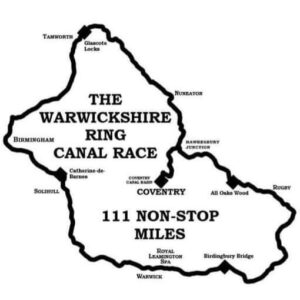 The Warwickshire Ring Canal Race (WRCR) was advertised as a one-off race, organised by the same team that organise the Grand Union Canal Race (GUCR), Kennet and Avon Canal Race (KACR) and Liverpool to Leeds Canal Race (LLCR) and with it being a 'one-off' I really didn't want to miss the opportunity, so I decided I would travel up to Coventry on Friday as planned and decide on Saturday morning whether or not to start. Walking 111 miles with my sore feet was one thing, but with back pain as well? 
Race Day:
After an uncomfortable 3 ½ hour trip to Coventry on the bus (with my back aching the whole way) I went for a slow sightseeing walk around Coventry (just an easy 5km) on Friday afternoon and the back wasn't too bad. And the good news was that because the back pain was worse than the discomfort in my feet, I didn't think about my feet at all. 
With the two 'injuries' I decided that if I was going to start the race it would be an 'adventure walk' and not a 'race' and with this mindset I managed an excellent night's sleep, waking when my alarm went off at 6am – 2 hours before race start. 
My usual pre-race preparations were hampered by my back pain, and I struggled to apply the tape to my feet as per my physio's instructions and putting my shoes and socks on was just as uncomfortable. I better not get any blisters, I thought, because there is no way I am going to be able to do any foot maintenance mid-race if my back was sore.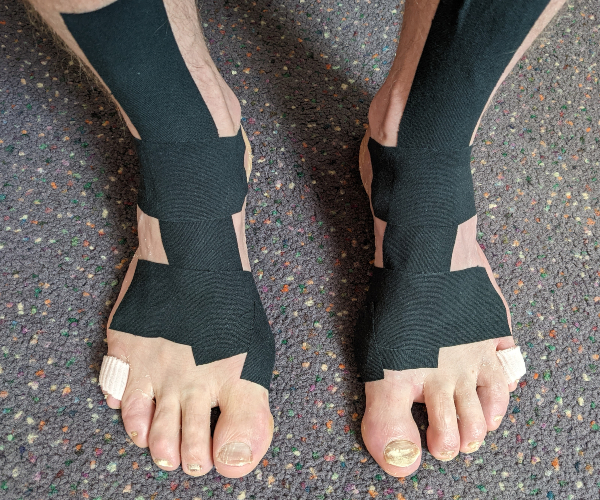 I had a quick trip around the corner to get some McDonalds for breakfast – my preferred pre-race high-calorie breakfast when available – and then walked over to the race start which was just a few hundred metres from my hotel, arriving with about 15 minutes to spare. While most of the other 67 competitors were standing around talking, I sat down to rest and took two paracetamol tablets to hopefully calm the back and enable me to at least walk as far as the first checkpoint (marathon distance).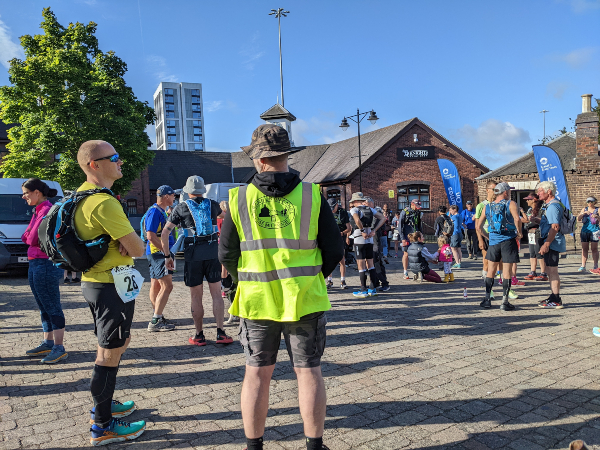 Dick Kearn (one of the founders of the Canal Race series 30 years ago) did a short pre-race briefing which included a statement along the lines of "… unsupported runners cannot drop out as we have no way of taking you back to Coventry …". I was an unsupported runner (walker). And then we were off. 
It wasn't long before all the runners were out of sight, and I settled in to last place (68th of 68) for the first three hours. The course was very walkable with a wide paved path for the first hour or more before we moved on to the grass canal path, and even that was very walkable with the grass being short and dry. I made good progress, averaging 8:00 to 8:15 kilometre pace (13 minute miles), which is my current training pace these days. 
In the other three canal races, the first checkpoint is about 10 to 15 miles (16-24km) after the start with checkpoints spaced every 10-15 miles throughout the race. Their total distances range from 130 to 145 miles (208-235km). The Warwickshire Ring Canal Race is only 111 miles (178km) and is a circular route starting and finishing at the Coventry Canal Basin and takes in sections of the Coventry, Birmingham & Fazeley, Grand Union and Oxford Canal towpaths, and there are only four checkpoints – at roughly every 25 miles (40km). 
I caught and passed the first runner at about 15 miles and passed another two runners between there and the first checkpoint – at 26.5 miles (roughly marathon distance). I was feeling good, and the weather was good too – mostly cloudy with occasional sunny periods followed by occasional drizzle, and a total of three short but heavy showers during the Saturday afternoon/evening. Each time it rained I waited a minute or two to see if the rain would stop, then put my jacket on because the rain didn't stop, and then the rain stopped within 60 seconds of me putting my 'magic' jacket on. Overall, I would say that the weather conditions were perfect.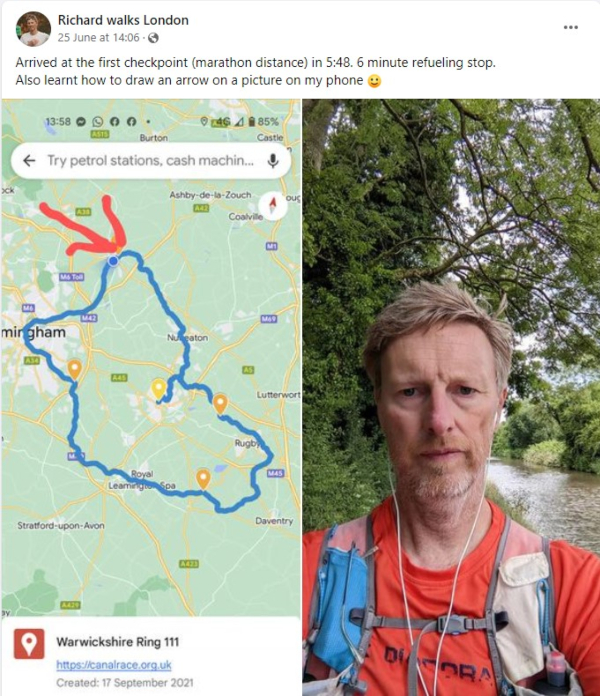 Between checkpoint 1 and 2 (49.5 miles/80km) I passed plenty, or so it felt, of runners and was feeling fantastic. My 'adventure walk' was turning into a race. By the time I reached checkpoint 2 I was in 47th place and it had only taken me 11 hours 22 minutes whereas I had expected to take around 12 hours for the first two legs. 
Whilst my back was feeling fine and my feet were also OK other than a dull discomfort in my left foot, I didn't want to risk sitting down at the checkpoints and finding that my back seized upon standing again, so at both checkpoint 1 and 2 (and 3 later on) I put my dropbag on a chair so that I could access it without sitting down, and in each case I was in and out of the checkpoint in just a few minutes – after replenishing my food supplies, refilling my water bottles, and (at checkpoint 2) putting my warmer overnight clothes and head torch into my pack for when it got cold and dark later on.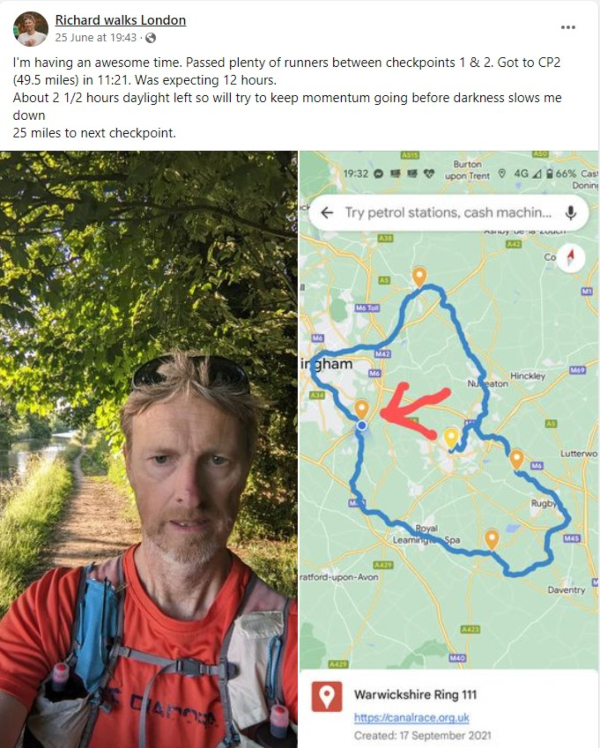 Facebook live video shortly after half way
Other than one short section at around half way, the excellent walking terrain continued for a while longer, but as expected my pace dropped from 8 ½ minutes per kilometre to over 9 minutes pretty much as soon as it got dark. From memory I think maybe the terrain became technical single-track at around the same time it got dark. I can't remember. 
I was still really enjoying my walk and passing runners regularly though, and at some stage around 11pm I passed a Shell service station behind a hedge beside the canal and found a gap in the hedge that I could go through. I took that as an invitation to stop and buy a bottle of Coke.  
It was one of those service stations which you can't go inside at night and the attendant took forever to go and get a bottle from the fridge on the other side of the shop – no rush, I thought, it's not like I'm in a race or anything!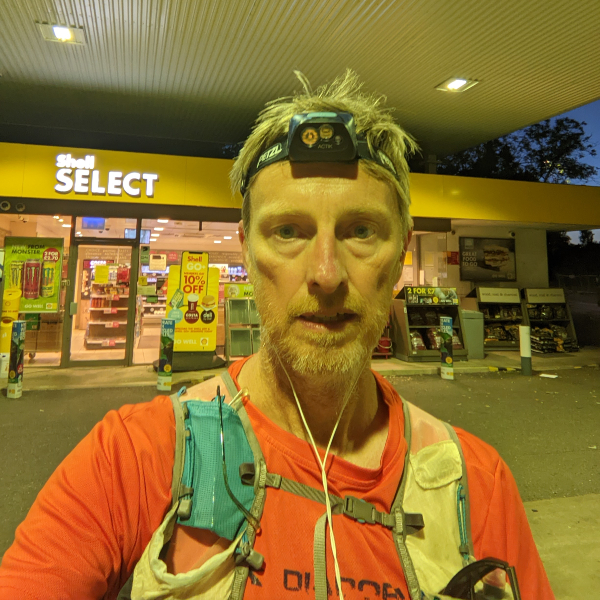 After the service station it felt like a long drag along the canal looking for the expected diversion – a part of the canal path was closed and we were told that we would have to walk (even the runners, or most of the, were walking by this stage) an extra mile from the canal up towards a small town and then back again in a V shaped diversion. I was worried I would miss the turnoff and end up walking extra distance so I checked the map regularly to make sure I was on track. I needn't have worried because the exit from the canal path onto the road was well marked, and after the short trip into town and back, it wasn't too far through to checkpoint 3.  
I arrived at CP3 at 1:51am (17 hours 51 minutes) in 32nd place and quickly changed my headtorch batteries, replenished my food and water, and also topped up my bottle of Coke for later on. And then I was off again.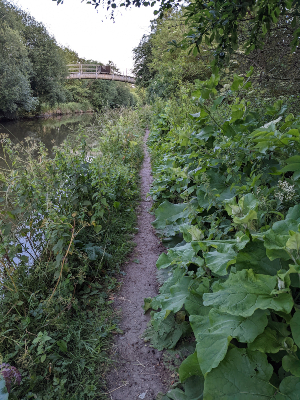 The next leg was by far the hardest. Most of the 22 miles (35km) to checkpoint 4 was rough single-track, often potholed and with a camber slopping into the canal making it very difficult to walk at a fast pace, or even at a steady pace. And it was dark through until around 4am which made it even more difficult. 
I walked most of this leg without passing any more runners, or so it seemed, and in the early hours once it was daylight, I would pass a runner or a group of three runners, and shortly afterwards they would pass me! 
Once daylight arrived I was unable to pick up the pace as I had expected to do. Even when the terrain evened out at times, I was still struggling along at 9:45 to 10:15 kilometre pace (16 minute miles) but it appears that most other runners were struggling too beacuse I was surprised to find myself in 23rd place when I arrived at the final checkpoint – at 97 miles (98 miles – 158km – with the diversion). 
This was the first time I sat down. I had taken two paracetamol tables before the race started and at 5 and 10 hours, but nothing since. My back was feeling OK. My left foot was uncomfortable but OK. And I was tired. I debated with myself for about an hour before arriving at the checkpoint – would I sit down or not? 
I decided 'not', but I don't know what happened first. Did I smell bacon cooking and decide that was a good reason to sit down for some breakfast, or did I sit down and then smell the bacon? 
Regardless, I ended up sitting down, ordering a bacon sandwich from the awesome volunteers (all the volunteers were awesome, not just those at checkpoint 4) and then proceeded to remove my headtorch and empty my pack of everything that I wouldn't need for the remaining 14 mile (23km) leg to the finish. The weather forecast was fine, so I got rid of my jacket and also my plastic poncho from Disneyland which I always carry as it is more waterproof than any jacket. I also got rid of all my un-eaten food and replaced that with anything containing high quantities of sugar that I could find in my drop bag, plus another half bottle of Coke. As soon as my sandwich was ready, I was on my way again.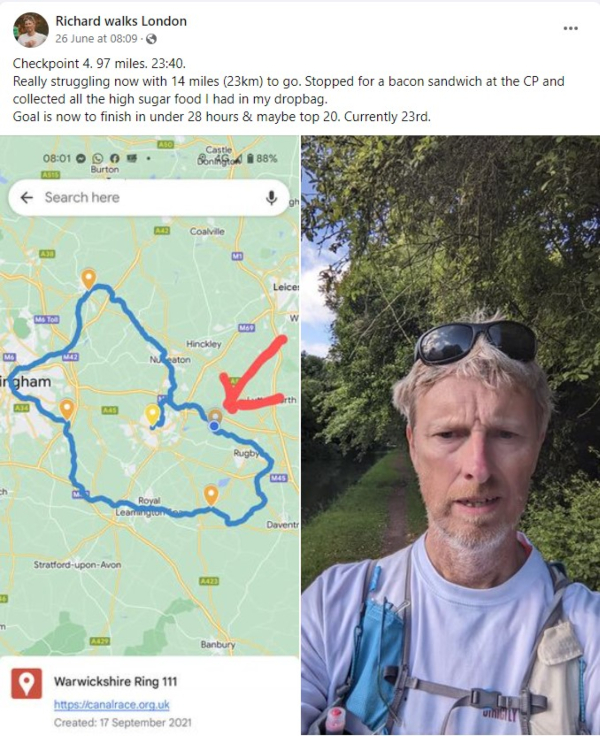 I continued to struggle until just before reaching the turn-off onto the out-and-back section of the canal that we had walked at the start of the race the previous day. It was at this stage that I caught Russ Gardham whom I had passed earlier before he passed me. I think we were both struggling as much as each other but as we walked and talked our pace seemed to pick up again and we decided we would walk through to the finish together. 
Our pace continued to improve. We were now walking 9 minutes per kilometre (14:30/mile), and with about 2 kilometres to go we spotted two other competitors in front of us. They were really struggling so we took advantage of the situation and picked our pace up, flying past them both and walking the last 2 kilometres in just 16 minutes! 
We finished together in 27 hours 16 minutes for 18th place. Much faster than I expected to walk before the race started. Even faster than I planned to walk if I didn't have the back injury.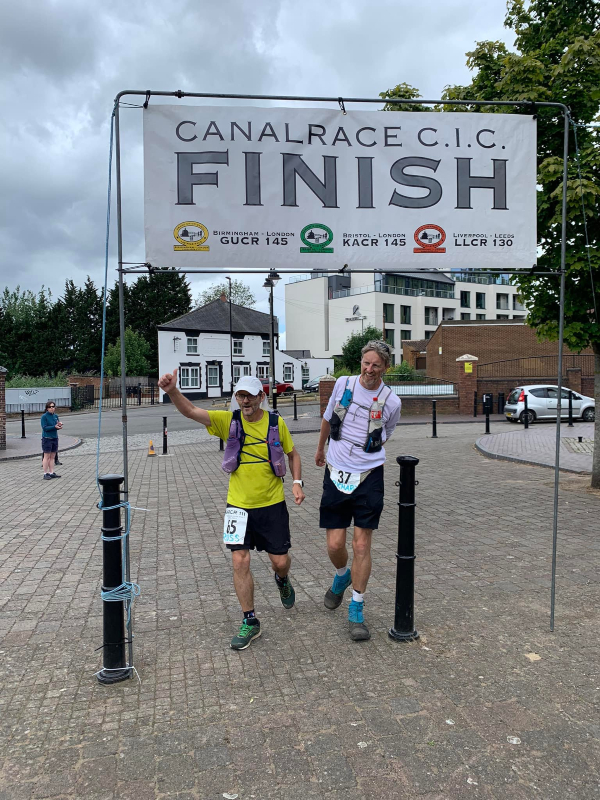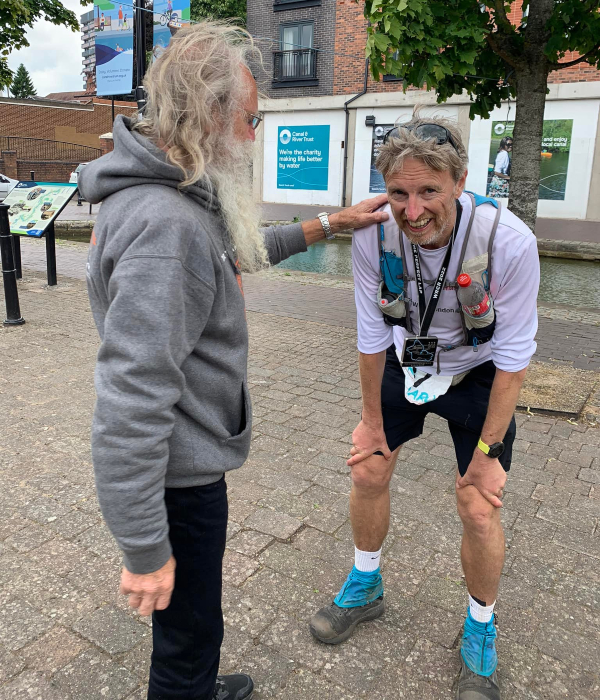 And speaking of the back injury, and the sore feet, well they were fine for the bus trip home on Sunday afternoon/evening. But when I went to get out of bed on Monday morning, what do you know, my back is in agony again, and the top of both feet are worse now than they were after the 6-day race in May! 
So, is my mind so strong that injuries don't hurt during races? Or is my mind so weak that the slightest injury prevents me from training/living without discomfort? That is the question.