One week to go until my first race of the year – the Château-Thierry 24 hour next Saturday/Sunday.
Other than a 7 mile and 10km race late last year, I haven't raced since the Roubaix 28 hour in September and I am really looking forward to getting out there and doing it.  I have put in plenty of training.  From a race-walking point of view, I am probably fitter than I have ever been before.
The weather forecast doesn't look promising though – seven days out and the forecast is for rain and temperatures of between 2 and 12 degrees.  But how accurate is a seven day forecast?
The only problem I have is a minor knot in my left glut (the left side of my bum for those of you who may not know where the glut is), and as a result I have been on the foam roller this week practising some amateur trigger-point therapy.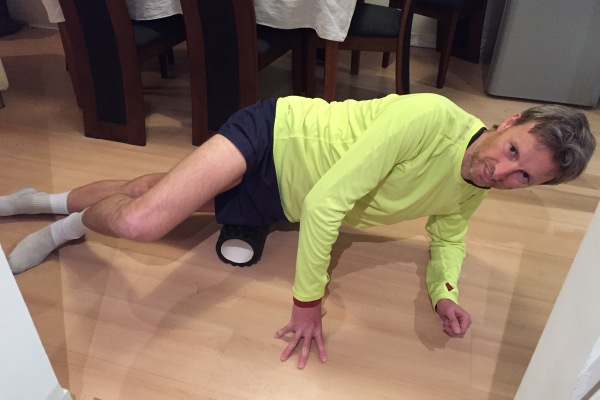 I noticed the problem on Thursday night not too far into a planned 10km walk in Richmond Park, and after 3km I decided to abort the walk and head home – something I wouldn't have done in my younger years when I used to run through minor injuries and wonder why I spent so much time out of running with major injuries.
So I walked back home on Thursday night and got out the foam roller – something I don't use often enough – and today (Saturday) I am feeling much better.  I have used the foam roller three times since Thursday and will continue using it for the next few days.
About a month ago I saw a tweet that linked to the video below demonstrating how to use a foam roller properly.  I have been following this method, which involves rolling form side to side as well as up and down, since and have found it to be much more effective than simply rolling my legs up and down over the roller like I used to.
How to use a foam roller video
If you use a foam roller, take a look at this video. It will be well worth it.
For the price (you can purchase a foam roller on Amazon for about £16), and the time required (about 15 to 20 minutes), I have found trigger point therapy using a foam roller to be much more effective than traditional sports massage, and I will continue to use the foam roller for another couple days leading up to the race.
I am planning on doing 10 miles tomorrow and then 5 miles on Tuesday and Thursday, but all at an easy pace.  And then on Friday we (my occasional training partner, Suzanne Beardsmore, is also racing) head to France for what will hopefully be a rewarding trip.