I only went out for nine walks during May – at an average of 34.25 miles (55km) each!
May was all about two separate events – the M25 circumnavigation on the first weekend of the month, and the Grand Union Canal Race (GUCR) on the last weekend.  In between, I rested for a week and then just did a few short, easy walks.
The M25 walk was definitely the highlight of the month.  I set the fastest known time (FKT) for circumnavigating the M25 motorway on foot, and also managed to complete the 158 mile (254km) walk without sitting down from the time I started until I finished 44 hours later – the greatest distance and time that I have walked without sitting down.  And I raised a total of £1,880 for Limbless Association.
The GUCR didn't go to plan however, and resulted in a DNF at 100 miles.  I have discussed this in detail in my race report so won't go into the details again here.
Total mileage for May was 498km (308 miles).  Year to date: 1,960km (1,218 miles).
Looking forward to June: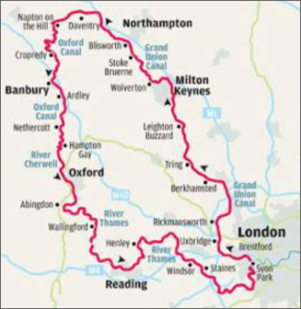 There is only one thing to focus on during June, and that is the Thames Ring 250 which begins on the 28th June.  This is a 250 mile (400km) trail race which follows the popular canal boat route from Oxfordshire down the River Thames towards London, and then up the Grand Union Canal (in the reverse direction to the GUCR) to Northampton, before returning to Oxfordshire via the Oxford Canal.
It sounds reasonably easy.  A flat'ish course, which is my preference – I'm not a fan of hills – and 100 hours to complete the race.
The race is only held every second year and this year will be the fifth running of the event.  To date 111 athletes have attempted the race and only 54 have finished – that is a 48% success rate.  Worse than that, only 49 of them completed the race on their first attempt – a 44% success rate.  And in total, the 111 athletes have 138 starts between them for 61 finishes – a 44% success rate.
So it would appear that the race isn't going to be as easy as a straight forward, flat 250 mile race.
When I first considered doing the race I thought a time of around 72 hours might be achievable – that's 83 miles per day.  But given that only 5 runners have finished in less than 72 hours in the history of the event, I suspect that this is unrealistic.
It's going to be a great event.  I can't wait to get started!  And to find out what will happen during those 250  miles.
P&H Sea Scouts Walkathon
The weekend before the Thames Ring I am organising a walkathon to help the local Petersham and Ham Sea Scouts raise money for their new clubrooms.  Established in 1908, P&H Sea Scouts are the oldest continuously run scout group in the world and their current club rooms are almost as old 🙂
About 100 Beavers, Cubs, Scouts, and Explorers, aged 6 to 18 will walk laps of the local common for three hours (two hours for the Beavers) as a sponsored walk.
Thanks to the support of Fitbit I have organised two prizes of Fitbit Charge HR's for the scouts – one for the person who raises the most sponsorship, and one as a spot prize for one of the participants.
During the last month I have been speaking at their club nights to try and inspire them.  Some of them have been inspired by the idea of winning a Fitbit, some by my stories of long walks.  It has been a fun exercise so far, and I'm looking forward to seeing how they go on Saturday 24th June.