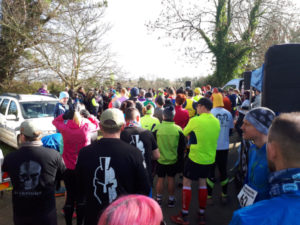 This race report was supposed to be a follow-up to my successful race at Last One Standing England last June in which I completed 36 laps and felt like the Duracell Bunny – in that I felt like I could have kept going for many more laps if I had had too.
In fact, I was so confident in my ability that I had ignored the race organiser's comments that Last One Standing Castle Ward was not a course that could be walked as easily as Last One Standing England, and I booked two flights home – one for Monday night and one for Tuesday night in case the race went longer than 52 hours.  It turns out that I should have also booked a flight home for Sunday night – or even Sunday morning!
The Last One Standing concept:
The idea of the Last One Standing events is that athletes have 1 hour to complete a 4.17 mile (6.7km) trail loop and be back on the start line for the next lap at the top of the hour.  If they don't finish their lap within the hour, or are not on the start line for the next lap, they are eliminated.  The winner is the person who completes the most laps – the Last One standing.
Athletes can go as fast or slow as they want/can, providing that they don't take more than an hour.  It becomes very strategic.  Do you go fast and have more time to rest, feed yourself, go to the toilet, etc.  Or do you conserve as much energy as possible by going slower, but being careful not to go too slow, and have less rest between laps.
Last One Standing Castle Ward is held in mid-February in Northern Ireland.  It gets cold in Northern Ireland in February, and colder at night.  This also needs to be taken into consideration when deciding on how long your rest breaks should be.  It might be better to keep moving and keep warm, than to rest too long and cool down.
This was my second Last One Standing event and my first winter ultra-distance race – I prefer to avoid cold conditions.  Unlike the runners, I wouldn't get too much choice on how long my rest breaks were.  At Last One Standing England my lap times had ranged from 53 to 57 minutes and had averaged 55 ½.
The course:
This year's Last One Standing Castle Ward was on a new course (not that I had competed in previous years) with a new start/finish area outside the 'Bunkhouse' in the Castle Ward National Trust property near Strangford in Northern Ireland – about 25 miles from Belfast.
From the start we ran/walked downhill for a few hundred meters before turning right and heading up a long gradual climb into what became a strong and cold headwind during the first night.
At the top of the hill we turned almost 180 degrees and onto the trails through the woods.  The trail was mostly single track and with 121 athletes almost everyone was forced to walk many sections of the early laps due to their inability to easily pass those in front of them.  This made the first few laps very social and I enjoyed talking to old and new friends as we walked.  When the runners could, they would run ahead of me but I would catch them up again when they were forced to walk because of other runners in front of them also walking.
The course seemed to wind its way all over the place – lots of zigging and zagging.  After about 1 mile we were back within 200 meters of the Bunkhouse, which made it easy for spectators to watch the start and then walk a couple hundred meters to see us again.  And then at about 2 miles we again came within a short distance of the Bunkhouse before heading downhill to the only road section of the course – and the only section where, as a walker, I could really pick up any speed.  The road section was only about 500 meters long, but in the later laps I used this to change my muscles and walked at 'race pace' usually closing the gap on any runners I could see in front of me.
This took us to about three miles and from there it was mostly up hill through to a short lap of about 300 meters and a final 100 meters slightly downhill to the finish.  Overall, it felt like a very long course and being so undulating/hilly (110 meters of up and down hill during each lap), it wasn't an easy course.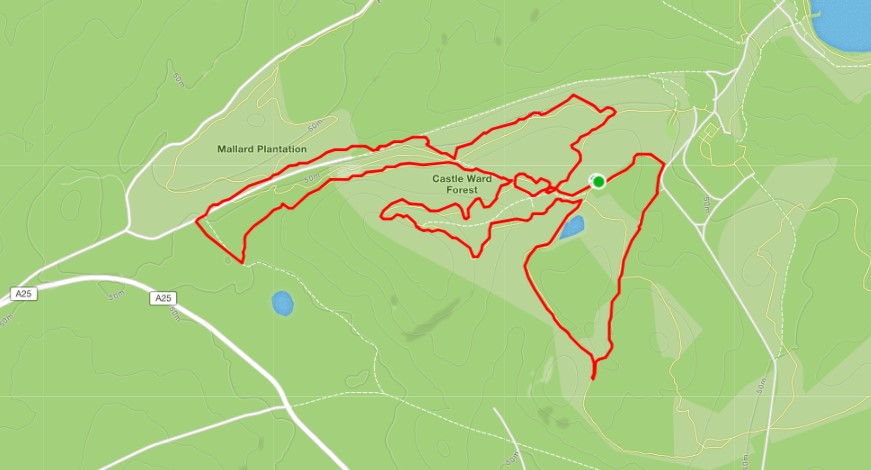 The race:
As with Last One Standing England, I spent the first few laps working out what times I needed at different 'checkpoints' in order to finish each lap in around 55 minutes.  My first lap was too fast at 51:49 but was also very social, talking to other athletes.  I decided that the 180 degree turn at about 1 mile would be my first checkpoint and worked out that anything in the mid 13 to high 14 minute range would be an ideal pace for me.  The next checkpoint would be at 2 miles when we came off a single track trail and turned left to head downhill.  Ideally 25 ½ to 27 ½ minutes would be my target time.  As it turned out, on most laps I forgot to check my watch at this checkpoint.
And the third checkpoint would be at the start of the road section – 34 minutes on the first lap, 38 minutes later on.  Finally, with roughly 500 meters to go I timed how long it took me to get through the small lap near the finish and through to the finish at the Bunkhouse – 4 minutes on the first lap taking it easy and 3:30 on the second lap walking harder.  This would be important to know when/if I started struggling later in the race.
The reason I walk is that I have a long-term impact related ankle injury which makes running uncomfortable (sometimes painful) and unenjoyable, but I figured that if I got to the '500 meters to go' point with less than 3 ½ minutes until the top of the hour, then I could run to the finish if necessary.
121 athletes started the race and for all athletes things went reasonably well through the first few laps.  The race started at 12 noon and when darkness fell early on lap 7, all 121 athletes were still in the race.  But for me, and many others, the race changed the moment we put our head torches on.  119 athletes finished lap 7, 116 finished lap 8, then 110, then 102.
By the completion of lap 12, 50 miles, there were 87 left.  A lap later, 59 athletes remained.
For me, I never really felt good from the start and when darkness arrived my 55 minute laps became high 56's and 57's.  At 9 hours I had my first Coke in the hope of picking things up, and at 12 hours I had another as well as chocolate.  In all my races I try to go at least the first 12 hours without processed sugar, preferring fruit and crisps.  In the case of Last One Standing, I expected to be walking for a minimum of 30 hours so didn't want to be consuming too much sugar too early.
I also switched from listening to podcasts while walking to listening to high tempo music.  On courses where I have control over my speed (i.e. courses that are not constantly changing from downhill to uphill to downhill again) I find that high tempo music helps me to keep my cadence up, and therefore keep my speed up.  But I quickly realised that the Last One Standing course was not going to give me the opportunity to use music to control my cadence.
Neither the music or the Coke/sugar were helping as must as I hoped.  My lap times were holding steady in the mid 57 minute range, but 2 ½ minutes wasn't enough time to do much other than grab something to eat and drink.  I had stones in the bottom of my shoes but no time to empty them.  On lap 15 (2am to 3am) I started thinking that I need to get through to daylight (7am) and then my pace would naturally pick up and at that stage I would have time to sort out my shoes.
But lap 16 was my slowest yet.  It took me 59 minutes and 43 seconds.  I crossed the finish line and walked the 20 meters straight to the start line in time to start the next lap.  No time to get any food, and most unfortunately, no time to change my head torch which was almost flat.  There were still 34 of us in the race so I turned off my head torch and relied on the light from the other runners' torches to show me the way.  This meant going faster than I had been down the hill from the start and then up the hill into the strong headwind.  The benefit of doing this though was that with the faster start I should have a faster overall lap time and hopefully time to change my head torch at the end of lap 17.
As soon as we reached the 180 degree turn at the top of the hill, the runners started running and slowly pulled away from me.  I turned my head torch on and focussed on staying upright on the trails which were by now very familiar but not familiar enough to walk without light.
I finished lap 17 in 50 minutes and 51 seconds – 9 seconds to spare!
On both laps 16 and 17 I arrived at my final checkpoint (500 meters to go) with a shade over 4 minutes remaining.  I'm so used to walking that I completely forgot that I could try running to ensure I completed the lap in time.  Maybe on lap 18.
I started lap 18 in the same way that I started lap 17 – with my head torch turned off and going hard to stay with the remaining runners.  When the runners started running at the top of the hill though, I had nothing left.  16 minutes at the 1 mile checkpoint and 32 at 2 miles.  My race was effectively over.  It was highly unlikely that I would complete the last 2.2 miles in under 28 minutes so I decided to turn off my music and enjoy the quiet of the night during my final half lap.
My lap 18 time – 1 hour and 17 minutes.
My race was over at 75 miles.
The DNF's and the Last One Standing:
In a Last One Standing race there is only one finisher – the winner – the one that completes more laps than anyone else.  Everyone else is a DNF (Did Not Finish).
After getting some sleep I joined some of the other DNF's inside the Bunkhouse to support the remaining athletes.  At 30 hours, 125 miles, there were 8 runners left.  By the end of lap 34 there were only 5 runners left – Defending Last One Standing Castle Ward champion, Peter Cromie who completed 48 laps at Last One Standing Florence Court last year and 36 laps at Castle Ward; Richie Hinson, second behind me with 35 laps at Last One Standing England last year; experienced Last One Standing competitors Andy Persson and Sean Nickell; and 'unknown' Florian Nattero from France.
They all looked good and we were preparing for a long night of supporting when we heard that Sean was going to drop out upon completing the 36th lap (150 miles).  Richie was looking good and then he was looking bad, and then good again.  Florian was keeping to himself.
Things changed dramatically at the end of the 36th lap.  Only Peter (52 minutes), Andy (54 minutes), and Florian (55 minutes) finished within the one hour time limit.  Peter and Andy had their short rests and walked to the start line for lap 37.  Florian held back – his race was also over.
Lap 37 saw Peter finish in 51 ½ minutes and Andy finish 45 seconds later.  The following lap, Andy finished a few seconds before Peter with both taking 51 ½ minutes.  It looked like they were both going to continue for many hours and most of the DNF's decided to get some sleep.  It was 2am after all.
My plan was to sleep for 1 ½ hours then watch them both complete lap 40 at 4am.  Instead, I woke up around 6am to find that the race was finished.  Andy had started lap 41 but was totally spent and dropped out mid lap.  Peter finished lap 41 to learn that he had won an awesome race.
Analysis:
On the flight home I did some analysis of the results, because if I can't win at winning, I thought maybe I could win at losing.
I discovered that of the 120 DNF's, only two of us completed a lap in 59 minutes and change and then gone out for another lap.  Anne McGrane took 59:39 for lap 7 before being timed out on lap 8, and I completed lap 16 in 59:43 before taking 59:51 for lap 17 and then being timed out on lap 18.  So I won first and second place for slowest laps completed and going out for more fun (punishment).
Interestingly, only 33 of the 120 DNF'ers were timed out.  The other 87 completed their last lap in under an hour but for various reasons they were unable or unwilling to start the next lap – Although the results don't show if someone started a lap and didn't complete that lap, so that probably accounts for some of the 87.  Last One Standing is very much a mental game, and whilst the forced rest between laps can be helpful, it can also be mentally difficult to get started again.
What's Next:
I don't usually race this early in the year as I don't like the cold, especially overnight.  In fact, the last two years I've waited until late April before competing in any races, but this year I have the opportunity to compete in the first Belfast to Dublin to Belfast ultra race.  This 214 mile, 346km race is organised by Atlas Running, the people who organise Last One Standing Castle Ward (and Florence Court) and co-organise Last One Standing England.  It starts at midnight on Wednesday 27th March, and I'll be on the start line!