I've been debating whether or not to start my monthly training summaries again now that I have resumed serious training and my build-up towards another attempt at walking 700+ kilometres in 6 days at the 6 jours de france in August.
A few people have told me that they find my training summaries interesting, and one day I think I'll want to read back through them – I haven't yet read through last year's monthly training summaries though.
And right now (31st of January) I'm unable to train due to illness, so thought why not spend half an hour writing something.
Last year I think I might have taken my training a little too seriously.  I stopped eating unhealthy food, stopped drinking coke – except in races – and whilst I focused on training mileage (quantity), I don't think I trained hard enough (quality).
So this year I have decided not to worry about diet so much.  Although I will never go back to the diet I used to have before last year when I used to eat and drink way too many junk calories.
With my actual training, I have decided to increase the intensity in 2017.  I'm still going to maintain reasonable mileage, but at least half of my walks will involve some high intensity walking of some sort – this will usually involve fartlek/interval type training in the middle of a walk.  For example, I recently did a 5 hour walk that included 1km hard, 1km easy, 2km hard, 1km easy, 3km hard, 1km easy and 4km hard.  And then after another 4km easy I walked a 29:46 5km at Bushy Park parkrun before finishing off with another easy hour.  Two days earlier I had done a 3 hour walk including 6 x 2km hard, and the day afterwards I walked 7 ½ hours at an easy pace.
I enjoy exploring when I'm walking, and try to cover as much territory as possible – heading in a different direction every time I head out the door.  Using my Garmin to tell me when to start and stop hard segments based on kilometre splits is an easy way of increasing the intensity of my walks whilst still enabling me to go exploring.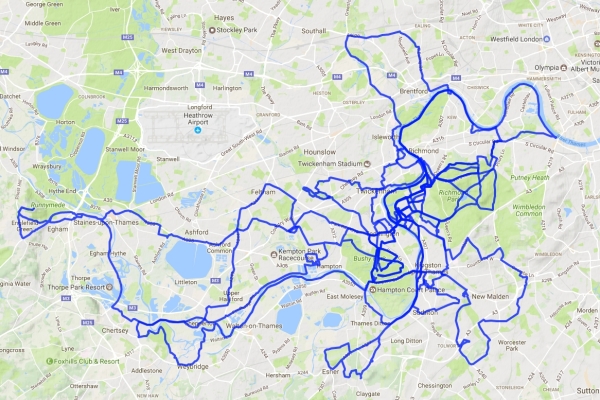 The other problem I have right now is that I have had to do a lot of travelling for work, and have worked hours that haven't enabled me to walk in daylight much – other than the weekends.
This has meant that much of my training has been in very cold conditions, mostly before work (5am starts in zero degree temperatures), and as a result I now have a chest infection caused by breathing in too much cold air over a prolonged period.  I had the same problem in 2015 but ignored it for too long and the infection spread to my lungs.  This time I stopped training after two weeks of discomfort, but it is likely that it will take me at least another week before I can resume training again.
Rather than putting pressure on myself to get back to full fitness as quickly as possible, I have decided not to compete in the Bourges 24 hour race on the 4th/5th of March.  Instead, I'm thinking of walking in the inaugural Dublin to Belfast 105 mile race in mid April as my first race of 2017.  I like the idea of walking from one place to another, and this race is 5 weeks before my other point to point race for 2017 – the Grand Union Canal Race.
It does mean that I need to reconsider when I will have another attempt at a nonstop circumnavigation of the M25 motorway though.  I was thinking of doing that at the end of April but that would be only one week after the Dublin to Belfast race.  I could potentially do it on the first weekend of May which is two weeks after Dublin to Belfast and three weeks before the GUCR, or otherwise I will delay it until the end of the summer, after the six day race.  I plan on competing in the Thames Ring 250 at the end of June/beginning of July which would prevent me from doing the M25 walk during the summer months.  The TR250 is a 250 mile race starting 4 ½ weeks after the GUCR and finishing 7 weeks before the 6 day race.  I don't think it would be wise to attempt the M25 walk during that 7 week gap.  The last thing I want is to end up with an injury.

The good news is that I've decided on a charity to support when I do my M25 walk this year.  I'm planning to raise money for Limbless Association.  The reason I have chosen Limbless Association this year is that I consider myself very lucky to be able to walk the distances that I do.  I have two good legs and two good arms, but not everyone does, and I would like to raise money this year to help those less fortunate than myself.  It's just a matter of working out when I can do my charity walk.
So please stay tuned for an update.  I'll post updates here on my blog as well as via facebook and twitter.  In the meantime, please visit my JustGiving page.
P.S. Thanks to Fitbit, and hopefully other companies, there will be a prize draw related to my fundraising walk.  All you will need to do to enter the draw is make a donation AND share one of my facebook posts or re-tweet one of my tweets in which I ask for donations, so keep an eye out for these too.
Anyway, that's all I have to say for now.  I'll probably write another training summary at the end of February.
Until then,
Richard
P.S.  Total mileage for January was 353km (219 miles).