At the beginning of the January I made some New Year's resolutions as many of us probably did.  I wrote about them here.  They were to eat better, and to do more stretching.
So one month in, how am I going?
My healthier diet:
Well the healthy diet is going much better than the stretching is.
I have managed to reduce the quantity of processed food that I am eating dramatically.  In fact I only ate one chocolate bar during the whole of January!  And that was on Sunday the 31st four hours into a 6 ¾ hour walk.  And I am continuing to avoid Coke, only drinking it to wash down the chocolate bar during my longest walk so far this year.
I have stopped eating cornflakes for breakfast and in the weekends I am cooking vegetable omelettes for breakfast.  On work days, when I don't have as much time in the morning, I am now eating porridge which I figure is healthier than cornflakes.
Lunches are more difficult, especially when I am working in clients offices, which is several times a week.  But I am trying to buy healthy lunches and eat much more fruit during the day than I used to.
Thanks to my wife, my dinner is always healthy, but when she hasn't been home I have cooked healthy meals for myself rather than buying a cheap heat and eat meal from the corner shop as I would have in the past.
So overall I am happy with the way my diet is going.
Stretching:
My goal was to stretch for 30 minutes three times per week.  But unfortunately I have only managed to stretch six times during January – that is three hours more stretching than I would have done if I hadn't set a goal to start stretching however.
With stretching though, I think the goal needs to be 'consistency' as just like training, the benefits come from repeating the exercises over and over again, and I haven't been very consistent.  This is something for me to continue working on as the year progresses.
Training:
I started training again on Christmas Day after a break of three months following my last race (the Roubaix 28 hour race in September).  Initially I had had just a one month break after Roubaix, and then started training again.  But I quickly developed an injury at the top of my right hamstring (where it connects to the pelvic bone), so I took a further two months off to try and get over that injury as well as a couple other niggles that were bothering me.
When I started training again the injury still wasn't 100% but I slowly started building my mileage up and the injury seems to be slowly disappearing.  It isn't 100% yet, but is getting there.
The other problem I have is that the arch and ball of both feet are a little tender.  They don't seem to hurt while walking but both arches are very tight when I wake up each morning and are often tender during the day.  Something I need to monitor.
Overall though, the training during January has gone well.  Each weekend I have increased the distance of my long walk, completing 33 miles (54km) on Sunday 31st.  In total I covered 238 miles (383km) during January with all mileage being at a moderate pace other than one parkrun (5km) which I did in 32:01 in mid January.
Races:
None.  And I have decided not to do the Bourges 24 hour race at the end of February either, meaning that my first race of 2016 won't now be until the end of May when I compete in the 145 mile Grand Union Canal Race.  The reason I have decided against going to Bourges is that I couldn't justify the cost of travelling to Bourges for what I was intending to be just a training walk.
Plans for February:
February will see me continue to build my mileage.  I am going to take a break on the first weekend of the month because each of the last five weekends I have been increasing my long walk, and I think it is got to take a step backwards (so to speak) every now and again.  On the weekend of the 13th/14th February I will do a 6 to 7 hour walk and then the following weekend I am planning a long walk of around 13 to 14 hours (targeting 100km).  I am not yet sure whether I will do it as an overnight walk or during the day.  I'll decide nearer the time.  I'll then finish the month off with another 6 to 7 hour walk before reducing my mileage again on the first weekend of March.
And why am I writing all this?
I have huge plans for 2016.  Everything is focussed around the 6 jours de france (Privas 6 day race) in October, and I am breaking my preparation down in to individual months – January is month one and October will be month ten (the race is the last week of October).  November and December will be two months of complete rest.
I have plans for each individual month as I build up towards the race, and at the end of each month I intend to write a review and set my goals/plans for the next month.
Writing this blog post helps me to focus on what I need to do.
One last thing: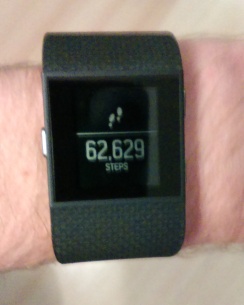 In mid March I am going to be walking a non-stop circumnavigation of the M25. An estimated distance of 165 miles (265km).  I am doing the walk to raise money for Sport Relief and Fitbit are supporting my walk by offering a prize of a Fitbit Surge to the person who has the closest guess as to the total number of steps I will take during my walk.  Full details are here.
Please support me and Sport Relief by making a donation.
Thanks
Richard