I recently read a facebook post in which some ultra-distance runners were talking about hallucinations they had experienced during ultramarathons, and I started thinking about some of the experiences I have had over the last few years.  Some of these I have documented in my race reports, and some I had forgotten about until after writing my race report.  So I thought it might be fun to start a separate blog post to write about my hallucinations, and I will add to this in the future – assuming that my mind tries to play tricks on me again.
What is a hallucination?
The Dictionary.com definition of Hallucination is: a sensory experience of something that does not exist outside the mind, caused by various physical and mental disorders, or by reaction to certain toxic substances, and usually manifested as visual or auditory images.
The NHS website says that "Hallucinations are where someone sees, hears, smells, tastes or feels things that don't exist outside their mind.  They're common in people with schizophrenia …"
Medicine.net says that hallucinations are "A profound distortion in a person's perception of reality, typically accompanied by a powerful sense of reality."
And The Cambridge English Dictionary says that an hallucination is "an experience in which you see, hear, feel, or smell something that does not exist, usually because you are ill or have taken a drug."
So having read the above definitions, you may start to wonder about my mental sanity when you read some of my experiences below, but I promise you, I am sane, or at least as sane as anyone else who is mad enough to think they can walk around a track for six consecutive days.
Man weeing against a wall
I had read about other endurance athletes hallucinating during long races but until the 2015 Chateau Thierry 24 hour race I hadn't experienced any hallucinations myself.  My first hallucination wasn't anything too series.  More of an 'introduction to the magic world of the ultra-distance athlete' ?
Chateau Thierry was my fourth race of 100 miles or further, and the first one on an open road course.  The race started at around lunchtime and was held on a 2 1/2km circuit that involved a short, steep hill climb at the start of each lap.  Half way up the hill was a 'pay and display' parking meter (see picture) and during the night I was absolutely certain that the parking meter was a man peeing against a wall.
As I say, only a minor hallucination.  There was much more to come.
Gollum from Lord of the Rings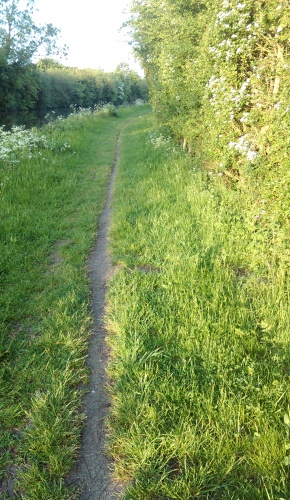 The 2015 Grand Union Canal Race was two months later and this time I experienced two hallucinations.  The first one started early on the Sunday morning, about 22 hours after the race had started.  The sun had just come up on what was a beautiful sunny day, and even as early as 5am'ish there were people on the canal supporting the athletes.  Or that is what I thought until I reached the people and found that they were just a bush, or a box on top of one of the many canal boats, a shadow, or some other inanimate object.  These hallucinations went on for about 3 or 4 hours until I reached the 100 mile checkpoint where I had something to eat which perhaps brought my blood-sugar levels back into balance.
I don't remember experiencing any more hallucinations during the rest of the day, but I also don't remember much of the next 8 or more hours of the race either.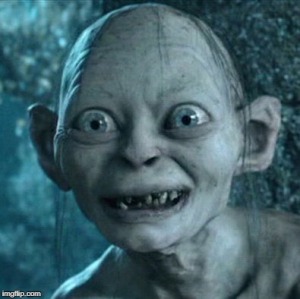 What I do remember though is about 10pm'ish on the Sunday night (actually, to be honest I was so 'out of it' that I have no idea what time it was, but it was dark and I was in to the final 13 mile section of the race) when Gollum from Lord of the Rings came to swim in the canal beside me as I walked the last few hours of the 43 hour, 145 mile, race.
I have never seen the movie, but I knew who that creature swimming beside me was.  I don't know why he was there, but it was good to have some company in my hours of misery.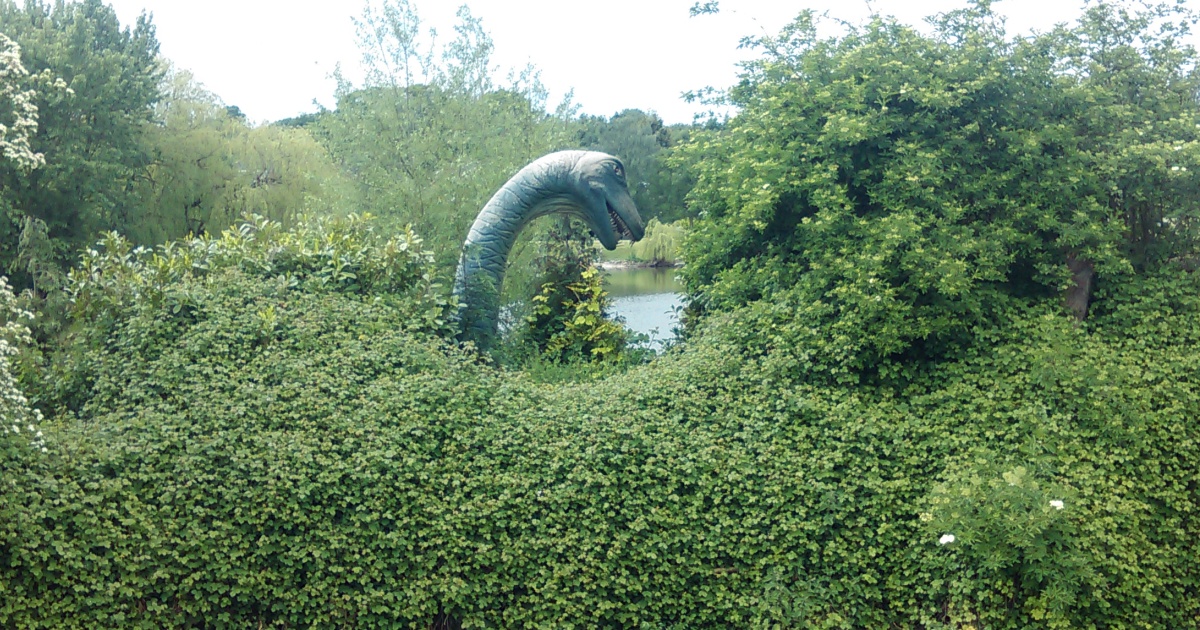 Medieval Village
I don't remember experiencing any more hallucinations until my first six day race in Privas, France, in October 2016.  And even then, it wasn't until the last night of the race until we went back 600+ years in history!
We had already walked well over 500 laps of the course and passed through the timing tent over 500 times, past the food tents over 500 times, and our support crew (who were stationed at the very end of each lap) over 500 times,
| | |
| --- | --- |
| The Timing Tent (reality) | Food tents on the right (reality) |
but at some stage in the middle of that last night, the timing tent turned into a stone walled gateway into a medieval village, and the 50 meter smooth tarmac section immediately after the timing tent which contained the food tents, turned into a cobbled road with shop owners standing outside their quaint little shops.
| | |
| --- | --- |
| Timing tent after 5 1/2 days! | 'Main Street' after 5 1/2 days |
Jim was still waiting for me at the end of the street offering me food, drink and cheering me on (that part was real) and then I walked around the corner into darkness (it wasn't really dark) and have no recollection of the rest of each lap until I arrived back at the stone walled gateway again.
The experience was so real that even now, I can remember every aspect of that segment of the course – or at least I can remember exactly what I thought it was like at the time.
From memory, I had to have a short sleep early on the final morning of the race, and after I awoke we were back walking around the 'normal' circuit again.
Not really an hallucination, but in the days and weeks after the race I would think about certain times during the race and 'remember' where we were at the time.  i.e. on a meadow beside the river or walking through long grass.  But the race circuit was not that interesting at all.  No grass other than the football field in the middle of the track, and no river either, but I guess my mind was trying to hide the pain and discomfort, or the monotony of the course, by telling me that we had enjoyed an adventure.
Little children in the middle of the road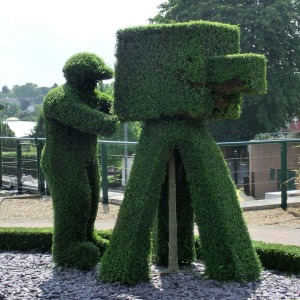 In May 2017 I did my longest non-stop walk to date.  44 hours without sitting down once.  158 miles circumnavigating London's M25 motorway on foot.  I started walking at 8am on the Friday morning and didn't finish until 4am on the Sunday morning, and at some stage late on the Saturday night crowds of people started to appear on the sides of the road, cheering me on.  As with the Grand Union Canal Race in 2015, the people turned out to be plants, but this time whole families of plants were cheering me on. A big plant (the father), a not-so-big plant (the mother), and between one and three or four other plants of various sizes (the children), all standing beside the road cheering me on before magically turning into plants as I got a little closer to them.  Some of the children were even waving small flags or holding helium balloons like they might if they were watching a parade.
As well as the 'families' beside the road, every now and again I would see a little child, aged about 2 or 3 years old, walking towards me in the middle of the road.  The first few times I was scared that they would get run over and wanted to run towards them to save them.  I knew I couldn't run to save them as I knew I wasn't allowed to run.  I could only walk.  So I prayed that a car wouldn't come around the corner or over the top of the hill and run them over before I could get to them.
And when I got closer to each child they magically turned into cats or dogs – or nothing at all!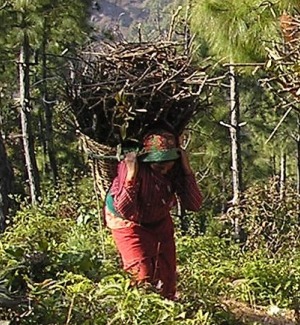 And a bonus hallucination during that final few hours of my walk was seeing some old men walking towards me on the footpath carrying loads of sticks which for some reason I assumed was firewood that they were taking home.
Thinking that an 1,100 metre circuit was 5km and dangerous
After about 40 hours of the Royan 48 hour race in 2018, in the early hours of the morning, and with horizontal rain and generally terrible conditions, I was absolutely certain that the 1,100 metre circuit we were racing on was 5km in length and that the conditions were so dangerous the race should be called off.
Given that the 1,100 meters was almost entirely on a 400 metre track with just a small section in the grounds of the stadium itself, it was perfectly safe to continue the race.
Two white cars and a handrail
I had an frightening  experience about 44 hours into the 2019 Thames Ring 250 when all of a sudden there were two white cars in front of me preventing me from continuing along the Grand Union Canal.
The site of the cars gave me such a fright that I almost reached out for the steel handrail between myself and the canal – which also wasn't really there.
It was a little after 6am on the Friday morning (after a Wednesday morning race start) and I hadn't had any sleep and was beginning to struggle.  I knew the cars, and the handrail, weren't there but the shock of seeing the two cars preventing me moving forward sent me into a mental depression that lasted about 30 minutes.  At the time I took a photo of the tail I was waling on and posted on my facebook page that I was struggling with hallucinations and tiredness.  Soon afterwards I came right and didn't have any more hallucinations during the race.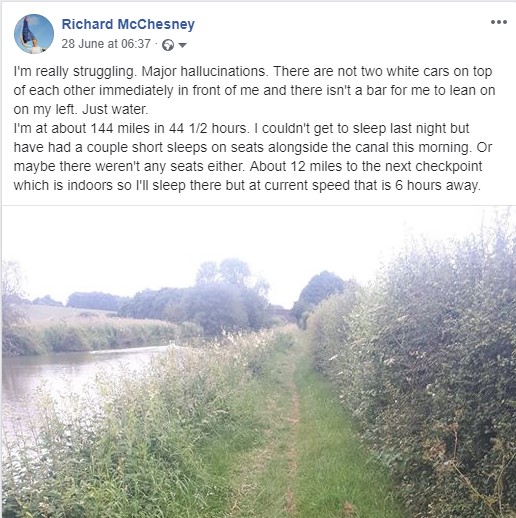 TFL have renamed the DLR to Star Line
In 2020 I walked to all 270 London tube stations but on day four I was really struggling with sleep deprivation.   I was using Google maps to guide me from one tube station to the next and was on my way to the Canning Town tube station when I arrived at the Star Lane DLR station.  I was convinced that I was at Canning Town and walked back and fourth across the station overbridge looking for the Canning Town tube station sign.  Canning Town is also a DLR station and I was so convinced that I was at Canning Town that I thought Transport For London and renamed the DLR (Docklands Light Railway) to call it 'Starline' (I had miss-read the station name) and probably wasted more than ten minutes before realising that I wasn't yet at Canning Town.
I was in a Covid concentration camp and asked German farmers to rescue me
The 2021 edition of the Thames Ring was actually one big hallucination for me.
The first hallucination was early in the race, at about 32 hours when I had an imaginary conversation with someone and learned that, apparently, to qualify as a walker you had to have paper insoles in your shoes, and because of Covid paper insoles were in short supply and I didn't have any.  This meant that I wouldn't be allowed to finish the race. 🙂
And then the following night I thought that the reason we were zigzagging across farmland (which we weren't doing – we were following the Oxford Canal) was because the race organiser had added social distancing measures to reduce congestion at the next checkpoint due to Covid.
But the final hallucination on the final night of the race was the one that ultimately ended in my DNF – when I thought I was in an outdoor Covid concentration camp and asked some German Farmers (actually railway workers) to rescue me.  They called an ambulance!
I didn't understand the rules of the game I wasn't playing
The Lon Las Ultra in October 2021 was another race full of hallucinations.  For much of the second half of the race I 'knew' that I had been here before – yet I hadn't.
A one stage I woke up in a bus shelter and thought I had been hallucinating about being in a race in Wales when I was actually in North London, only to find that I was actually in a race in Wales.
And later on I threw a tantrum and lay face down in a ditch because my partner wasn't playing a game correctly, even although I didn't understand the rules myself – yet I was alone at the time and wasn't playing any game.
Future Hallucinations
To date I have completed 36 events longer than 100 miles (as at October 2021), and have only experienced hallucinations in eight of those walks – or only eight that I can remember.
I'm sure there will be more hallucinations in the future, and I will write about them here …
Richard