When I set my race goals for 2016 at the beginning of the year I had intended on being in Bourges, France on the last weekend in February, competing over 100 miles.  But plans change, and in January I decided that I couldn't justify the cost of travelling to Bourges for what would be just a long training walk (it wasn't going to be an 'A' race for me) and instead I set my focus on the 165 mile non-stop circumnavigation walk around the M25 that I have planned for the weekend of 11 to 13 March (only two weeks away).
So February was all about continuing to build up my mileage.  I had had a good start in January – which was the start of my training after a three month break – and my intention was to continue to build the distance of my weekly long walks during February and complete a long walk of around 13 to 14 hours near the end of the month.
Knee Pain:
On the second Saturday of February I decided to do a long walk and incorporate a parkrun in the middle of my walk – something I have done many times before.  Everything went well other than the last 100 meters of the parkrun when I managed to get tangled up with a dog running in the other direction.  I didn't think anything of it though, finished my parkrun, and then headed off to continue my long walk.  But as I walked my right knee started to get tighter and tighter.  It didn't really hurt though and, as I was walking strongly, I kept going.  In total I covered 37 miles for the day.
When I stopped walking however, my right knee started to feel very sore.  I iced and rested it, but it was sore the next day too.  So I had a few days rest before walking for an easy hour on the Thursday night at which stage it felt OK.
On the following Saturday I walked 1 ½ hours followed by a parkrun (which I completed in 31:13 – my fastest 5km in almost a year) and then another 1 ½ hours back home.  The knee felt fine.
On the Sunday I headed out for my long walk – 8 ½ hours – 42 miles – around the streets of North and East London.  It was a really enjoyable walk and I felt strong the whole way, walking a consistent pace throughout.  The knee felt a little uncomfortable every now and then, but then it would come right again, and I thought the discomfort was just due to the amount of time I was walking for.
The following day my knee was sore and with the M25 walk in mind I called my friendly physio (the one who asked me to repeat myself when I saw him with a sore ankle in June last year and told him that I had "hurt it during a 145 mile walk").  When I saw him on the Wednesday he asked what I was training for now and I told him that I was walking 165 miles in 16 days time and that he therefore had two weeks to get my knee back in order!
So right now I am resting the knee.  I have only walked once in the last eight days – covering 15km on Saturday during which the knee felt OK while walking but sore afterwards.
My intention is to take another few days off, have another couple physio treatments, and then do a couple days of very light training before starting the M25 walk on Friday 11th March.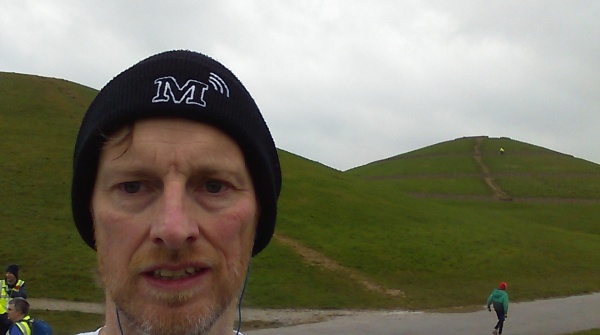 Nutrition:
My healthy eating diet continues.  My original 'New Year's resolution' was to avoid all processed foods, but in reality that isn't easy to do.  Especially when you need calories.  But my diet is much, much healthier than it was, and in my two longest walks during February (37 and 42 miles) I walked strongly throughout with very little nutrition during the walks.  During the 37 mile walk I ate a banana and a mandarin, and drank a small bottle of coke after finishing the parkrun (around 3 ½ hours in to an almost 8 hour day).  And in my 42 mile walk I ate once every hour with my diet consisting of dates, a banana, a mandarin, and had a coke and a chocolate bar (only my second chocolate bar of 2016) at 5 ½ hours.  In both walks I walked a consistent pace and finished strongly.  I think my overall improved diet has something to do with this.
Stretching:
I'm still struggling with the concept of 'stretching' and my 'New Year's resolution' to stretch three times a week is still just a dream.  But as with January I managed to spend 30 minutes stretching on six occasions.  Year to date, I have now spent a total of six hours stretching (twelve 30 minute sessions) which is six hours more than I would have spent without setting myself a stretching goal.
Training:
My February mileage was down on my target due to the knee injury but I covered 150 miles (241km) with most of that being in the first three weeks of the month, and I steadily built up my long weekend walk as planned.  I didn't get my 13-14 hour walk but am feeling confident that I have the endurance I will need to get around the M25 in mid-March.
The minor injury I had to my right hamstring in late 2015 now seems to have heeled but I am still waking up most mornings to find the arches of my feet very tight and tender.  I have been using a roller to massage the arches and that seems to be helping.  And once warmed up the feet don't bother me while I am walking.
The only concern I have right now is the knee, and I don't think that is going to be an issue.
Year To Date Mileage:
In January I walked 238 miles (383km) and in February I covered 150 miles (241km).
Year to date: 383 miles (624km) in a total of just under 79 hours.  Co-incidentally, this mileage happens to be just over the NZ six day race-walking record.  I wonder what October will bring 🙂
Longest walk this year: 42 miles (67km).
Races:
None.  My first race of 2016 will now be the Dutch Centurions race (24 hours) in mid May and I will follow that up with the 145 mile Grand Union Canal Race at the end of May.
Plans for March:
My primary goal for March is my circumnavigation of the M25 on the weekend of 11th to 13th March.  Planning is well underway and I have an experienced team supporting me.  Sarah and Jim who supported me at Roubaix last year along with Suzanne (Jim's partner) will be my primary support team and we may have others joining us to walk or cycle some sections with me.  Sarah and Suzanne are both experienced 100 mile (and longer) race-walkers and Jim likes to eat Chewits 🙂  I'm sure they will all do a great job of looking after me and making sure that I achieve my goal.
I'm not going for a time as such, although I hope to complete the approx 165 miles in around 40 to 48 hours.  My main goal for the walk is to walk non-stop for the duration – no rest, and no sleep.  At Roubaix last year I walked 28 hours without stopping for anything more than a few quick toilet breaks, and in the Grand Union Canal Race last year I walked for 43 hours without sleep, but I did sit down for a few short rests at many of the checkpoints along the route.  This will be the longest time I have spent on my feet, and if I can do it, it will give me a lot of confidence for the Privas 6 day race in October.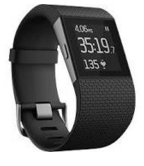 And I am hoping to raise a significant amount of money for Sport Relief.  And thanks to Fitbit UK & Ireland, if you haven't already done so you can enter my competition to win a Fitbit Surge by guessing how many steps my walk will take.  Click here for further details.
And why am I writing all this?
I have huge plans for 2016.  Everything is focussed around the 6 jours de france (Privas 6 day race) in October, and I am breaking my preparation down in to individual months – February is month two and October will be month ten (the race is the last week of October).
I have plans for each individual month as I build up towards the race, and at the end of each month I intend to write a review and set my goals/plans for the next month.
Writing this blog post helps me to focus on what I need to do.
Richard