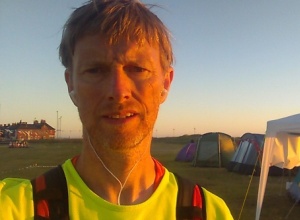 My body is falling apart!
One of the reasons that I am writing these monthly training summaries is so that after my year is over (after the six day race in October) I can read back through them and remember what I did, what went well, and what didn't go so well.  They also help me to review the month that has just been and plan for the next month, and so far this year everything has gone pretty well.  At least until August, that is.
August didn't go so well.
After a great early part of the summer from May through to the end of July I had intended to do one more big month before starting a long taper through to the 6 day race which is in the last week of October.  I started with a big weekend at the start of the month, covering just under 150 miles (240km) in two big walks, although to be honest I was a little disappointed with how I went during the second of those walks.
I then had a week off as planned and the following weekend I walked an easy 5km parkrun but found that my right hip or quad just didn't feel right.  I had a few more days off and then went for another walk with the same result.  And then the following morning I woke up with severe cramp in my right calf muscle.  It was so sore that I wouldn't have been able to walk even if I had wanted to, and it took a whole week to heel.  I decided to visit the chiropractor that I had seen back in May to see whether the pains I was experiencing could be back related (I have had a bad back since I was a teenager) but the pain and discomfort in my quad/hip continued.
I spent a minimum of 30 minutes a night doing stretching and strengthening exercises, working on both my legs as well as my back and core.  One of the benefits of not training was that I had more time to do stretching at night – something I have tried to do all year without any consistency.
On the last day of the month I went for another walk.  I was getting fed up with not being able to walk and was feeling a little depressed.  I walked 5km at a very easy pace and unfortunately I experienced minor pain over the last 10 minutes, and again after I finished.  It isn't intense pain, but it is enough pain to make me think that if I continue to walk I won't make it to the start line (of the six day race) in 7 ½ weeks time.
I've now made an appointment to see an osteopath in a few days time, and am hopeful that she might be able to help me.
Regardless of the result, there is no way that I won't be on the start line on the 23rd October, and I keep reminding myself that I struggled with injury for ten weeks before competing in a 3 day race at the same venue last year.  In those ten weeks I averaged just 16 miles per week in training and only had one walk longer than 10 miles.  In May and July this year I proved to myself that I was extremely fit and had excellent endurance, so even without any serious training between now and October I should be fit enough to walk for 6 days as long as my leg allows me to.
So that's where I'm at at the moment.  Not happy, but trying to remain positive.
Sleep:
I have a target of getting 8 hours sleep at least three times a week, and trying to average 7 hours sleep per night overall.  I haven't yet managed to achieve those targets but this month was an improvement, thanks to my lack of training.  I had 6 nights of 8+ hours sleep and averaged 6 ½ hours sleep per night – getting 10 hours more sleep in August than I did in July.  And that includes the two nights in the first weekend of the month when I had a total of less than 2 hours sleep!
September and early October needs to be focussed on getting as much sleep as I can in the build-up to the 6 day race.  If I can't train, I can definitely sleep, and will go in to the race well rested.
Stretching:
In January I set myself a target of stretching for 30 minutes three times a week.  If I didn't have a target I wouldn't do any stretching at all and until this month I hadn't got anywhere near my target.  In August, however, I spent at least 30 minutes doing stretching and strengthening exercises every day for the last ten days, and eleven days in total.  Almost at my target 🙂
Nutrition:
I also set a healthy eating goal back in January and have been very well behaved all year – until this month.  I have struggled a bit with motivation due to the injury and have to admit to eating a bit of chocolate and other junk food this month that I wouldn't have eaten if I wasn't injured and wasn't feeling a bit depressed.
That said, I still haven't eaten a 'heat n eat' meal this year, and am still eating up to six pieces of fruit per day.
I've now written off August with respect to my healthy eating but will be eating a healthy diet between now and race day in October.
Year To Date Mileage:
| | | |
| --- | --- | --- |
| January |    238 miles |     383km |
| February |    150 miles |     241km |
| March |    194 miles |     312km |
| April |    207 miles |     334km |
| May |    312 miles |     502km |
| June |    176 miles |     282km |
| July |    335 miles |     540km |
| August |    163 miles |     263km |
| Year To Date | 1,775 miles | 2,857km |
Total hours: 399
Longest walk: 145 miles (233km) – being the Grand Union Canal Race.
Races:
Other than the UK Centurions Race at the beginning of the month, which was really just a training event as a part of my back-to-back long walk weekend, I didn't do any races (I was injured) and now don't have any other races until the six day race.
Plans for September:
I've only got one plan, and that is to get over this injury!
And why am I writing all this?
As I have said at the end of all my monthly training summaries, I have huge plans for 2016.  Everything is focused around the 6 jours de france (Privas 6 day race) in October, and I am breaking my preparation down in to individual months.
At the end of each month I write my monthly review which helps me assess where I am with my training, sort of like a business reviewing its KPI's at month end, and I set/confirm my goals/plans for the next month.  Writing this review this month has definitely helped me to refocus on the positive attitude I need to get the result I want in October.
Podcast Interview:
I almost forgot to mention that I appeared in my first ever podcast interview during August.  Chris Desmond from the Uncomfortable Is OK Podcast interviewed me about the M25 Circumnavigation walk that I did back in March.
Chris is also going to do a series of mini interviews with me, which he will consolidate in to one podcast about my six day race.  We've had the first interview already and I'll be talking to him again during September and then before, during and after the race.  Hopefully it will make for an interesting podcast.
Richard