At the end of each year I set goals for the new year, and review the goals I set for the year just completed.
2018 review:
For 2018 I planned on doing six walks of 100 miles or more, and I ended up doing five.  But of the six events I was planning on doing this time last year, I actually only did two.
I started off the year with a foot injury (a bursa on the bottom of my left foot which made it very uncomfortable to walk) and as a result I took all of January off, other than 29km on New Year's day.  When I started back training I did some moderate mileage during the first three weeks of February and then got sick, so it wasn't until mid-March that I actually resumed proper training.
This meant that I didn't do my first race of 2018, which was going to be the Belfast to Dublin Ultra.  I was keen to do this after finishing 4th overall and first/only walker in the Dublin to Belfast equivalent of this race in 2017 but I wasn't fit enough to consider walking for 24+ hours at the end of March.
I also decided that I wouldn't be able to get fit enough to compete in the EMU six day race in Hungary in the first week of May either, so decided to revisit my plans.  I decided to replace the six day race with a 24 hour race in Dijon, France on the 21st April for my first race of 2018, which also happened to be the French National Championships, and also to go to Schiedam, Holland in mid-May for the Continental Centurions Race.  And I had two great results – a 5th place overall in Dijon in extremely hot conditions, and then two NZ records (100 miles and 24 hours) in Schiedam.
I was now in to full training and turned up at Last One Standing, England in the second weekend of June full of confidence.  Last One Standing is an elimination race in which runners (plus me as a walker) have one hour to complete a 4.1 mile (6.5km) mostly off-road loop in under an hour and be back on the start line for the next loop at the start of the next hour.  The winner was the person who could complete the most loops without being eliminated (failing to finish a lap in under an hour or failing to start the next lap) and I was confident that I had more endurance than anyone else in the field – and so it was.  It took me 36 hours but I outlasted all the runners to win the race.
Last One Standing was my first planned race of 2018 and 6 jours de France in mid-August was the second and last of the six events from my original 2018 plan that I actually did.   If I was to give the race a grading, it would probably be a C.  I didn't achieve the result I was after, but it wasn't as bad as 2017 either.
My original plan was to go back to one of my favourite races in September, the Roubaix 28 hour race, but I felt I needed more time to recover after the 6 day, and my last event for 2018 was going to be a charity fundraising walk from Paris to London which I had hoped to do in October, but I couldn't face the effort of planning an event like that, and also wasn't too keen on doing another multi-day walk.  So instead, I decided to do a 48 hour race in Royan which I figured I could complete without any sleep, and whilst the race didn't have walking judges, I thought I could still set a decent distance for 48 hours as a PB and NZ best – my official NZ record being 241km from the first 48 hours of the 6 jours de France this year, and my PB being 254km from when I walked around the outside of the M25 motorway in 2017.  Unfortunately the weather was shocking for much of the race but I managed to win the race with a satisfactory distance of 278km to complete my year.
Overall, I would give my year a grade of B.  I had three wins from five races and improved my NZ records for 100 miles, 24 hours and 48 hours, and also set an NZ M50 age group record for 500km and 6 days.
100 mile world rankings for 2018: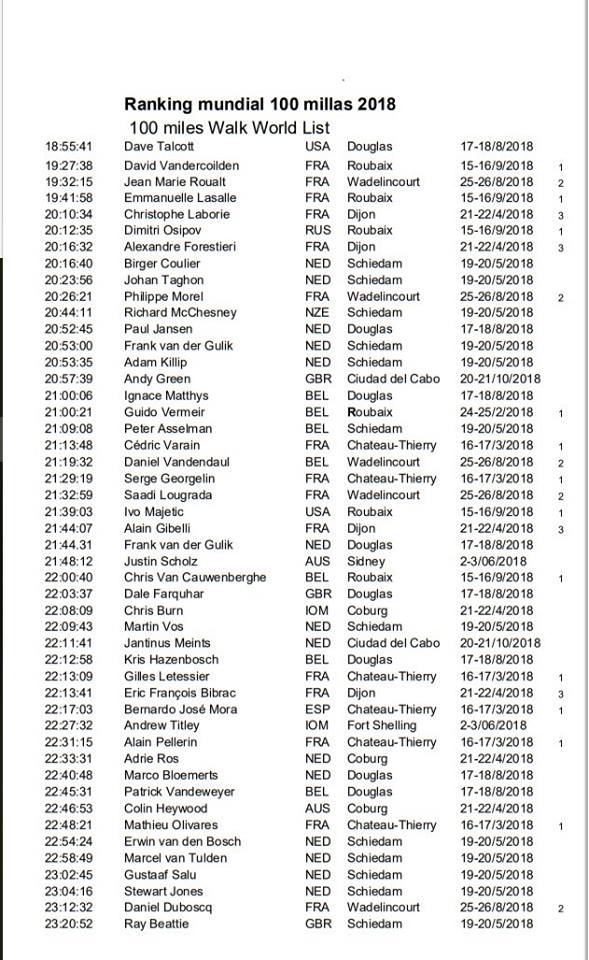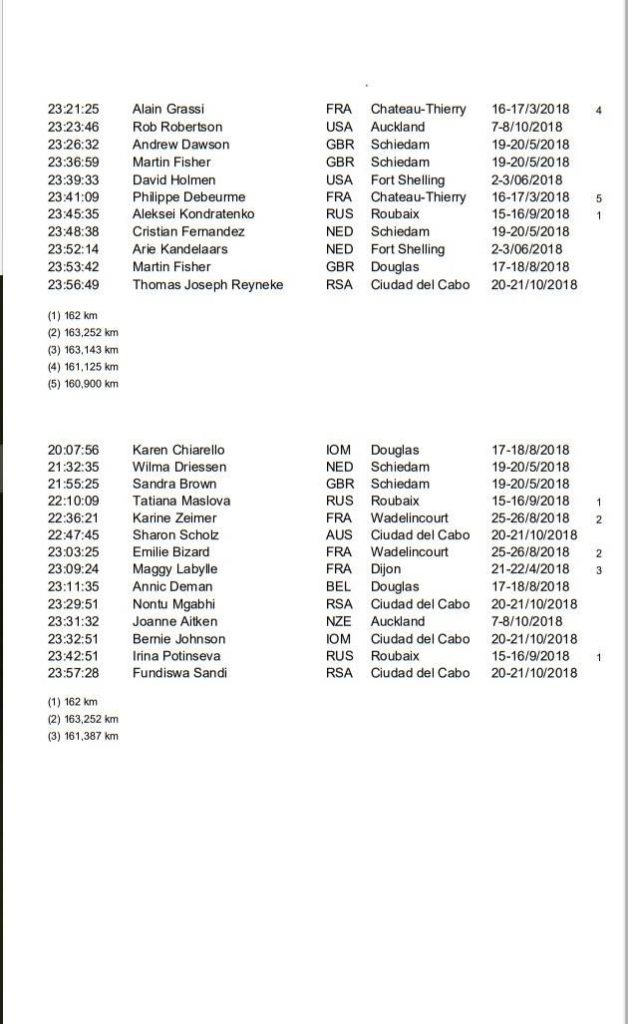 24 hour world rankings 2018: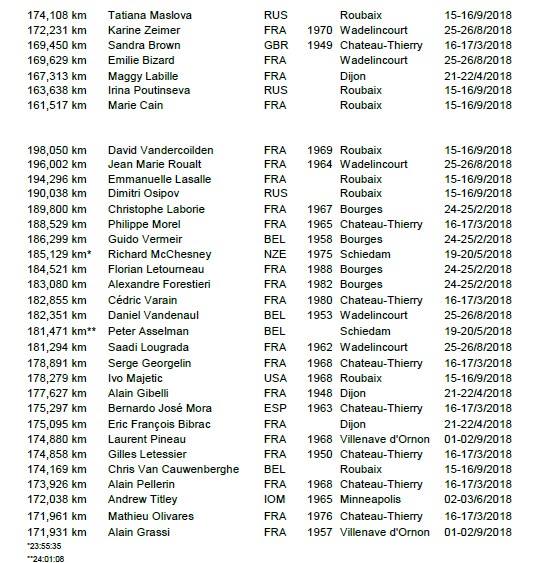 Summary of 2018:
Total mileage: 2,266 miles (3,646 km) – 107 miles less than 2017.
Total mileage during races: 892 miles (1,436km) – 39% of total mileage.  This was 91 miles less than 2017 but almost the same percentage of overall mileage (41% in 2017).
Total raised for charity: £1,362 – whilst I didn't do a charity walk myself in 2018, I organised a walkathon for the local scout group for the second year in a row, and have been invited to organise a third walkathon which will be in June 2019.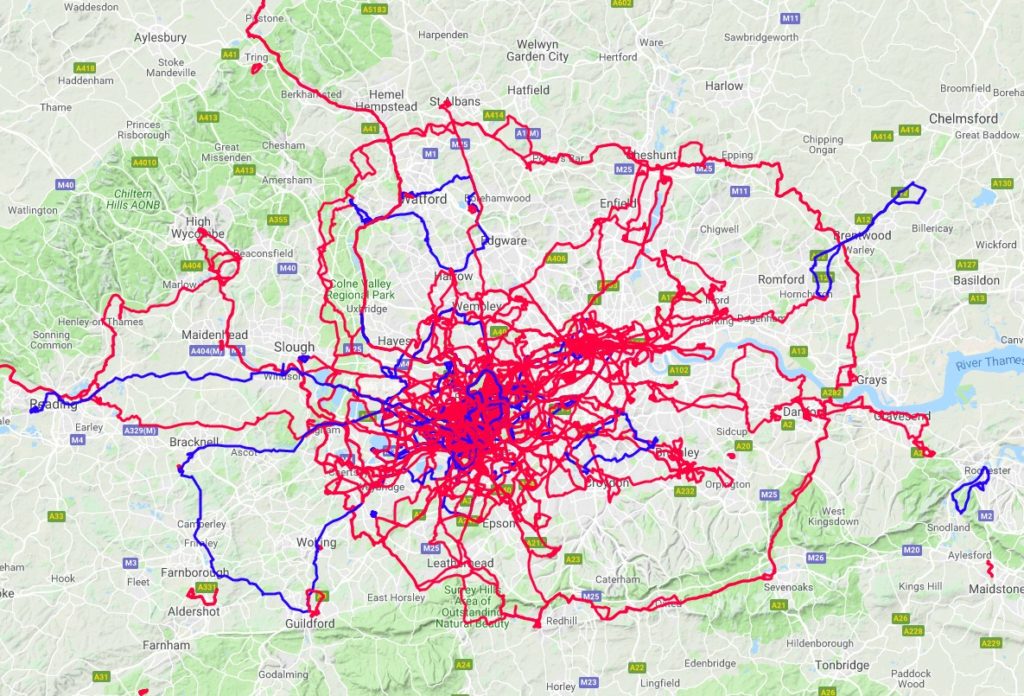 Goals for 2019:
There are so many races to choose from, and it would be very easy to over-race if I wasn't disciplined.  Right now, rather than choosing too many races I am not really committing to much at all during 2019.  I would like to do at least as many 100 mile+ races as I have in recent years (5 in 2018, 6 in 2017, 4 in 2016 and 5 in 2015) but at the moment the only two that are definitely on my list are the Belfast-Dublin-Belfast 214 mile (346km) ultra at the end of March, and Last One Standing, England on the second weekend of June.
The Last One Standing race is the more important of the two.  If I can win this again, the prize in 2019 in an entry into Big's Back Yard in the USA – the unofficial world championship of this type of racing.  In 2018 it took 66 hours before a winner was decided at Big's Back Yard.  It only took 36 hours for me to win Last One Standing, England this year but after winning the Royan 48 hour race without any sleep, and effectively being awake for 65 hours, I feel that I can probably last 48 to 50 hours, and maybe more.  I would like to find out.
And with that in mind, I am very tempted to treat the Belfast-Dublin-Belfast ultra as a warm-up for Last One Standing, and walk 55 minutes, rest 5 minutes, throughout the whole race.  I would also like to complete Belfast-Dublin-Belfast in under 55 hours – which means walking 300km in the first 48 hours – a nice round number target.
If I can win Last One Standing, England, then I'll be competing at Big's Back Yard ultra in October, and that will be my 'A' race for 2019.
But let's just wait and see what happens.
Thank you for your support this year:
I have had plenty of support from many people during 2018.  So a big thank you to everyone and especially from the companies who have helped me financially and with product – Fitbit and Strictly Banners.
Richard